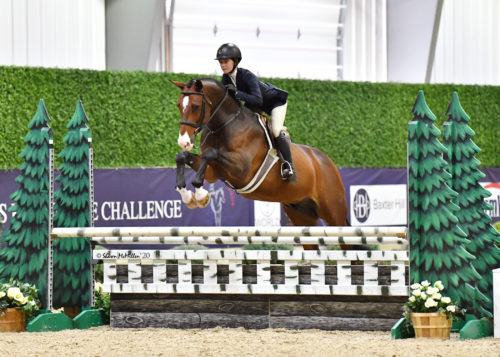 Caroline Nadalin, along with her parents Jennifer Nadalin and Chris Eadline of Sugar Run Farms, are regulars at World Equestrian Center. We have watched Caroline progress over the past few years, blossoming into a skilled and stylish junior rider. In March of 2019, we featured Caroline in a Sunday Spotlight blog and learned all about her riding background. As Capital Challenge comes to a close we caught up with her to hear about her growth over the past year and her experience this week.
WEC: What have you been up to over the past year?
Caroline: In 2019 I did the indoor circuit for the first time, and it was really successful. I won one of the Children's Jumper championships at Washington. After that, I went down to Florida for the winter to show at WEF with Ashland Farms. It was a great learning experience going down there and getting exposure to that. COVID-19 hit shortly after, but lucky for me I was in quarantine at the farm, so I could still ride. Summer shows started back up again and I went up to Michigan to show, and now we're at WEC for Capital Challenge. We're doing the indoor circuit, wherever that may lead us. We're going over to Tryon soon for Medal Finals.
WEC: How do you like riding with Ashland Farms?
Caroline: I love it. It's been such a great learning experience. They work so hard and everyone pitches in. It's such a great environment to learn in, both on and off of the horses. They're based out of Lexington right now, but it's been a little hard to get to Kentucky as much as I've wanted to. I mostly meet up with them at shows and doing lessons and everything there. There were a few times during the break in horse shows this year that I was able to drive there and do a few lessons before heading back home.
WEC: Tell us about each of the horses you showed at Capital Challenge.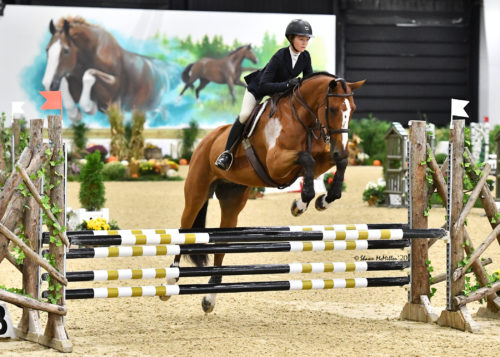 Caroline: I rode my Low Junior Jumper, El Classico, in the 3'3′ Jumping Seat Finals. During Maclay Regionals we decided to switch him over to do the equitation for this indoors season. He has been fantastic.
I got to ride Lolita, one of Ashland Farms' horses, in the THIS Finals. One of their clients, Allie Rae Hayes, is leasing her out to do the 3′ Children's on. I rode her my first winter at WEF with Ashland in 2018 and did the age group equitation on her. It was my first horse that I rode at WEF with Ashland, and it was my first time winning a class at WEF, so she's been a special horse in my riding career. They were nice enough to allow me to ride her in the Zone 5 horsemanship class last week in Kentucky, then the THIS Finals here.
I showed Maximus L, or Max, in the 3'3″ Junior Hunters. He is owned by the Gajoch family, who ride with my moms. They've been super kind and have let me ride Max over the past couple of years. They got him when he was pretty young and he has kind of grown up with us. He's awesome. He's so sweet, he just wants to be in your lap all of the time. He did indoors last year in the Children's Hunters and was still pretty green then, so he's coming in with a lot more experience this year. I'm excited to see how he does.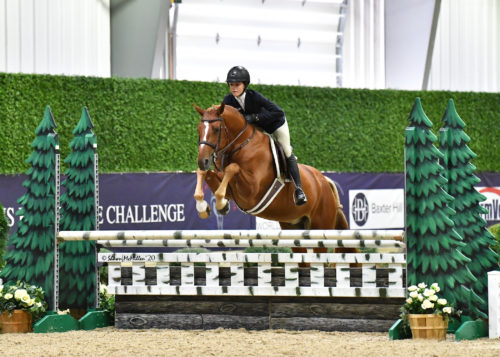 I also showed my own horse named Sundance, or Sunny, in the 3'3 Junior Hunters. He's only six years old. We just got him in Florida this winter. We weren't sure what we were going to do with him, jumpers, equitation or hunters, but my mom really liked him. We didn't get to do a lot with him this year because of COVID unitl we went to Michigan this summer. We started doing the 3′ equitation, then transitioned into the Junior Hunters. He's been awesome, he's been amazing for being a 6-year-old. He has his moments, of course, but he's honestly such a good horse. His personality is just like Max's personality, they are both like dogs. They both want to be in your lap. They're the most sociable animals ever.
WEC: How did you do in each of your classes at Capital Challenge?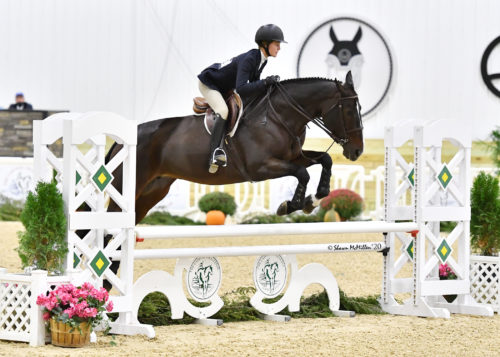 Caroline: Capital Challenge went really well. Last week's 3'3′ Jumping Seat Finals with El Classico was great. We both had our moments, but for him just stepping into that role, he was awesome. The THIS Finals with Lolita was fantastic. We ended up 7th, which was really exciting. This weekend I did the 3'3″ Junior Hunters on Maximus L and Sundance.
Max and Sunny were great. They were both really good yesterday and had really consistent rounds. Today were both really good in the R+L Arena, then some green moments in the Sanctuary. Going into this weekend I was looking to give them both a good experience rather than going for ribbons, since they're both green. I'm really happy with both of them.
WEC: How was balancing school and riding during Capital Challenge?
Caroline: School has always been something that is really important to me, so I try to keep school and riding on the same level. It's been a little tough balancing both, but I'm doing an online curriculum due to COVID. We log into zoom, so we're still "in class". I've just been trying to get to as many classes as I can, which has been a little easier with it being online. I love riding, but I definitely try to prioritize school.
Caroline added:
Capital Challenge and WEC did a really great job during this show. I had a really fun time and I'm really happy with how the show went, especially with green horses.
Congratulations on a successful Capital Challenge, Caroline, and good luck at Medal Finals!
Photo courtesy of Shawn McMillen Photography.