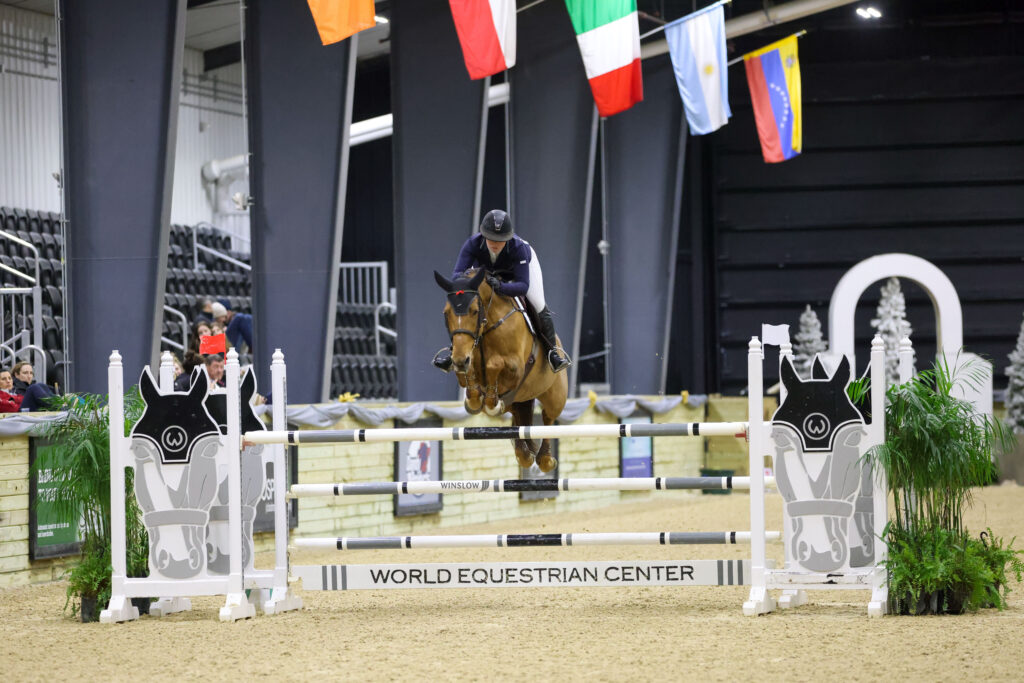 Wilmington, OH – An excited crowd gathered to watch as eight lightning-fast entries galloped their way through the Sanctuary Arena to vie for a $30,000 Grand Prix win on a course designed by Bobby Murphy of Lexington, Kentucky. Five entries went double clear on the twisting track, making time the determining factor for the top of the leaderboard. While each horse-and-rider combination delivered masterful performances, none could best Charlotte Clark and her own Kinsella (Capitalist x Jerpoint Mist).
Clark of Kendalwood Farm in Sunbury, Ohio, and Kinsella, a 12-year-old Chestnut Irish Sport Horse mare, have won countless feature classes at the venue throughout the years. They blazed tonight's tracks with precision, consistency and speed, to finish both rounds leading the class. The team went quick and clear in the qualifying round, stopping the timers at 70.321 seconds, well under the time allowed of 80 seconds, securing a spot in the jump-off.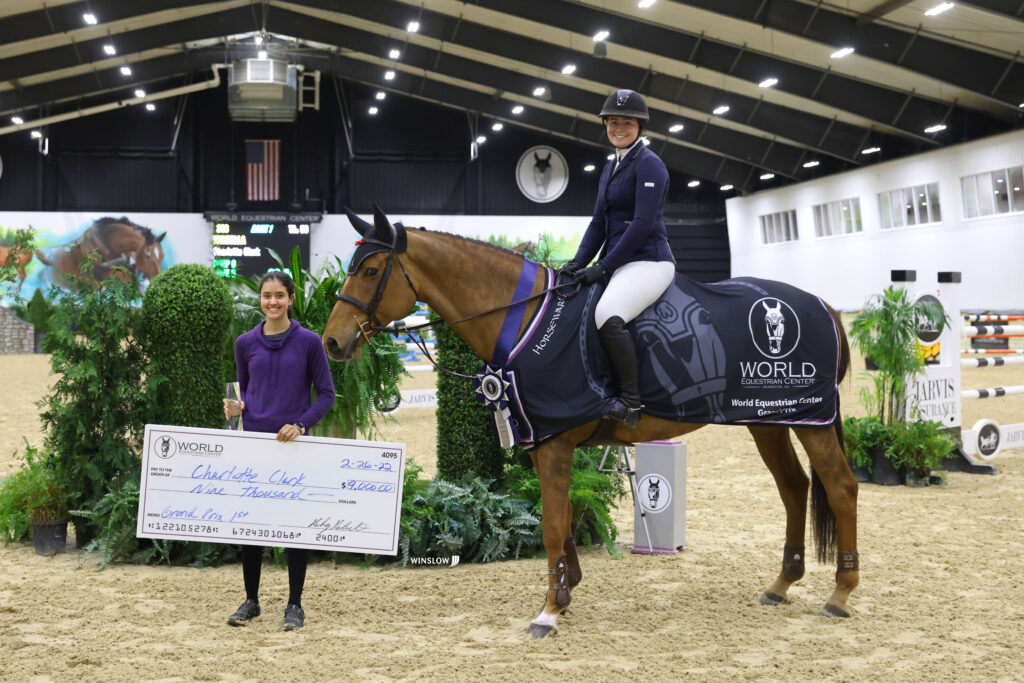 They returned last in the jump-off, maintaining a similar effort to that of round one, wasting no time and crossing the finish line in only 33.746 seconds for the $30,000 Grand Prix gold.
 We caught up with Charlotte shortly after her big win. "We had a very tidy turn between the first two jumps of the jump-off. There actually was a timer malfunction after my first jump – There was a weird glitch, so I had to start over. I was thinking 'Oh my gosh, I really hope I don't knock it over the second time!' After that, all was good and we were just so tidy. Bobby Murphy's courses are my favorite to ride. He does a nice job and I'm always happy to see him at a horse show. Also, I want to thank my amazing groom, Olivia Saldivar. She is my go-to girl and takes such great care of Kinsey."
Charlotte described her show partner, "My horse's name is Kinsey (Kinsella) and I've known her for quite a while. I've owned her for six years and got her when she was just five years old. We have had a very long relationship, I know her so well and trust her 100%. She is the easiest and sweetest horse to get along with. " 
$30,000 WEC Wilmington Grand Prix Results:
Kinsella, Charlotte Clark: 0 | 0 | 33.746
Hendrik, David Beisel: 0 | 0 | 34.047
Catch a Star HSS: 0 | 0 | 34.130
Fawkes, Lindsay Lyden: 0 | 0 | 35.254
Classic Roc, Nick Novak: 0 | 0 | 36.241
Vegas H, David Beisel: 0 | 4 | 35.747
Essince W, David Beisel: 4 | 73.542
Fortysix & 2, Lyriss Jaeger: 4 | 77.031
Kevin McCarthy (IRL) and Honey Girl Prove Unstoppable in $10,000 Welcome Stake 1.30m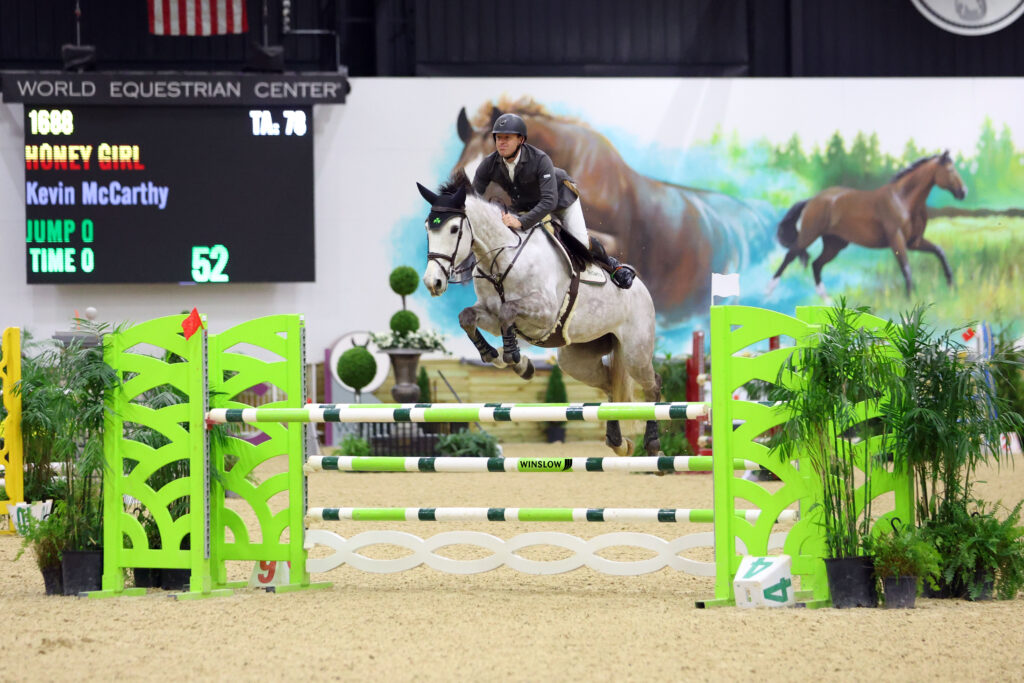 The $10,000 WEC Wilmington Futures Prix 1.30m saw eleven entries vying for the win over a course that featured 14 jumping efforts including two combinations. Ireland's Kevin McCarthy and Keely O'Hara's Honey Girl proved unstoppable with an impressively brilliant jump-off, besting 2nd place by more than one whole second.
During week 10, McCarthy of K&K Sporthorses in Lexington, Kentucky, jumped Honey Girl (Zirocco Blue VDL x Lirena) to a third-place finish. Against many of the same competitors this week, the pair stepped up their game and rode to take the win. The 9-year-old Dutch Warmblood mare is a newer mount for McCarthy, with this being their second month together. "I acquired Honey Girl just before Christmas. She is extremely careful, brave and scopey… which is everything that I look for in a horse. I'm looking forward to continuing to show her and so delighted for her to win the blue today", mentioned Kevin.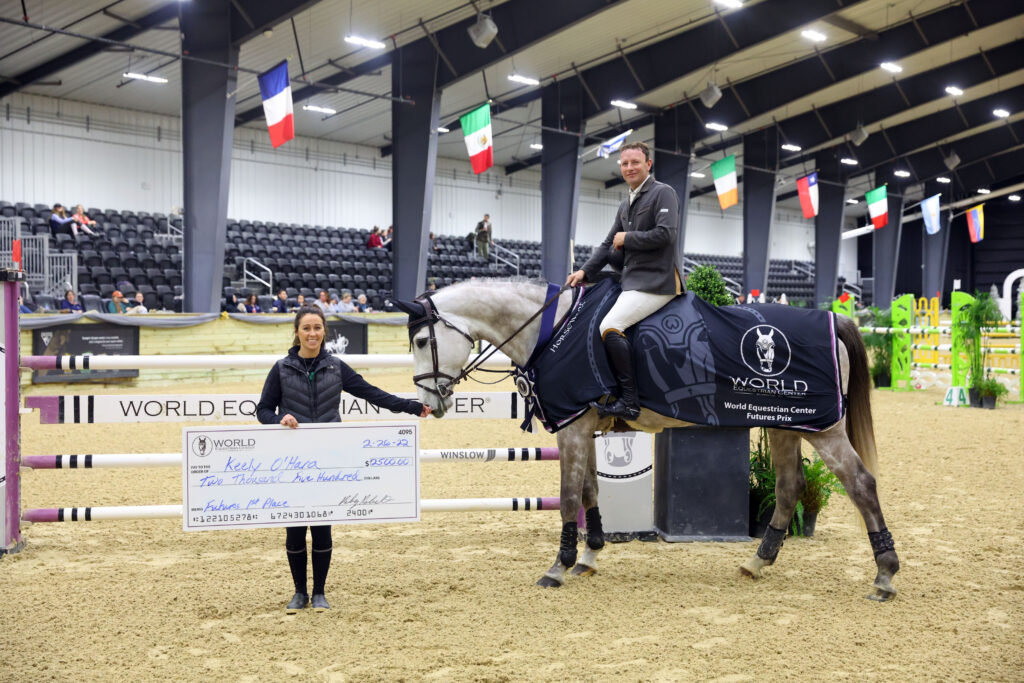 The team notched one of the fastest first-round times, stopping the clock at 71.747 seconds, well under the 78-second allowed time. They went clear and immediately contested the short course, giving it their best shot and racing through the timers in 44.330 seconds to ultimately steal the win.
$10,000 WEC Wilmington Futures Prix Results:
Honey Girl, Kevin McCarthy: 0 | 0 | 44.330
Conafino Z, Michelle Mahoney: 0 | 0 | 45.467
Excellent, Michelle Mahoney: 0 | 4 | 40.983
Kalune, Sophia Keoleian: 0 | 4 | 43.199
In Private, Lindsay Lyden: 0 | 7 | 52.742
Jordiada Bloom, William Dow: 0 | 8 | 40.193
Celeano Vh Lindenhof Z, Heather Froehlich Cortell: 0 | 8 | 42.876
Clinton, Emma Lena M. Green: 0 | RT
Rebel Just for Kicks, Michelle Vandal: 4 | 68.221
Iconic, Michelle Vandal: 8 | 74.158