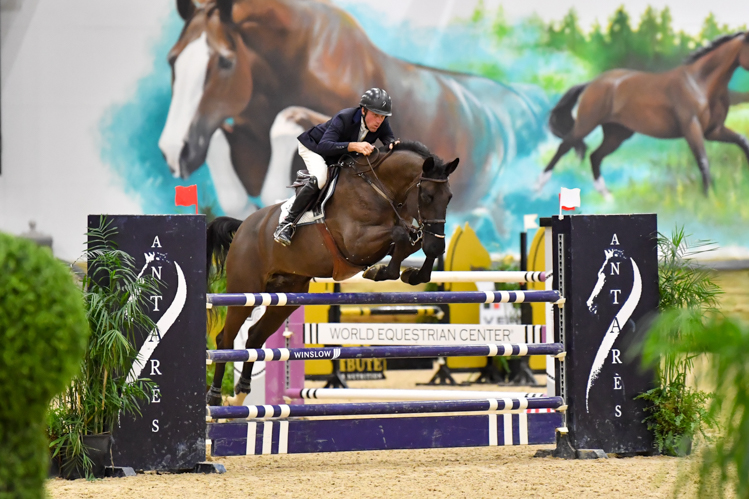 Wilmington, OH –David Beisel and daughter Izzy Beisel are both frequent visitors to the World Equestrian Center winners circle and tonight was no exception as the father/daughter duo rode away with top honors in their respective feature classes.
The electrifying crowd roared as David Beisel and his own Essince W rode through the timers winning tonight's $30,000 WEC Grand. Beisel and the thirteen-year-old Dutch Warmblood gelding finished the first round with one of the fastest times in the class at 71.067 seconds. He later returned to the jump-off, going clean and clear in just 33.754 seconds.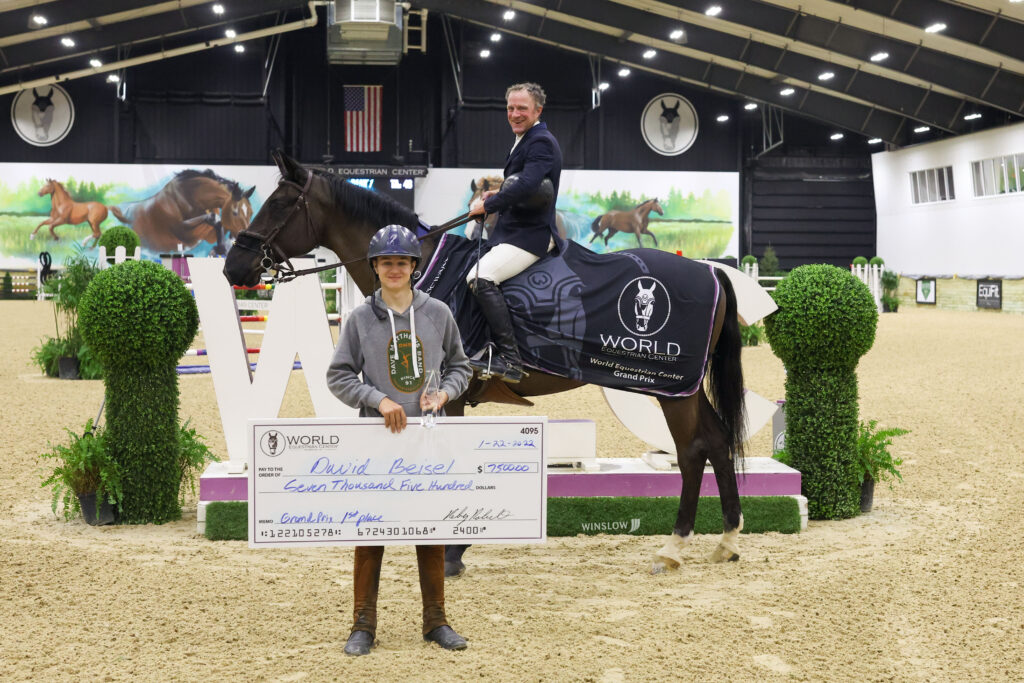 During tonight's $30,000 WEC Grand Prix, Beisel employed a strategy that worked well for him in the Welcome Stake earlier this week, when he opted for speed over risky inside turns, earning the win.
"I wasn't sure if anyone actually made the inside turn off of the Butterfly oxer. I looked at it and decided that it wouldn't be in my plan. I figured if you wanted to turn inside you would have to slow down a lot and in return, it would kill your horse's motor and momentum. I kept the speed around the corner for the next jump. Essince is great in so many ways. In his turns and the way, he gallops to a jump. Tonight I wanted to put my trust in him to the two stride pair of verticals. I know how careful he is and it worked out in our favor to win it."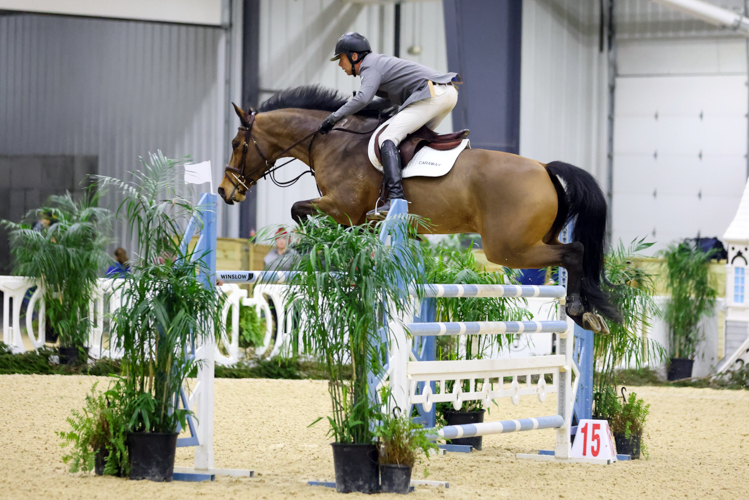 Richard Rinehart of Rinehart Farm in Westfield, Indiana, chose a path similar to Beisel. Rinehart and Ron Caraway's Vincent remained fast and steady to deliver fault-free rounds and finish with times of 72.877 in the qualifying round and 34.999 seconds in the jump-off, for a second place finish.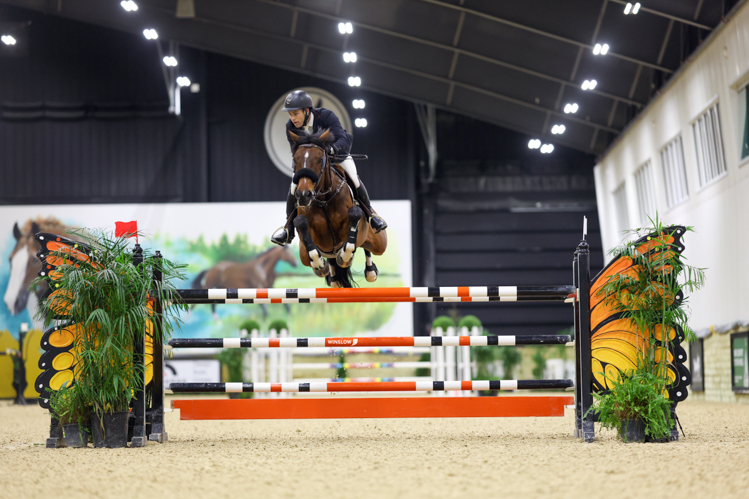 David Arcand (CAN) riding Dollar Del Colle showed off their speed through both tracks. Their fault-free first round effort stopped the clocks in 73.287 seconds, securing them a spot on the jump-off. Arcand and Dollar Del Colle tackled the short course in 35.420 seconds to earn third-place honors.
$30,000 WEC Grand Prix Results:
Essince W, David Beisel: 0 | 0 | 33.754
Vincent, Richard L. Rinehart: 0 | 0 | 34.999
Dollar Del Colle, David Arcand: 0 | 0 | 35.420
Z Diamanty, Megan Bash: 0 | 0 | 35.713
Hendrik, David Beisel: 0 | 0 | 37.261
Main Line Girl, Doug King: 0 | 0 | 37.351
Cumbaya W, Darby Pease: 0 | 4 | 34.856
Jackson VDL, Megan Bash: 0 | 4 | 34.861
Tinka's Soldier, Chloe Parker: 0 | 4 | 35.123
Vegas H, David Beisel: 0 4 | 35.697
Izzy Beisel & Ammeretto Victorious in $10,000 WEC Futures Prix 1.30m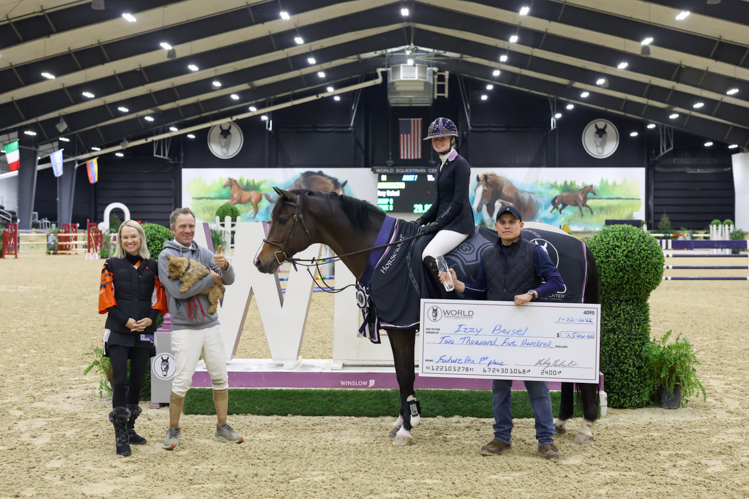 Izzy Beisel and longtime jumping partner Ammeretto (Numero Uno x Ranna) dazzled once again during today's $10,000 Futures Prix 1.30m. Beisel has been atop a horse for much of her life and has eaned top rankings despite being just fourteen-years-old. She is coached by her father, David Beisel, who you can often watch execute a 'secret handshake' with his daughter before their rounds. Today marked Izzy and Ammeretto's second consecutive Futures Prix win. They blazed through the first round finishing in 66.471 seconds. Izzy relied on her horse's turning expertise to execute a flawless jump-off round in only 29.899 seconds to win the class.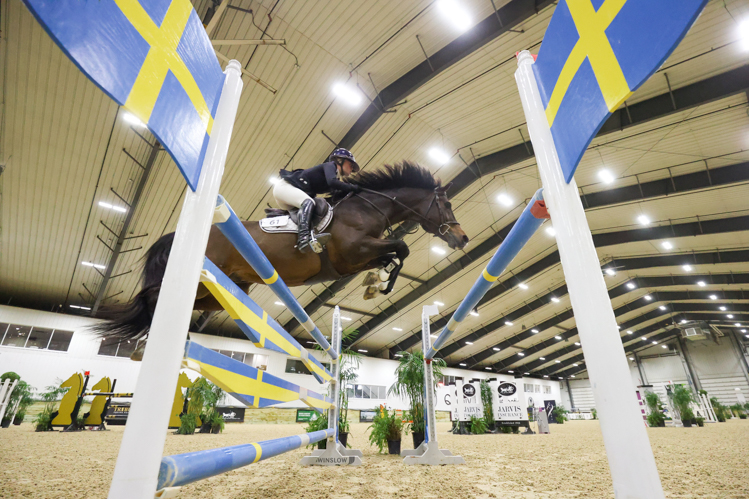 We caught up with Izzy to chat about her approach. "My horse is a great turner and he knew that some turns were approaching so he just went for it and was like 'go – go – go!'. The course was complicated in a few spots because of the corner jumps and jumps on the rail. He has been around for a while, so he knows that if we are on the rail we won't turn towards it. It was difficult keeping him straight through the red in-and-out, especially in the jump-off because he knew what to expect from the first round."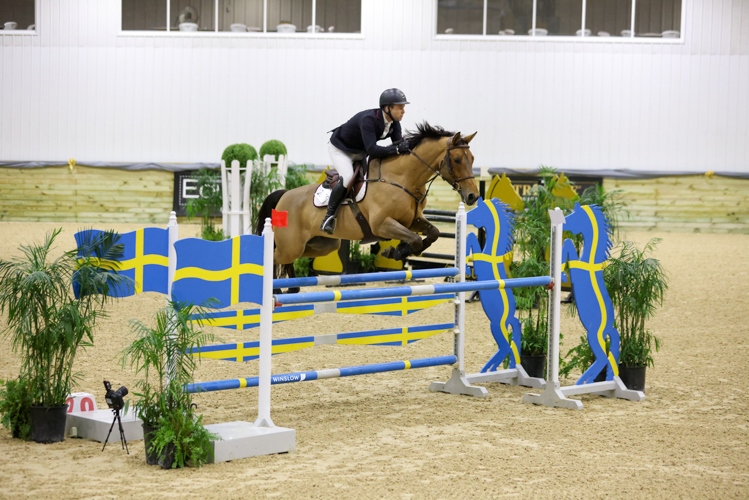 David Arcand (CAN) and his own Diaz Barbotiere (Messire Ardent x Quambera Barbotiere) appeared to take a similar approach as Beisel, logging a 68.853-second finish in the qualifying round. Opting for tight inside turns in the jump-off and stopping the clock in 31.235 seconds with a clear round carried them to a red ribbon finish.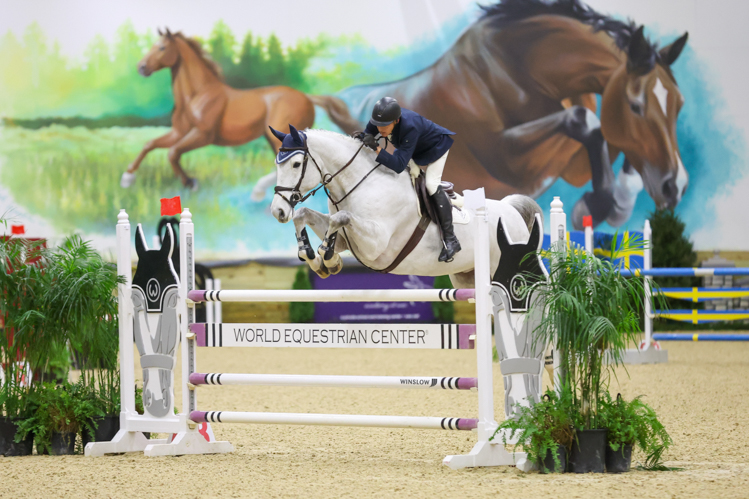 Brian Shook of Holly, Michigan and Cinna HP (Couleur Rubin x Coco Chanel Z) captured third place honors in today's $10,000 WEC Futures Prix. Shook and the scopey gray gelding went double clear, earning times of 69.695 seconds in round one and 31.355 seconds in the jump-off.
$10,000 WEC Futures Prix Results:
Ammeretto, Izzy Beisel: 0 | 0 | 29.899
Diaz Barbotiere, David Arcand: 0 | 0 | 31.235
Cinna HP, Brian C. Shook: 0 | 0 | 31.355
Summersby, Doug King: 0 | 0 | 32.327
BSS Isa, Darby Pease: 0 | 0 | 32.512
Honey Girl, Kevin McCarthy: 0 | 0 | 36.578
Right This Way, Mary Roskens: 0 | 4 | 33.900
La Dolce Vita VDL, Richard L. Rinehart: 4 | 64.885
Diesel, Paul Halpern: 4 | 68.992
Congrato, Mikayla Sancho: 4 | 69.551