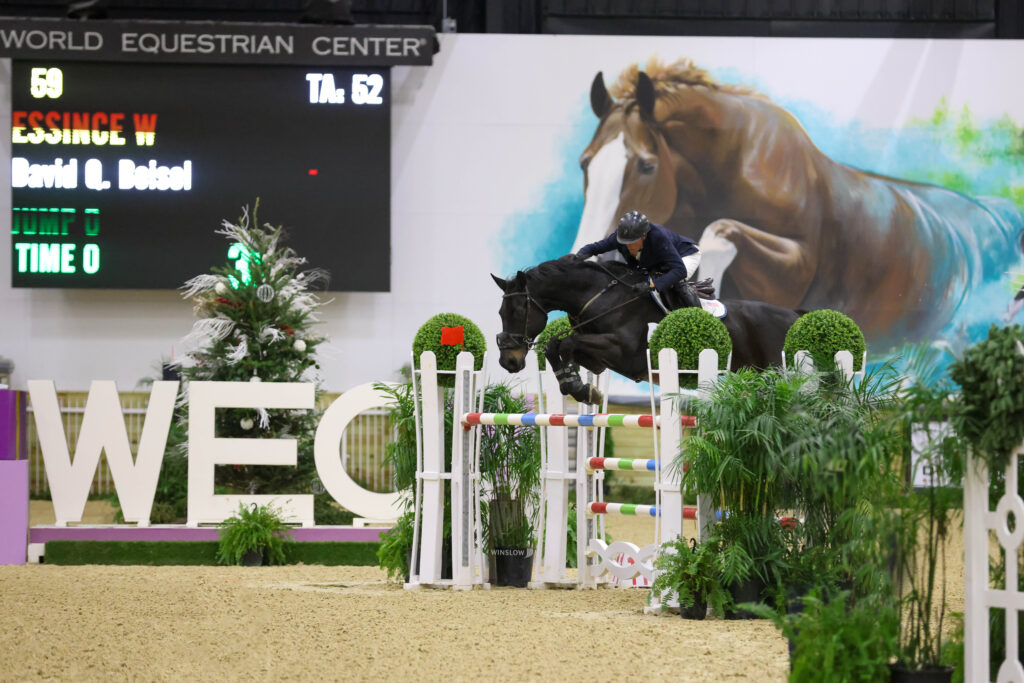 The Sanctuary arena hosted an international field of twenty-two talented horses and riders who joined us for this afternoon's World Equestrian Center $10,000 Futures and $30,000 Grand Prix classes. A ​​myriad of sparkling holiday trees, bountiful greenery and substantially sized gifts all ornamented the course designed by Bobby Murphy of Lexington, Kentucky. 
As always, both classes brought the fiercest of competition with all riders vying for the top spot, however none could best David Beisel and his own Essince W (Chacco Blue x Rossan). Beisel and Essince W crowd favorites, going for broke each time they compete to the delight of their fans.
On tonight's course, Beisel of David Beisel Stables, Goshen, Ohio, and the 12-year-old Dutch Warmblood gelding went double clear and finished the fastest in round one, crossing the timers in just 73.187 seconds, well under the 85 second time allowed. Last to go on the short course, Beisel and the bold black gelding flew over the last jump and past the timers in 37.887 seconds to ultimately take the blue ribbon.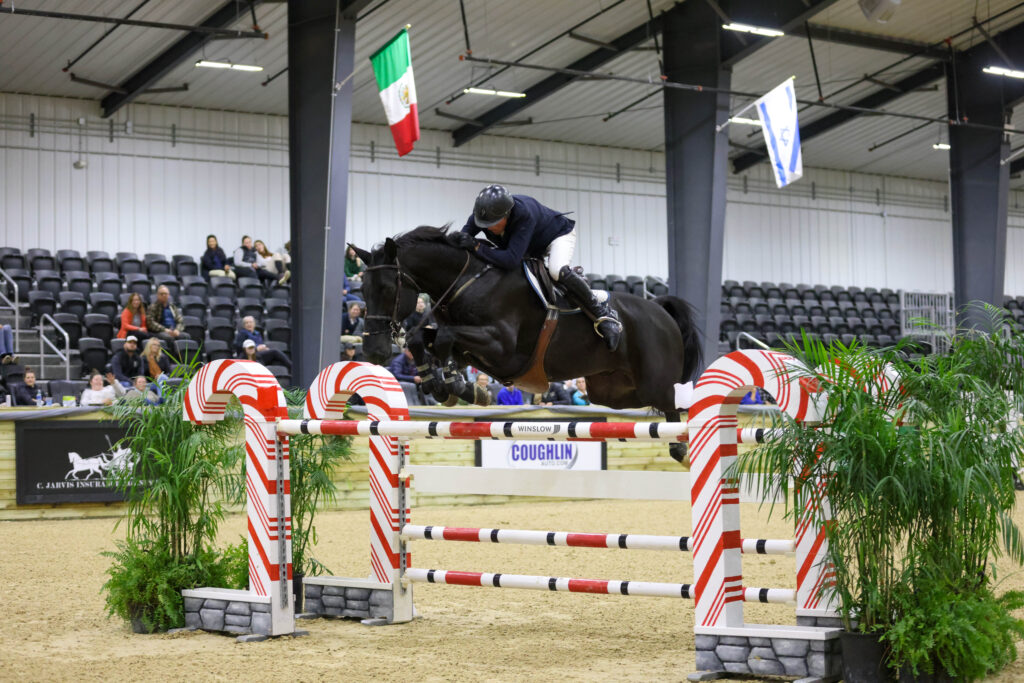 During the last two shows at World Equestrian Center – Wilmington, the pair has reigned supreme in the WEC Grand Prix ring. Today we caught up with David to chat about tonight's course and their third consecutive Grand Prix win.
"Essince had a little vacation in the pasture while we traveled last week for Thanksgiving. He's such a great horse. My son hacked him for a few minutes this past Sunday, and then he went back into the field before coming up here. It's actually quite funny – he was even covered in mud when I shipped him up here on Tuesday! But it was back to work when he got here…. we rode in the 1.30m yesterday in preparation for the Grand Prix and it all seemed to work out in our favor."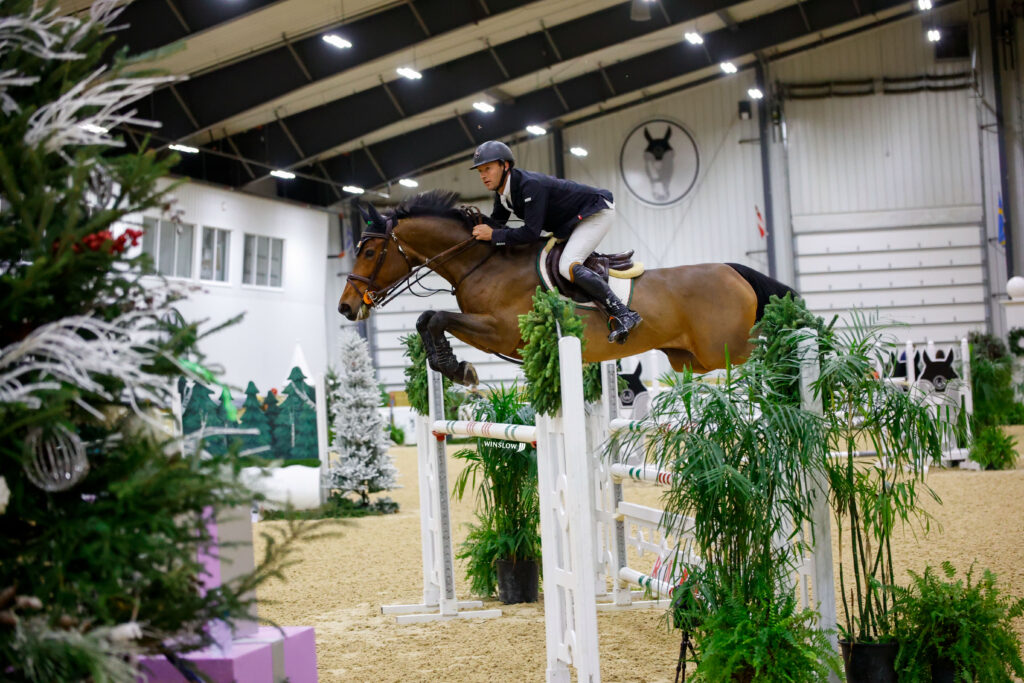 Ireland's Kevin McCarthy of K&K Sporthorses, Lexington, Kentucky, and his own Catch a Star HSS (Sheraton x Tolinda) returned to the Sanctuary tonight after winning the Welcome Stake earlier in the week. Tonight McCarthy and the 11-year-old Swedish Warmblood mare jumped to a quick 75.790 seconds in round one, followed by a fault-free 39.675 second go in the jump off to take second place and the red ribbon.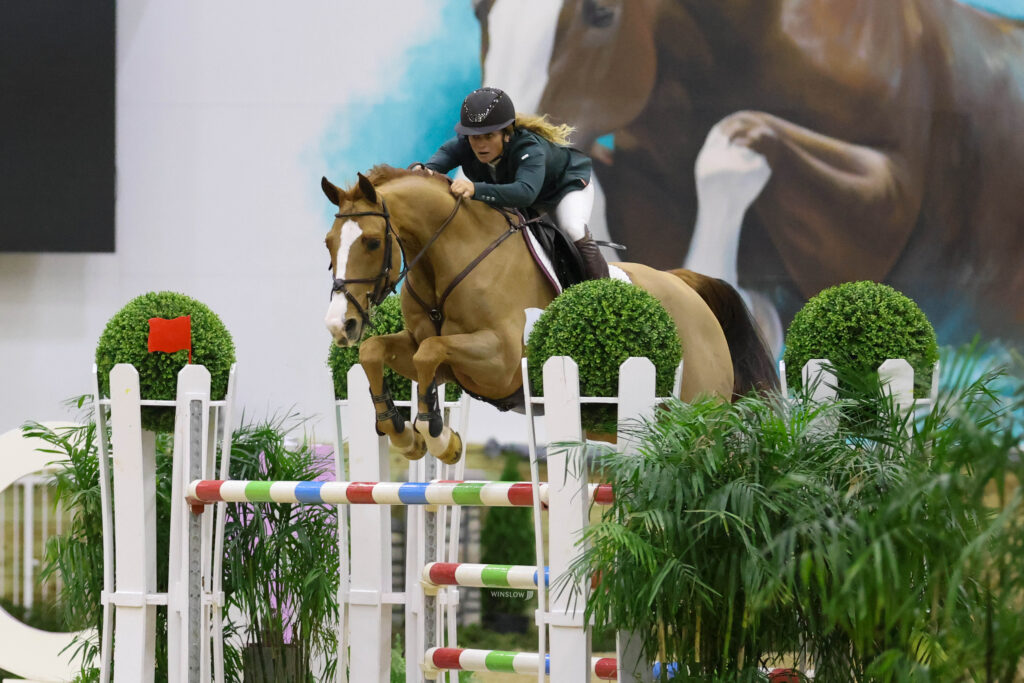 Sarah R. Meier of Punchestown Stable, Lexington, Kentucky, and Thinks Like A Horse's Gallup landed in third place during this afternoon's $30,000 Grand Prix. The pair jumped a fault free first round in 74.527 seconds, followed up by a 36.462 second time in the jump off, with an unlucky rail that landed them in the third place position.
$30,000 WEC Wilmington Grand Prix Results:
Essince W, ​​David Q. Beisel 0 | 0 | 37.887
Catch a Star HSS, Kevin McCarthy 0 | 0 | 39.675
Gallup, Sarah R. Meier 0 | 4 | 36.462
Jarocco Blue, Sam Berry 0 | 8 | 39.679
A Lil Evil, Kathryn J. Currey 4 | 73.616
Main Line Girl, Doug King 4 | 75.989
Vegas H, ​​David Q. Beisel 4 | 76.678
Unesco du Rouet, Christian B. Currey 4 | 76.783
Clever, Rachel Schnurr 4 | 78.765
Chaccomo 11, Drew Arnold 8 | 77.610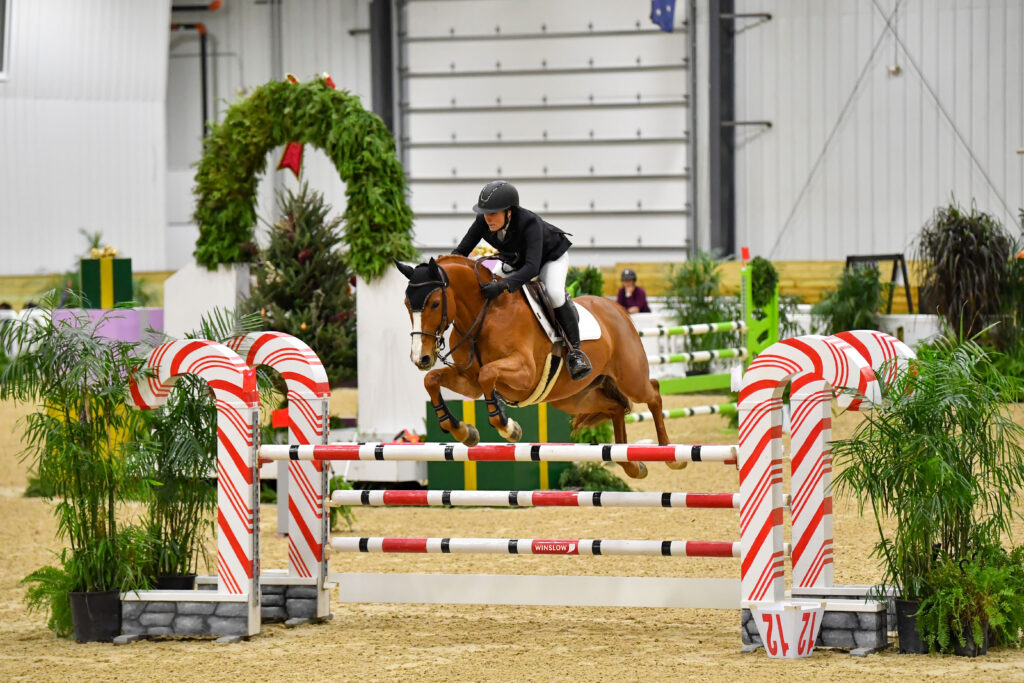 This afternoon's $10,00 Futures Prix saw a field of eleven contestants vying for the win over a similar course to that of the Grand Prix. Eight entries found clear first rounds but just five managed to jump double clear, with Corri Goldman and her own Ciego (Scareface De Mars x Adea) edging out the competition by just 0.095 seconds in the jump off.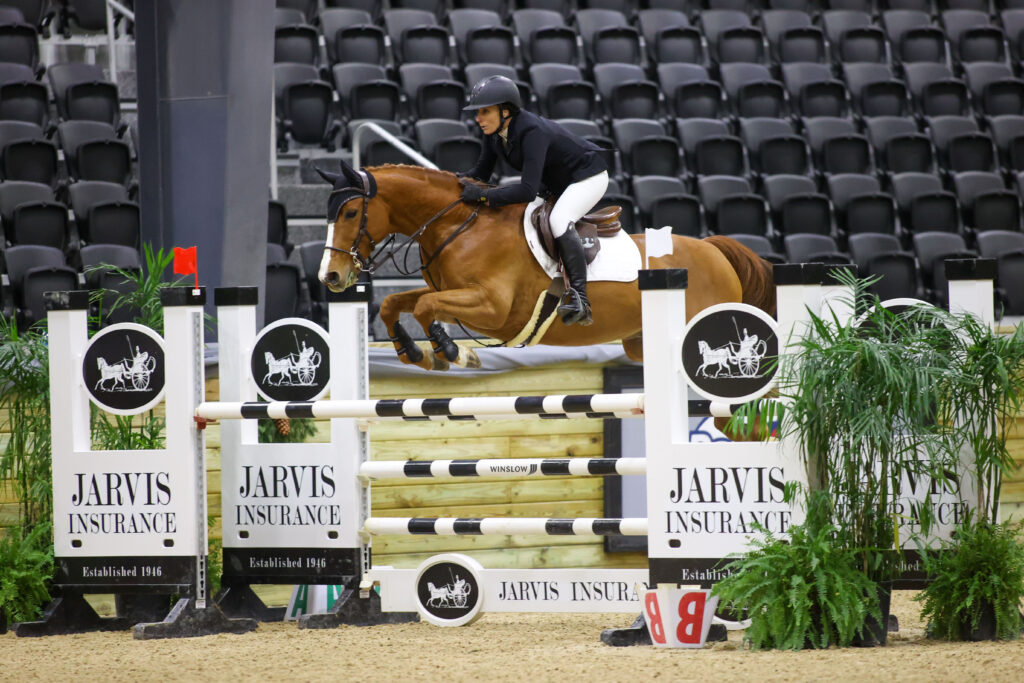 Amatuer rider Goldman of Maryland and the nine-year-old Selle Français gelding put the pedal-to-the-metal and sped through the course. Spectators cheered as they wrapped up their first round in only 69.406 seconds. Upon returning for the short course, the duo laid down a second clear and finished in 28.766 seconds to secure first place honors.
When asked about Ciego, Goldman replied, "I've had Ciego for three years now and he is so small! We call him 'the pony'. He is only 15.1 but he doesn't let that stop him. He is a great horse for an amatuer like me and he does whatever I ask of him. I do this without a trainer and I board my two horses at a local farm. After Christmas we will be spending the winter in Ocala and can't wait to be back down south competing in the warm weather."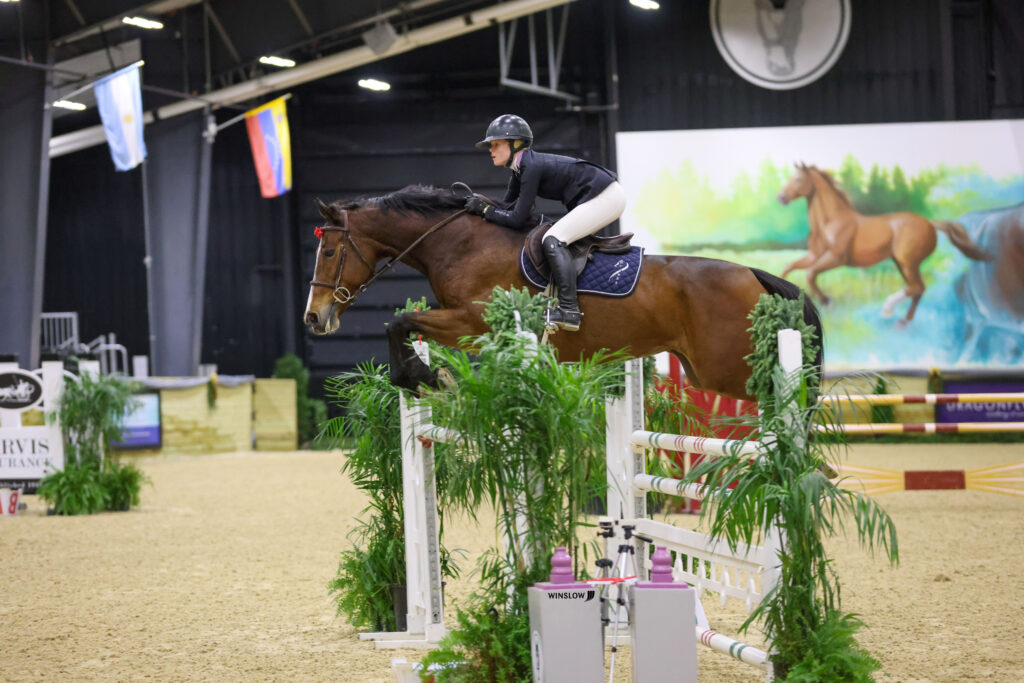 Junior rider Izzy Beisel, daughter of Grand Prix champion David Beisel, and Ashwood Farm LLC's Indira are a new team in the ring, but you wouldn't know based on their performance. This duo was on the heels of Goldman during both course attempts. The 2013 Dutch Warmblood Mare jumped to finish round one in an impressive 69.607 seconds. Beisel and Indira then galloped in the jump-off and managed to cross the timers in 28.861 seconds, missing first place by only 0.095 seconds.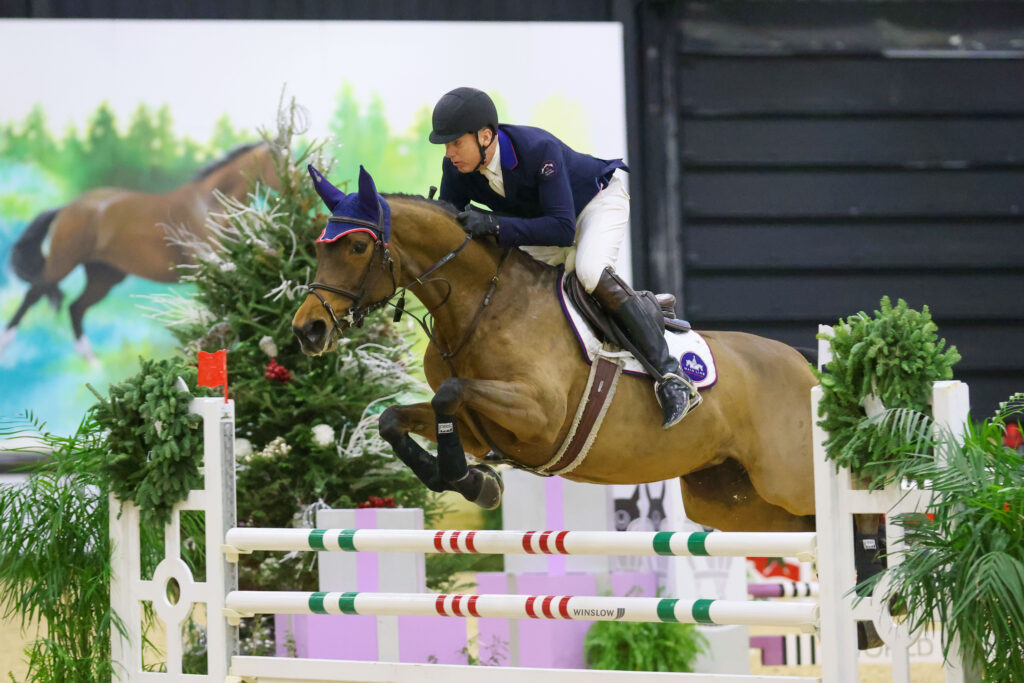 Doug King of Royal Crown Stables in Malvern, Pennsylvania and Summersby (Stalypso x Lady) rounded out the class's top three by jumping double clear and completing two tidy rounds. King and the twelve-year-old Hannovarian mare delivered a very fast and clean first round stopping the clock at 67.356 seconds. They flew through the jump-off course, to stop the clock at 29.018 seconds for a third place finish.
$10,000 WEC Wilmington Futures Prix Results:
Ciego, Corri Goldman 0 | 0 | 28.766
Indira, Izzy Beisel 0 | 0 | 28.861
Summersby, Doug King 0 | 0 | 29.018
Galway Bay Pandora, Alliy Moyer 0 | 0 | 29.474
Viva's Dolce W, Elyse Batista 0 | 0 | 33.559
Check Point 18, Sarah R. Meier 0 | 4 | 28.418
Mai Star, David Q. Beisel 0 | 4 | 30.542
Chanel One, Libby S. Giordano 0 | EL
Matinee BSH, Shawn Butler 4 | 72.760
Centara Bay PS, Christian B. Currey 6 | 81.992
Congratulations to all entries on a successful day of equestrian sport!
Photos courtesy of Winslow Photography
Want to win 32 weeks of FREE stabling for your horse at our shows? Join us for Winter Classic 3 December 15th-19th where when you win your first blue ribbon, you will be able to pick a gift from under our magical holiday tree. Amazing gifts include gift certificates from our restaurants, lodging and retail as well as generous gifts from our many vendors and sponsors. Four lucky winners will receive FREE stabling for their horse for ALL of 2022! Visit the show office to learn how to win.