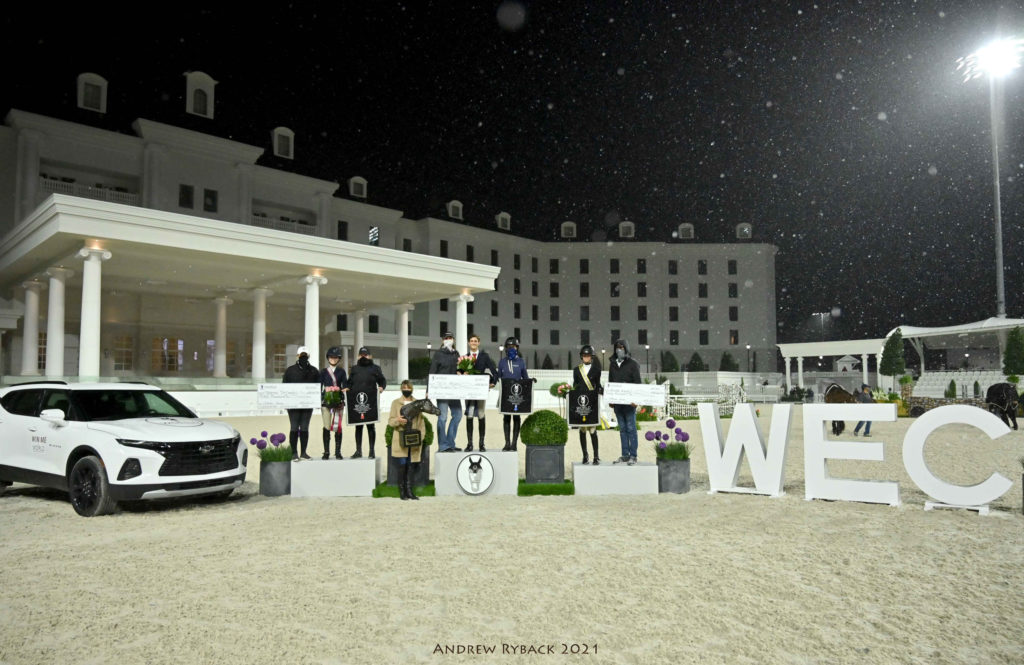 The WEC Grand Arena played host this evening to the WEC Premier Cup Equitation Final where 59 talented junior riders were tested over a traditional three-phase Equitation format with jump heights set at 3'6″. Competition was tough with several highly decorated junior riders filling the order of go, but ultimately it was 2020 ASPCA Maclay Finals winner Dominic Gibbs aboard Mountain King Ranch LLC's Cent 15 (Carenzo x Sarafina) that prevailed to earn the shiny new 2021 Chevrolet Blazer. Trainer bonuses totaling $100,000 were also awarded during the class with Gibbs' trainer, Stacia Madden, taking home the lionshare of $40,000.
The course for tonight's WEC Premier Equitation Championship featured stunning fences including a skinny Riviera hedge combination, a birch Italian oxer and an elegant curved wall. Before the class, course designer Bobby Murphy of Lexington, Kentucky gave us some insight into the design of tonight's course, "When you're looking at a course, you're trying to create tradition. WEC is creating a new tradition with the WEC Premier Cup Equitation Final and the course should resemble that idea. The class takes place in a large ring, so the track is connected. It is very technical with rideability being one of the biggest features. There is a skinny Riviera hedge combination and a couple of walls. The jumps are solid, so the questions are more in the distances than they are in the jumps. It consists of hunter-type jumps with equitation spice."
World Equestrian Center Horse Show Manager TJ Campbell commented on his hopes for tonight's class, "I am excited to see a field of 59 riders participating in tonight's class that includes some of the top equitation riders in the country. It is my second time doing the class. It started at World Equestrian Center in Wilmington, Ohio, in 2019, so I am happy to see it evolve. I am also excited for the trainer bonus, which allows us to give back to the hard working professionals in the industry. I think it's a nice way to connect the horse, rider and trainer and showcase all of their efforts. I am looking forward to the future of the World Equestrian Center Premier Cup Final. The next final will be this fall in Wilmington, Ohio."
World Equestrian Center — Ocala Director of Operations Vinnie Card also shared his thoughts on the class, "It's exciting to see the growing number of entries in this class and it is also great to be able to showcase the World Equestrian Center — Ocala facility. The class will be presented across the world on our live stream and we hope that viewers enjoy the first big equitation class held at World Equestrian Center — Ocala. The trainer bonuses are great additions to the class and a junior will receive a nice new set of wheels to take home."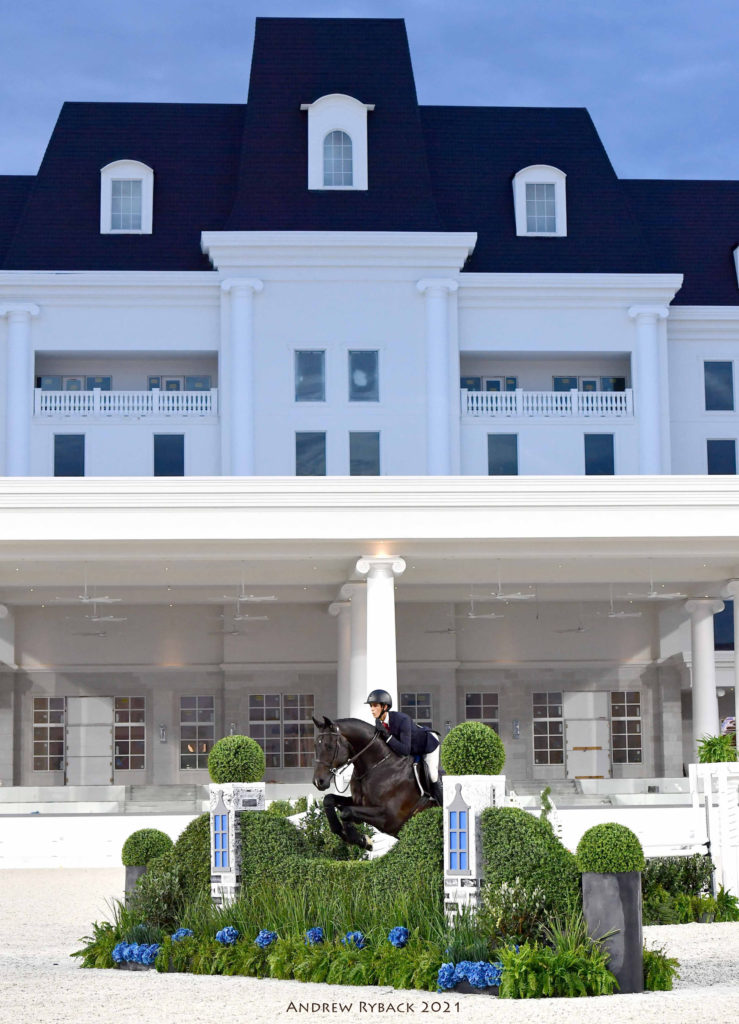 The WEC Premier Equitation Championship began with an over fences phase that featured a winding, technical track that led riders through the WEC Grand Arena. Countless entries stood out in the first round, including Dominic Gibbs of Colorado Springs, Colorado, aboard Mountain King Ranch LLC's Cent 15 (Carenzo x Sarafina), Grace Debney of Hampden, Massachusetts aboard Temple Equestrian's Quimby (Q Verdi x Zanna I) and Natalie Jayne of Elgin, Illinois aboard Heritage Farm's Charisma (Stakkato x Cassini I).
The class advanced into phase two of the competition: the flat phase. Riders took to the rail in sections to show off their best equitation, and were asked for a working sitting trot, working rising trot, working walk, working canter, and counter canter in both directions. Riders were also asked to drop their irons and perform extended gaits in both directions. Gibbs, Debney and Jayne all continued to stand out in the flat phase.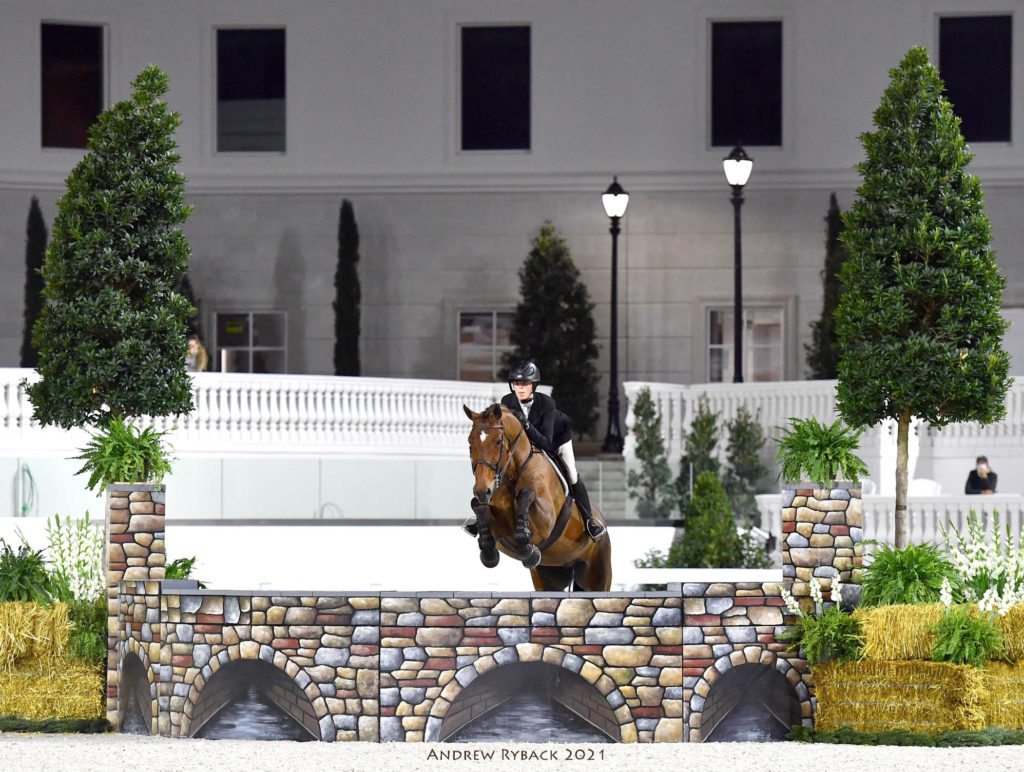 The class then entered its final phase: an even more technical course that asked riders to trot out of a line, roll back on the counter lead and hand gallop down the center of the ring. The top 14 entries were invited back to the ring in reverse order based on current class standings and Jayne was first of the top four contenders to return aboard Charisma. She raised the bar for the class, laying down a stunning round that would ultimately bump her up one placing.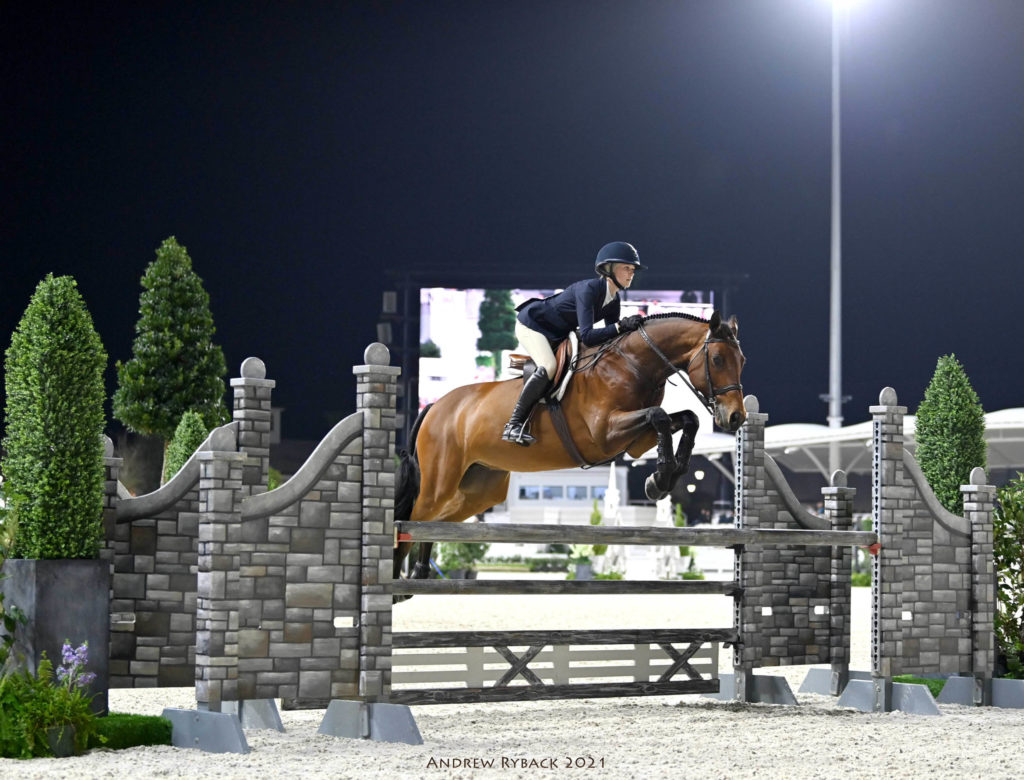 The top two to return began with Debney, an experienced equitation competitor and accomplished young rider, already stepping up to the grand prix stage at just 16 years old. Tonight she rode her trusty equitation horse, Quimby. Debney piloted Quimby through a foot-perfect round finding each distance out of stride, challenging final rider, Gibbs, to best her flawless round.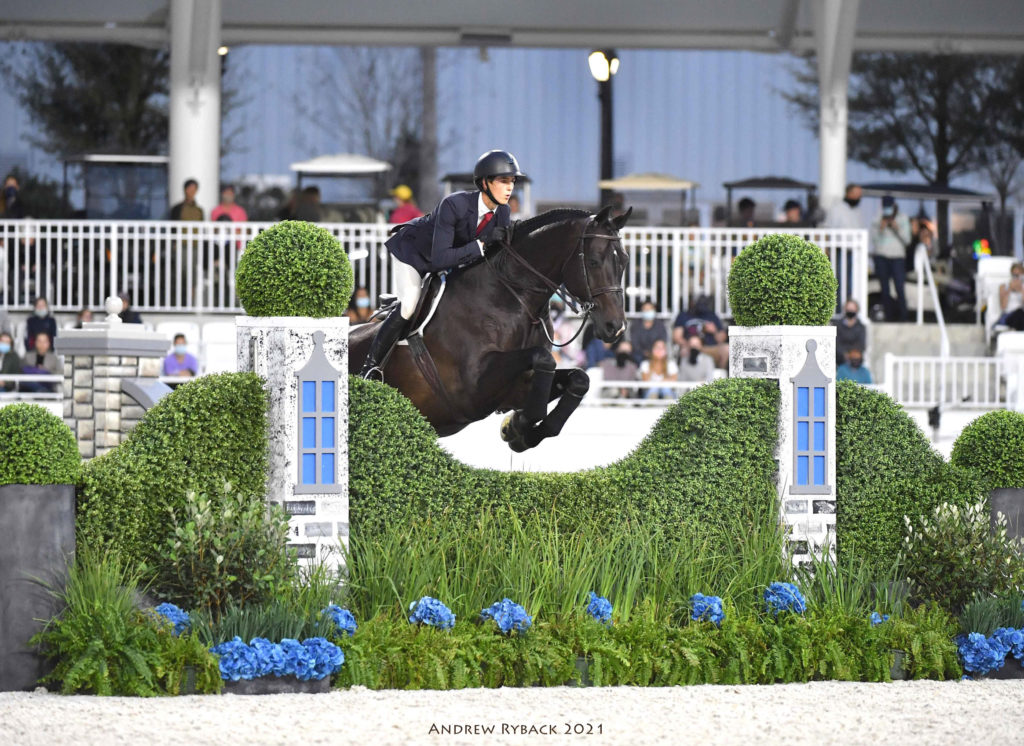 Gibbs entered the ring with confidence aboard his equitation partner, Cent 15. The pair were completely in synch throughout their round, working in harmony to find the perfect spot to each fence. They soared over the final fence to the roar of the crowd as they celebrated Gibbs' stellar round.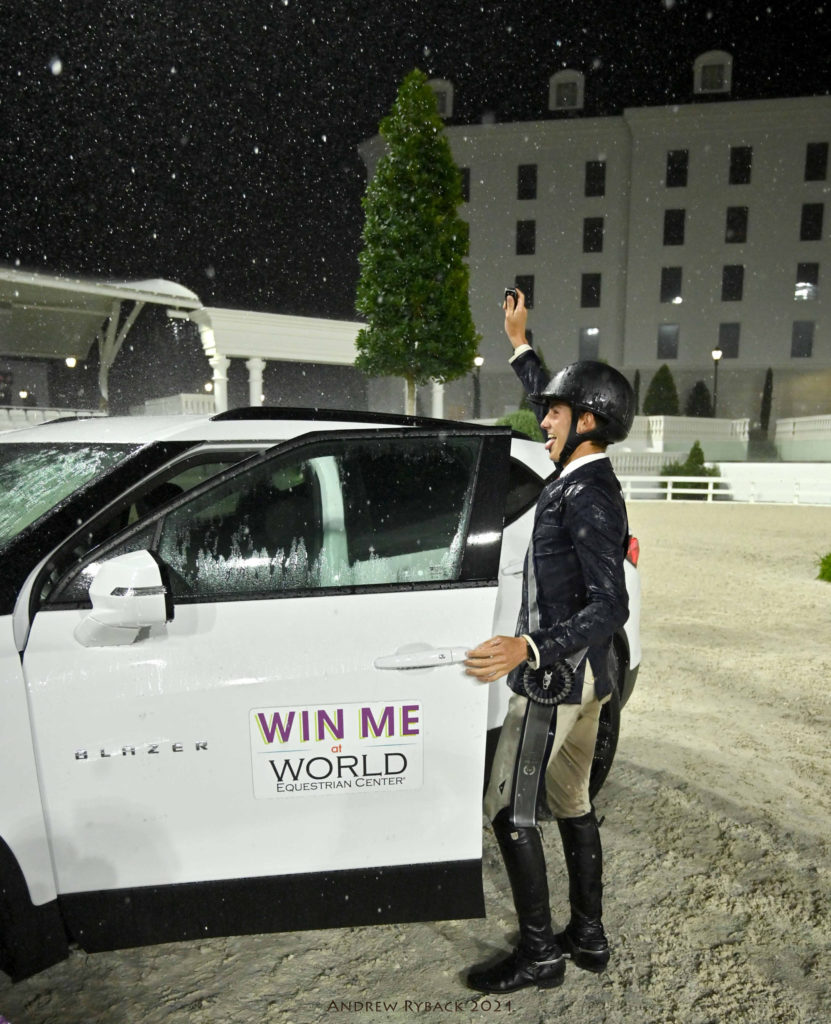 The top 12 riders were invited back into the arena for the awards presentation with Gibbs taking first place, Debney taking second place and Jayne taking third place. The top riders enjoyed a victory gallop followed by a trip to the podium for a celebratory photo alongside Gibbs' newly-claimed 2021 Chevrolet Blazer. The top three trainers were awarded with trainer bonuses with Stacia Madden earning the top prize of $40,000, Stacey Weiss claiming 2nd and $20,000 and Andre Dignelli rounding out 3rd and receiving $20,000. A "wild card" trainer was also pulled and Angela Moore received a $10,000 trainer bonus.
Gibbs took the time to chat with us after the class about his win, "In the first round I thought the course was great, I love Bobby Murphy's courses. He has some great jumps and I always love to see what he has in store for the riders. He's built for the Maclay Finals and I love everything that he brings out. I liked that we started away from the gate because that tests the riders' ability to get their horses in front of them. I felt like I may not have done enough in the two-stride hedge line, which set me about eight inches further away from the next fence than where I would have liked to have been. Other than that, I thought it was a great round. Cent 15 is a brilliant horse on the flat, which really allows me to showcase my riding, particularly through the extensions. I was trying to work on being by myself and showing myself off to the judges. The only thing going through my head in round two was to do the technique. I saw a few riders miss a change or add one in a line, so I just wanted to do the test and do it well."
When asked about his mount in the class, Cent 15, Gibbs replied, "He is my equitation horse. He is a 13-year-old gelding and is very special to me. He is my 3'6″ equitation horse, but we originally bought him to be my big-time jumper. He was meant to be my high junior jumper. He told me that he liked the equitation, so I worked with Stacia and my other trainer, Katie Haley, to turn him into an equitation superstar. He loves his job."
Gibbs commented on his excitement to win the 2021 Chevrolet Blazer, "I am super excited to win the 2021 Chevrolet Blazer. If you ask anyone that knows my situation with cars right now, I definitely need a new car. I am thrilled to receive a new car, it's a great prize, especially for a junior rider. We don't get a lot of opportunities to win something like this."
He also added, "I would like to say thank you to my trainers, Beacon Hill Show Stables and the whole team that has helped me to get here. It takes a village."
Gibbs' trainer, Stacia Madden, also took a moment to chat with us about the win, "I'm always trying to promote inaugural events. I was really happy to bring five riders to tonight's class and I thought that it was a great experience and a great championship. It was exciting for the riders to get to show in a venue like this that feels like a true championship venue. It was a unique experience. It is important to me, when I see things like this that are good for the sport, to back it up as best I can by supporting it. To have four of my riders get a chance to flat and have two riders make it to the second round was exciting. Of course, everyone came to the class tonight hoping to win the car and the trainer bonus, but getting to show at this facility was also a real treat."
Madden commented on Dominic's performance, "Dominic and Cent 15 are a real pair. He has done all of the work with this horse himself, so I am very proud of that and very confident when he goes in the ring because the two of them are such a team. Dominic is in his last junior year and he drives a car that had been pelted with hail, so him winning the car is super exciting. The trainer money is super exciting for the equitation, as well. That is something that you don't get a chance to compete for very often."
She also added, "I would like to thank World Equestrian Center for hosting this event. I know that they went through a lot to run shows at this facility, so I am glad to see so much support for it. It's like Disney for horses, I feel like I just won a trip to Disney Land!"
Congratulations to Dominic Gibbs and Stacia Madden, and to all entries and trainers in tonight's WEC Premier Cup Equitation Final.
WEC Premier Cup Equitation Final Results
Dominic Gibbs, Cent 15
Grace Debney, Quimby
Natalie Jayne, Charisma
Zayna Rizvi, Finnick
Riley Hogan, Jones
Aristea Santoro, Any Given Sunday
Amira Kettaneh, Gossip SA
Alexander Alston, Canny Windsor Z
Alexandra Ryden, Dicaprio 3
Madison Fankhauser, Double Dutch
Eva Fisherman, Boldly Stated
Schuyler Dayner, Gambino
Photos courtesy of Andrew Ryback Photography.