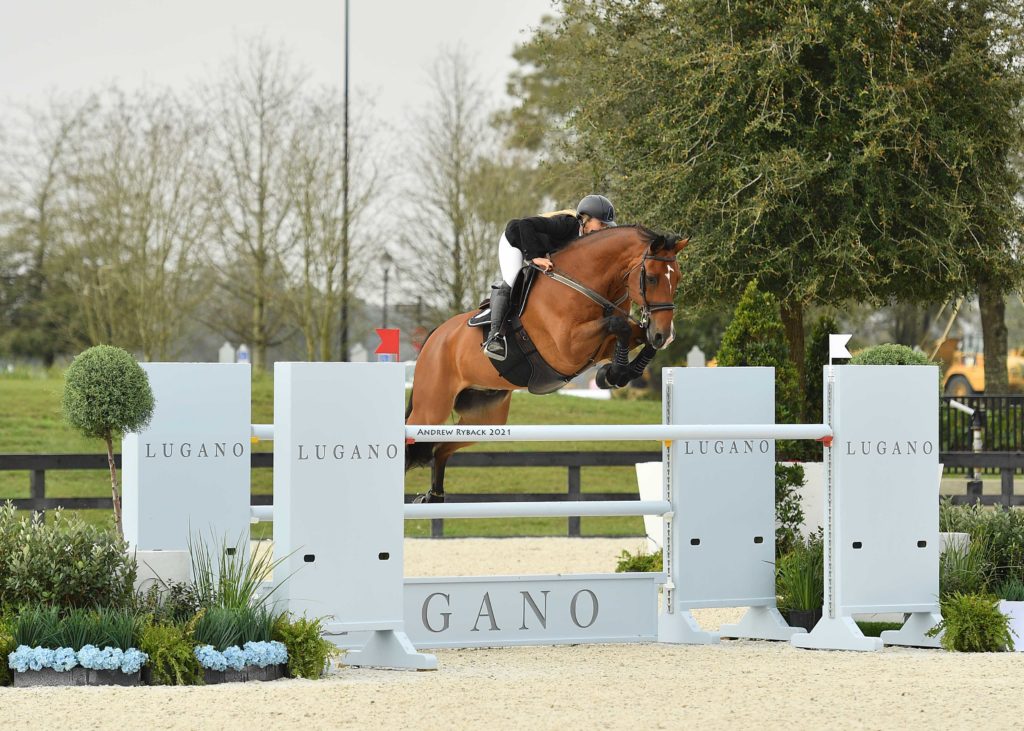 Thirty-seven entries took to the Stadium at World Equestrian Center — Ocala this morning for the $75,000 WEC Grand Prix 1.50m. The course for the class was designed by Joey Rycroft of Canada and featured a Valentine's Day-themed World Equestrian Center triple bar, two liverpool fences, a triple combination and a double combination. Eleven entries advanced to the jump-off with nine jumping double clear, while Kristen Vanderveen and Bull Run Jumpers Inc's Bull Run's Risen (Utopie x Violette) prevailed with a jump-off that proved unbeatable.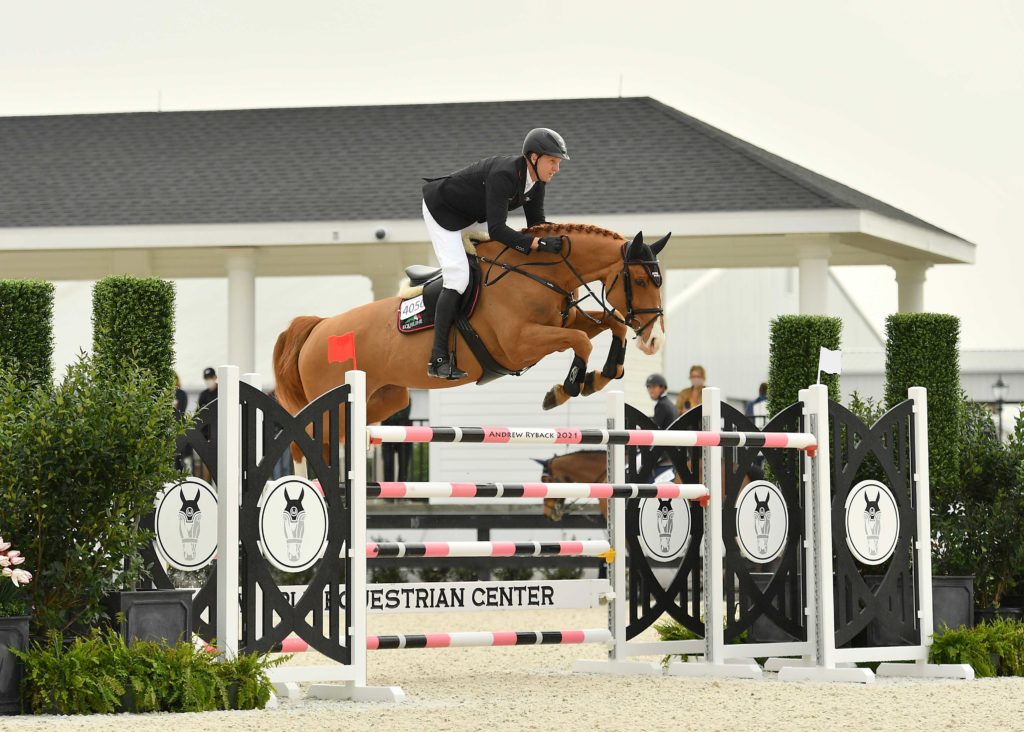 Representing Germany, Andre Thieme and his own Chakaria (Chap 47 x Askaria 3) secured a spot in the jump-off early in the order. The pair compete often in CSI2* and CSI3* classes, preparing them well for this morning's 1.50m track. Thieme and the fiery 11-year-old chestnut mare blazed through the first round in 80.165 seconds, well within the time allowed of 85 seconds, signaling that they would be strong competitors on the short course.
Kristen Vanderveen and Bull Run Jumpers Inc's Bull Run's Risen (Utopie x Violette) earned a return on the short course late in the order. Vanderveen and the 15-year-old KWPN gelding have won ribbons in several FEI classes, but had yet to secure a grand prix victory. The duo was on-track for a chance at the win this morning, jumping a clear first round in 82.536 seconds.
Molly Ashe Cawley and Louisburg Fam's Berdien (Bustique x Queen Z) were last to nab a spot in the jump-off. Cawley and the 10-year-old Zangersheide mare started out the winter season strong with a win in the $37,000 FEI CaptiveOne Advisors 1.50m Classic during week one of the Winter Equestrian Festival and brought their A-game to this morning's class, nailing a clear first round in 81.730 seconds.
The course was adjusted and eleven entries returned for the jump-off. The track for the short course did not offer any inside turn opportunities, instead rewarding those with a big stride and quick pace. Thieme and Chakaria took to the course second in the order, taking a tidy rollback to fence 17 and setting the standard with a speedy, clear jump-off in 41.526 seconds.
Thieme and Chakaria held the lead in the class until Vanderveen and Bull Run's Risen entered the ring. Knowing the time she had to beat, Vanderveen and her scopey bay gelding picked up pace across the course, making up crucial seconds across the ground. The duo galloped through the timers at 39.892 seconds, moving into the top spot.
Last on course were Cawley and Berdien. Like Vanderveen, Cawley and Berdien surged forward through the course. The pair stayed snug on the rollback to fence 17 and raced to the final fence, crossing the timers at 40.821 seconds just behind Vanderveen, leaving her in 1st place and moving Thieme to 3rd place.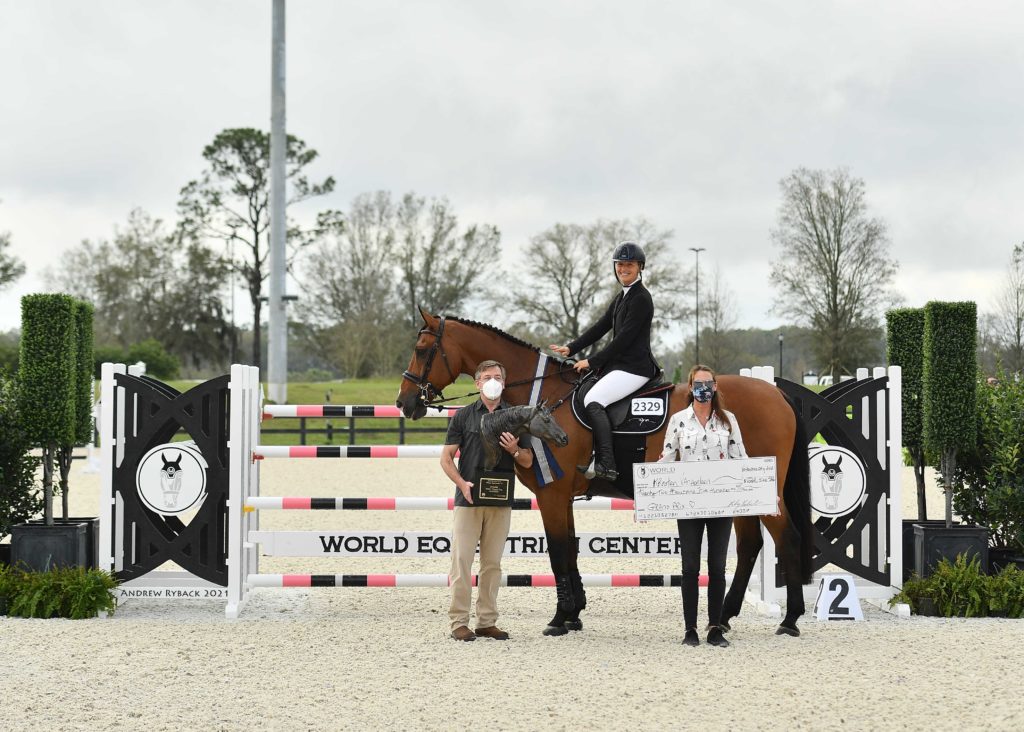 Vanderveen took a moment to chat with us about her win, "This is actually the first grand prix Bull Run's Risen has ever won. He is one of my main horses, but he always jumps the really big classes. It was pretty fun to get to do a speedy jump-off. His stride is so big and the track was set perfectly for a big-strided horse to open up and keep going all the way around. I tried to focus on getting that big gallop and not changing that pace."
When asked about Bull Run's Risen, Vanderveen replied, "He's been 2nd and 3rd in some grand prix classes. He is truly a contender, but this is our first win. He is a 15-year-old that I got two or three years ago, now. He's my guy for the 5* classes. Unfortunately, I didn't end up getting to jump in the 5* this week, but he got to jump here and it really paid off."
$75,000 WEC Grand Prix 1.50m Results
Bull Run's Risen, Kristen Vanderveen – 0 | 0 | 39.892
Berdien, Molly Ashe Cawley – 0 | 0 | 40.821
Chakaria, Andre Thieme – 0 | 0 | 41.526
Esmee, Sharn Wordley – 0 | 0 | 41.860
Fancy Girl, Willie Tynan – 0 | 0 | 42.931
Dingeman, Santiago Lambre – 0 | 0 | 43.034
Arpeggi, Brooke Kemper – 0 | 0 | 43.897
Essince W, David Beisel – 0 | 0 | 46.844
Cappuccino, Molly Ashe Cawley – 0 | 0 | 47.923
Super Chilled, Jonathan Corrigan – 0 | 4 | 42.968
Photos courtesy of Andrew Ryback Photography.