The first annual World Equestrian Center Invitational horse show is well underway with tonight's $15,000 Welcome Stake class kicking off an evening of great sport and family fun. The brand new Sanctuary arena was the setting for the class that featured 27 horse and rider combinations vying for the top prize. Douglas E. Boyd and Berkley III, a 10-year-old Dutch warmblood gelding, emerged victorious with a double clear round and a jump-off time of 43.829, well under the time allowed of 49 seconds.
Steve Stephens designed the track, which gave competitors a nice preparatory test for the Grand Prix on Saturday night. The first round included 12 efforts including 2 double combinations with an allotted time of 77 seconds. The short track featured 8 fences with time allowed of 49 seconds. "I designed the Welcome Stake to build confidence for the Saturday headliner, the $50,000 WEC Grand Prix," said Stephens.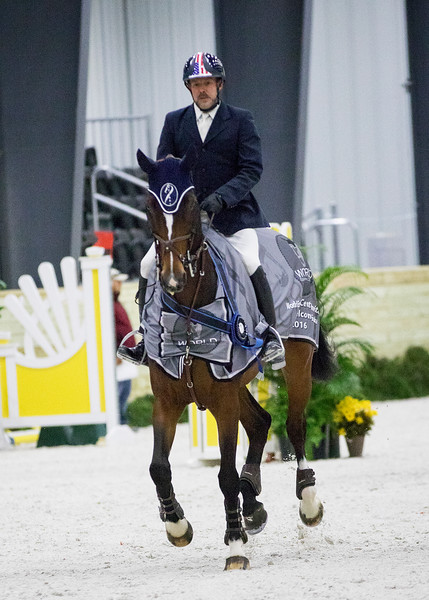 Boyd was proud of Berkley III's winning effort, noting that "he's on the green side and is coming into himself – he just wants to jump. The first year I had him it was more about taming him than training him." Boyd has ridden Berkley III for 2 years now and purchased him knowing his bloodlines included fire, fire and more fire, "we really had to harness it for the big jumps."
Boyd added, "This is our first week here and we are loving it all! The WEC awards and ribbons are great and I very much appreciate the customized Top Jock trunk and thank them for sponsoring the class tonight."
"The course was pretty straightforward and it rode the way it walked." Watch for this pair as major contenders for the Grand Prix win on Saturday evening.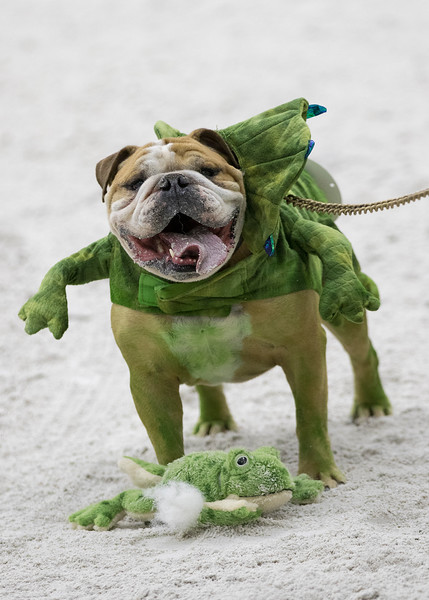 Spectators got another treat immediately following the Welcome Stake as dogs of all sizes took to the arena to show off their costumes and racing skills. More than 30 dogs competed tonight in two classes with prizes awarded for best costume and most creative. Best costume was awarded to a Bulldog-frog; while the top large dog was dressed as a Gladiator and there was a tie for most creative costume between a pair of Hillary Clinton & Donald Trump dogs and a yellow Lab dressed as a food truck.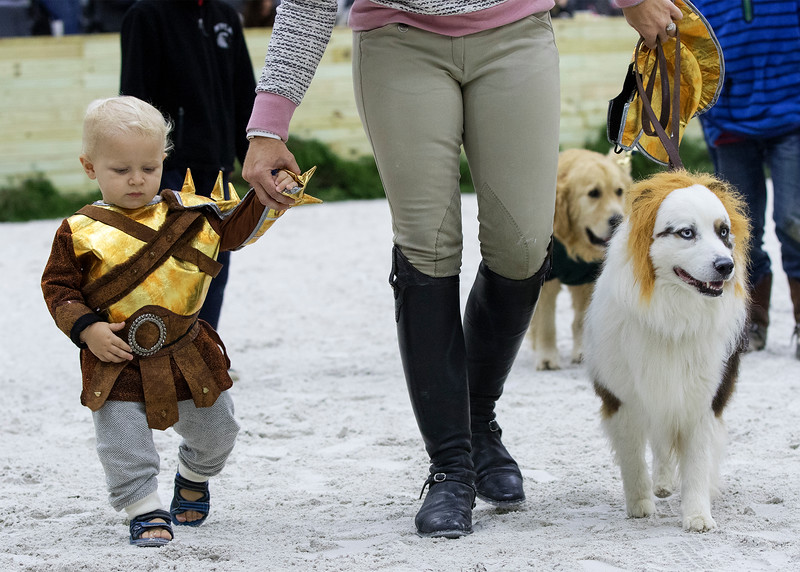 Special thanks to Charlie Jayne, who sponsored a pizza party which drew a huge crowd in to the Sanctuary vendor area. This was a great opportunity for exhibitors and their friends and families to relax before the weekend classes commence.