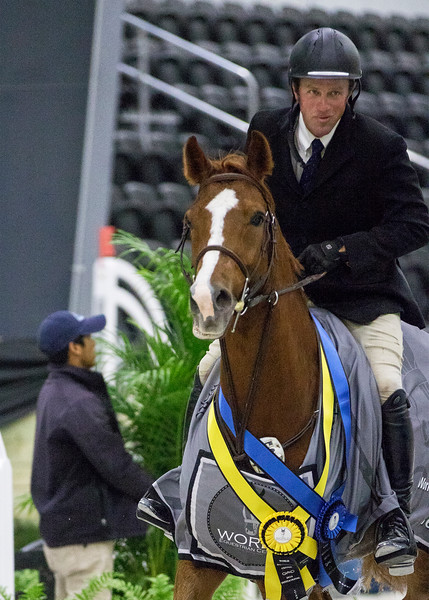 It seems David Beisel is riding under a lucky star these days. Tonight's Futures Prix class was a WEC Wheel of Prizes Class with a $3,000 added money. Last week at the WEC Fall Classic, Beisel won the 1.30m jumper class, which included $3,000 in added money from the lucky spin of the Wheel. It's all in the family as Beisel's daughter then went on to win Saturday morning's Small Pony Handy – another Wheel winner class.
But it was more than luck that set Beisel apart from the the field of 30 aspiring horse and rider combinations that contested the World Equestrian Center Futures Prix Thursday afternoon. The Steve Stephens-designed course was comprised of 11 efforts over a 1.30m-1.35m track that included 3 double combinations.
Seven riders made it to the jump off but in the end it was Beisel and For Sunday who posted a double clear round with a winning jump off time of 33.784. For Sunday is owned by Phyllis Harlow of Harlow Investment Enterprises. Beisel was also third with Call Me Hannes.
Beisel shared his history with riding at the Roberts Arena and WEC, "I've been coming to the Roberts Arena for 20 years and it's been exciting to watch it grow. The new indoor ring provides an ideal opportunity to push your horse to succeed and I really enjoy showing here."
"I liked Steve's course today and I feel that I learned from riding his courses last week. I think he gives you a nice flow to ride over."
Beisel has had the ride on For Sunday for 2 years now, and the two have achieved some great success. She is an offspring of a Dutch warmblood who won best mare at HITS Ocala 10 years ago and was a product of an embryo transplant. The owners, watched her grow up in their field for three years and then Beisel started training her. Sunday's winning pedigree is starting to emerge with a championship win in Kentucky last year and today's great victory.
Beisel added, "The World Equestrian Center is doing a great job and, I feel honored to ride at this top class event."
Juniors take the spotlight at the $10,000 Junior Challenge 3'6"
Young 14 year-old Olivia Darnell, abroad Casino 71, an 8 year old gelding bested a field of 5 to be the champion of the $10,000 Junior Challenge that also rewards the winning trainer. Oliva has been riding Casino for only 3 weeks now – as a catch ride.
In last week's junior challenge this pair came in 4th place, a great prelude to taking the top spot for tonight's class. Going into the class, Darnell said, "He was awesome schooling and in the ring was brave to every jump and was very quiet, which I didn't expect."
"I love the new facility – it's so nice, I've never seen anything like it before," Darnell beamed.
Callie Schott, Olivia's trainer has been training her for 4 years now and in order to prepare her for the junior challenge, she had her walk the futures grand prix course in addition to watching most of the class – so she could tell which lines she needed to work on and to be careful.
"Olivia is a working student and when she comes to the barn, she doesn't have her own horse – whatever sale horse we have, she rides – and she sells so many horses for us! She hasn't gotten a chance to bond yet with one horse, but we feel it's good for her to ride different horses to help advance her skills in a career she wishes to pursue," said Schott. In terms of her and her barn's experience showing at WEC, "We are all very impressed, because it's super nice."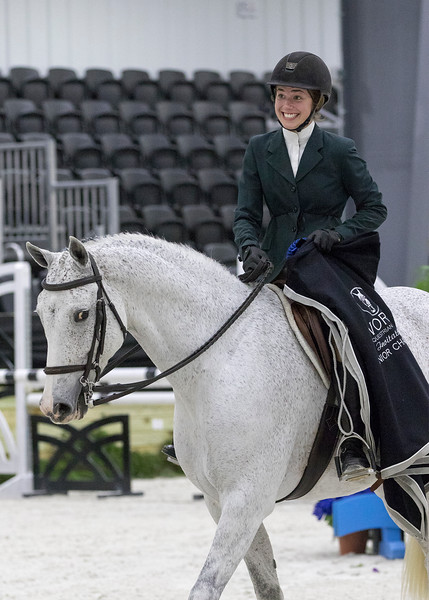 Evening Jams: Country star Sammy Kershaw rocked the Sanctuary
Equestrians and family gathered in the grand prix ring to hear country favorite, Sammy Kershaw and his band, belt out his well-known songs, including a few cover songs met with cheers and whistles from the crowd. The Hawaiian-themed Exhibitor's Party featured an enormous WEC ice sculpture loaded with shrimp cocktail, crab claws, and more. Later in the concert, the limbo stick came out and some adventurous participants competed to see how low they could go.