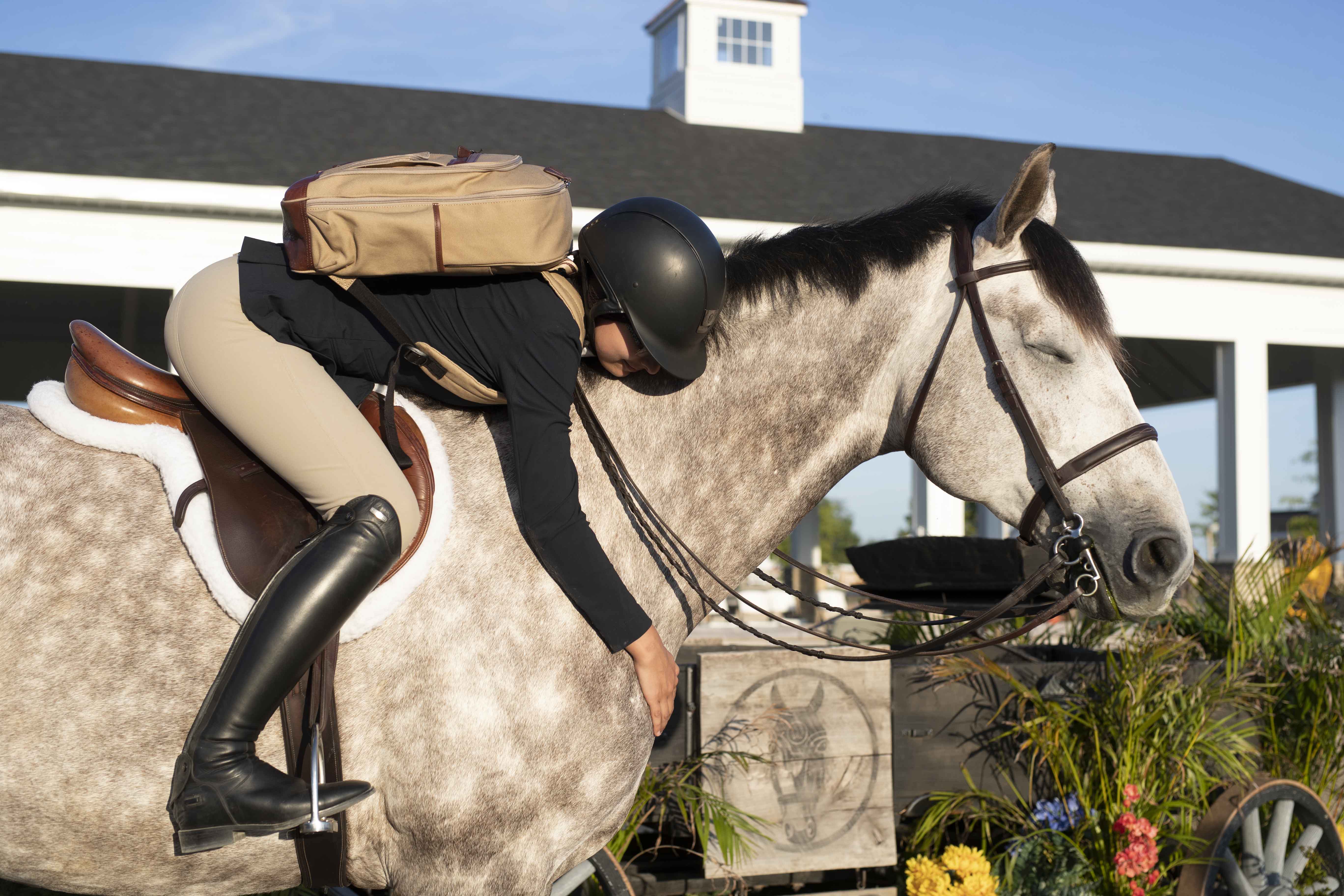 This week we sat down to chat with Will Wilson of premium luggage and accessories company, Baekgaard. You might say that Will is part of a dynasty as his Aunt, Barbara Bradley Baekgaard, is the founder of the famed women's handbags, travel items and accessories company, Vera Bradley. The way the story goes is that in the midst of launching her own company, Barbara met Peer Baekgaard, and the rest is history. Today, Baekgaard is paving its way in the Equestrian market with a stunning range of leather, microfiber, tweed and canvas bags that are street to stable fabulous. Will let us in on the story behind the brand and even gave us the inside scoop on what to look for next.
WEC: Tell us about Baekgaard.
Will: Baekgaard was founded in 1951 by my uncle, Peer Baekgaard. He came to the U.S. from Denmark after World War II. He fought in the Danish resistance and had an incredible life story. He joined when he was seventeen out of obligation. He was captured by the Nazis, escaped, then came over to the U.S. to live the American dream. He landed in New York with $127 in his pocket, barely spoke English and had a few hand carved Danish boats that he brought over from some local villages. He went straight to FAO Schwarz and pitched his product. They liked him, and that's how he started his import business.
Fast forward about thirty years, he was President of the Merchandise Mart in Chicago and was really big in the import business, mainly European-influenced style men's giftware. That's where he met my aunt, Barbara Bradley Baekgaard, who was there launching her company, Vera Bradley, in a 10 x 10 booth on the bottom floor. She was voted the first woman to the board of Merchandise Mart. Peer approached her in his charming Danish way and said that it is customary that he takes every new board member out for a drink.
They got married and were married for about twenty years. When Peer developed Alzheimers, the two companies, Baekgaard and Vera Bradley, merged and began operating out of the same building. After Vera Bradley went public, they had to separate the two companies. With the success of Vera Bradley, they chose to close Baekgaard about twelve years ago.
My aunt decided to relaunch Baekgaard in Peer's name, legacy and honor. She focused on totes, duffels, backpacks and small accessories. We still cater to the European influence and focus on the same quality product that Vera Bradley does. It's been great to have that leadership and influence that Vera Bradley has with Baekgaard.
WEC: How did Baekgaard break into the Equestrian market?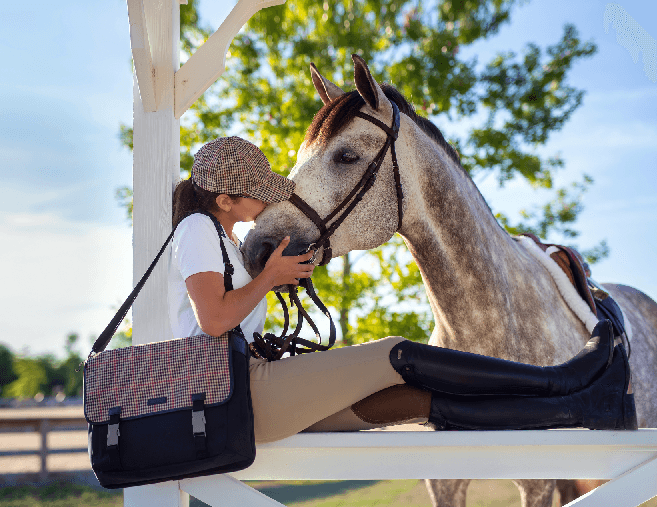 Will: My mom, who is my aunt's youngest sister, always wanted to have horses. When I was young, we had a small farm in Florida, so we had horses there growing up. We didn't show; my mom just liked riding and having horses around. She always loved the Equestrian scene and she thought, with our product being a European style and the high quality materials consisting of canvas, microfiber and leather, that Baekgaard would fit well in the Equestrian scene.
Our first try at the Equestrian market was at HITS in Balmoral about four months ago and our second show was here at World Equestrian Center over the Summer. We had such a great experience and wonderful reception here. So many people at Balmoral had told us that we had to go to World Equestrian Center, so we did. We had such a great response and got to speak with so many people. People were really surprised to hear that our most expensive item was under $200. It really caters to everyone.
After that, we went to Kentucky Horse Park, a Saddlebred show in Indiana and now we're back at World Equestrian Center.
WEC: What is your favorite product for someone who rides?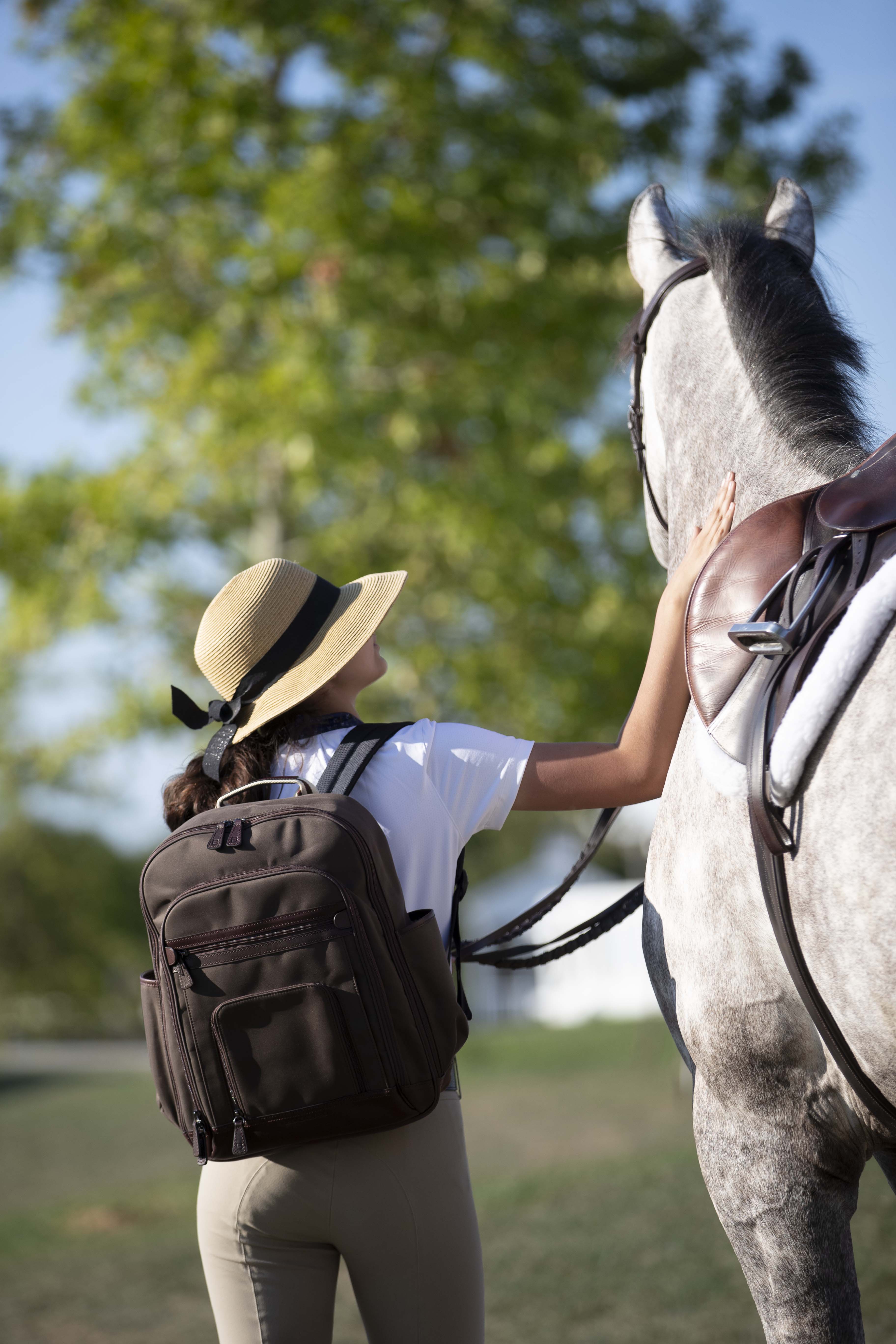 Will: My favorite product that I personally carry and that the riders tend to lean toward is our microfiber line. Hair and dirt won't stick to it; it just wipes right off and looks brand new. Our microfiber Edward backpack has been really popular for back to school. A lot of the riders already carried Vera Bradley, but they wouldn't take it to the barn. The Edward backpack was something that they could use for both environments.
WEC: Tell us about your Fall launch.
Will: We launched last Fall and made it into Oprah's Favorites with our Clark Duffel in the brown tweed, which is featured in the Holiday Gift Guide in the World Equestrian Center Magazine. At that point we had canvas, microfiber and tweed. Everything we have is trimmed in genuine Italian leather.
Our Fall launch of the leather line was the next phase. We took the same leather that we were already using on the trim and that was the next generation. We went for full leather in the Clark Backpack, which has a few unique features including the trolley sleeve on the back and the cell phone pocket. Our leather Attaché has been a big seller. We also came out with the leather Dopp Kit. They all come in black and brown vegetable-tanned pebbled Italian leather. Those came out in the Bob Tote, the Clark Backpack and the travel kit. We designed feminine grey tweed in the Bob Tote, the Clark Backpack and the Clark Duffel.
WEC: What should we look for next?
Will: Our next collection is going to reflect the Equestrian scene. When we first came, we brought a lot of sample prototypes. The liner of most of our bags is in tattersall. James Tattersall was big in the Equestrian world in the 1800s and the wool blankets he put on his horses had what we now know as the tattersall pattern. People started to to identify his horses by their blankets.
We only had one tote that had the tattersall on the outside and it was the most popular in the Equestrian industry. We are coming out with a lot of our pre-existing items in tattersall. We have a lot of samples and prototypes and they've been very well received, so we're really excited for the Spring launch.