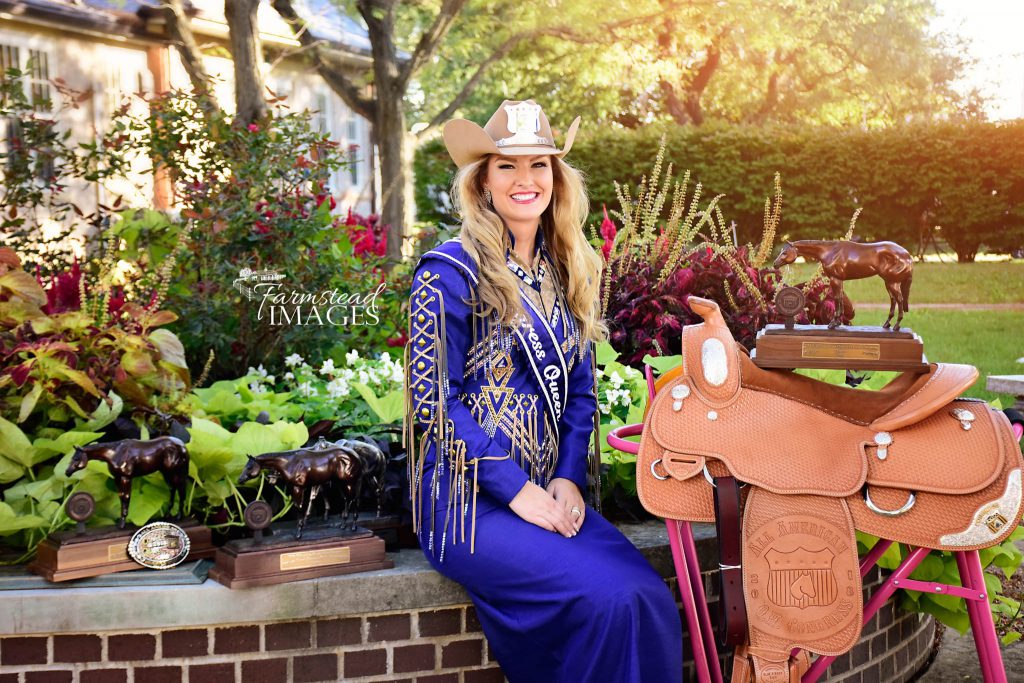 All American Quarter Horse Congress Queen Taylor Foster visited World Equestrian Center last week for the Nutrena East AQHA Level 1 Championships to present awards and represent the American Quarter Horse Association. During her stay, Taylor took time to chat with us about her riding career, her journey to Congress Queen and the amazing impact that the title has had on her life.
Some say it's in the blood, and this holds true for Congress Queen Taylor Foster. Taylor found her love for horses at an early age, long before she knew that the adoration ran in her family with her Mom's long history in the show industry. Her passion began at Summer camp where she spent a day trail riding, grooming and learning about horses. When she came home, she told her parents that she loved the way the horses smelled, and her Mom knew that she had the bug. It wasn't long before Taylor's parents bought her a Pinto pony named Dr. Pepper and the pair began showing in open shows and 4H.
When Taylor decided to start showing more competitively, her parents registered Dr. Pepper with the Pinto Horse Association of America and the pair began showing at Pinto Breed shows. As Taylor grew as a rider, her family sold Dr. Pepper to a young girl that was just starting her riding career and got her a paint horse named Mocha. "She's my heart horse," says Taylor, "She's my once-in-a-lifetime. We'll never find another like her." Taylor showed Mocha throughout her Youth career and her family still owns Mocha.
Horses have always had a strong influence on Taylor's life and have helped her through tough times. In eighth grade, Taylor was tragically diagnosed with thyroid cancer. "It was kind of a struggle for me and horses really helped me get through that and build my confidence back up," says Taylor.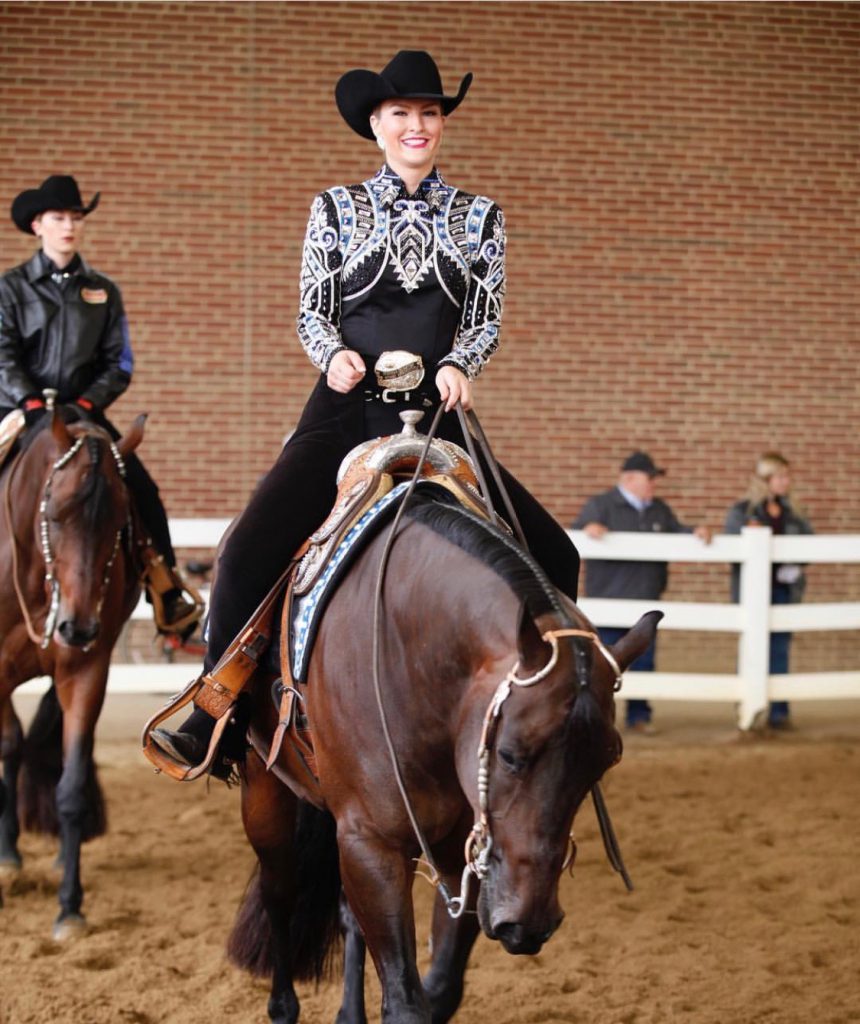 Later in her Youth career, Taylor and her family moved to Indiana. Needing a place to board their horses, they stumbled upon McDavitt Quarter Horses. Taylor credits Duane and Bevery McDavitt, owners of McDavitt Quarter Horses, for her start and eventual love of showing in the Quarter Horse industry. "Duane and Beverly are now like Grandparents to me," explains Taylor, "They are really the ones who got me interested in showing Quarter Horses."
Taylor began her journey showing Quarter Horses by leasing a horse of Duane and Beverly's for about a year, mostly showing in Novice divisions. "I was getting the feel for showing and learning the ropes. Indiana has a lot of really great Novice shows that are perfect for beginners," says Taylor.
Soon after, Taylor competed at her first All American Quarter Horse Congress in Columbus, Ohio, the world's largest single-breed horse show with over 25,000 entries each year. However, that was not the first time she had attended the show. "I had been going to the Congress with my Mom since I was about eight years old," says Taylor, "We didn't have a trainer, so we would go to the Congress to see what the really good riders were wearing, how they were riding and what kind of horses they were riding. It's where we went to prepare for showing the following year." Taylor explains that her first few years showing at the All American Quarter Horse Congress were more for fun than competition, but that she became more competitive when she met her current trainer, Dale Hamilton, who brought her horse along and helped Taylor find a new mount.
Taylor notes that, as she became competitive at the Congress with her new horse, she started to take notice of the All American Quarter Horse Congress Queen Contest. While there are many meaningful titles earned at the All American Quarter Horse Congress each year, few are as coveted as the title of "Congress Queen". Each year in October, the All American Quarter Horse Congress crowns an accomplished horsewoman to represent OQHA, AQHA and the horse industry as a whole. "I was probably about ten years old when I first decided that I wanted to be Congress Queen," explains Taylor, "But it was more of a dream. As I got older, I realized what it would take to actually earn that title. I realized how much of an ambassador the Queen is for the Quarter Horse breed, and that's when I decided that I wanted to pursue the title."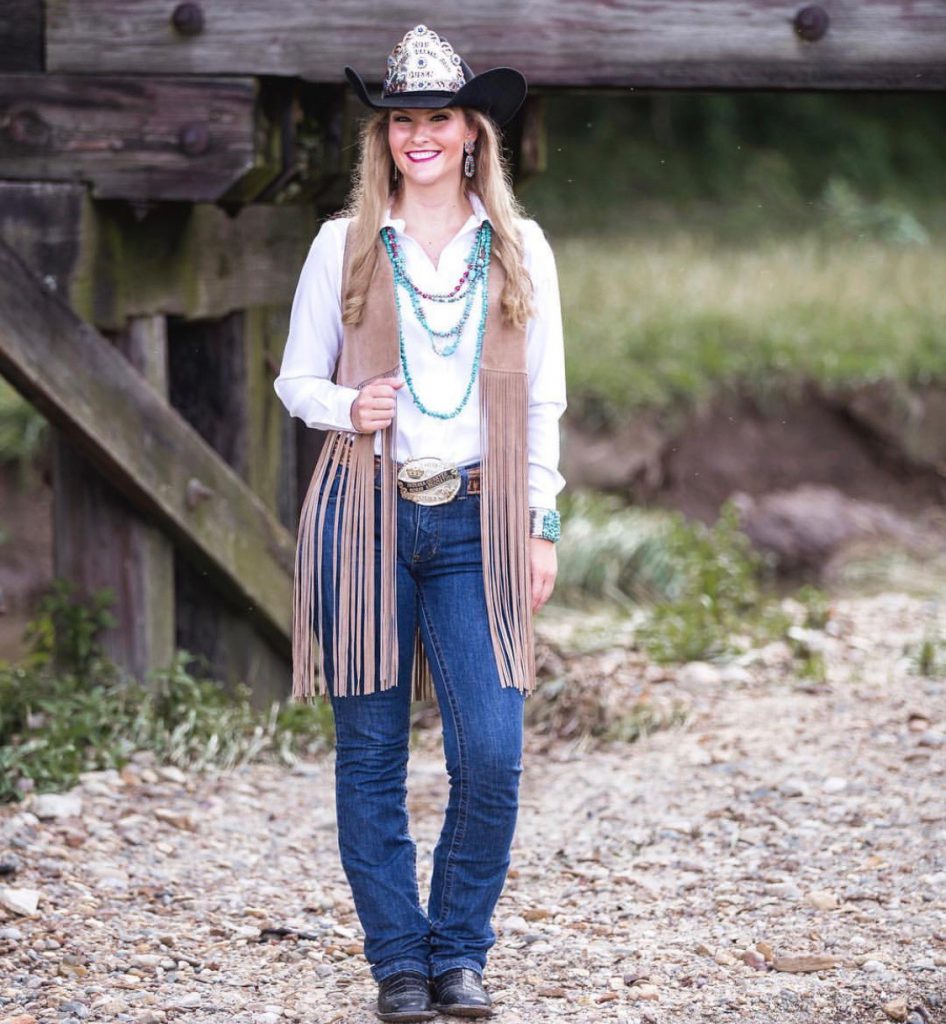 While Taylor already had the idea of Congress Queen planted in her head, it took one final push to set her on her journey. At the Indiana Quarter Horse Association end of year awards banquet, Melissa Jones of Jones Performance Horses, a trainer Taylor looked up to, encouraged her to run for Queen, saying that she felt that Taylor would do a phenomenal job. This lit a fire in Taylor and she set out on her quest to Congress Queen. Since each Quarter Horse Association may send one representative to compete for Congress Queen, Taylor began by running for the Indiana Quarter Horse Association Queen title, which is awarded in June each year. She studied all Spring and Summer to prepare for the contest and was crowned Indiana Quarter Horse Association Queen.
From there, Taylor began preparing for the Congress Queen Contest. "I studied my tail off and I felt prepared," says Taylor, "The other girls running for Congress Queen really knew their stuff, too, which was a little intimidating." The contest for Congress Queen consists of three portions: an interview (40%), a written test on the AQHA Rulebook (40%) and a horsemanship test (20%). Her first year running, Taylor earned the Runner Up title, which was quite an accomplishment.
However, Taylor was not satisfied with second place. She knew that she wanted to run again with her sights set on the Queen title. She began preparing to run again, but tragedy struck when her beloved horse had to be put down unexpectedly. "I was feeling down, I had lost my best friend and my show partner," says Taylor. Instead of letting it get the best of her, Taylor persevered, working even harder to achieve her dreams. Taylor ran into one major setback: she no longer had a horse to ride in the horsemanship portion of either the Indiana Queen Contest or the Congress Queen Contest. "Because of what a great industry this is and all of the great people I've met along the way, I had several people offer me their horse," says Taylor, "I showed Elizabeth Christy's Blueberry in the Indiana Queen contest and Pam and Burr Young's Tex."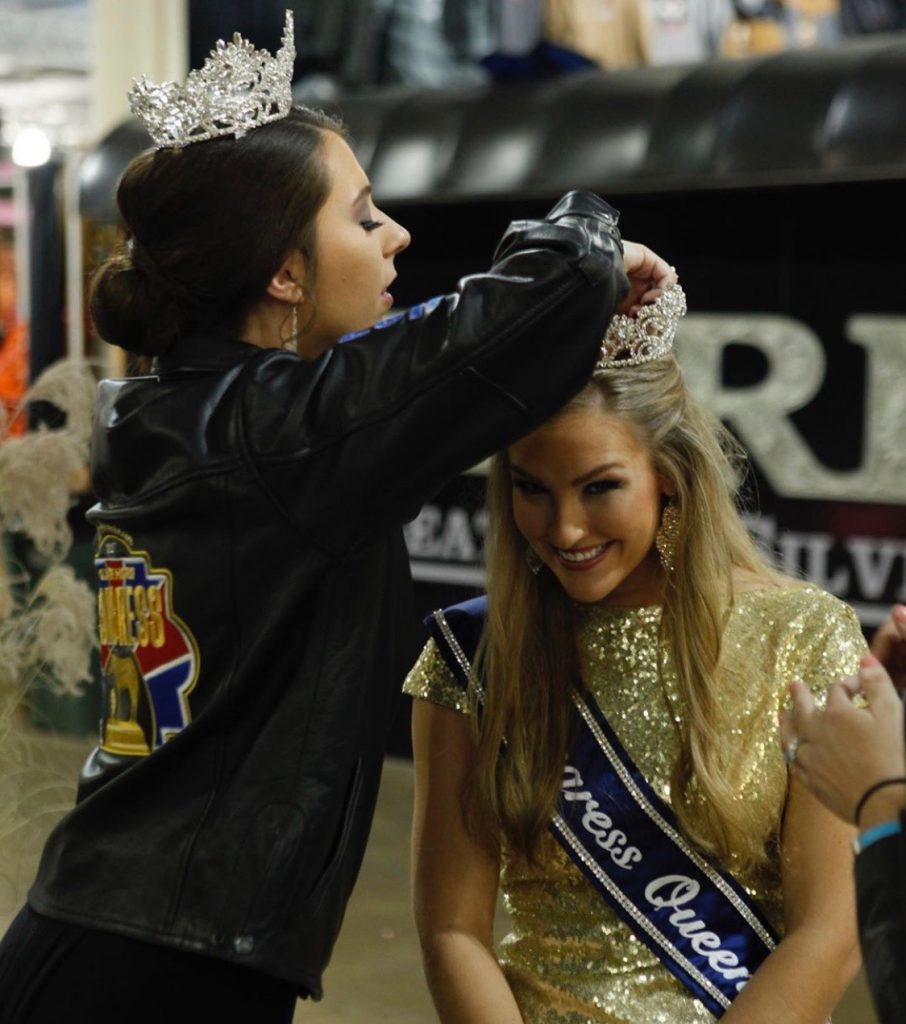 With wonderful horses to ride and determination surging her forward, Taylor won the Indiana Quarter Horse Association Queen Contest for the second year in a row, then continued on to represent IQHA in the Congress Queen Contest again. "I made sure I knew the rule book and I made sure I knew all of the facts about AQHA and OQHA. I felt so prepared and I had gotten a bunch of help with my interview. I really felt confident. I went out there and I placed second in the interview by a couple of points, and first in the horsemanship and the written test. Together, I was able to pull it off and I won Congress Queen," beams Taylor.
The role of Congress Queen has come naturally to Taylor, but she does not take the opportunities the title presents for granted. Taylor's Congress Queen duties include traveling to various horse shows, presenting awards, answering Rulebook questions and representing both AQHA and the Quarter Horse breed as a whole. "It has been so exciting. I've been able to travel to shows that I probably would have never gotten the opportunity to attend and I've met so many people. I've attended shows in Florida and Las Vegas…I've traveled so many places and I have so many places to go on my schedule this year including a bunch of County Fairs and World Shows. I'm so looking forward to meeting people and telling them how great the Quarter Horse industry is. I'm just excited to be able to share my passion for the breed with everyone," says Taylor.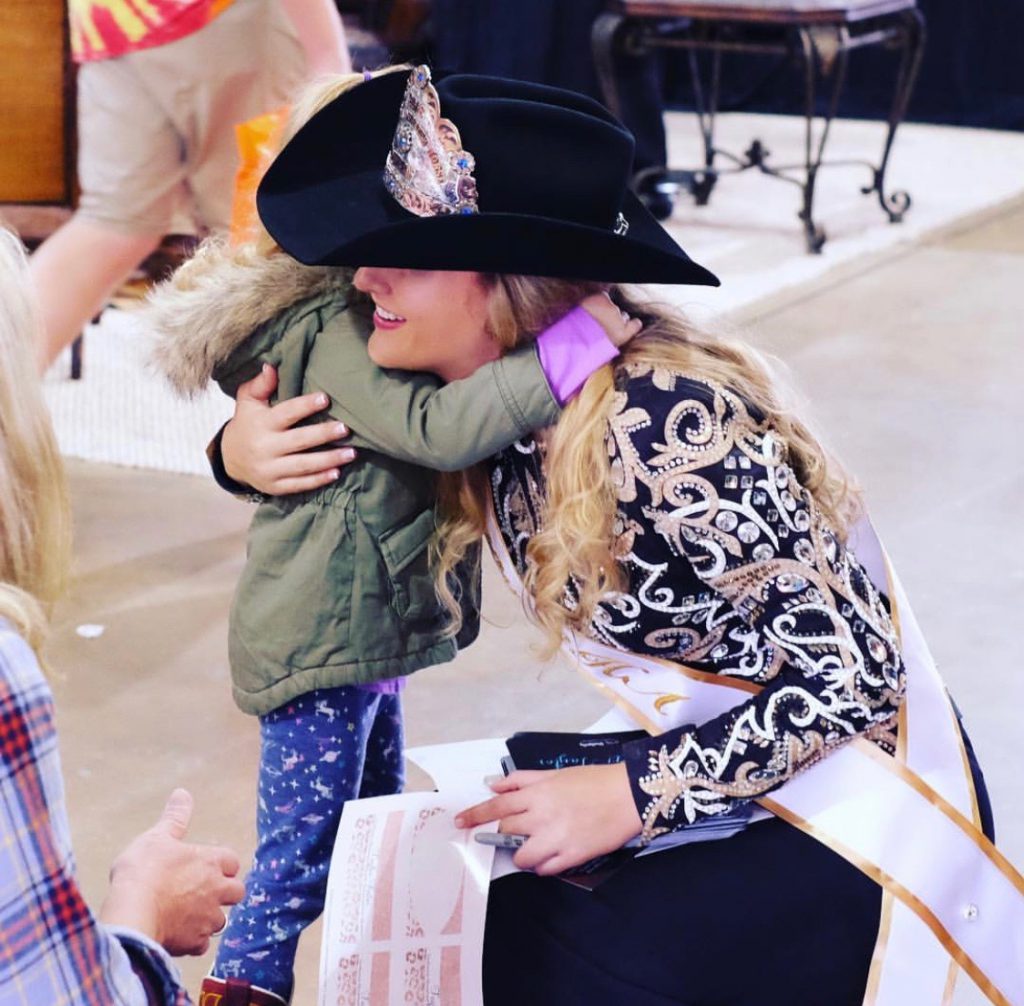 Along with traveling an being a breed ambassador, Taylor's favorite thing about being Congress Queen is being a role model for young children. She enjoys setting a good example and giving them goals to work toward. Taylor says, "I want to encourage people to pursue their dreams, just like I have mine."
Photos courtesy of Taylor Foster.