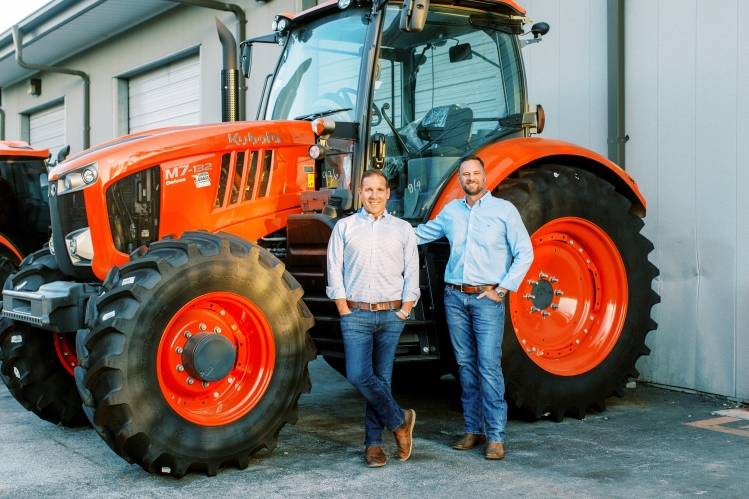 OCALA, Florida – February 18, 2022 – Florida Coast Equipment's recent acquisition of the Agricon Equipment/Kubota Superstore has secured their position as the Official Agricultural Equipment Provider for World Equestrian Center – Ocala. The company celebrates this weekend with the $75,000 Florida Coast Equipment Grand Prix on Saturday evening at 7pm under the lights in the Grand Arena at World Equestrian Center – Ocala.
"Florida Coast Equipment and Big Orange Rental are proud to partner with the World Equestrian Center and the Roberts Family, said Todd Bachman, President and CEO. We are excited to support their vision of bringing the global equestrian world to Ocala. Our team is here to support the WEC and the Roberts by providing superior customer service and unrivaled product support."
The five-year agreement now makes Florida Coast Equipment/Kubota the Official Tractor of World Equestrian Center – Ocala, a 678-acre facility that hosts year-round equestrian sports events in 17 outdoor rings and 5 indoor arenas. As part of the deal, World Equestrian Center – Ocala will display Kubota equipment at various locations throughout the venue, which also features a world-class equestrian cross-country course, as well as sports and polo fields.
"We look forward to entering the next phase of this partnership with Florida Coast Equipment," said Roby Roberts. "We are grateful for the opportunity to work with a world-class organization whose products and support will allow our expert crews to maintain the competition surfaces and grounds and exceed the expectations of our exhibitors, visitors and guests."
About Florida Coast Equipment
Florida Coast Equipment and BIG ORANGE RENTAL is a family-owned & operated full-service Kubota Dealership now serving 10 locations across the state (West Palm Beach, Ft. Pierce, Mims, Naples, Plant City, Land O'Lakes, Homestead, Apopka, Ocala and Lecanto, FL.).
Founded in 1985, Florida Coast Equipment has grown from a single dealership with two employees to Florida's largest Kubota dealer and one of the top dealerships in the country.
For more than 30 years, they have served large agricultural growers, builders and contractors of all sizes, nurseries, commercial landscapers, local and state governments, golf courses, HOAs, equestrian facilities, and estate homeowners in Monroe, Miami-Dade, Broward, Palm Beach, Martin, St. Lucie, Indian River, Okeechobee, Brevard, Seminole, Lee, Collier, Hillsborough and Pasco Counties.
Florida Coast Equipment rents, leases, sells, repairs, services and provides parts for Kubota utility vehicles (America's best-selling diesel utility vehicle), zero-turn, walk-behind, and stand-on mowers, tractors (#1 selling sub-compact tractor in the world), tractor-loader-backhoes, excavators (#1 compact excavator in the world), compact track loaders, skid steers, and wheel loaders, Toro Construction Equipment, Land Pride and Bush Hog rotary cutters, batwing mowers, and attachments.
Florida Coast Equipment has been named an Elite Dealer 8 years in a row and awarded the Top Volume Dealer award 7 years. To learn more about Florida Coast Equipment and their rental company, Big Orange Rental, visit www.FloridaCoastEq.com.
About World Equestrian Center
World Equestrian Center features two premiere equestrian and multidisciplinary venues in Ocala, Florida, and Wilmington, Ohio.
These exclusive facilities comprise state-of-the-art arenas, expansive stadiums, versatile outdoor space, sporting fields and well-appointed exposition centers. An abundance of lodging options and luxury accommodations are conveniently located on-site, along with shopping and dining throughout each property.
Dedicated to offering great sport and fun in a family-friendly environment, World Equestrian Center promises an unparalleled experience for exhibitors, spectators, vendors, sponsors and retailers built on three core values: Quality. Class. Distinction.
Learn more at wec.net
Media Contact
Candace FitzGerald 603.738.2788