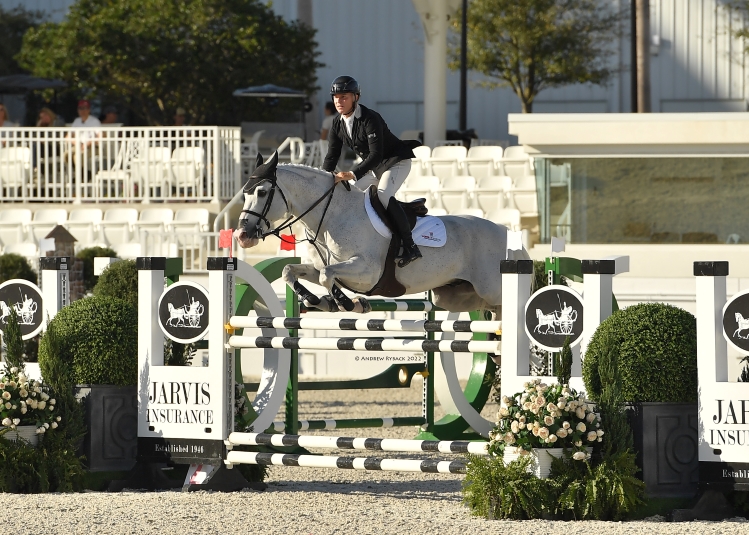 Ocala, FL – World Equestrian Center – Ocala 2022 Winter Spectacular Show Series Week VII's feature class action opened with the $20,000 C. Jarvis Insurance Welcome Prix. Two-time Olympic Games course designer Leopoldo Palacious (VEN) set the tracks where six of the 22 entries managed clear first rounds. Two managed faultless jump-off rounds but it was Sharn Wordley (NZL) and his own Gatsby that prevailed.
Wordley and the 18-year-old Irish Sport Horse stallion have earned numerous top finishes at World Equestrian Center – Ocala with a recent $20,000 C. Jarvis Insurance Welcome Prix win during week III of the Winter Spectacular Show Series.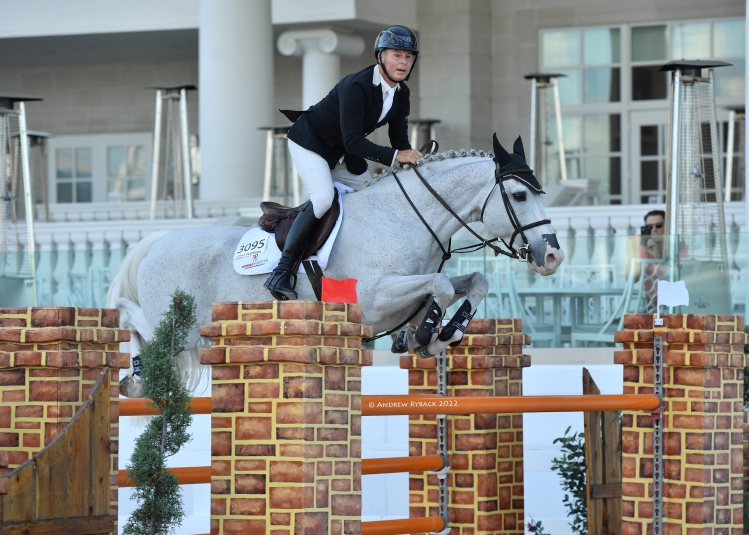 The pair's first round effort yielded clear in 67.409 seconds, well under the time allowed of 74 seconds.
Wordley's plan was to attempt a very tidy and challenging turn to the second to last fence in the jump-off, "Gatsby is particularly good at those types of turns. He can come up inside and turn up to a vertical in one stride. It's his specialty, actually. I felt confident I could make up time in that turn. It walked a nine but, in the bend, I had to add one extra so he knew where he was going, and it worked out perfectly," stated Wordley.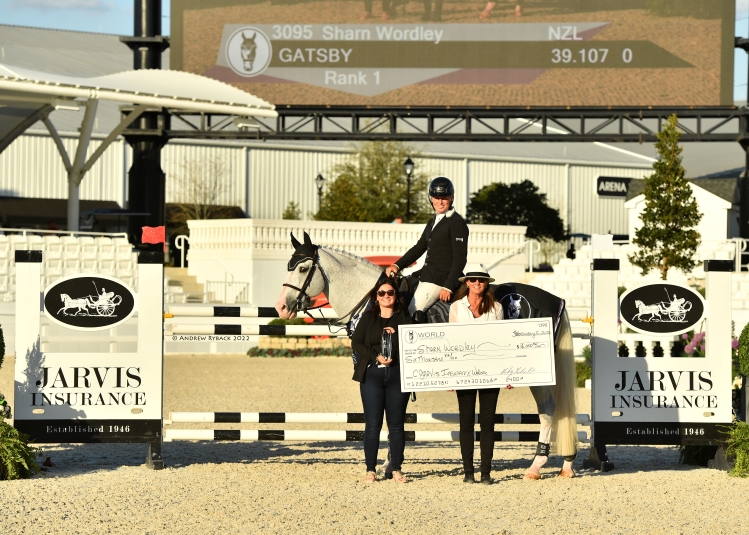 Wordley and the fan favorite Gatsby landed after the tricky inside turn, to gallop down to the last fence in nine strides stopping the clock at 39.107 seconds with all rails up.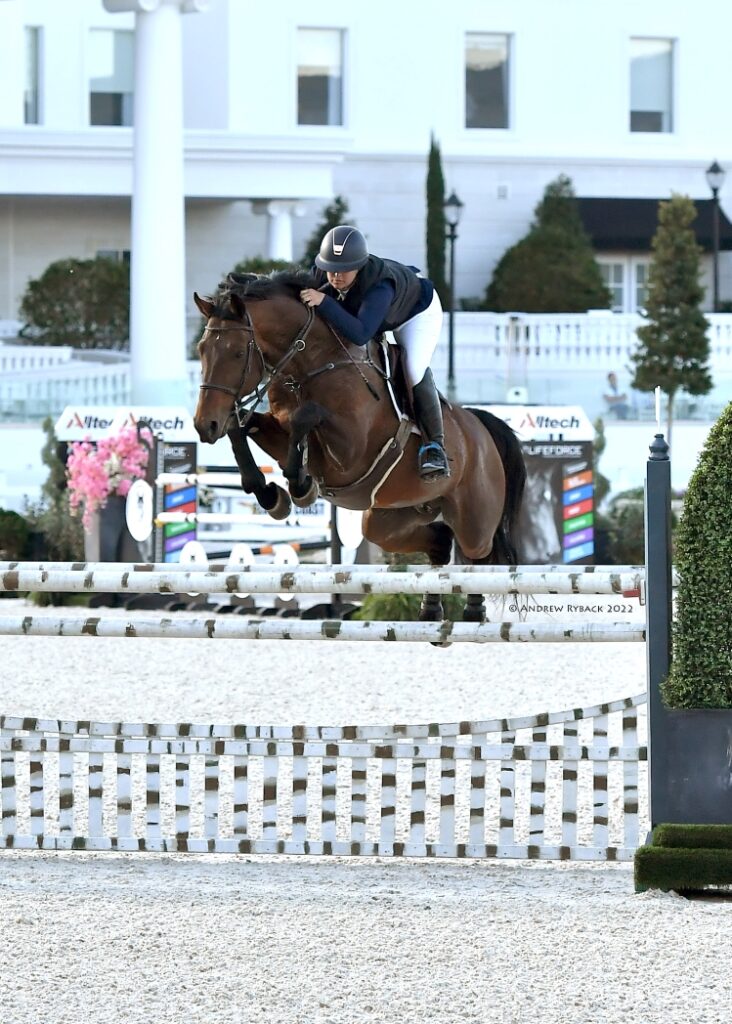 Lisa Goldman-Smolen (USA) and Barbara Disko's Sovereign were the first pair in the class to produce faultless rounds. Goldman-Smolen and the 13-year-old Selle Francais stallion delivered a smooth and fast first round in 68.593 seconds. The veteran pair advanced to the jump-off, crossing the timers in 41.273 seconds with all of the rails up to ultimately earn second place.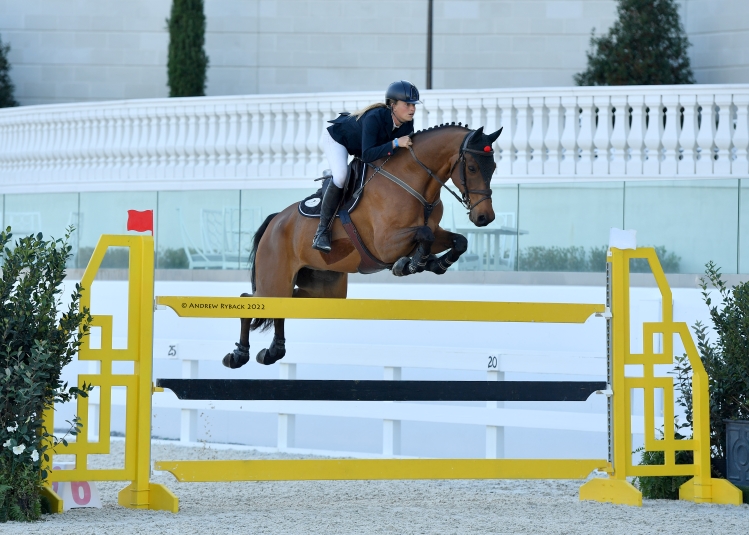 Kristen Vanderveen (USA) and her own Bull Run's Prince Of Peace (Cardenio x P-Comtesse) rounded out the top three in today's $20,000 C. Jarvis Insurance Welcome Prix. Vanderveen and the careful 13-year-old Holsteiner gelding navigated a lovely first round, jumping to the top of the standards in 68.484 seconds. The pair jumped-off immediately, dashing through the course while leaving out strides to stop the jump-off clock at 40.030 seconds, with one rail down.
$20,000 C. Jarvis Insurance Welcome Prix Results:
1.Gatsby, Sharn Wordley, Sharn Wordley: 0 | 0 | 39.107
2. Sovereign, Lisa Goldman-Smolen, Barbara Disko: 0 | 0 | 41.273
3. Bull Run's Prince Of Peace, Kristen Vanderveen, Kristen Vanderveen: 0 | 4 | 40.030
4. The Diamant Rose Z, Santiago Lambre, Santiago Lambre: 0 | 8 | 38.859
5. Plot Z, Grant Seger, Grey Fox Crossing: 0 | 8 | 40.992
6. Qinghai, Guido Klatte, Guido Klatte International Horse Transport: 0 | 8 | 53.900
7. Zechariah 3:9, Derek Petersen, Derek Petersen: 4 | 64.591
8. Navaro Van't Verahof, Martien Van Der Hoeven: 4 | 68.866
9. Hakini, Adam Sklansky, Ellen Walker: 4 | 69.767
10. Oaks Come By Chance, David Cameron, Tallara Cameron: 4 | 70.191
Photos courtesy of Andrew Ryback Photography.
Videos available at ClipMyHorse.TV