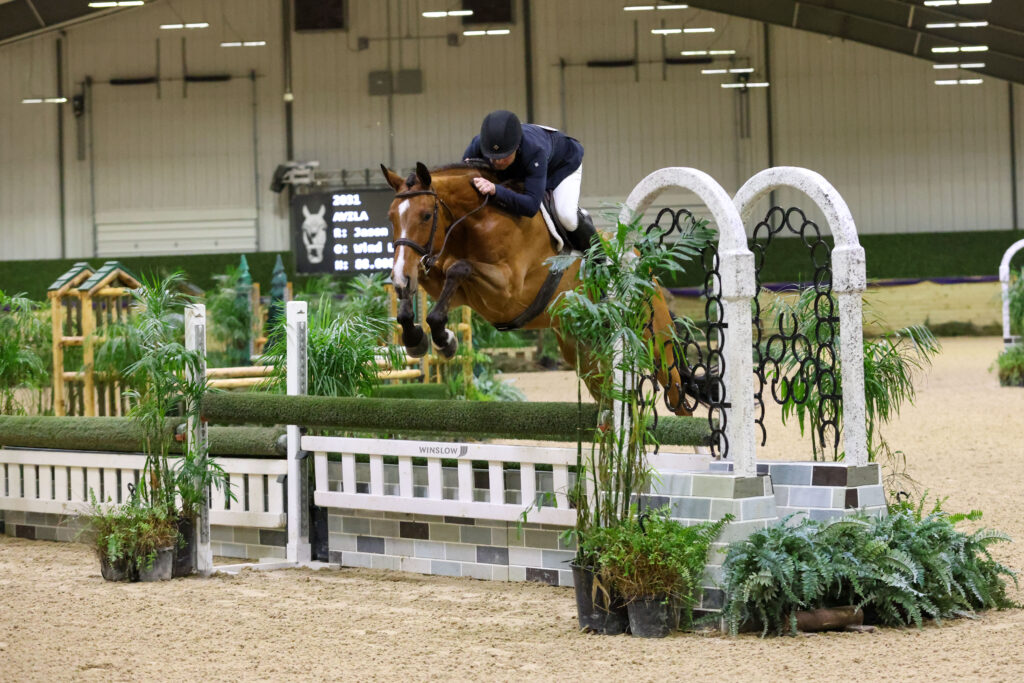 Wilmington, OH – Derby Friday commenced in the spacious R+L Arena today with course designer Joe Carnicom (USA) recreating a charming wintertime hunt field that allowed riders to show off their horse's athletic abilities. Jason Berry piloted Emo/Willow Wind Partners, LLC's Avila (Casiro 1 x Jornesse) to the WEC winner's circle once again, marking their third $10,000 USHJA National Hunter Derby 3′ Open blue ribbon of 2022.
Berry and the seven-year-old bay mare collected top scores of 90 in the first round and 92 in the handy, for a total of 182 to take home their third $10,000 USHJA National Hunter Derby 3′ Open win.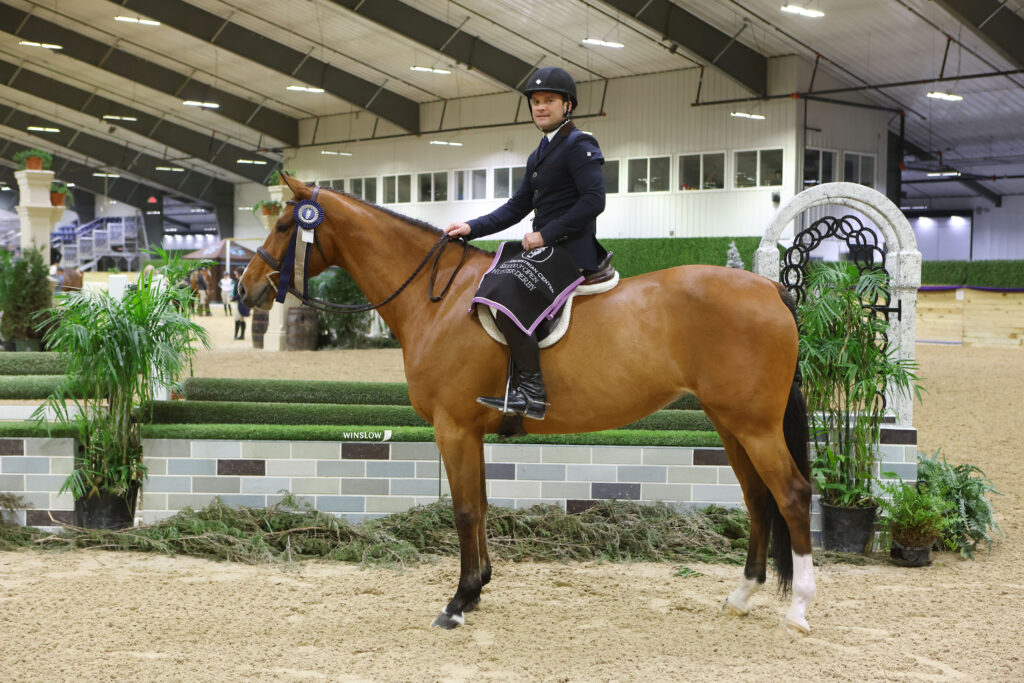 Second place on the leaderboard was another entry piloted by Berry. Brugh's Mill (Homerus E x I-Thake), a ten-year-old Belgian Warmblood gelding owned by Joan Alberti. The stunning gray was with Berry every step of the way through the bending lines and prompt inside turns. The pair was recognized for their strong efforts and marked scores of 88 and 92, totaling 180 for a red ribbon finish.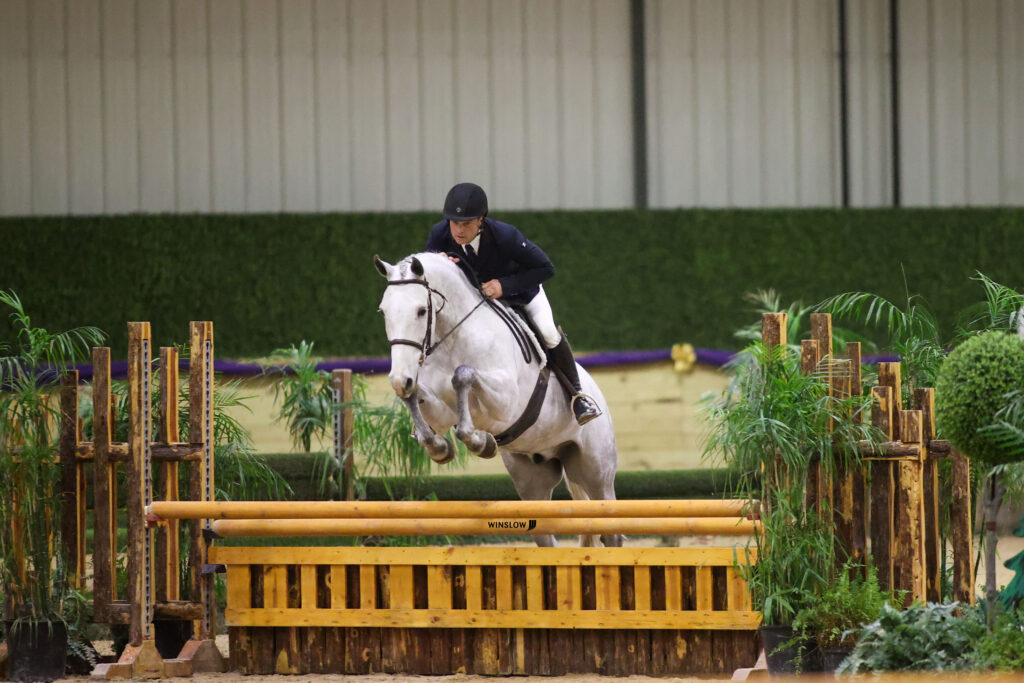 These top placings came naturally for the trainer who owns Jason Berry Stables in Verona, Virginia. "The course was a little different than those we've had recently. It was good and I liked the bending lines. She (Aliva) always rides good and the second place horse, Brugh's Mill, my client has owned for several years. He won a Derby here in 2020 before the facility was closed due to covid-19."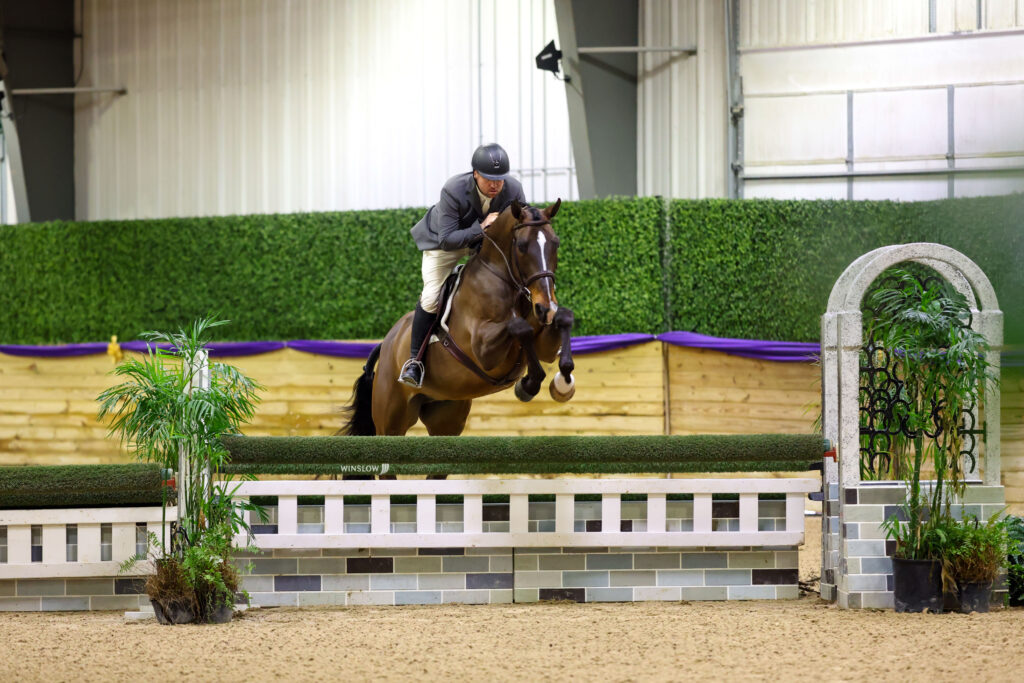 William Dow and Suzanne Deuel's Troubador rounded out the top three class placings. Dow and Troubador were poised and rhythmic throughout the qualifying and final round, earning scores of 87, 89.5 and a 176.5 total for third place derby honors.
$10,000 USHJA National Hunter Derby 3′ Open Results:
Avila, Jason Berry: 90 | 92 | 182
Brugh's Mill, Jason Berry: 88 | 92 | 180
Troubador, William Dow: 87 | 89.5 | 176.5
Billy Irish, Oakley Clark: 78 | 89 |167
Levidinus, Jonathon Fischetti: 81 | 85 | 166
FF Nora, Megan Bash: 77 | 82 | 159
Helios-s, David Crawford: 72 | 76 | 148
Major Tom, Ariel Filonczuk: 67 | 71 | 138
Gratitude P, Lisa T. Tomaselli: 63 | 74 | 137
Dianthos XO, Mandy Vergerio: 50 | 80 | 130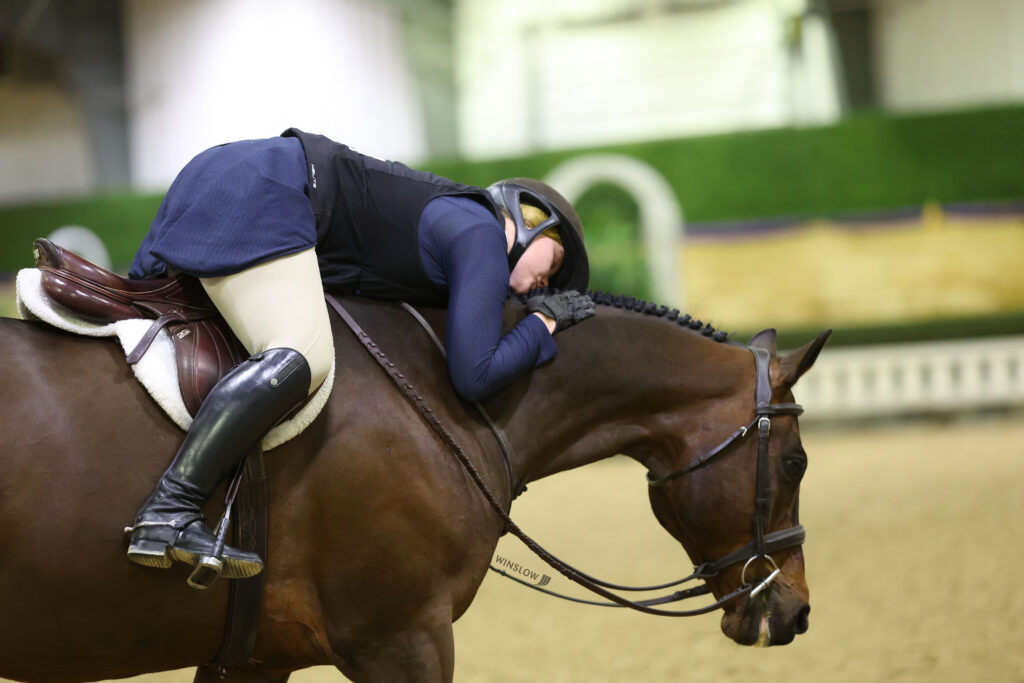 Anneliese Kolaska and Herr Drosselmeyer Top $10,000 USHJA National Hunter Derby 3′ Non-Pro
Anneliese Kolaska of New Albany, Ohio, and her own Herr Drosselmeyer captured today's 10,000 USHJA National Hunter Derby 3′ Non-Pro win with a grand total of 167 points to top the leaderboard. After a stunning first round, the duo was awarded 88 points and an invitation to return for the handy round. They gave it their all to finish with a score of 79 points for 167 total and a blue ribbon finish.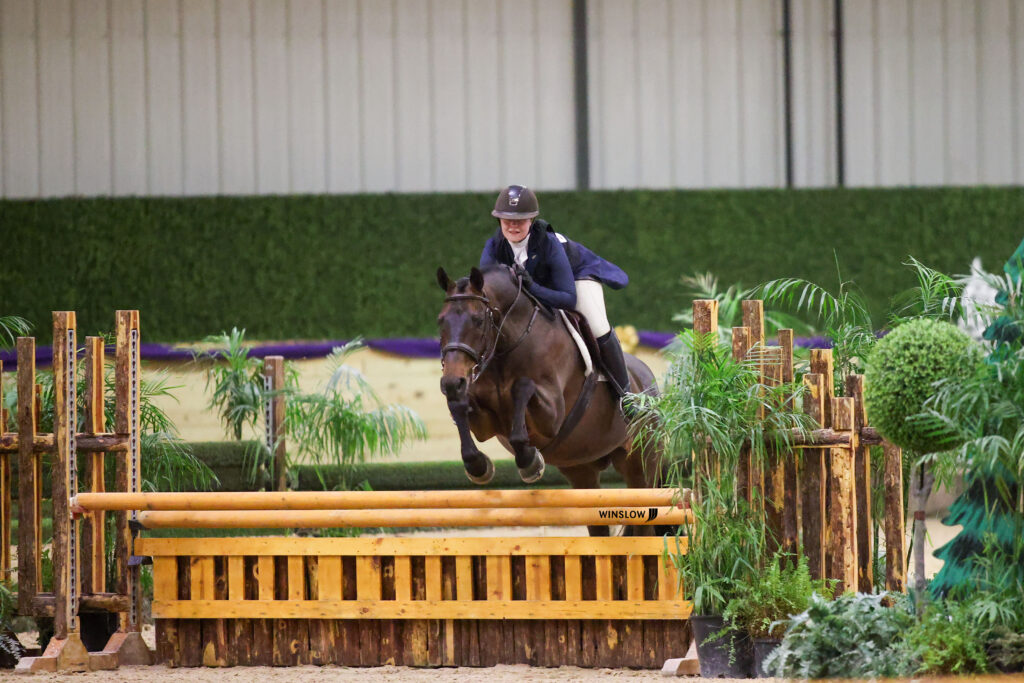 Kolaska has owned Herr Drosselmeyer for six years. She and the 14-year-old Oldenburg gelding regularly make appearances in the non-pro derby. We caught up with Anneliese after her winning round. "We call him Fritz and he was my equitation horse/junior hunter when I was a junior rider. We bought him with hopes that I could keep him as an A/O and show in the hunters. He loves the derbies! He is awesome, so reliable and I know him inside and out. I opted to take the high options because he won't show off at the smaller jumps. He is super casual on lower options, so I always go high, or else he won't put in much effort. The track was flowing so it was nice because we could show off there too."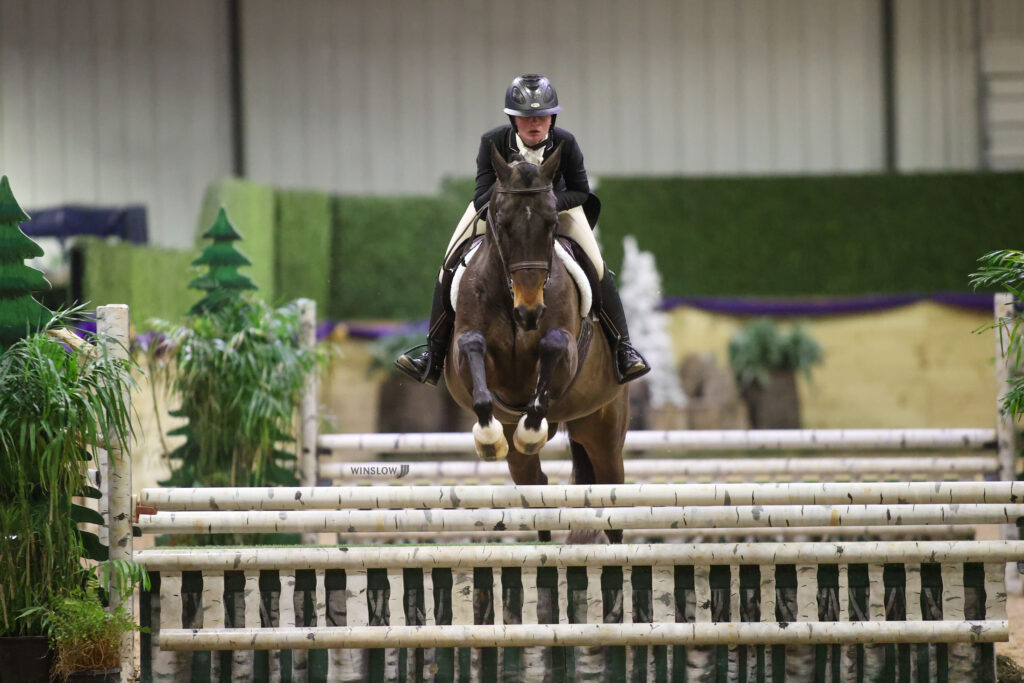 Emma Lena Green of Carmel, Indiana, and her own Viva Las Vegas (Laomedon x Roanieta) claimed today's second-place spot. Green and the beautiful dark bay Dutch Warmblood gelding delivered two near-flawless rounds to mark scores of 80 and 82, totaling 162 for the runner-up placing.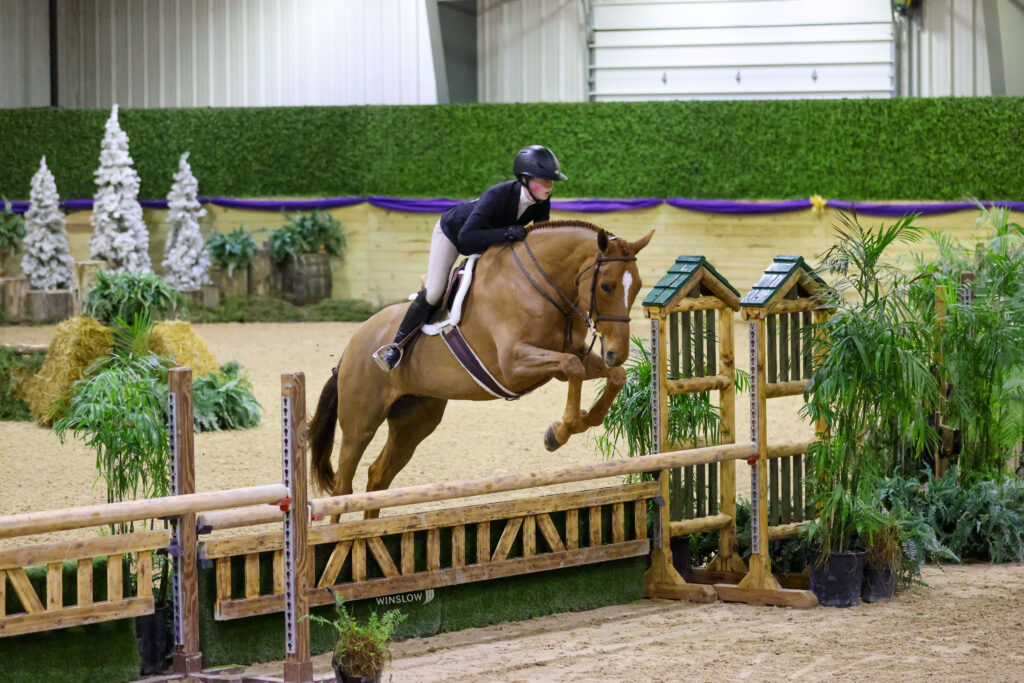 Rounding out the final three were Isabel Greer and Miss Coconut, a nine-year-old Warmblood Cross owned by Lynne B. Gebhard. Greer and the Chestnut mare laid down two beautiful rounds for scores of 81 and 79, totaling 160 for third place honors.
$10,000 USHJA National Hunter Derby 3′ Non-Pro Results:
Herr Drosselmeyer, Anneliese Kolaska: 88 | 79 | 167
Viva Las Vegas, Emma Lena Green: 80 | 82 162
Miss Coconut, Isabel Greer: 81 | 79 | 160
Darwin, Anna Pennington: 71.5 | 81 | 153.5
All Rise, Violet Wiley: 75 | 69 | 144
Face Time, Zoe Grutkowski: 71 | 70 | 141
Royal Code, Mia Stavola: 66 | 70 | 136
Pis Aller, Emma Lena Green: 52 | 80 | 132
Cobriana, Jacqueline Lampert: 46 | 83 | 129
Under the Influence, Cassandra Weber: 68 | 60 | 128