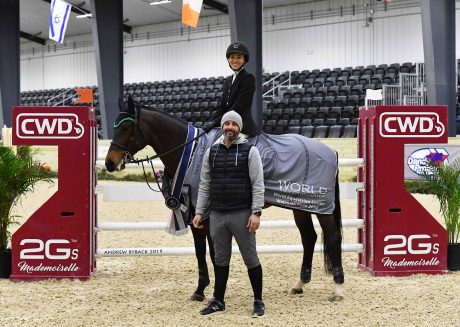 Tonight's $5,000 Welcome Stake sponsored by CWD saw fierce Jumper competition by fourteen entries all vying for the win. Tonight's course began by leading riders in a figure-eight-type pattern in jumps one through six. Entries then continued up a one stride combination on the quarter line, back down the diagonal over an oxer-to-oxer line, up a one stride combination by the ingate, and finished over an oxer on the diagonal.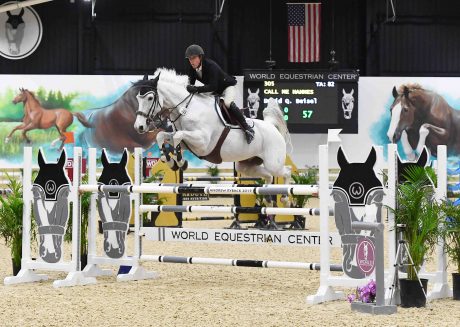 Half of the fourteen entries jumped a clear first round, led by David Q. Beisel and Harlow Investment Enterprises, LLC's Call Me Hannes (Cassini II x Sestriere). The pair jumped the first course with ease, stopping the timers at 74.127 seconds, well within the time allowed of 78 seconds. They continued straight into the jump off of the Table II event, picking up the pace and setting the standard with a quick, clear round in a time to beat of 32.137 seconds.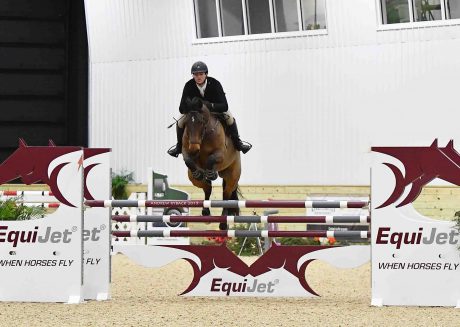 Next in the ring was Taylor Kain and The Gelt Group's Shuttergold (Silvio I x Famose). The pair jumped clear, but were just .072 seconds over the time allowed, giving them one time fault. Next to go was David O'Brien aboard Spy Coast Farm, LLC's Kir Royal SCF (Amaretto D Arco x Werly Chin De Muze). The pair jumped clear in a time of just 71.494 seconds, claiming the fastest clear first-rounder to that point. While they kept the pace in the jump off, they were not quite fast enough to beat Beisel and Call Me Hannes's time, leaving all of the rails up and crossing the timer at 32.384 seconds.
Jason Berry and Lee Cesery's Quantos (El Darodo) negotiated the course earning a clean round in a time of 76.314 seconds before continuing straight into the jump off. A clean jump off round with a wide turn to the final oxer that cost the pair fractions of a second to stop the clock at 33.643 seconds, and put them just behind O'Brien and Kir Royal SCF.
Taylor Kain returned, this time aboard her own Caphur (Cardento x Phuria) to challange the top three double clear rounds. The pair jumped a clear first round in a quick time of 70.685 seconds. While their time in the first round indicated the possibility to beat out the other jump off times, a wide turn to the final oxer caught Kain as well, again adding fractions of a second to her time. Though their round was clear, the pair's jump off time of 33.698 seconds landed them just behind Berry and Quantos.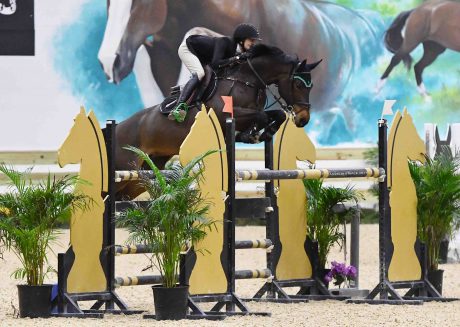 However, Kain returned again, determined to ride the course just a little faster aboard Eirecon Equine Sales's Gipsy 1134 (Corlensky G x Landina). Kain and Gipsy 1134 sailed through the first round clear in a time of 71.189 seconds, and continued into the jump off. Knowing that the final rollback to the oxer had caught her in her last ride, Kain rode strategically, taking a tight turn to the final fence and stopping the clock with all rails up at 31.973 seconds, sending herself and Gipsy 1134 right to first place.
We caught up with Taylor Kain after the class tonight to chat about her three terrific rides in the class. She was thrilled with all three of her rides tonight. "They were fantastic," said Kain, "My horses love it here. The footing is great; my brother Drew (of Discount Dirtworks) did the footing. My horses just fly, they love it."
We first asked Kain about the winner of the class, Gipsy 1134 (Corlensky G x Landina). "She's been on a roll," said Kain, referring to the 8-year old Oldenburg Mare owned by Eirecon Equine Sales, Conor McCaughley and Eamon Byrne. The pair, coming off of a second place victory in the $25,000 WEC Grand Prix in December, gave the course their all tonight, determined to take home the blue.
"She's been super, I can always depend on her," Kain added. She sees a bright future for Gipsy 1134, considering her stellar performance at recent shows, saying that her goal this year is to keep moving the mare up and jump more National Standard Grands Prix.
In fact, moving up is in the near future for Kain's other two mounts of the night Shuttergold (Silvio I x Famose) and Caphur (Cardento x Phuria) as well. Kain describes Shuttergold, a 9-year-old bay Hanoverian mare owned by The Gelt Group, as a horse she can build for the future. She sees Shuttergold competing at top levels of the sport later in her career.
Caphur, a 13-year-old bay Swedish Warmblood gelding who Kain has owned and ridden for three years, has proven himself in the 1.50 m classes, and has a track record that includes several Welcome Stake wins at WEC. As with her other mounts, Kain sees Caphur competing in higher classes in the future. "We have a good string right now," says Kain, "We're excited to start to jump higher and do some more FEI events with all of them and kind of build them up for that for the summer."
$5,000 Welcome Stake 1.35 m
Gipsy 1134, Taylor Kain – 0 | 0 | 31.973
Call Me Hannes, David Q. Beisel – 0 | 0 | 32.137
Kir Royal SCF, David O'Brien – 0 | 0 | 32.384
Quantos, Jason Berry – 0 | 0 | 33.643
Caphur, Taylor Kain – 0 | 0 | 33.698
Altezza Du Jardin, Michael Kocher – 0 | 4 | 36.681
Lazuli II SCF, Jennifer Waxman – 0 | 22 | 57.774
Shuttergold, Taylor Kain – 1 | 78.072
Everyday Hero, Heren R. Lee – 4 | 68.786
Disaronno Vt, Keira Foster – 4 | 77.809
Photos courtesy of Andrew Ryback Photography.