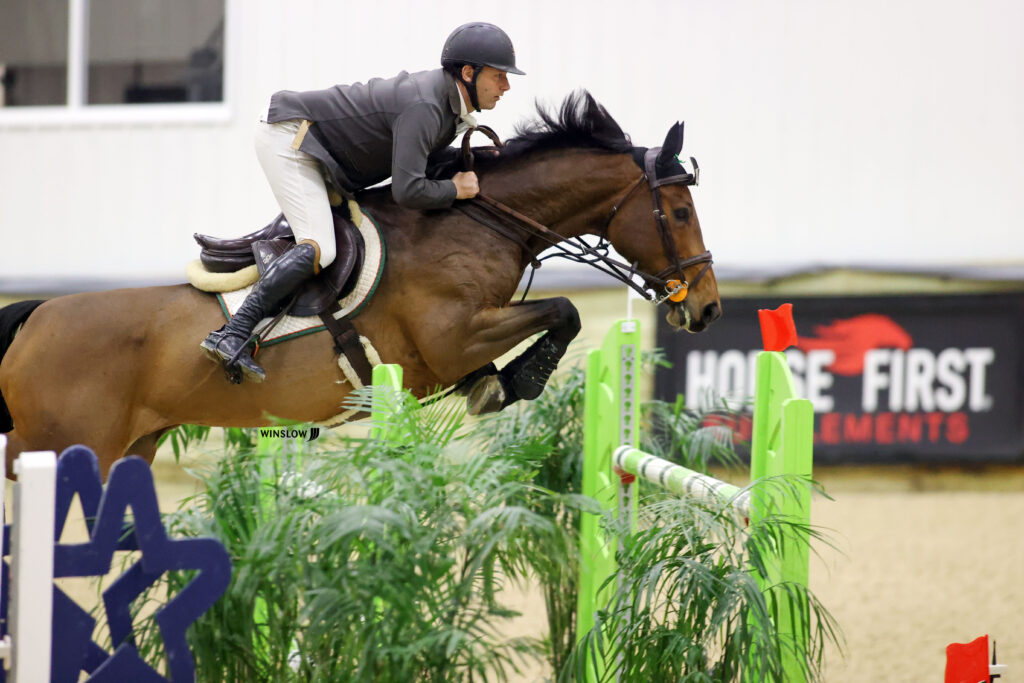 Ireland's Kevin McCarthy and Catch A Star HSS Secure Third Consecutive WEC $30,000 Grand Prix Win
Wilmington, OHIO – It has been a chilly week in Southwestern Ohio, but exhibitors and spectators at World Equestrian Center's Winter in the Midwest were unfazed, thanks to perfect indoor conditions throughout the climate-controlled facility. A large crowd filled the stands in the Sanctuary Arena tonight to watch the $30,000 World Equestrian Center Grand Prix and the $10,00 Futures Prix 1.30m. Each class saw an impressive field of competition, with all riders vying for a big win on tracks designed by Anderson Lima (BRA).
Tonight's $30,000 Grand Prix course featured several bending lines, long approaches, a liverpool and even a triple combination. Seventeen entries challenged the course, but it was the dynamic combination of Kevin McCarthy and his own Catch A Starr HSS (Sheraton x Tolinda) who claimed first place. The pair has a noteworthy track record at World Equestrian Center, racking up countless Welcome Stake wins and three Grand Prix wins in the latter half of 2021.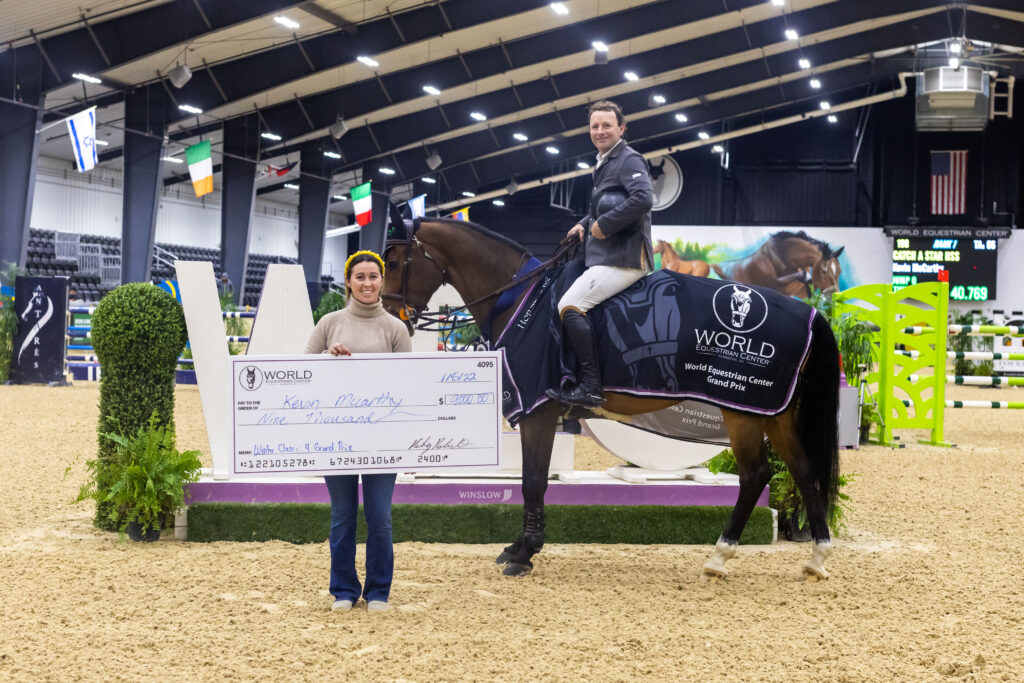 This evening, McCarthy of K&K Sport Horses in Lexington, Kentucky, and the beautiful dark bay Swedish Warmblood mare were careful in the first round, making sure to leave all rails up in a time of 77.605 seconds, well under the time allowed of 80 seconds. However, not all teams were this lucky, as the tight time allowance made for several time penalties, resulting in fewer riders advancing to the jump off.
Ten horses qualified for the jump-off, with McCarthy making his run in the middle of the order. This powerful pair had winning on their mind as they executed an incredibly speedy and precise round in only 40.769 seconds to ultimately win the class.
After the class, we stopped to chat with Kevin about his big win. "We really do go out there and try to win each and every time. The course design was excellent and a really fun jump-off track. There were many good riders in the class tonight – which always makes you want to work harder. I had to be on my A-game for sure. This is our third in a row Grand Prix win and I owe it to my great mare."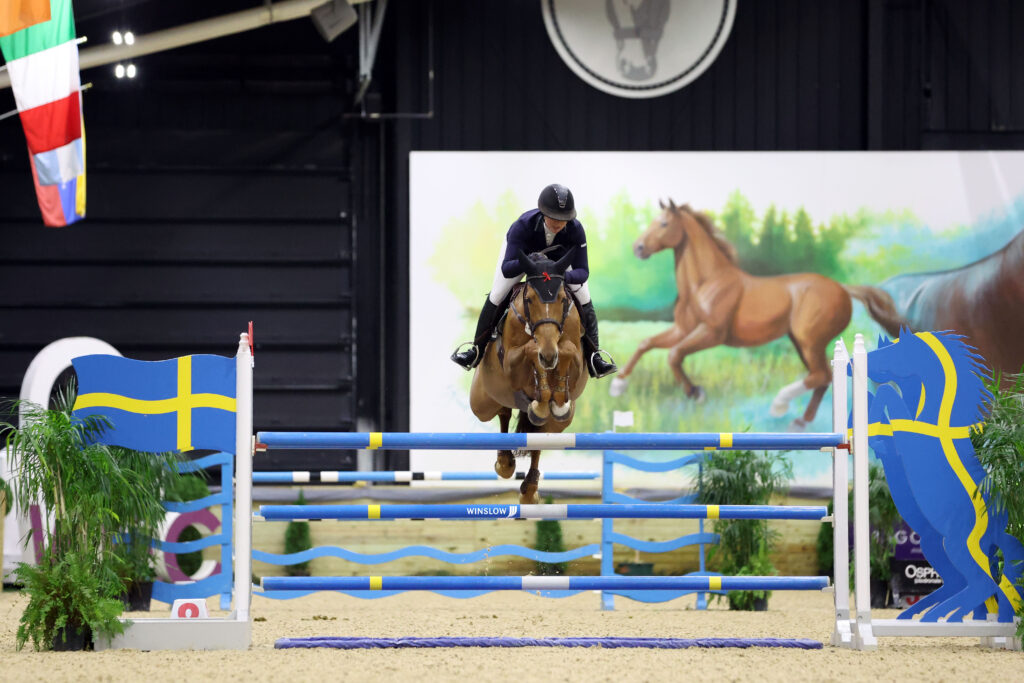 Charlotte Clark of Kendallwood Farm in Sunbury, Ohio, and her own Kinsella (Capitalist x Jerpoint Mist) took second place in tonight's main event. Clark and the incredibly athletic Irish Sport Horse mare have notched many impressive wins at WEC and are frequent visitors to the winner's circle. On tonight's first-round course they crossed the timers in 78.036 seconds, making sure to stay inside the allowed time and signaling that they would be tough to catch in the jump-off. During the short course, Clark and Kinsella raced to beat the clock and secure a top spot on the leaderboard. Giving it their all, they managed a jump-off time of 42.183 seconds to take home the red ribbon.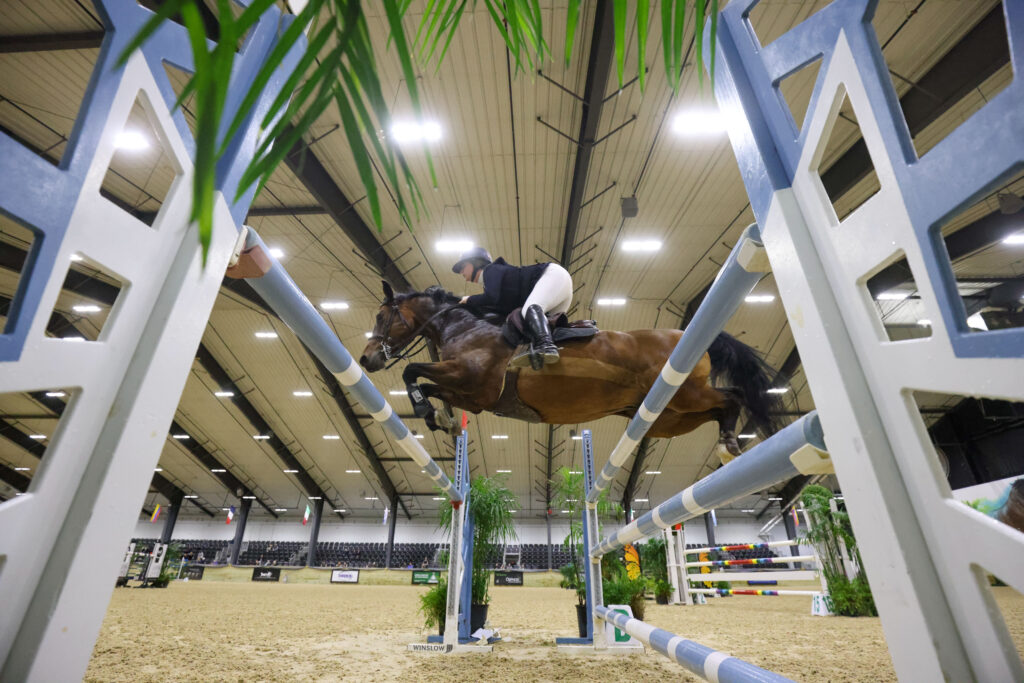 Rounding out the top three placings were Lisa Goldman-Smolen of Red Coat Farm in Hawthorn Woods, Illinois, and Barbara J. Disko's Sovereign (Frontal x Galledent). Smolen piloted Sovereign through a quick first round, leaving all rails up in a time of 76.280 seconds. They later returned to the jump-off, tackling the course with determination. Sovereign raced through the timers, stopping the clock at 43.645 seconds for third place.
$30,000 Grand Prix Results:
Catch A Star Hss, Kevin McCarthy: 0 | 0 | 40.769
Kinsella, Charlotte Clark: 0 | 0 | 42.183
Sovereign, Lisa Goldman-Smolen: 0 | 0 | 43.645
Nike, Lisa Goldman-Smolen: 0 | 0 | 44.420
Hit Me Van't Zorgvliet, Kyle Perkovich: 0 | 0 | 44.974
Essince W, David Q. Beisel: 0 | 4 | 41.599
Casido 2, Katherine Anne Brewer: 0 | 4 | 42.474
Delta Lady Z, Katherine Anne Brewer: 0 | 4 | 42.793
Rarity, Kyle Perkovich: 0 | 4 | 46.741
Cumbaya W, Darby Pease: 1 | 80.583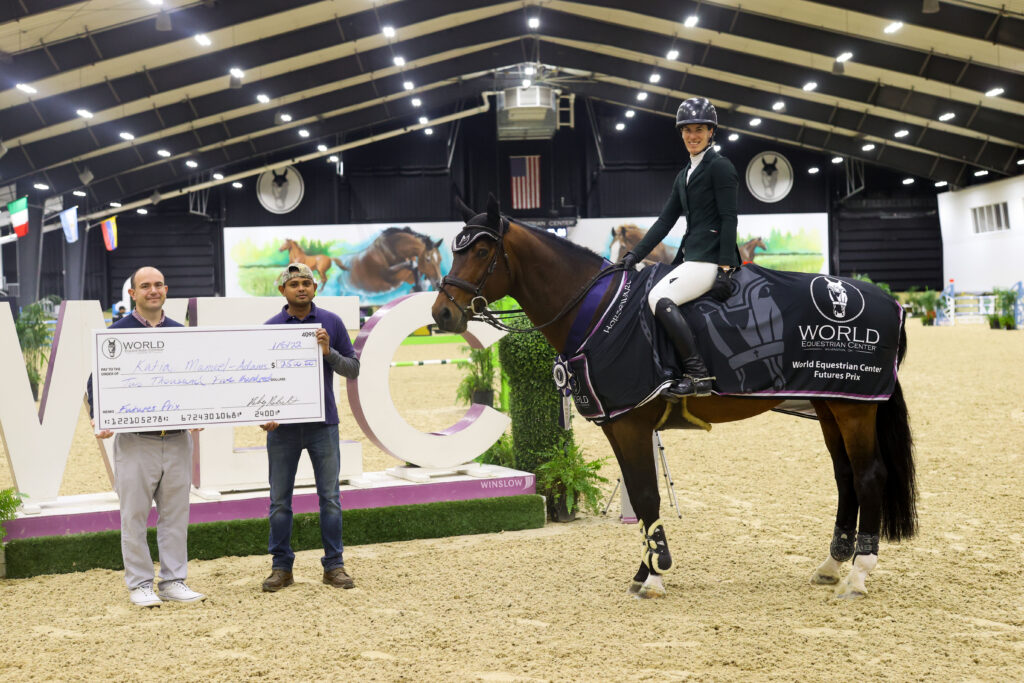 The afternoon's $10,000 Futures Prix welcomed twenty-one horse and rider combinations to World Equestrian Center's Sanctuary arena. The track featured long distances and tight inside turns that challenged some, but Switzerland's Katia Manuel-Adams and Manuel Show Stables LLC's ERP van www.olland.biz (Amadeus x T'olga) ultimately took the win.
Manuel-Adams of Southampton Township, NJ, and her 12-year-old Dutch Warmblood stallion are no strangers to the winner's circle at World Equestrian Center. The pair were in great form for today's $10,000 Futures Prix, navigating a clear first round in a quick 70.431 seconds and advancing to the jump-off. Manuel-Adams and ERP van www.olland.biz kept their speed on the short course, leaving all rails up in a time of 34.322, which would prove unbeatable.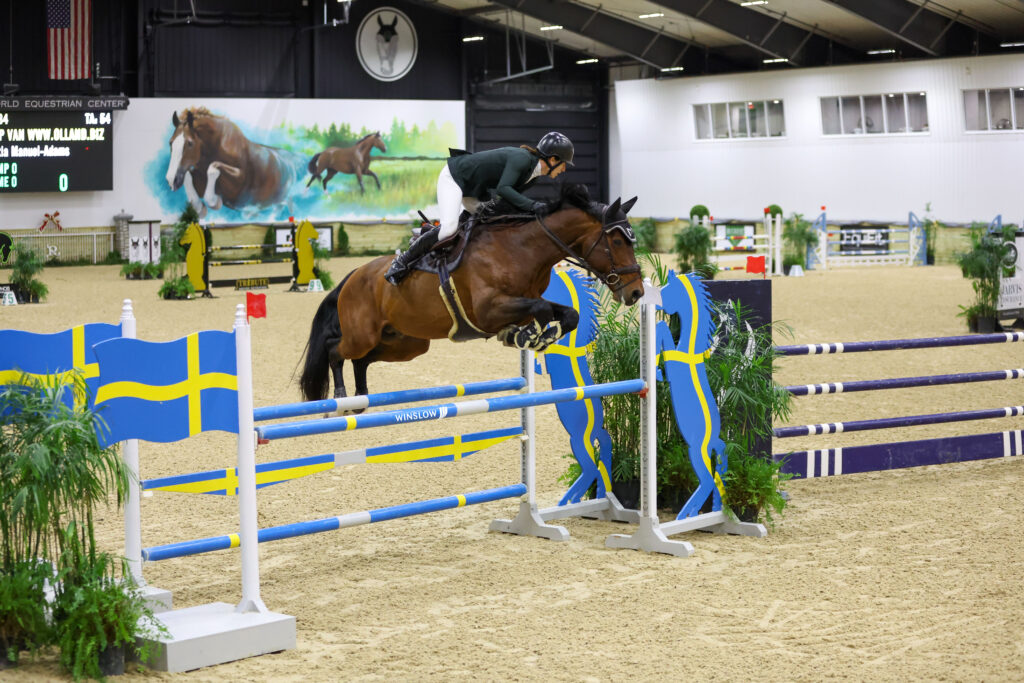 We caught up with Katia after the class to chat about her horse and her strategy. "I've known ERP for quite some time. This is his first show back, he had a break last year for a little bit. I'm super happy with how today went, apparently he is in great form! My plan for the course was to just get him fit and remain smooth though both rounds. I was a little worried because David is super fast and I'm still in shock that I beat him! "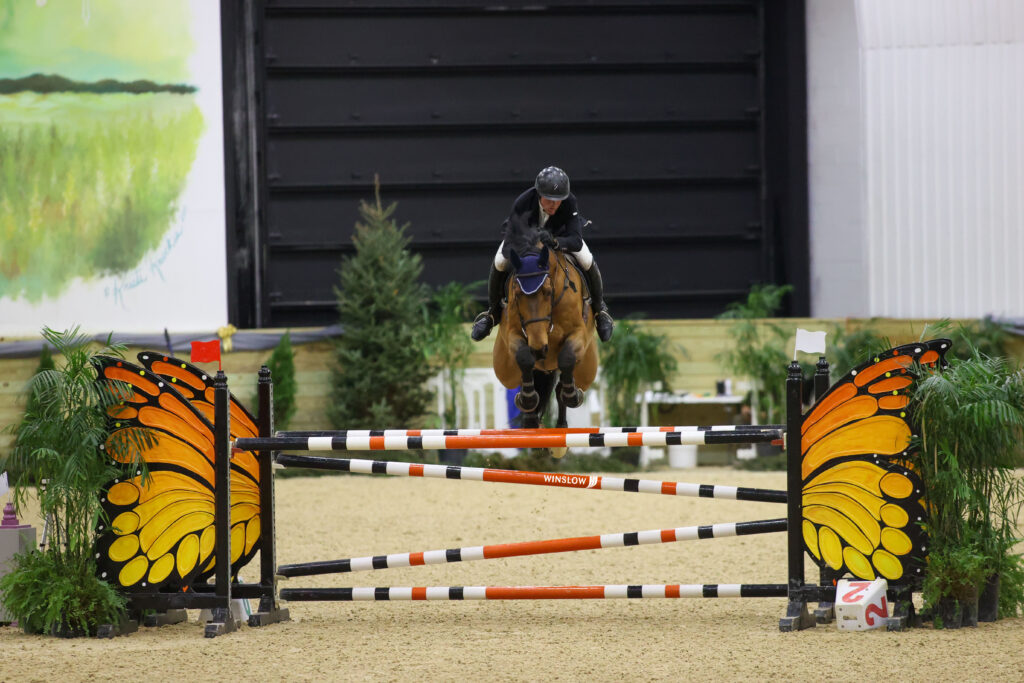 David Beisel of David Beisel Stables in Goshen, Ohio, captured the second and third placings in the class. His second-place mount was his own Vegas H (Valentino x Cobrah). The popular young Hanoverian gelding has a puppy-dog-like personality and clearly loves to jump. The duo was also quick and clear in the first round in a time of 77.331 seconds, then continued straight to the jump-off to jump a second clear round in 34.332 seconds for a second-place finish.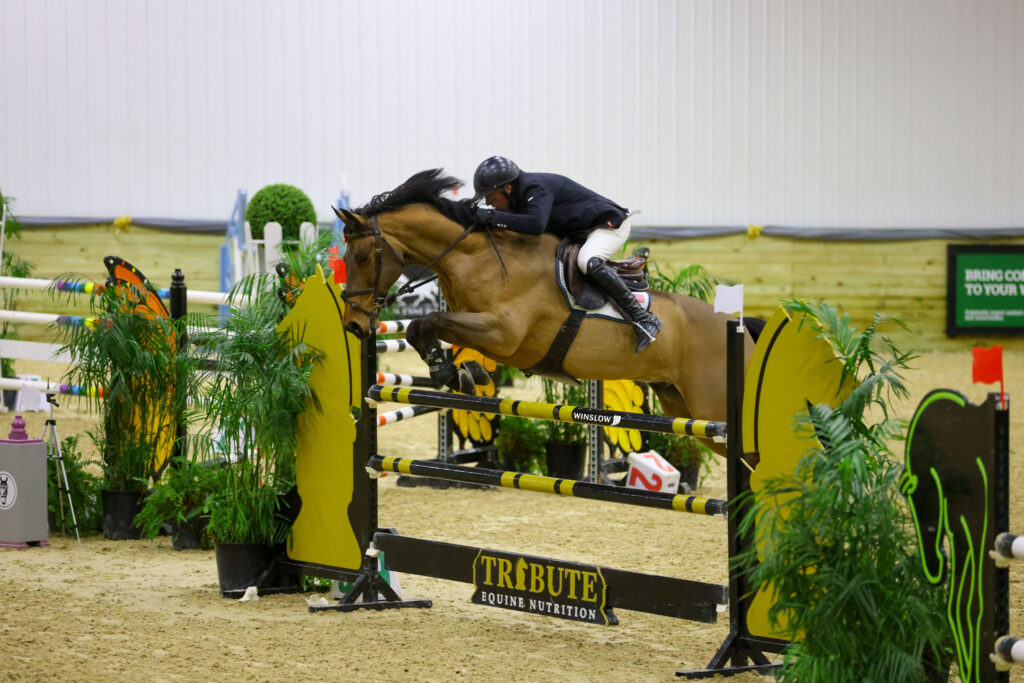 Beisel's third-place ride was aboard Logan Taylor's Ecuador W (Canturano I x Zafira W). The thirteen-year-old Dutch Warmblood stallion completed two smooth and fast rounds, which led the leaderboard for much of the class. Their first round produced a clear 77.518 seconds, advancing them straight to the jump-off. During their short course, the team maintained a composed, yet fast pace to cross the timers in 34.408 seconds for a yellow ribbon.
$10,000 Futures Prix Results:
ERP van www.olland.biz, Katia Manuel-Adams: 0 | 0 | 34.322
Vegas H, David Q. Beisel: 0 | 0 | 34.332
Ecuador W, David Q. Beisel: 0 | 0 | 34.408
Bengtsson, Lisa Goldman-Smolen: 0 | 0 | 34.442
Fawkes, Lindsay Lyden: 0 | 0 | 34.811
Ammeretto, Izzy Beisel: 0 | 0 | 34.978
Isla La Palma, Devin M. Milan: 0 | 4 | 35.678
Completely Nuts, Rebecca Gutstein: 0 | 4 | 36.120
C'est Lumpi, Chloe Desjarlais: 0 | 4 | 38.942
Everychin De Muze, Ashley Hartman: 0 | 8 | 38.309