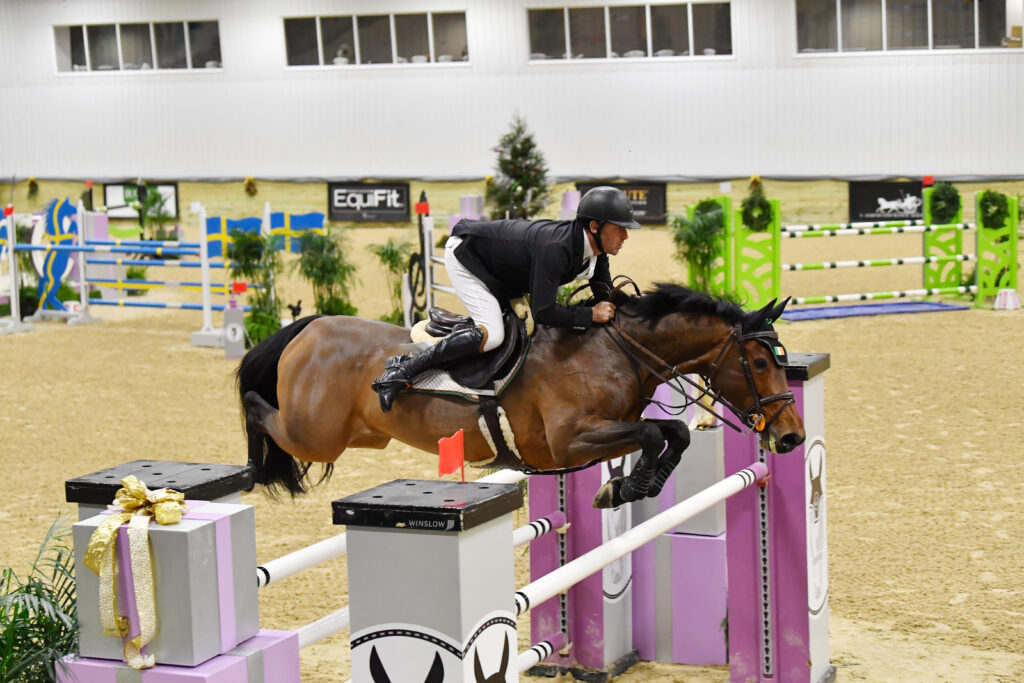 It was an exciting week of feature classes at World Equestrian Center – Wilmington during the second leg of the Winter Classic Series. Today the Sanctuary arena was filled with spectators and fans alike as they cheered on more than thirty equine athletes and their riders in the $10,000 Futures Prix 1.30-1.35m and the $30,000 Grand Prix 1.40-1.45m.
Tonight's $30,000 Grand Prix exhibitors brought the heat and the last two riders on the course, Kevin McCarthy and David Beisel, faced off for major competition with just 1/10th ultimately deciding the winner. The class saw a field of thirteen impressive competitors in round one with four advancing to the jump-off. McCarthy and Beisel had each audience member on the edge of their seat during the heated jump-off. The competition was neck-and-neck, Ireland's McCarthy and his own Catch A Star HSS (Sheraton x Tolinda) prevailed for the win.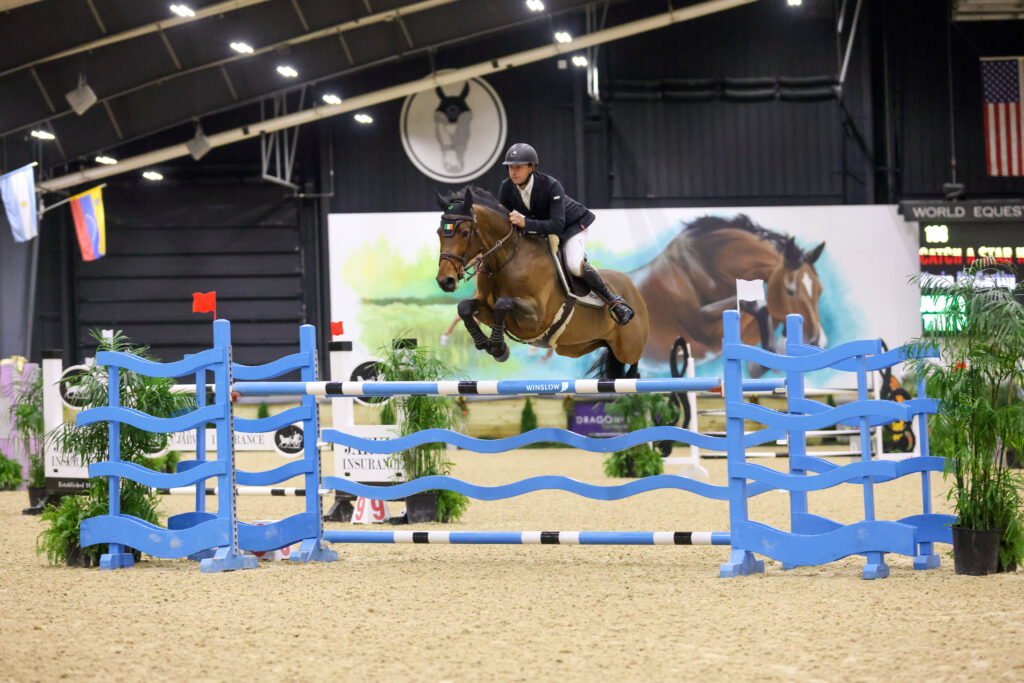 McCarthy of K&K Sport Horses in Lexington, Kentucky and the 11-year-old Swedish Warmblood more tackled the first round in just 80.804 seconds. The pair was invited to return in the jump-off where it was clear that they came to win. McCarthy and 'Casey' as she is more fondly called in the barn, finished the short course in just 36.772 seconds to take the win.
We caught up with Kevin after his class to chat about his strategy on the course. "My horse was great and smooth tonight – I can't ask for much more than that. As for my strategy, I had a plan to ride the course as a whole and not leave any holes in my efforts. I knew that I needed to be good from the first rail to the last and that is what I tried to do."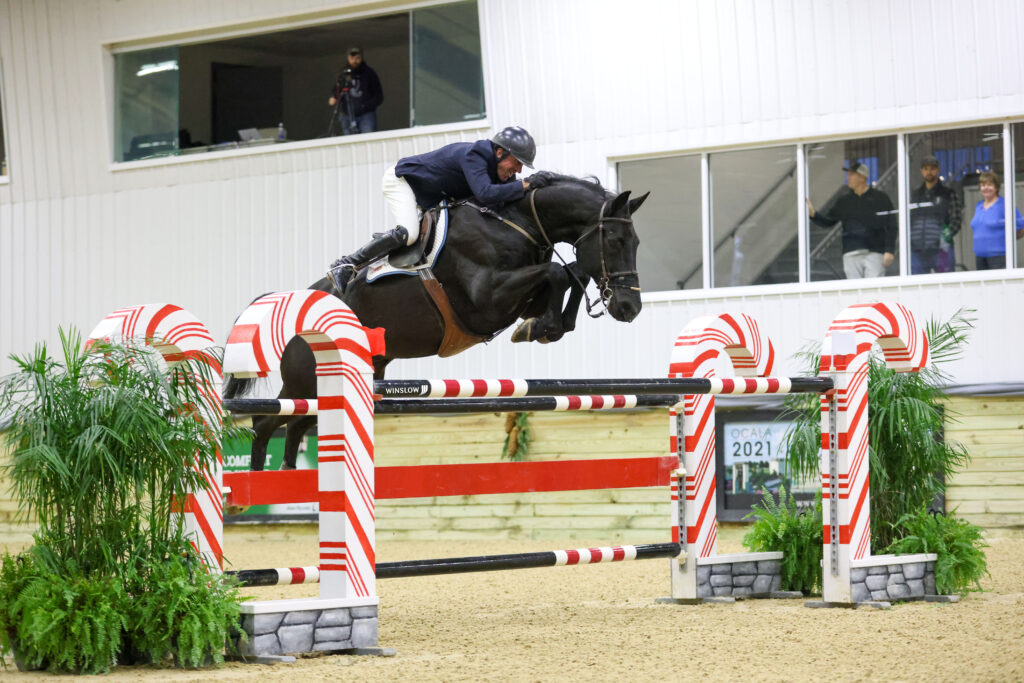 David Beisel of David Beisel Stables in Goshen, Ohio and his own Essince W (Chacco Blue x Rossan) fought until the end for a spot in the top lineup. Their first round was smooth and precise, with a time of 81.175 seconds. This duo fiercely contested the jump-off track, giving it their all and stopping the clock in 36.868 seconds, just barely off McCarthy's time to finish second.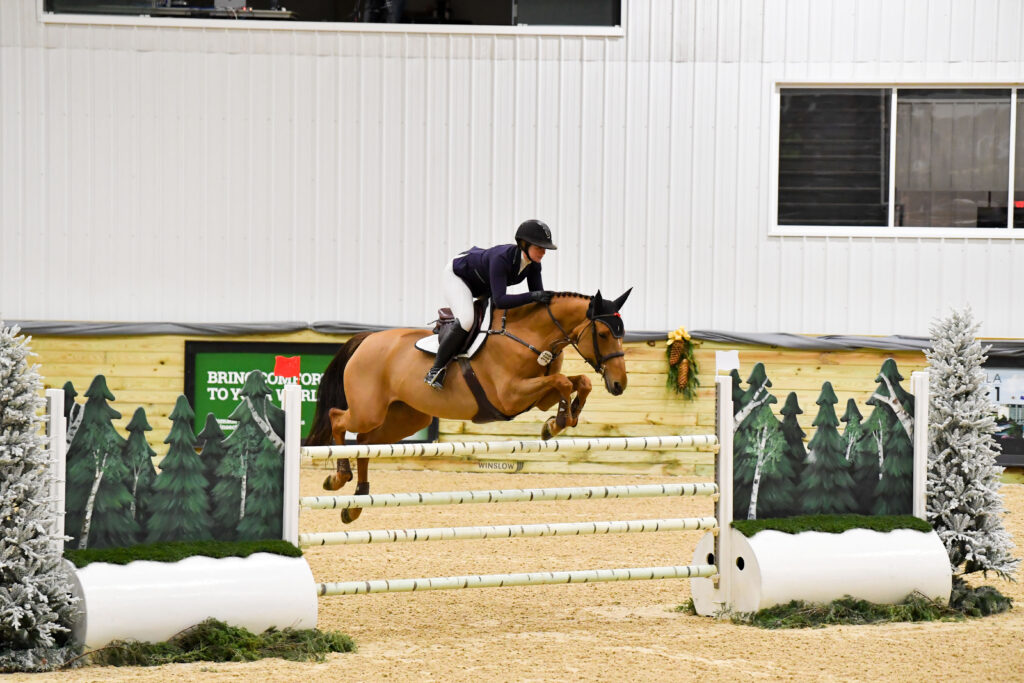 Charlotte Clark of Kendalwood Farm and her own Kinsella (Capitalist x Jerpoint Mist) rounded out the evening's top three. Clark and the Irish Sport Horse earned the fastest time in round one, finishing in just 77.516 seconds. Returning to the jump off, Clark and Kinsella crossed the final set of timers at a blistering 38.200 seconds with all rails up to take third place.
$30,000 WEC Grand Prix 1.40 – 1.45m Results:
Catch a Star HSS, Kevin McCarthy – 0 | 0 | 36.772
Essince W, David Q. Beisel – 0 | 0 | 36.868
Kinsella, Charlotte Clark – 0 | 0 | 38.200
Eastpoint, Hillary Johnson – 0 | 0 | 46.385
Tailormade Cash is King, Kama Godek – 4 | 78.595
Strawberry, Molly Kindness – 4 | 79.542
Vegas H, David Q. Beisel – 4 | 82.149
Hendrik, David Q. Beisel – 4 | 84.028
Trevor Z, Karen McFarland – 4 | 85.622
Zanziebar R Z, Greg Crolick – 8 | 85.622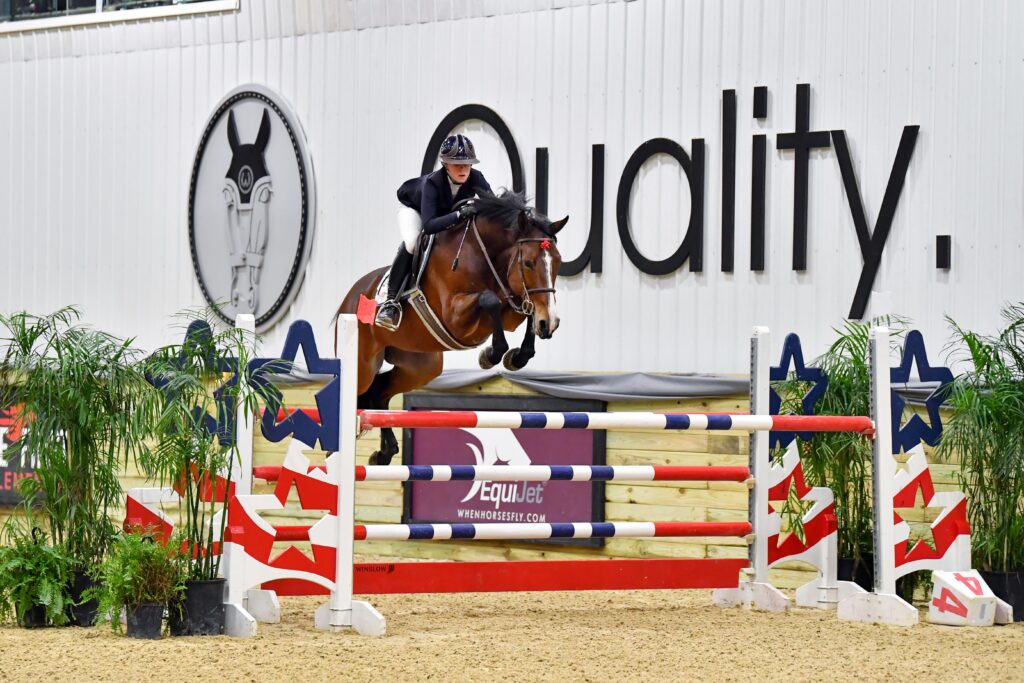 The $10,000 Futures Prix 1.30-1.35m saw a field of nineteen horse-and-rider combinations but none could best junior rider Izzy Beisel of David Beisel Stables in Goshen, Ohio. Izzy deservingly claimed the top two spots in today's Futures Prix. Fourteen-year-old Beisel won aboard her new mount Indira and she finished second riding her longtime partner Ammeretto.
Beisel and the 2013 Dutch Warmblood Mare finished round one in a speedy 71.768 seconds. Beisel and Indira then galloped in the jump-off and managed to cross the timers in 28.695 seconds to ultimately take the win.
We caught up with Izzy ringside to chat about her big win and her new mount. "We got Indira back in November and I am still figuring her out. She is a very in control horse and she can be funny outside of the show arena. However, when you are showing she is spot on and is there to perform her best. Since she works her feet really well I was able to take a chance at the in-and-out and go faster there. She is a cool horse!"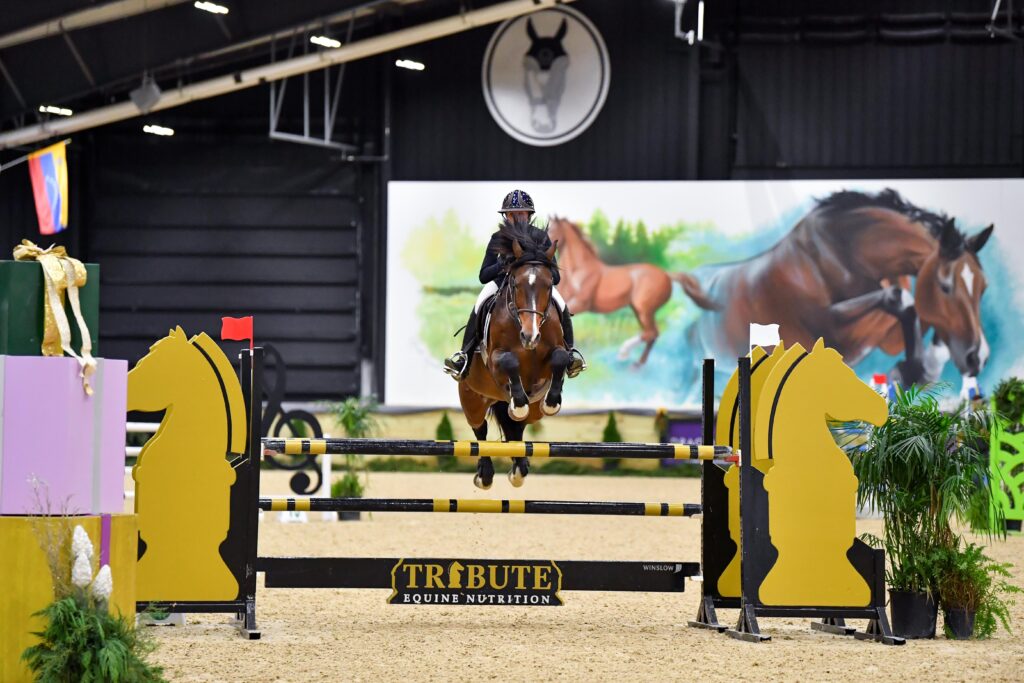 Next to last in the order of go, Beisel and Ammeretto negotiated the course in 73.269 seconds leaving all the rails up. Upon catching their breath, the pair attacked the short track, where they flew through the timers in 28.828 seconds to take second place.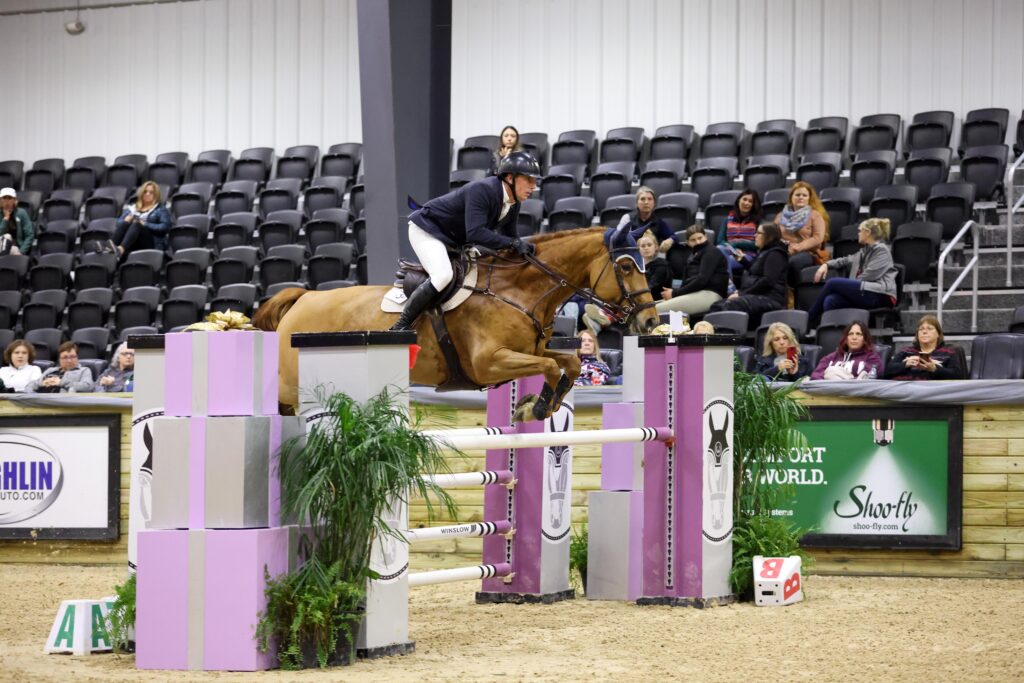 Rounding out the top three was FEI course designer Micheal Pegg of Ten Sixty Stables in Ontario, Canada. Pegg competed on the course with Big Girl Z, an eight year old Zangersheide mare. The duo finished the first round in just 76.873 seconds. In their return for the jump off, they cleared all efforts in 29.593 to take the third place spot.
$10,000 WEC Futures Prix 1.30 – 1.35m Results:
Indira, Izzy Beisel – 0 | 0 | 28.695
Ammeretto, Izzy Beisel – 0 | 0 | 28.828
Big Girl Z, Micheal Pegg – 0 | 0 | 29.593
Z Diamanty, Megan Bash – 0 | 0 | 30.001
Captain America, Richard L. Rinehart – 0 | 0 | 30.756
Auburn Des Rosiers, Megan Storey – 0 | 0 | 31.119
Frankenstein, Laura A. Hauser – 0 | 0 | 33.150
Lord Latino, Kama Godek – 0 | 0 | 34.689
Jackson VDL, ​​Megan Bash – 0 | 4 | 28.519
HRH van de Elsakker, Kama Godek – 0 | 4 | 28.850
Congratulations to all entries on a successful day of equestrian sport!
Photos courtesy of Winslow Photography
Want to win 32 weeks of FREE stabling for your horse at our shows? Join us for Winter Classic 3 December 15th-19th where when you win your first blue ribbon, you will be able to pick a gift from under our magical holiday tree. Amazing gifts include gift certificates from our restaurants, lodging and retail as well as generous gifts from our many vendors and sponsors. Four lucky winners will receive FREE stabling for their horse for ALL of 2022! Visit the show office to learn how to win.