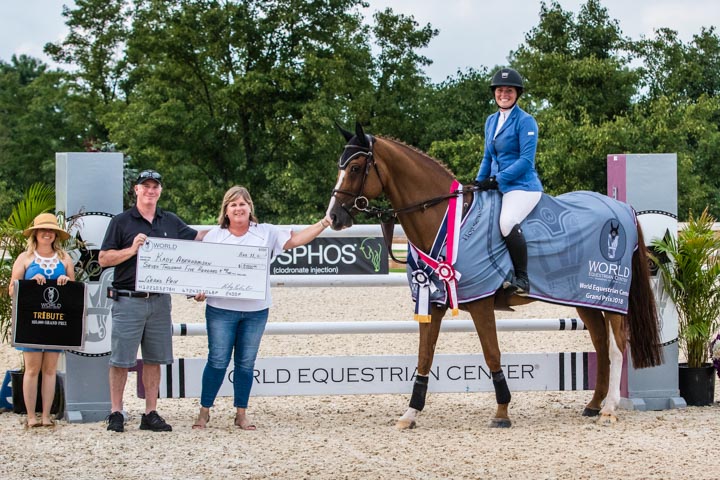 An enthusiastic crowd lined the Jumper ring, cheering loudly for riders in Saturday afternoon's $25,000 Tribute Equine Nutrition Grand Prix (1.45 meter). An international field of twenty five entries attempted the twisting track with a first round time allowed of 75.96 seconds.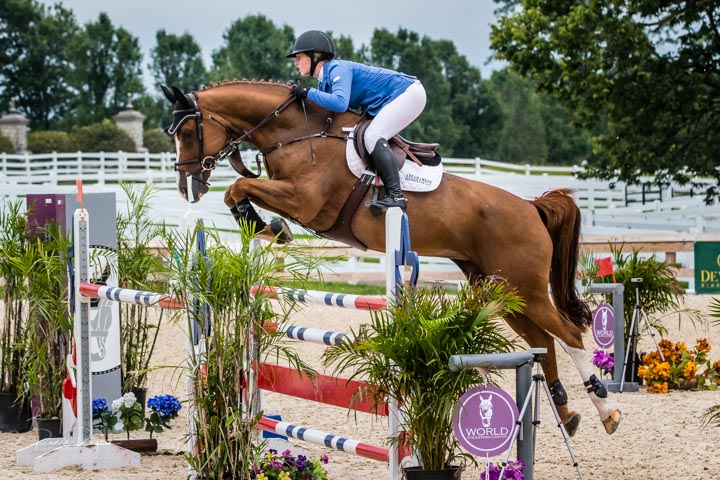 The first round demanded tidy riding and 13 entries accomplished just that, advancing to the jump off. The most impressive time of the first round was Sarah R. Meier and Chanel (Cradilo x Red Charisma), who stopped the clock at 66.94 seconds. The jump off was demanding, featuring several options for inside turns, resulting in rails for 5 of the 13 entries.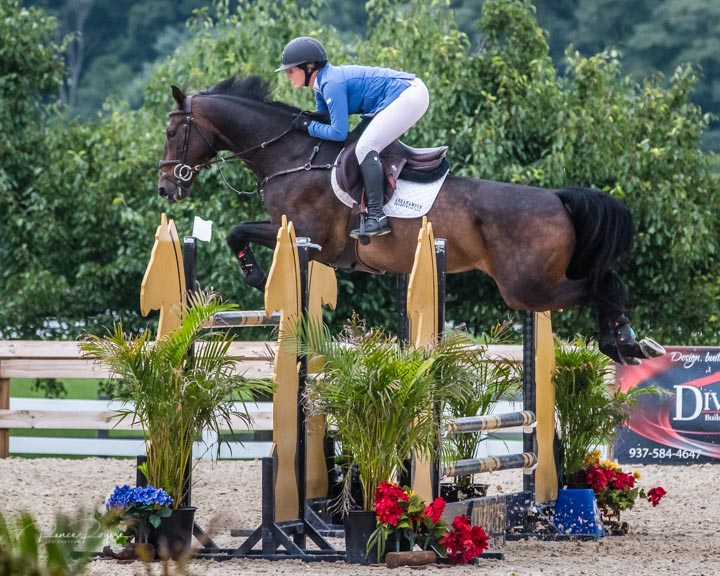 Speed proved to be the true deciding factor, and none performed better than Kady Abrahamson. Kady rode two horses in the $25,000 World Equestrian Center Grand Prix presented byTribute Equine Nutrition, and showed off her impressive skill and technique, taking home both first and second place. "I bought them within six weeks of each other in the winter of 2016," Kady said about her horses Charline 28 (Cellestial x Pik Dame) and Bugatti (C Indoctro x Jaina De Beaufour). Kady rode "Charline", a leggy chestnut mare with great energy, early in the pack, then "Bugatti", a sweet 15 year old bay gelding, second from last in the order of go. "I didn't know I was that quick," Kady explained about her jump off on "Bugatti", "To hear I was in second after being first on [Charline]…that was exciting!" Charline 28's jump off time was 37.177 seconds and Bugatti's jump off time was 37.928 seconds. Kady explained that Charline is "definitely a chestnut mare", and that Bugatti is a seasoned jumper that knows his job well. "He doesn't jump at home. He just walks straight into the Grand Prix, never a warm up class."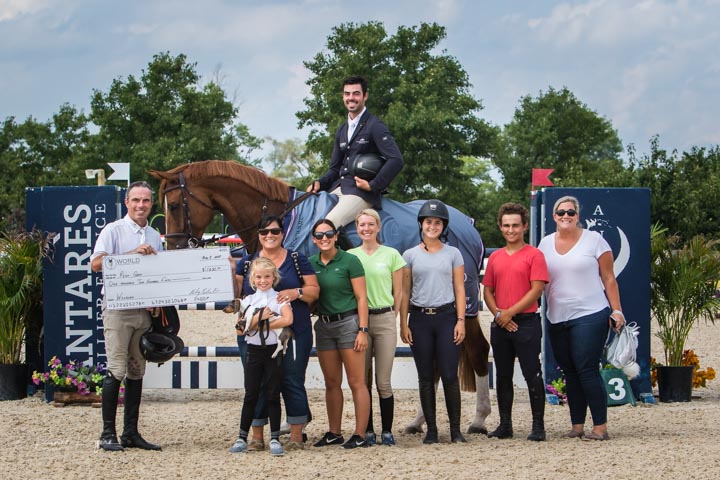 Ryan Genn emerged victorious in Wednesday's $5,000 Welcome Stakes riding an impressive round aboard For Advance (For Pleasure x Gazelle). The pair stopped the jump off clock at 40.16 seconds, a full second ahead of the second place finisher. "I've never gone fast on him like that before," Ryan said when asked about his ride. "The inside turns that I did…when I was walking [the course] I thought, 'There's no way'. Then, when I was in the ring, it just showed itself. I asked him and he did it really easy. Any time you ask him a question, he never wavers." For Advance, an 8 year old German Warmblood, made the 1.35 meter course look easy, turning tight and never considering touching a rail. "If he hits a jump…you can tell he doesn't like it," said Ryan. "He plays on the back side and sometimes he'll pin his ears after he hits a jump."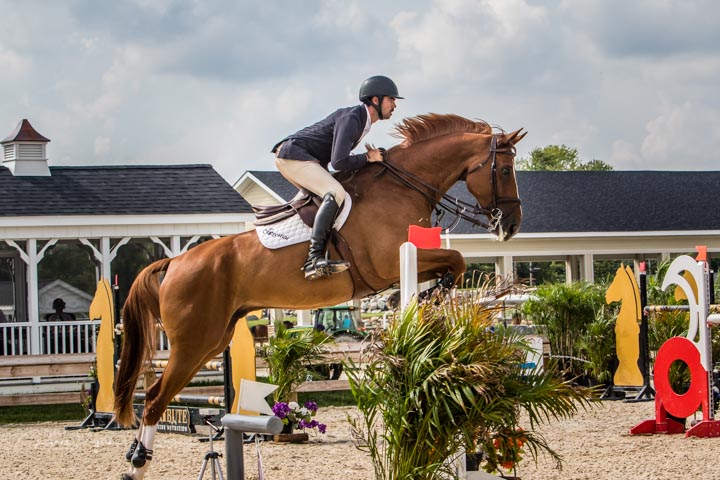 For Advance is owned by Wilhelm Genn and Stephanie Ring, owner of Big Sky Stables. "She fell in love with him because of his presence," Ryan explained. "He's really playful and, for his size, he's insanely athletic." Ryan has been riding the big, kind-eyed chestnut gelding for about a year. The pair, both tall and athletic, seem almost built for one another. "We suit each other well," Ryan laughed. "He's been nothing but a pleasure."
On Thursday, the track for the $7,500 Future Prix proved tough with only four of seventeen riders jumping a clear first round. Frederick P. (Peter) Jordan and Ciemusic Z (Crown Z x Fortis Fortuna) were quick and tidy in the jump off, winning the class with a clear round in 44.96 seconds. When asked about his round, Peter noted the tough course and complemented the footing. Ciemusic Z is a Belgian gelding owned by Outland Farms, LLC, and Peter has been riding him for about a year.
Hunter Derby Action
On Friday, both the $2,500 Open USHJA National Hunter Derby and the $2,500 Non Pro USHJA National Hunter Derby. The beautiful course incorporated antique wagons and carriages. Competition was stiff with eleven strong competitors in the Open Derby, and twelve in the Non Pro Derby. Both Derbies ran simultaneously, allowing for crowd pleasing in-ring action. In the first round, eleven of the twenty-three riders scored above an 80, setting a high standard for the second handy round.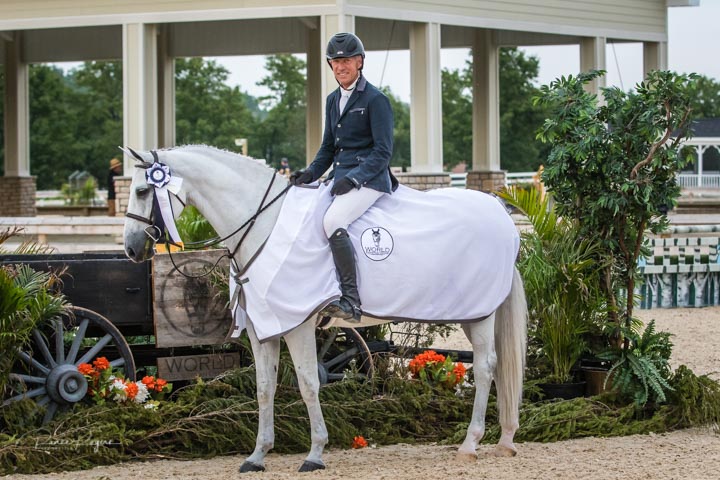 Atop the pack heading into the handy round was Snowbird (Vingino x Vegannie) and Jeff Gogul with a first round score of 90 in the Open Derby, and Avendaro and Samantha LoPresti with a first round score of 85 in the Non Pro Derby.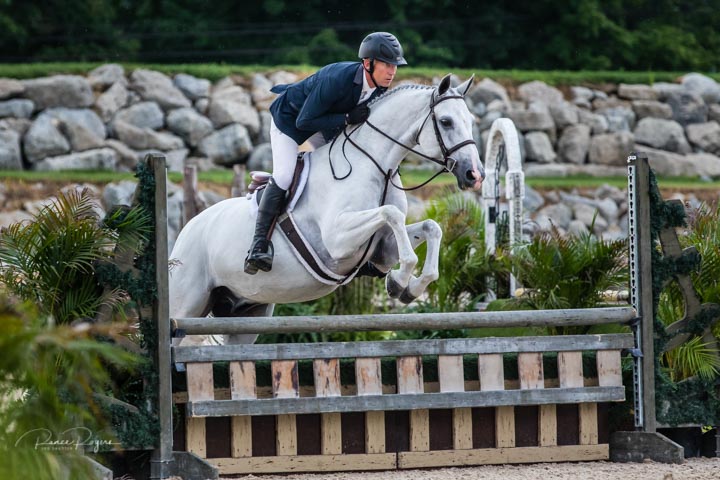 Snowbird and Jeff Gogul held onto the lead in the Open Derby with a lovely handy round, scoring an 88. This brought their total score to 176, 6.5 points above second place finisher RS Darwin (Zizi Top x Zadanita) and Linda G. Radigan (169.5). Jeff had not had the opportunity to school Snowbird in the outdoor arena yet. "He jumped better because he hadn't seen it before," Jeff said.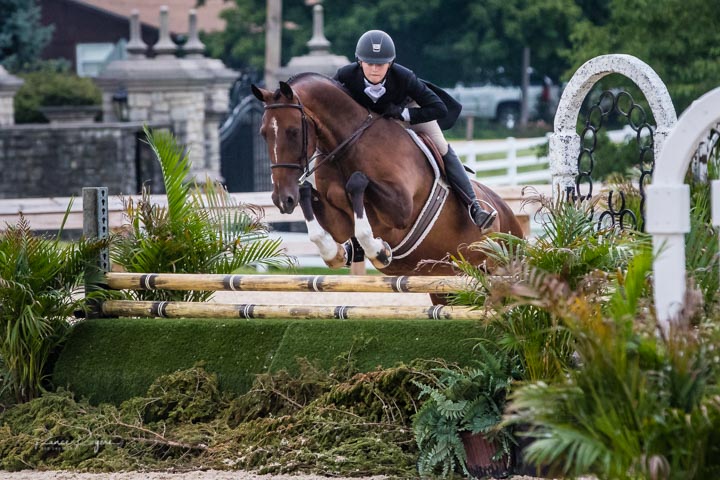 Avendaro and Samantha Lo Presti also held their lead position in the Non Pro Derby, scoring an 82 in their handy round. This brought their total score to 167, just 2 points above second-place finisher Boris de Bruz (Placido x Rianne) and Vanessa McCaughley.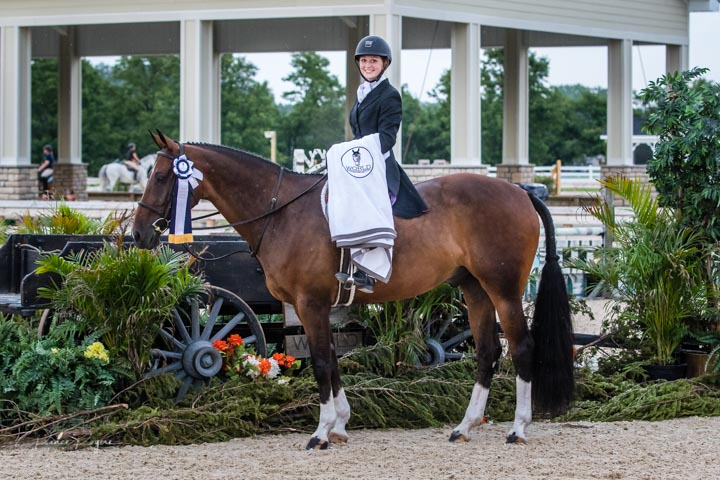 Samantha was pleased with her ride. "The first round went really smoothly. It was a really good round of ours." Samantha has owned her handsome 10-year-old Oldenberg gelding for six years and couldn't have been more excited about their win. "It was my first Derby ever," Samantha said, "It was super fun."
Exhibitors, spectators and dog friends alike enjoyed the last show of the Summer in the outdoor horse show complex at the World Equestrian Center Ohio.