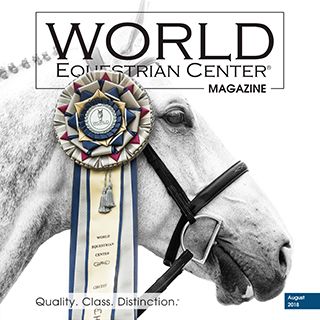 The Summer issue of the World Equestrian Center magazine is here! The new issue is brimming with interviews and stories about passionate equestrians and horses in sport.
Award-winning journalist LA Sokolowski penned our cover story which delves into the history of ribbons and traces their significance in equestrian sports right up to modern day. The talented Andrew Ryback shot our stunning cover photo.
The quarterly Stable Spotlight feature focuses on Ohio native Lindsay Yinger and her eponymous show stables. Lindsay's story inspires with a lifelong love of riding and a courageous comeback from a riding injury that left her with a broken back.
For our Junior Q&A, we spent time with the charming and articulate young rider, Caroline Nadalin, who hopes to be a professional trainer one day. She impressed us with her ability to take a long-term view of training, having already developed a special pony called Bamboozle 'from poles to Pony Finals'.
Spend 24 Hours In the Life of British equestrian artist Sarah Lockwood-Taylor. Sarah's stunning bespoke Linocut prints of beloved horses and dogs grace the walls of our Paddock Club. The oversized pieces are vivid and dramatic, capturing the unique bond that exists between animals and their human friends. In our article you'll learn what inspires her as she makes her way through a day that can start before dawn and sometimes have her working ten hours nonstop!
The Tech Equestrian column introduces readers to an exciting and innovative new company called NIGHTWATCH®, who has created the World's first smart halter™ designed to alert care givers via text, phone call, and email at the early signs of danger/distress in horses.
In our Equestrian Fashion column, Safety by Choice, Not by Chance, Chagrin Saddlery's Dana Miller shares a detailed how-to on helmet fitting, complete with step-by-step instructions that will have you looking stylish and staying safe in the saddle this summer.
How do you read the issue?
Read the issue online at www.wec.net or on the digital publishing platform, Issuu.
The magazine is free and distributed at World Equestrian Center, Ohio, at the Golden Ocala Gold & Equestrian Club in Ocala, Florida and via our WEC / Chagrin mobile boutique. Want a paper copy? Email info@wec.net and we'll send you one!