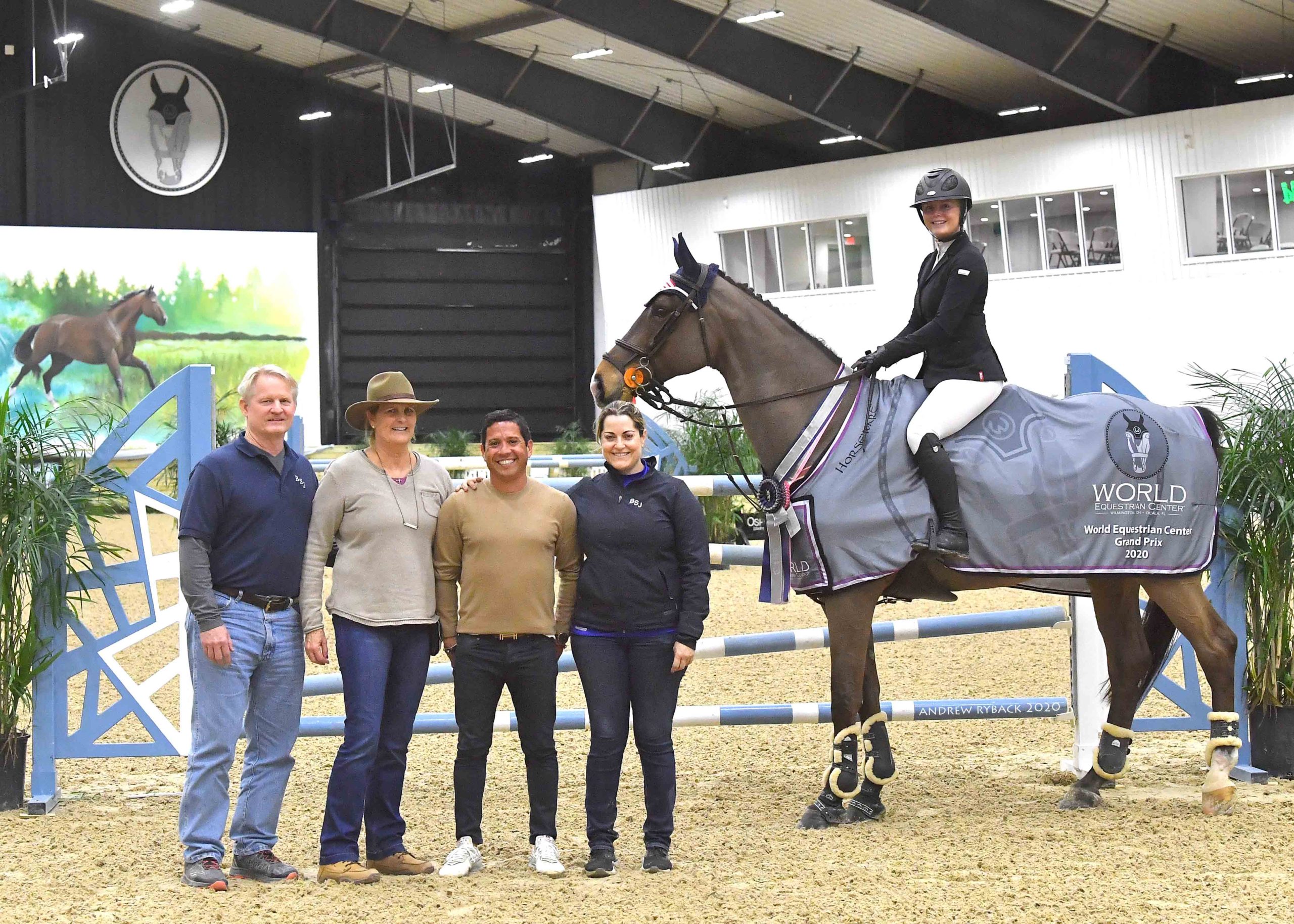 Our 'Winter in the Midwest' Winter Classic 13 feature jumper action continued this evening in the Sanctuary Arena with the $25,000 Grand Prix and the $7,500 Futures Prix 1.30m, sponsored by Voltaire Design. Tucker Williams of Ocala, Florida designed both courses, which tested adjustability with long bending lines, variable distances and in-and-out combinations. It was an exciting evening of show jumping sport where skilled amateur riders would go head to head with professionals and emerge victorious in both classes.
Eleven horse and rider combinations contested the course tonight, but it was amateur Keely McIntosh and Jenny Booth's 14-year-old Selle Francais gelding, So Live Helau (Dollar Du Murier x Ador De La Crasne) that captured the win. This is their second Grand Prix win at World Equestrian Center as the pair previously won the $10,000 WEC Grand Prix in October 2019.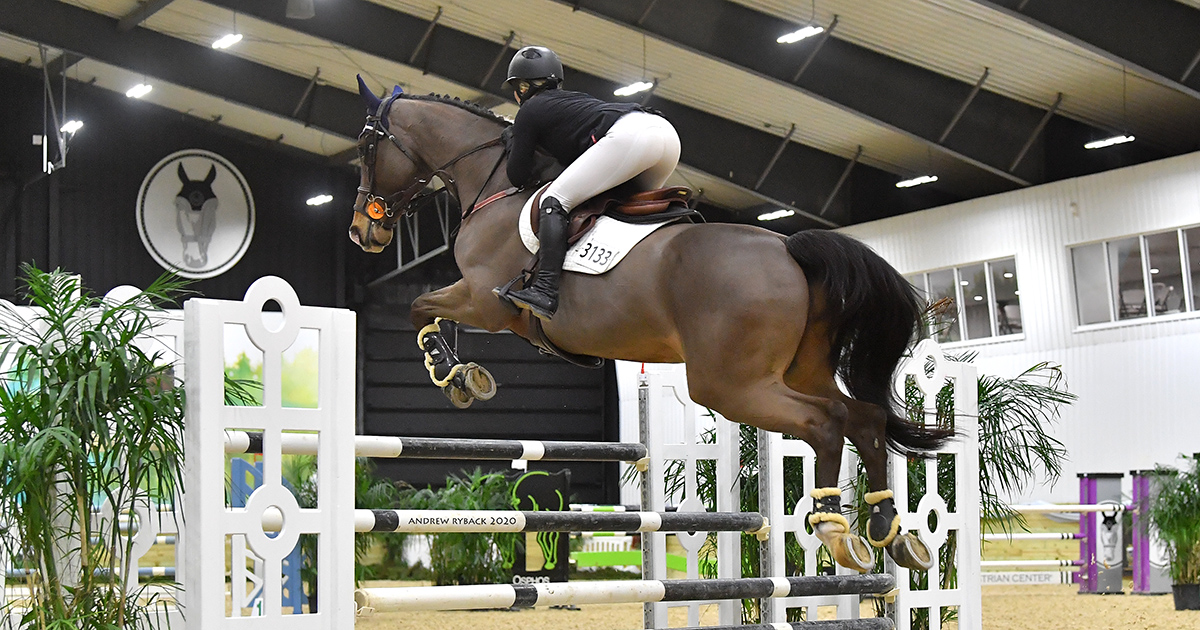 First to go clear were Lindsay Lyden and In Private (Satisfaction 1 x Hella). Lyden and the 12-year-old Westphalian gelding stopped the clock at 82.271, earning their spot in the jump-off. The pair train with Fox Meadow Farm and are frequent competitors at WEC. They have earned top finishes this winter at WEC in the Medium Junior/AO jumpers 1.30m and 1.35m level and stepped up to the Grand Prix tonight.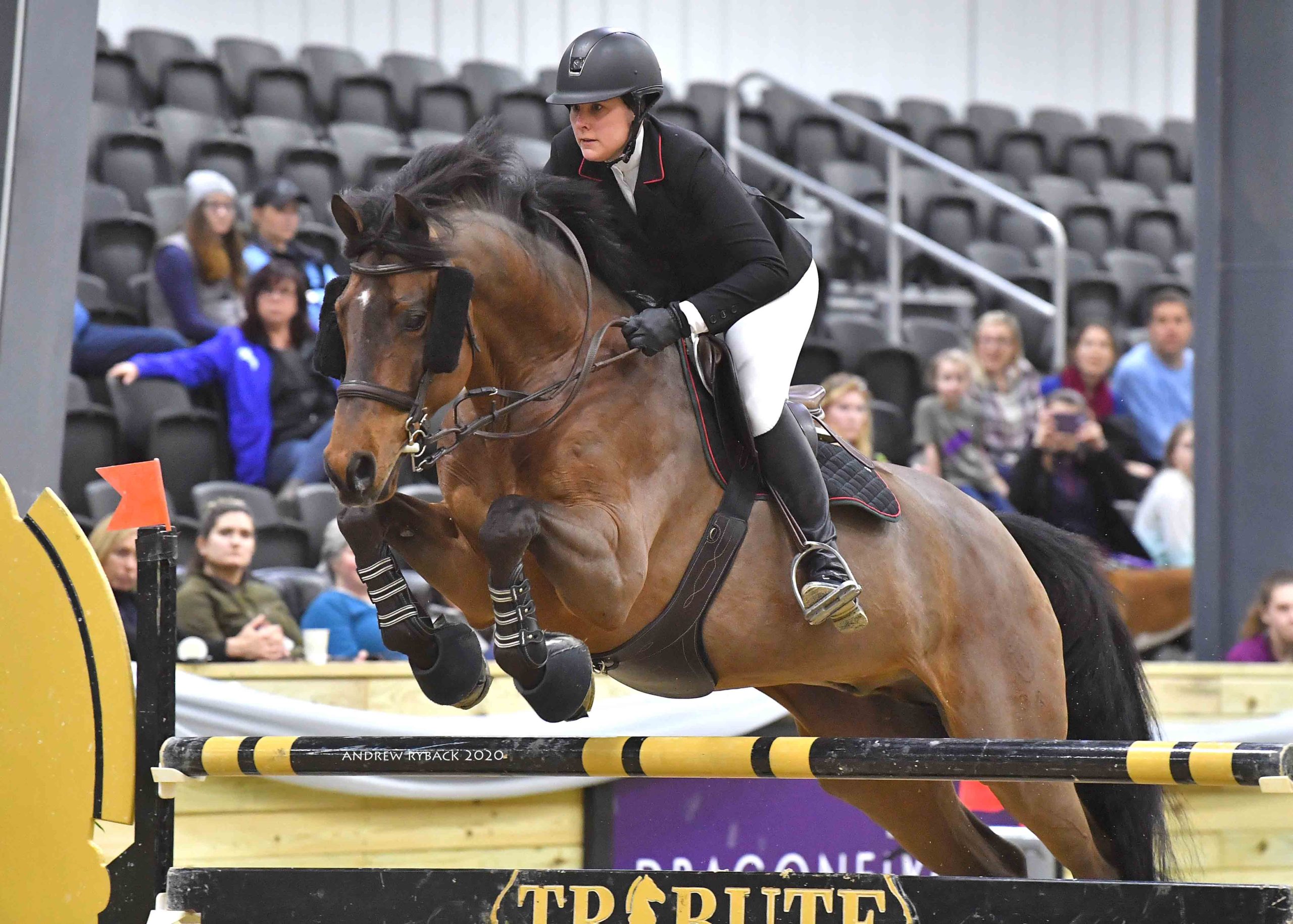 Not long after, Juan Lavieri and Happy Hour (Cabarano x Pelanca) took to the course. Levier and Happy Hour, a 12-year-old Canadian Warmblood mare, delivered a clear round, stopping the clock at 76.773, well under the time allowed of 85 seconds.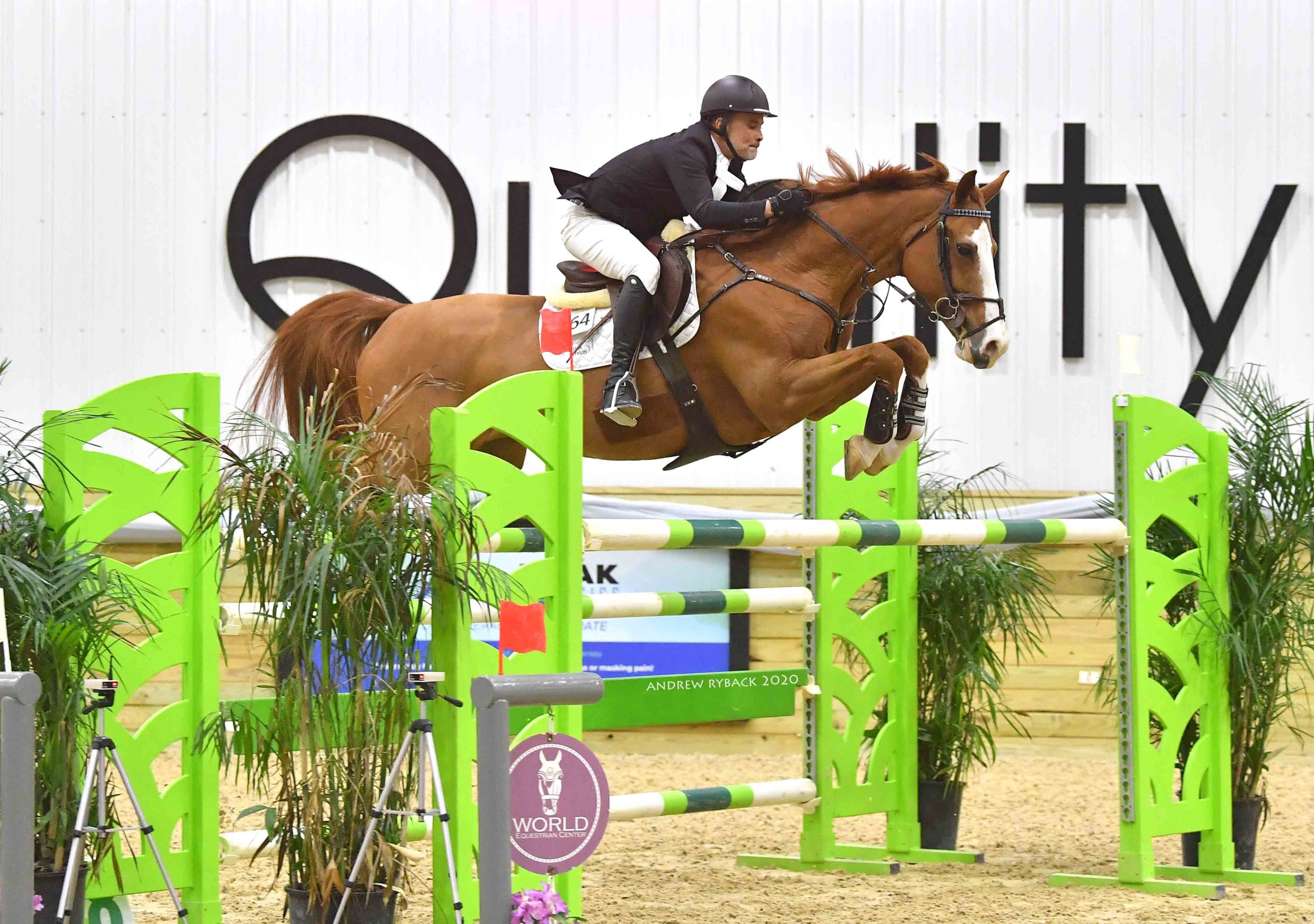 Second to last on the order of go, Keely Mcintosh and the scopey So Live Helau tackled the course. The pair went clear in a time of 75.513, signaling that they would be tough to beat on the short course.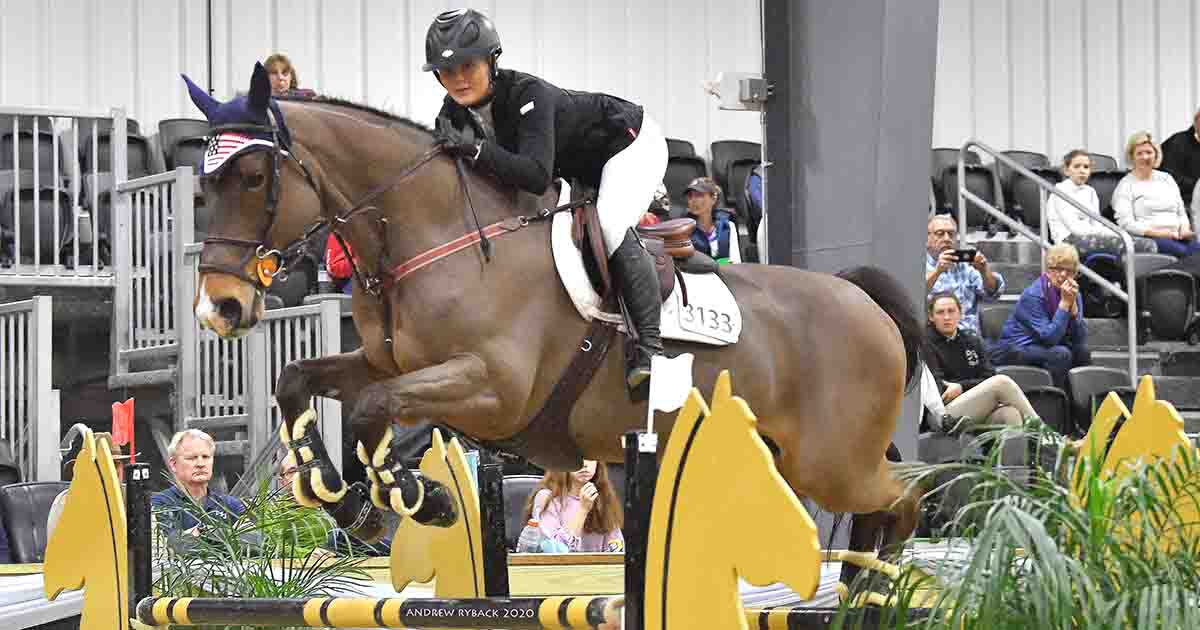 Five entries returned for the jump-off with a time allowed of 48 seconds for the short course. Lindsay Lyden and In Private were first to jump-off clean in a time of 41.563. Next in the ring Juan Lavieri and Happy Hour went clear and set a new time to beat with a time of 40.727. Canada's Greg Kuti and his Aces High then delivered a third clear round in 42.385. Last to go were Keely McIntosh and So Live Helau, who galloped through the timers with a clear round in 37.284 for the win.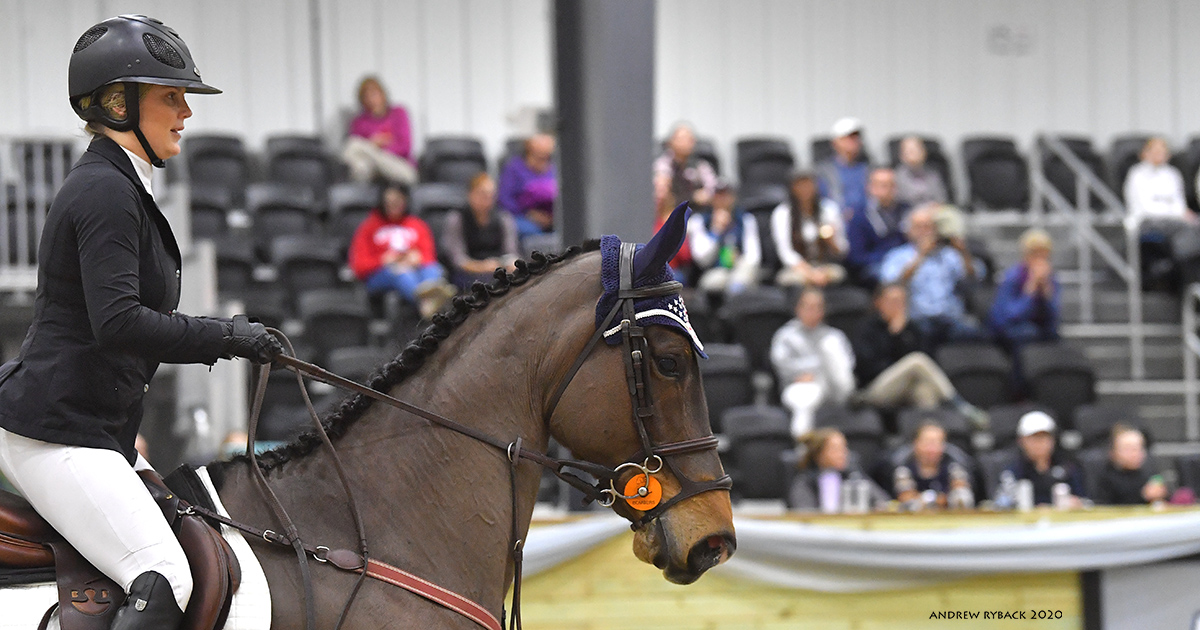 McIntosh took the time to speak with us after her win tonight. "The course rode like it walked. There were some real questions out there tonight – some lines had half strides – but (So Live Helau) answered all the questions really well. The time allowed wasn't a problem for us. I did a roll back from the in and out to the oxer and the tall yellow vertical – I wasn't planning it, but I got to the oxer and he was right underneath me, so we went inside."
When asked how the course suited So Live Helau, McIntosh replied, "He's 17.2 and it rode well for him. There were some questions out there with half strides that tested rideability, especially later on in the course, so if you left a stride out or added one it could catch up with you."
Asked to describe So Live Helau, McIntosh shared, "He was a handful when I first got him, but he has settled, he's 14-years-old now. He's king of the barn. We call him Sulli in the barn. We've had him since February of 2016. I bought him from McLain Ward. He'd been in an accident and he was off for quite a while. We did laser work on him and he is not sensitive to it anymore. It was fate that he ended up with us. Sully and I have been partners for a very long time now and we have a very strong bond."
So Live Helau's groom, Isabel Sempe, received the Groom's Award tonight for the gelding's exceptional turned out. McIntosh was quick to recognize Sempe and her entire support team and their influence on tonight's win. "I would like to thank Victor Segovia. He goes back and forth between Wellington and California and he came here to WEC to help me this week. He's never been at the same show as me, I usually send him videos and he helps me remotely. I call him and ask for advice. I also want to say thanks to my mom for her love and support. I am at the farm full time in Georgetown, Kentucky. My mom lives in Texas, but she helps and she picks out a lot of the horses too."
Results: WEC $25,000 Grand Prix
So Live Helau, Keely McIntosh – 0 | 0 | 37.284
Happy Hour, Juan Lavieri – 0 | 0 | 40.727
In Private, Lindsay Lyden – 0 | 0 |41.563
Aces High, Greg Kuti – 0 | 0 | 42.385
Inne Van De Plataan, Keely McIntosh – 4 | 70.557
Haydn, Shelly Zimmerli – 4 | 80.350
Captain Jack Sparrow H, Michael Kocher – 4 | 80.377
Honfleur, Michael Kocher – 8 | 73.290
Z Diamanty, Megan Bash – 8 | 77.873
MTM IBelieve, Will Baker – 8 | 79.679
$7,500 Futures Prix 1.30m
The Futures Prix 1.30 sponsored by Voltaire Design saw fourteen entries vying for the win over a course similar to that of the Grand Prix. Seven pairs went clear to advance to the jump-off round, but it was amateur Lindsay Lyden and her own 10-year-old KWPN gelding Fawkes (Carthino Z x Tisral) who notched their first Futures Prix victory.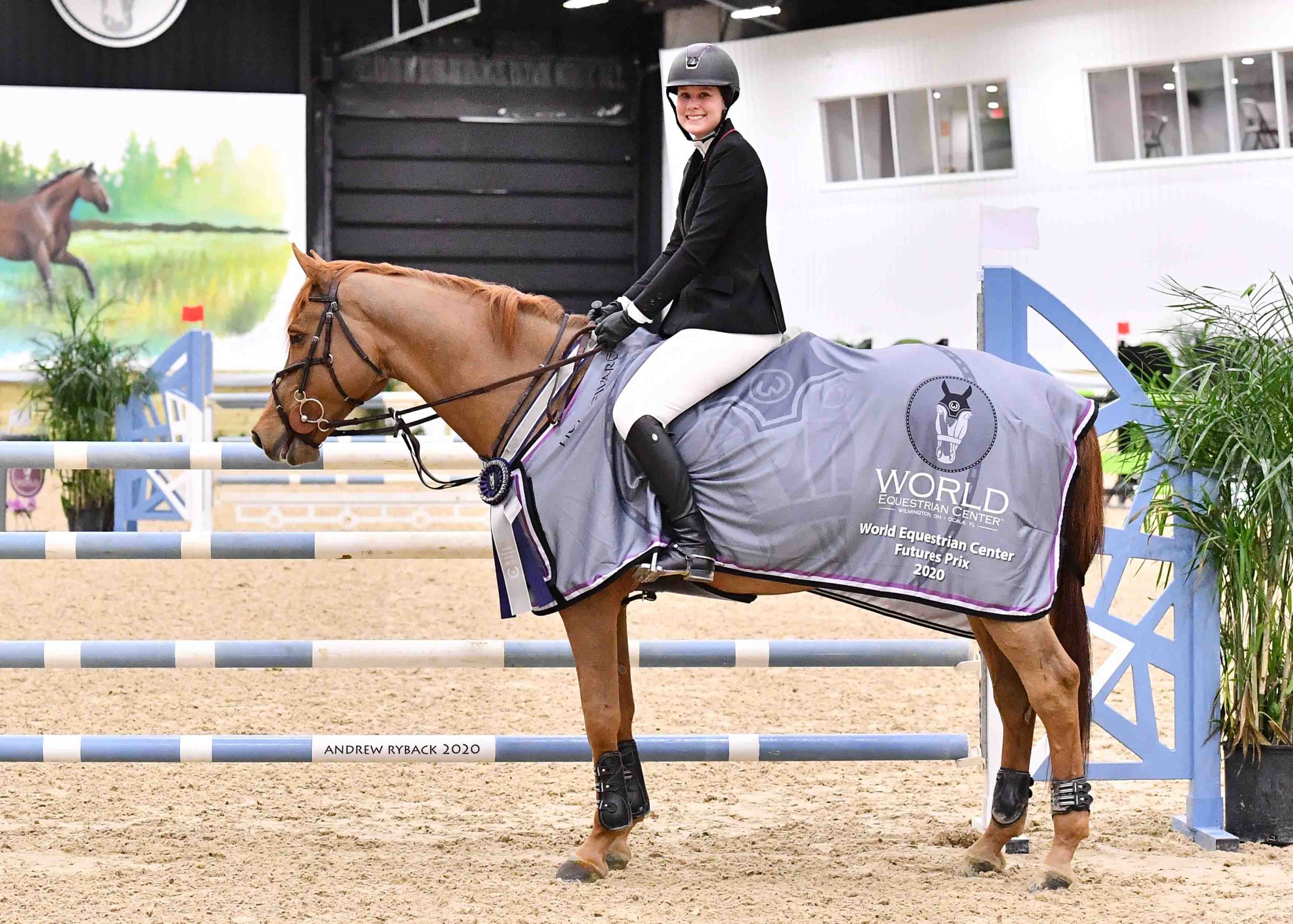 Going near the top of the order, Louise Graves and Zavira delivered the second clear round of the class in a time of 71.712. The pair advanced to the jump off of the Table II 2b event, picking up the pace and stopping the timers at 31.549, setting a new time to beat.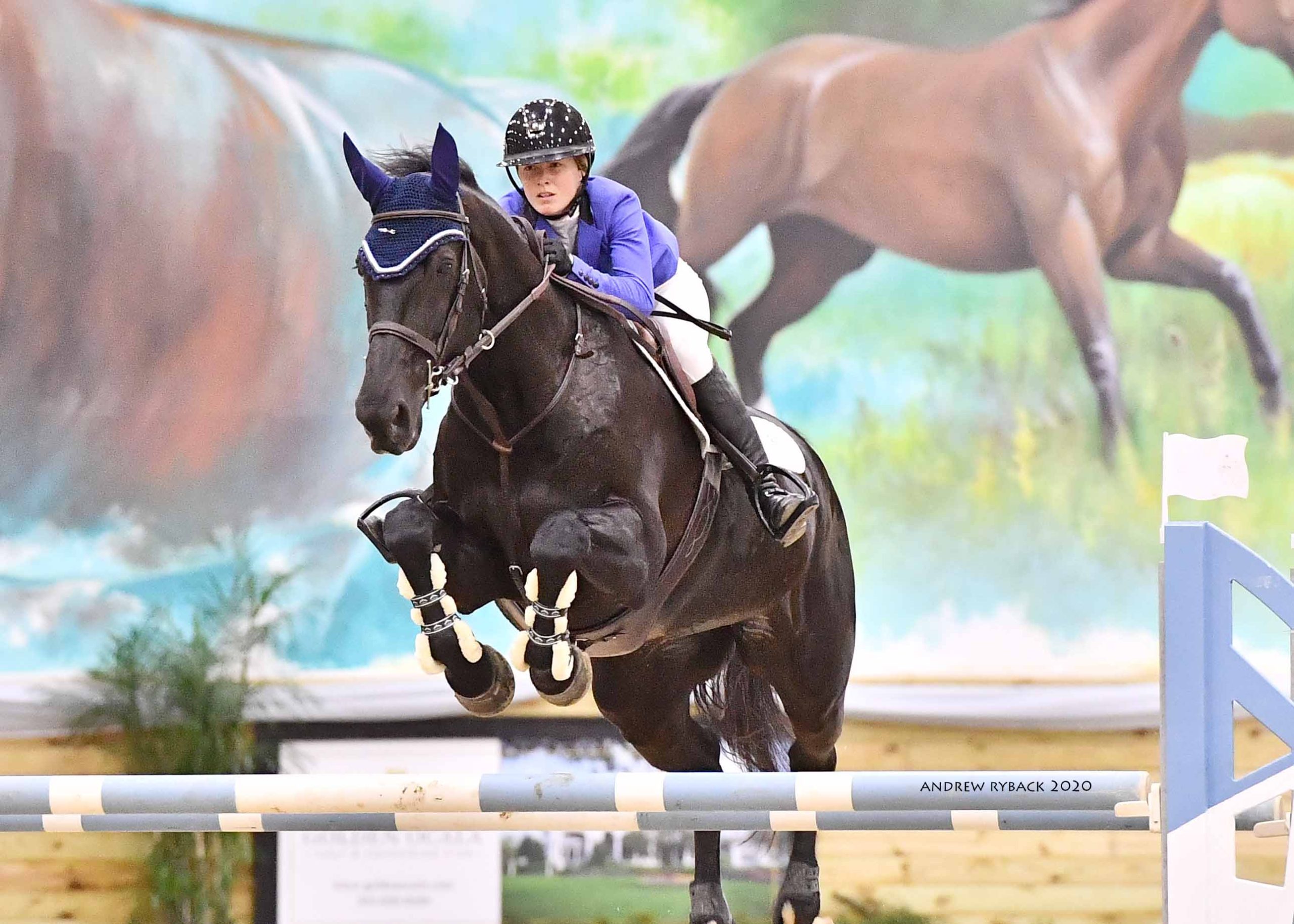 About halfway through the order, Lyden piloted the compact chestnut gelding to a clear first round, stopping the clock at 75.898. The pair continued straight to the jump-off, and crossing the timers at 30.074, taking over the lead from Graves and Zavira.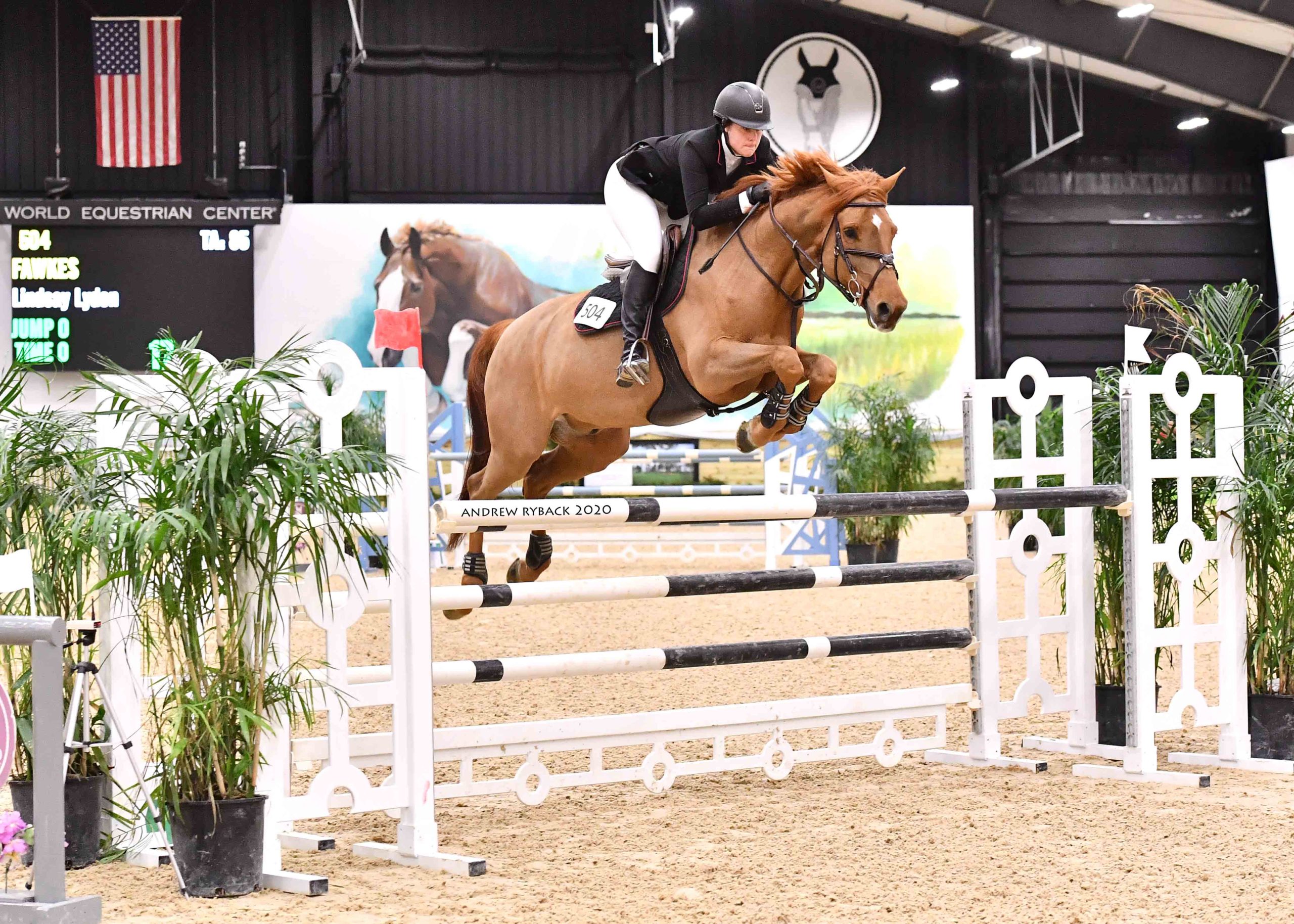 Near the end of the class, Izabelle Quadracci and Tipperary Hill negotiated a clear first round in 78.019. The pair were second in last week's Futures Prix, signaling that they were ready to take on the competition tonight. They advanced to the jump off and once again went clean in a time of 33.219, which would slide them into a respectable third place finish.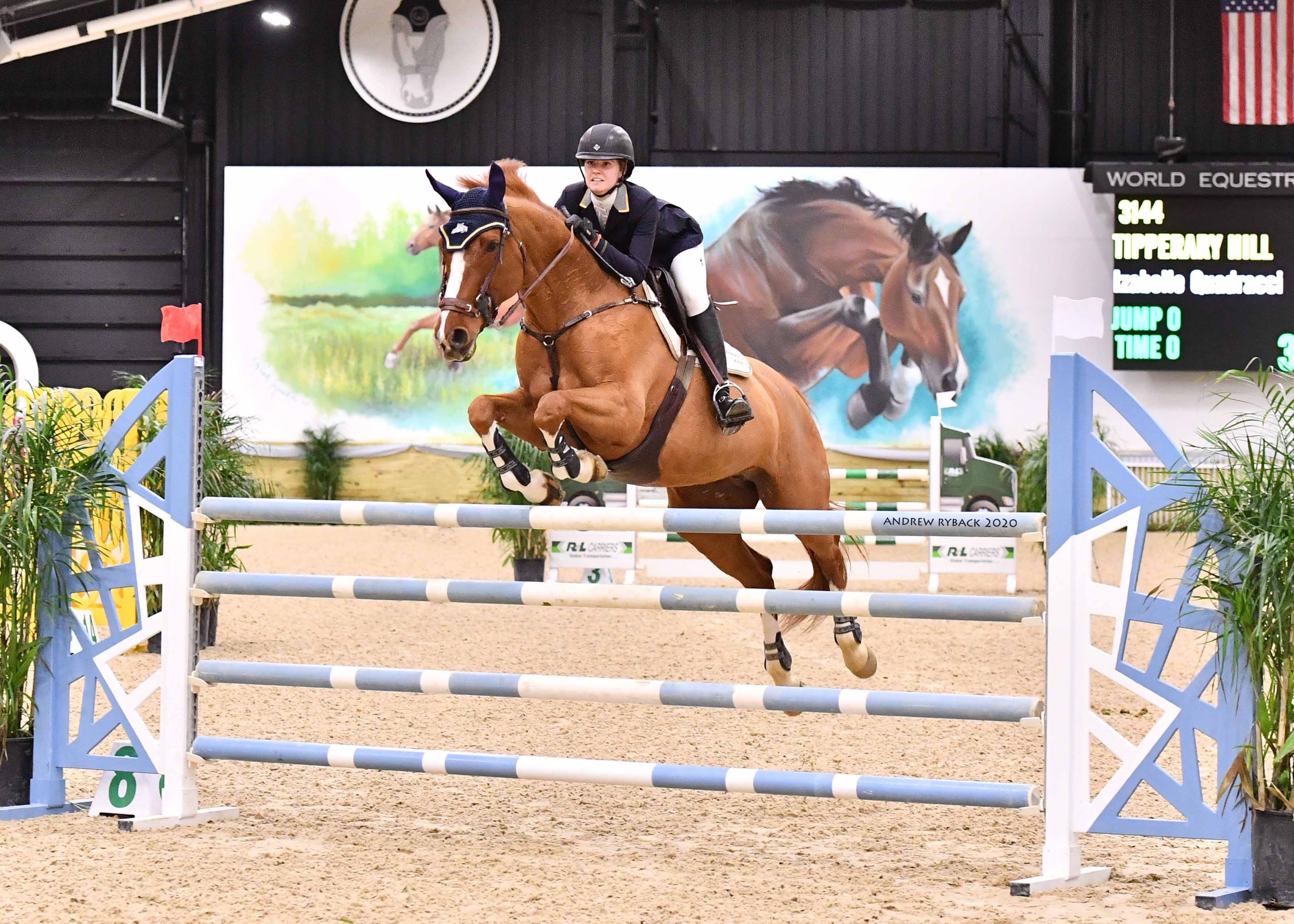 We caught up with Lindsay Lyden after the class to discuss her Futures Prix 1.30m and her special little horse, Fawkes.
"The course was great for him, it rode well and really flowing, almost hunter-like. You were able to pick up a good gallop with the long distances and the two one-stride combinations made you check your adjustability."
When asked about Fawkes, she shared, "We bought him at the end of August. He's called Fawkes because I like Harry Potter. Actually we bought him from a video and we didn't realize how small he was until he got here! We haven't measured him, but he is definitely under 16-hands. I've had good results with him – we were 3rd in a recent Futures Prix – we've also won a few 1.35m classes. My goal with him is to have consistent performances in the 1.30 – 1.35m and maybe next winter move up to the Grand Prix level here at WEC."
Lyden, who is an amateur, also rode to a third place finish in tonight's $25,000 Grand Prix on her own In Private.
"It's nice because I can come here for a long weekend. I ride with Fox Meadow Farm out of Temperance, Michigan. I'd like to thank Polly Howard and Meg Howard-Fuleky and the entire Fox Meadow Farm team. It takes a village to get a weekend warrior like me to the ring, and they take such great care of the horses. We love it here at WEC – we are really lucky to have this facility in the Midwest."
Results: $7,500 Futures Prix
Fawkes, Lindsay Lyden – 0 | 0 | 30.074
Zavira, Lousie Graves – 0 | 0 | 31.549
Tipperary Hill, Izabelle Quadracci – 0 | 0 | 33.219
Whistler, Christina Caruso – 0 | 0 | 33.682
Joplin Ter Doorn, Kathleen Caya – 0 | 0 | 36.876
Kinnette Van't Klavertise Vier, Michael Kocher – 0 | 4 | 30.567
Nelson Van Het Gorene Dak, Adeline Pavlin – 0 | 75.551
Crack De Muze, Michael Kocher – 4 | 75.519
VDL Glitter Van De Kalevalei, Louise Graves – 4 | 76.771
Esra, Paul Halpern – 4 | 77.602