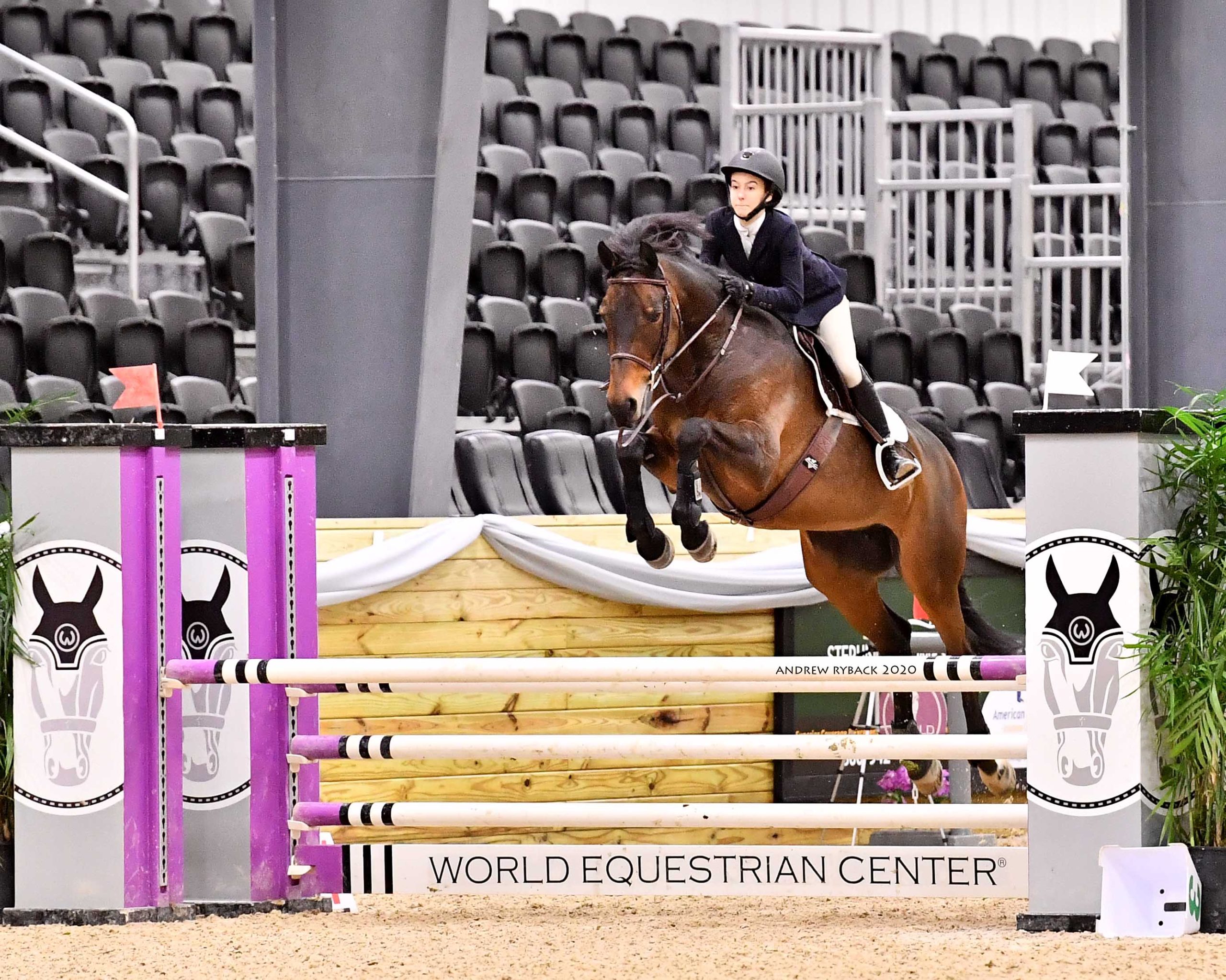 This week's Sunday Spotlight lands on Mya Stollery with the Greg Kuti's Chor-Be Farm show team in King City, Ontario. Mya is leasing Donnaludine, a fantastic jumper from David Beisel Stables, while her horse is in recovery. She showed in the jumpers for the first time this week and kept a fantastic sense of humor through a few mistakes, ending up with fantastic placings.
WEC: How did you get into riding?
Mya: I have always been drawn to horses. I first started taking lessons when I was 10. I was just riding ponies at a lesson barn and having a lot of fun with it. I ended up being allergic to horses and everything else in the barn, so I stopped riding for a while. I rode occasionally on vacations doing trail rides and it really made me miss it. I wanted to start riding again, but the barn I had been riding at moved away and there wasn't one near me anymore. Eventually, once I moved when I was 14, I started riding lessons again. I got to ride a lot of lesson horses again which was fun. Then, when I was in grade 10, I went to Italy for a year so I didn't ride for an entire year. When I came back, I rode throughout the summer and ended up getting my first horse in September of that year.
WEC: Tell us about your first horse.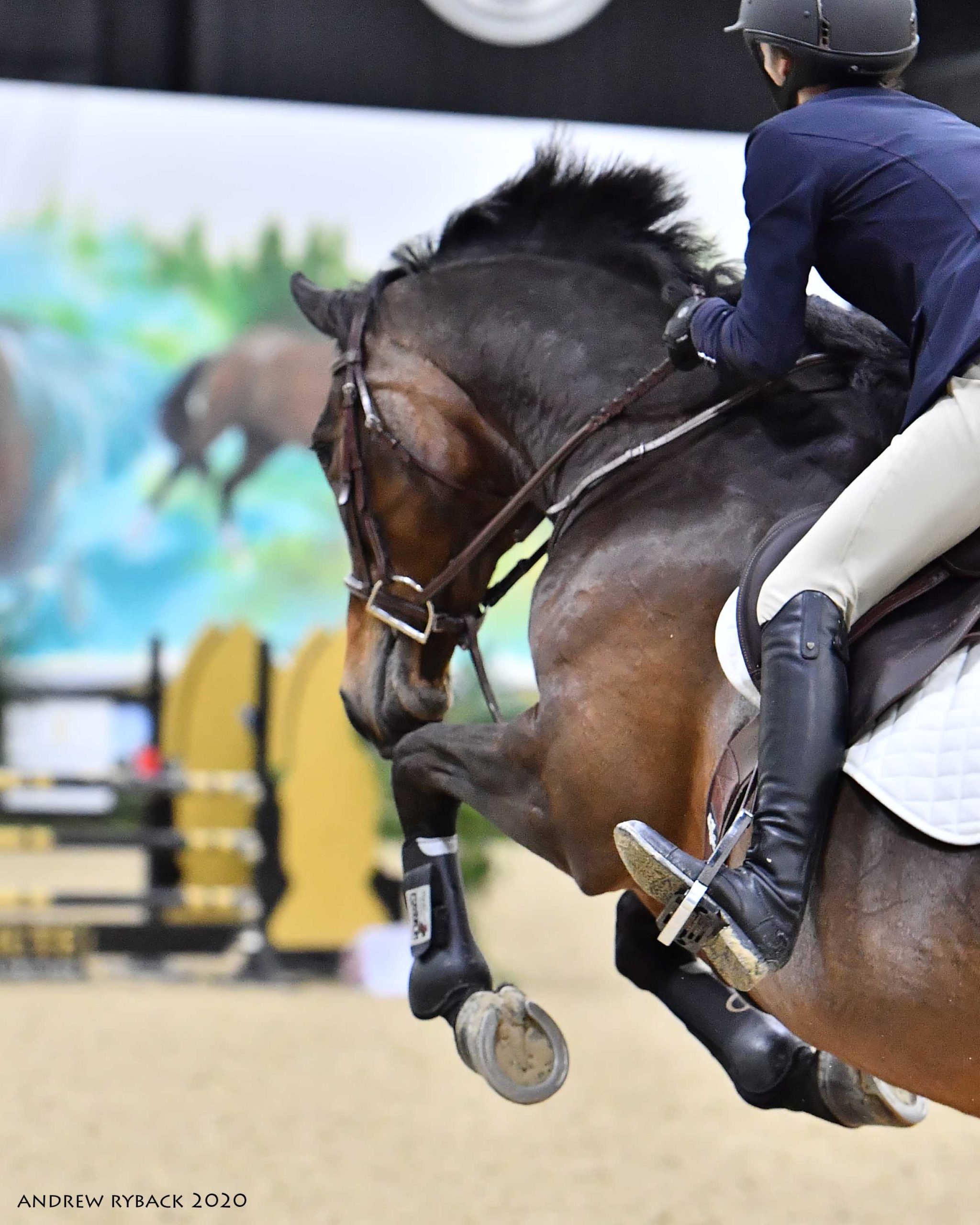 Mya: My first horse was a chestnut mare named Penny. She was a Dutch Warmblood mixed with some Clydesdale. She was really sweet and a great first horse because she was really safe and always made it easy for me. Penny wasn't necessarily a horse I could move up with, so I ended up getting another horse that June.
Frensis is a Dutch Warmblood. I started showing her in September of last year, competing in a couple of hunter shows. Once it started getting cold, we decided to come to WEC in December. Right as we came down here, she went lame before my first round, so I didn't end up getting to ride her. Thankfully, I was still able to ride because I was able to borrow First Thing First, from David Beisel. He was a really great horse, I loved showing with him. I did the 2'6 Hunters with him. Next time I came down in January, I did him in the 2'6″ again. He is about 20 years old, so that is about all he can do. Last time I was here, I started looking for a horse I could lease until mine gets better. I ended up going to David Beisel's barn to try a couple horses. Donnaludine was the first one I tried there. She was super sweet and I really liked her. She was great at getting me over all the jumps and taking me to a safe distance. I started leasing her about a month ago now and she came up to Canada with us.
WEC: Tell us about Donna's personality.
Mya: She is a really sweet horse overall. She is really kind. She has great ground manners. She is really good in the ring. We had a bit of trouble this week in the ring, but we are sorting it out and she's overall really good at doing her job. She is always helping you as much as she can.
WEC: Tell us about showing this week.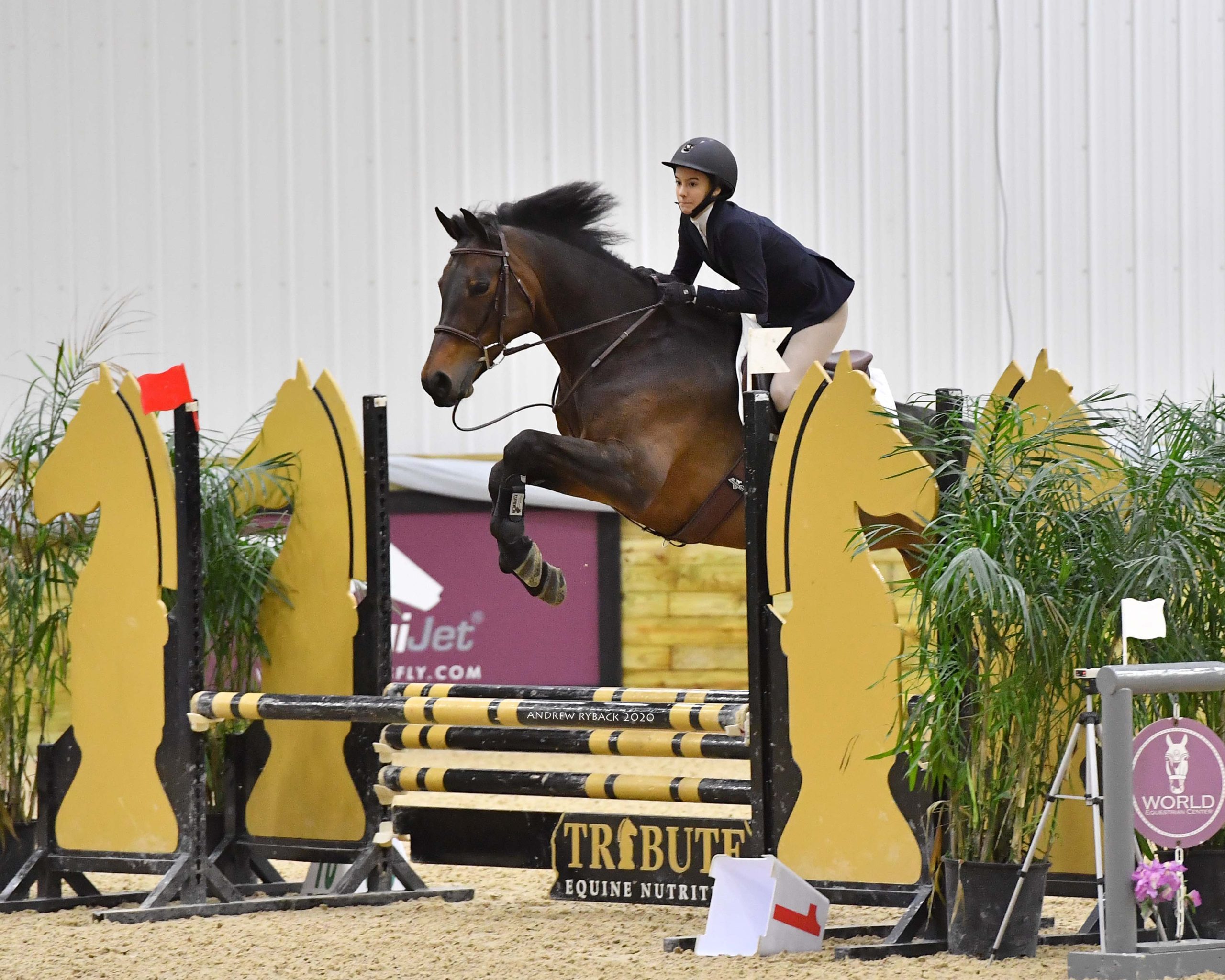 Mya: We did the schooling classes earlier in the week. We did the 0.85m and the 1.00m. The first day went pretty well; we went clear. The second day we had the .85 clear, but in the 1.00m I ended up falling off. The week was up and down because it is my first time doing the jumpers. I was going a little too slow with her, so we ended up finding some weird distances. However, we were fourth on Friday and on Sunday we ended up second.
WEC: How do you like the jumpers versus the hunters?
Mya: I am really enjoying the jumpers so far. I like doing the hunters and I think it's a lot of fun. They're both very different. But, right now, I am having fun doing jumpers.
Photos courtesy of Andrew Ryback Photography.