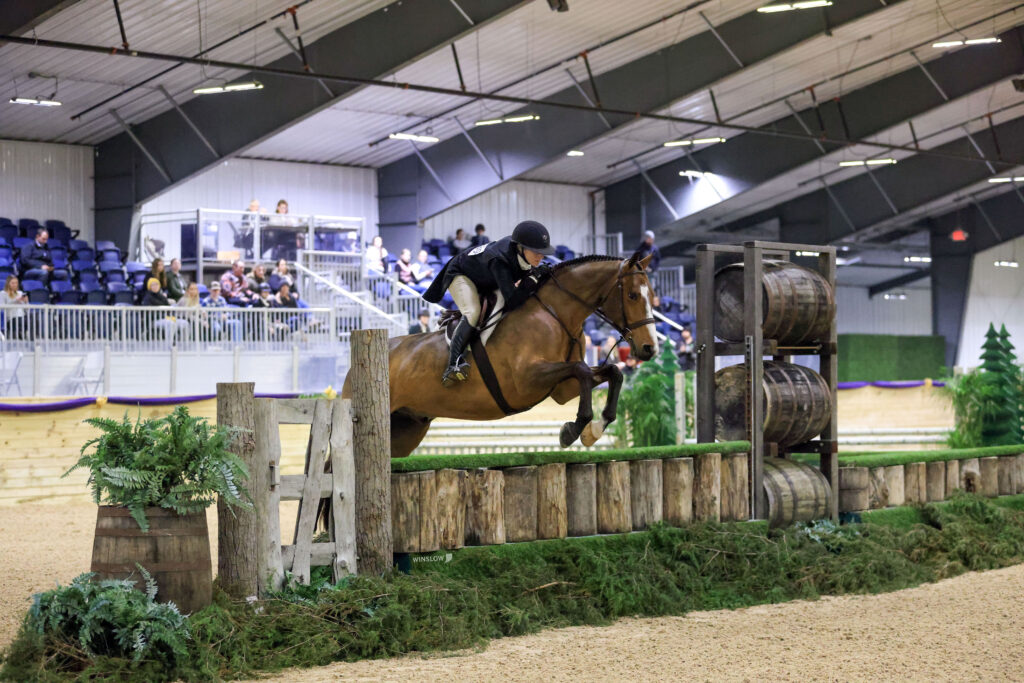 Wilmington, OH – Hunter Derby Friday took over the R+L Arena weremore than sixty stunning hunters contested the course designed by Bobby Murphy of Lexington, KY. Today's course emulated a lush hunt field that featured beautifully decorated natural obstacles. The course made use of the large indoor space, encouraging forward pace down the lines and tight inside turns that allowed riders to demonstrate their horse's obedience and athletic ability.
Kelsey Epperson masterfully piloted LTJ and Company LLC's Tulio to the win in the $10,000 USHJA National Hunter Derby 3′ Open Class. The stylish pair earned consistent scores in both rounds, with marks of 89 and 94 in the Handy to total 183 for the grand prize. Epperson and the seven-year-old Zangersheide gelding have earned a second-place finish in seven of their eight derby outings, making today's win a long-awaited victory.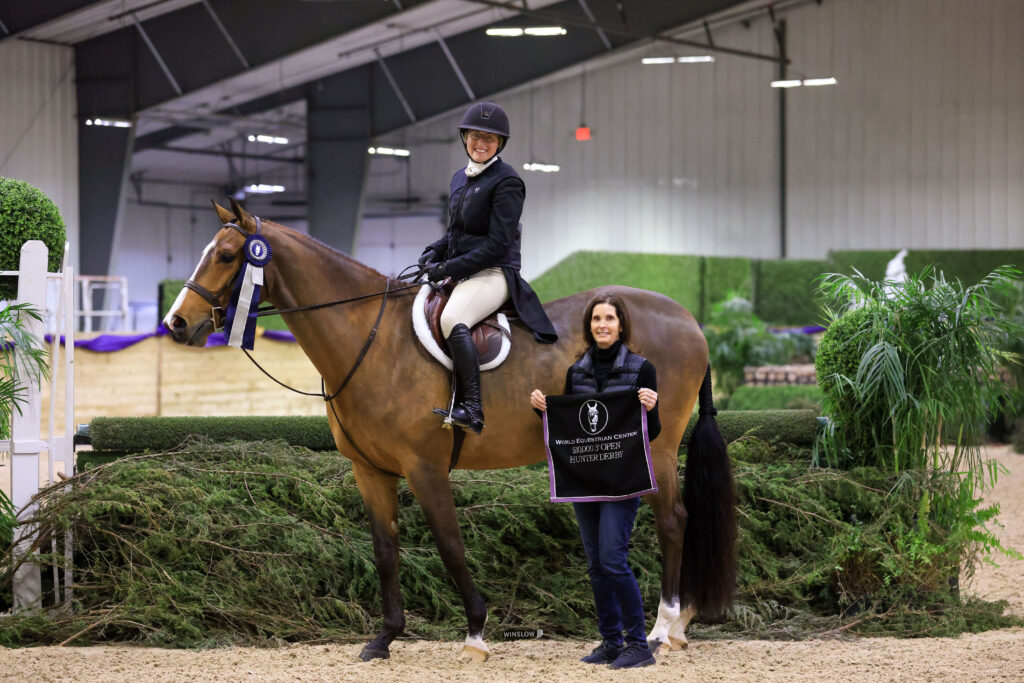 Epperson of Hillside Farm in Bloomfield Hills, Michigan has several WEC Derby wins on her resume and maintains her composure through each round. "I try to just do what I know how to do and make it a great experience for the horse that I am riding. Each time I make it a point to focus on myself and not what everyone else is doing. I loved the jumps in today's course… It looked like it was straight out of a hunt field. If we could put grass on the ground it would've been the same thing. I was excited to ride the course and Tulio is my favorite horse to ride. I focused on getting into the handy because it was very twisty and turny. He is like a Maserati and I knew it would be so much fun."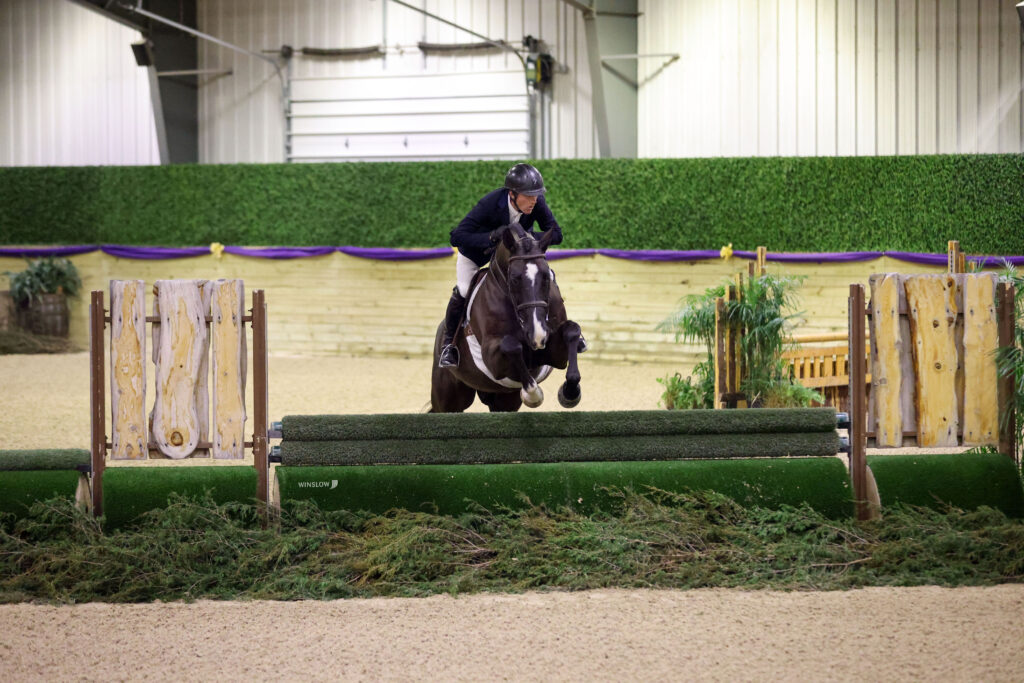 David Beisel of David Beisel Stables in Goshen, Ohio piloted Paige Beisel's The Boy Friend in today's $10,000 USHJA National Hunter Derby 3′ Open. Biesel rode the beautiful Oldenburg gelding through each round, maintaining a consistent, forward rhythm, to earn scores of 88 and 89, for 177 and a second-place finish.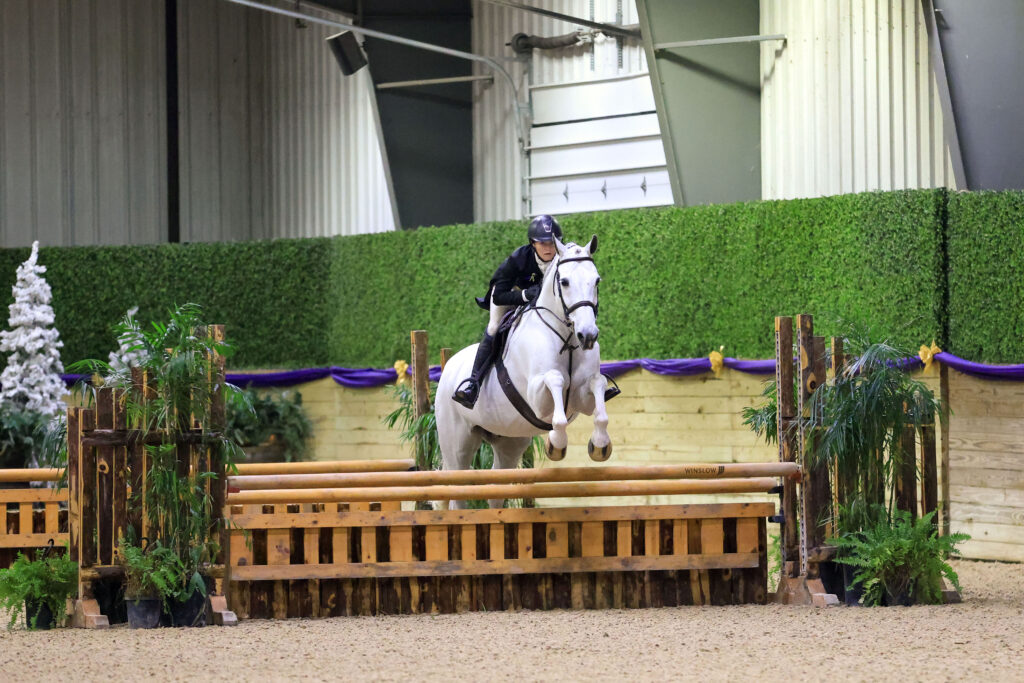 Rounding out the top three were Melissa Donnelly and Elizabeth Becker's derby veteran Corlando 49 (Cartani x Olanda I). Donnelly of Just a Folly Farm in Oxford, Michigan expertly navigated the course to earn scores of 80.5 and 87, equaling 167.5 for third place honors.
$10,000 USHJA National Hunter Derby 3′ Open Results:
Tulio, Kelsey Epperson – 89 | 94 | 183
The Boy Friend, David Q. Beisel – 88 | 89 | 177
Corlando 49, Melissa Donnelly – 80.5 | 87 | 167.5
Astra Road, Michalla Gerlacher – 76 | 88 | 164
MTM Bentley, David Q. Beisel – 79 | 84.5 | 163.5
Avila, Jason Berry – 81 | 82 | 163
Cinda, Melissa Donnelly – 78.5 | 82 | 160.5
News For You, Christopher Coberly – 82 | 76 | 158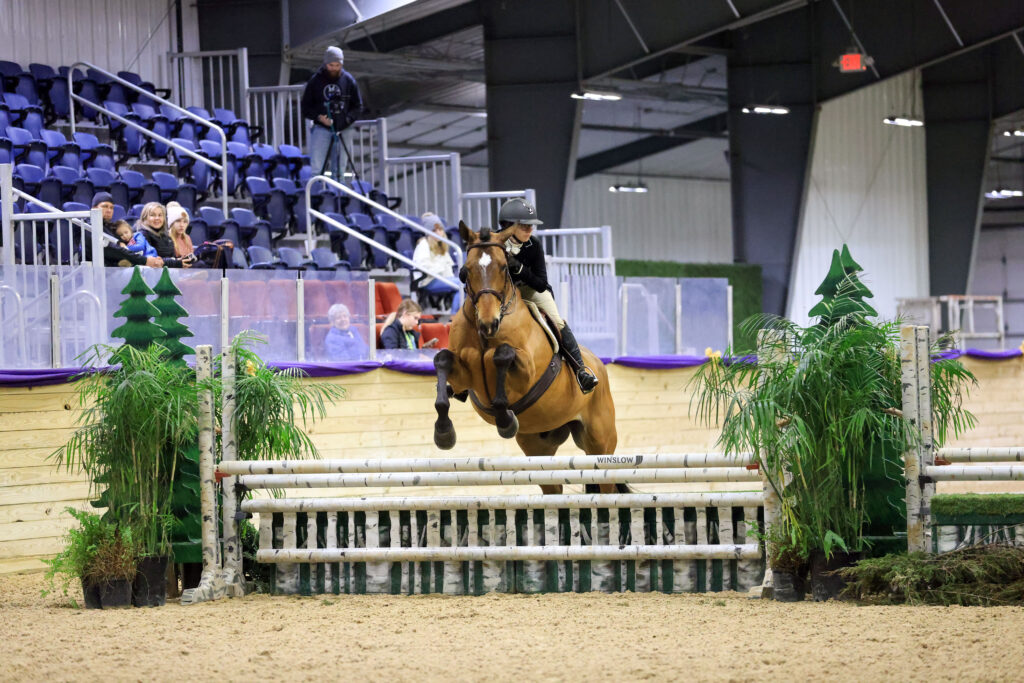 Hannah Eddlemon or 'Hat Trick Hannah' as her friends now call her, notched her third consecutive derby win in today's $10,000 USHJA National Hunter Derby 3′ Non-Pro class aboard Addison King's Donatello ( Quidam De Revel x Konletta). Eddlemon cleverly managed the twelve-year-old Holsteiner gelding through the challenging course, demonstrating his impeccable turning abilities. "He was right with me through all of our inside turns and after the trot jump, he was especially sharp on the turn back. I was unsure about how this week's derby would go…We were up against many great horses and lots of strong hunter competition. I wanted to be competitive and at least make the top twelve. After that, I just wanted to have fun in the handy."
Eddelmon and Donatello earned 89 points in the first round and 88 points in the handy for a winning total score of 177 points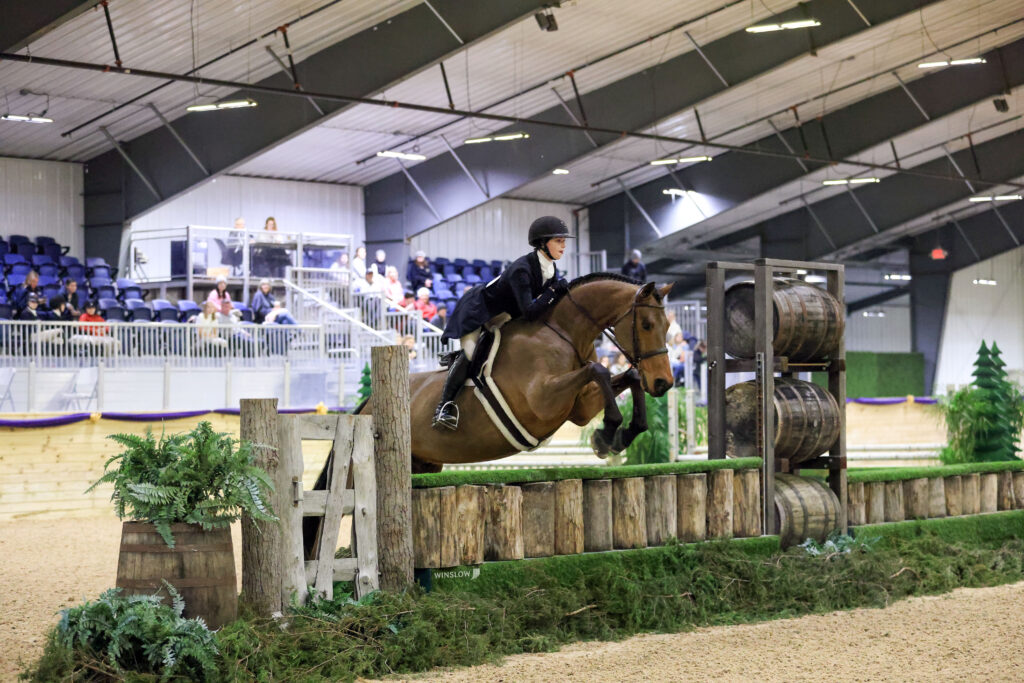 Vanessa McCaughley and her own Capitol Hill finished just one point behind Eddlemon. The stylish pair earned the class's only score of 90 during their first trip and finished the handy round with an 86 to total 176 for second place.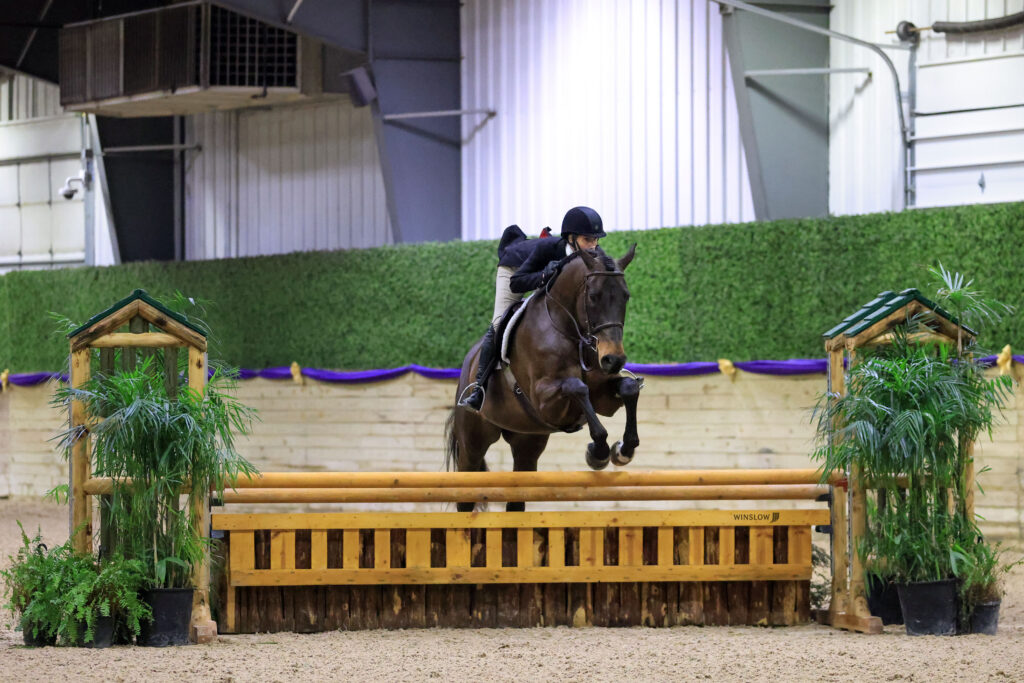 Alisa Berry and her own At Last finished third in today's $10,000 USHJA National Hunter Derby 3′ Non-Pro class. The duo earned scores of 85 and 83.5 to total 168.5 for a yellow ribbon and third-place national honors
$10,000 USHJA National Hunter Derby 3′ Non-Pro Results:
Donatello, Hannah Eddlemon – 89 | 88 | 177
Capitol Hill, Vanessa McCaughley – 90 | 86 | 176
At Last, Alisa Berry – 85 | 83.5 | 168.5 
Oh Brother, Vanessa Mazzoli – 83 | 80 | 163
Full Count, Emma Paul – 75 | 83 | 158
Red Roc, Kiera Philpot – 76 | 80 | 156
Barenstark, Lindsay M. Birnbrich – 77.5 | 76 | 153.5
Teddi Tendergrass, Jessica Harrison – 79 | 74 | 153
Merlot, Sarah Demczuk – 77 | 69 | 146
Spectacular, Sarah Entzian – 78 | 67 | 145