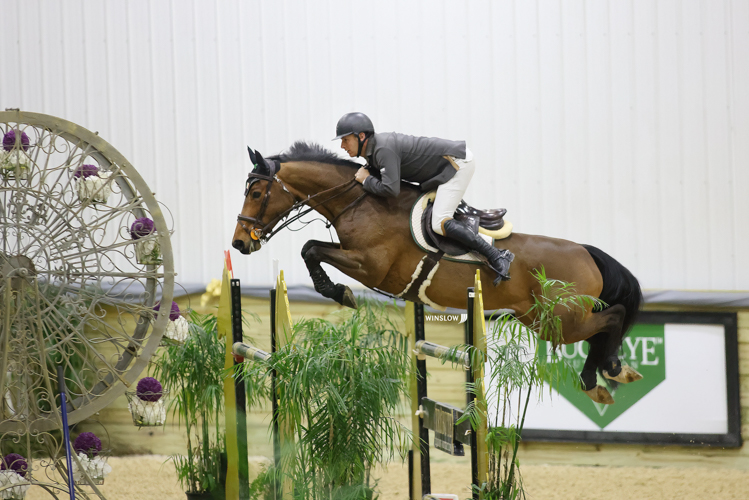 Wilmington, OH – Week ten of the 2022 Winter Classic Show Series wrapped up in the Sanctuary Arena with the conclusion of the $30,000 World Equestrian Center – Wilmington Grand Prix. An international field of competitors took to the tracks built by course designer, Robert Barton of San Antonio, Texas. Just four found success over Barton's first track and three ultimately delivered double clear rounds, but it was Kevin McCarthy (IRL) and his own Catch a Star HSS (Sheraton x Tolinda) that prevailed.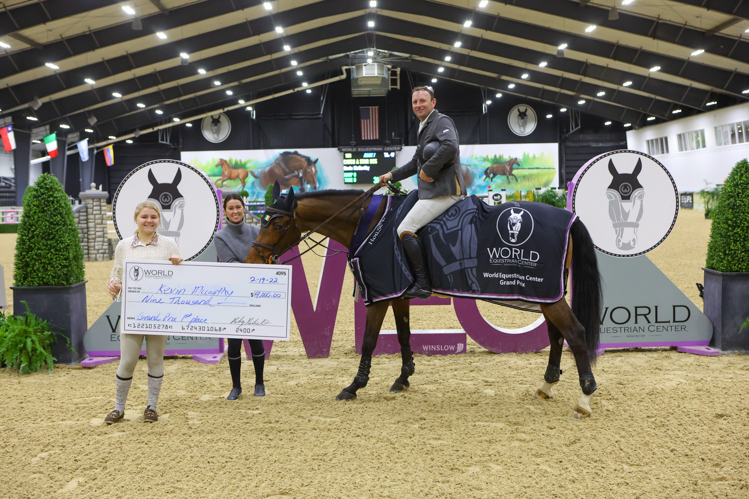 McCarthy of K&K Sporthorses in Lexington, Kentucky, and the 12-year-old Swedish Warmblood mare tackled the qualifying round in 86.033 seconds, well within the allowed time of 90 seconds. McCarthy and 'Casey' returned to tackle the short course, executing tight inside turns and extraordinary speed, leaping carefully over each effort, and stopping the timers at 31.622 seconds for the win.
We caught up with Kevin to chat about his winning ride. "The course designer has built lovely and testing tracks this week. There were four of us in the jump-off and any of us had a shot to win it. I was surprised to be two seconds ahead of David (Beisel), but I knew I had two other riders jumping after me. At the end of it, David Arcand was winning until he had a downed rail at the last jump. I'll take the win however it comes and I appreciate the tough competitors."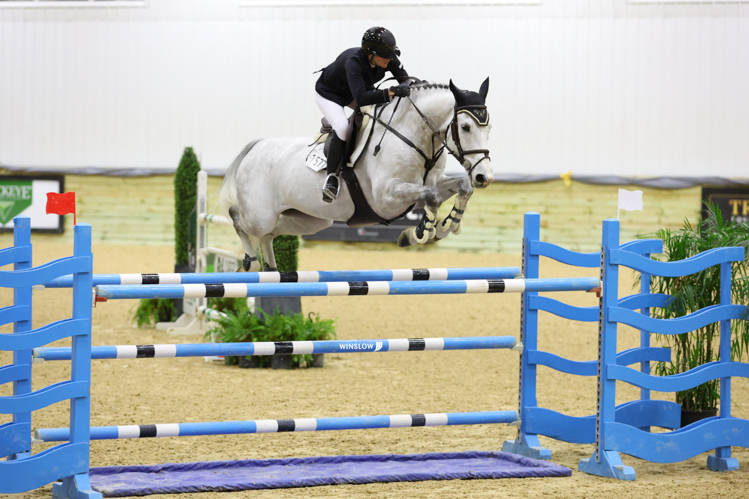 Megan Bash (USA) of Cleveland Equestrian and her own Jackson VDL (Zirocco Blue VDL x Design O) has steadily climbed the ranks throughout WEC's winter circuit and most recently won the $10,000 WEC Welcome Stake two weeks consecutively. Bash and the eight-year-old Dutch Warmblood gelding went double-clear, finishing the first round in 83.146 seconds and the jump-off in 33.586 seconds, to land in reserve.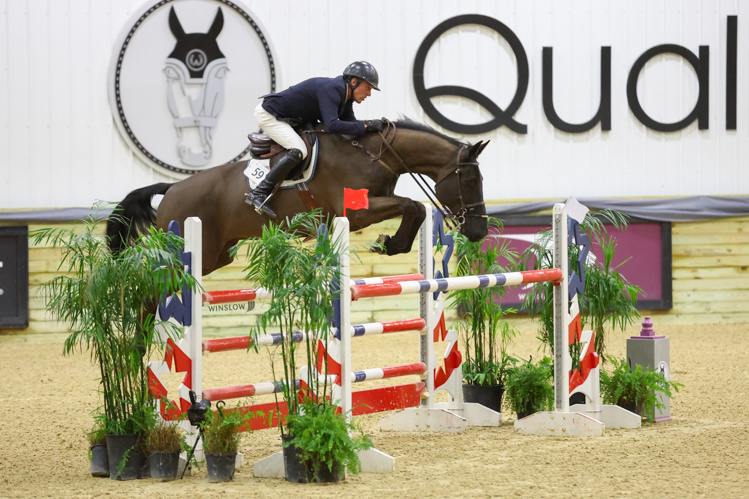 David Q. Beisel (USA) and his veteran partner Essince W (Chacco Blue x Rossan) rounded out the $30,000 Grand Prix top three. Beisel of David Beisel Stables in Goshen, Ohio, and the 13-year-old Dutch Warmblood gelding delivered their usual speedy performance. The crowd cheered as David and Essince finished the first course in 86.246 seconds and later the final course in 33.906 to take home the third-place distinction.
$30,000 Grand Prix Results:
Catch a Star HSS, Kevin McCarthy: 0 | 0 | 31.622
Jackson VDL, Megan Bash: 0 | 0 | 33.586 
Essince W, David Beisel: 0 | 0 | 33.906 
Diaz Barbotiere, David Arcand: 0 | 4 | 30.573
Hendrik, David Beisel: 1 | 90.108
Caiman Des Sequoias, Nicole Loochtan: 4 | 83.896
Gallup, Sarah R. Meier: 4 | 86.390
Vegas H, David Beisel: 12 | 86.846
David Arcand (CAN) and Dollar Del Colle Achieve Greatness in $10,000 Futures Prix 1.30m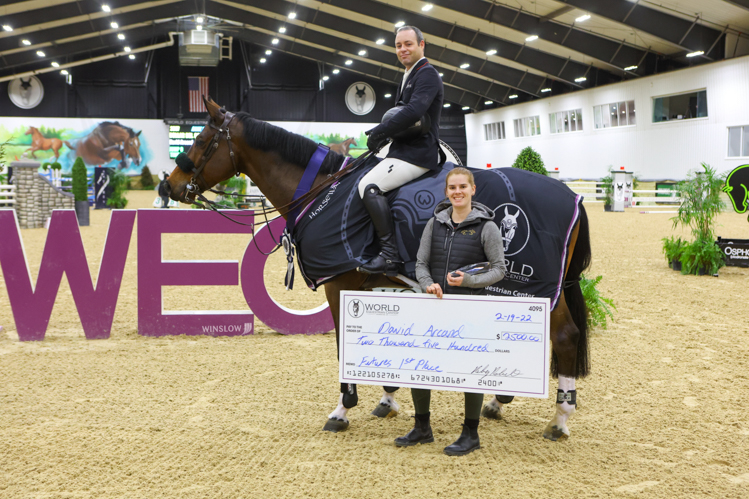 David Arcand, head trainer of Santos Stables in Québec, Canada, and his own Dollar Del Colle (Kannan x Clinton) claimed top honors in today's $10,000 Futures Prix 1.30m. The crowd applauded as the pair delivered a faultless first-round in 74.510 seconds, well under the time allowed of 79 seconds. They advanced immediately to the jump-off, delivering a steady clean and clear round in a time of 31.365 seconds to take home another WEC win.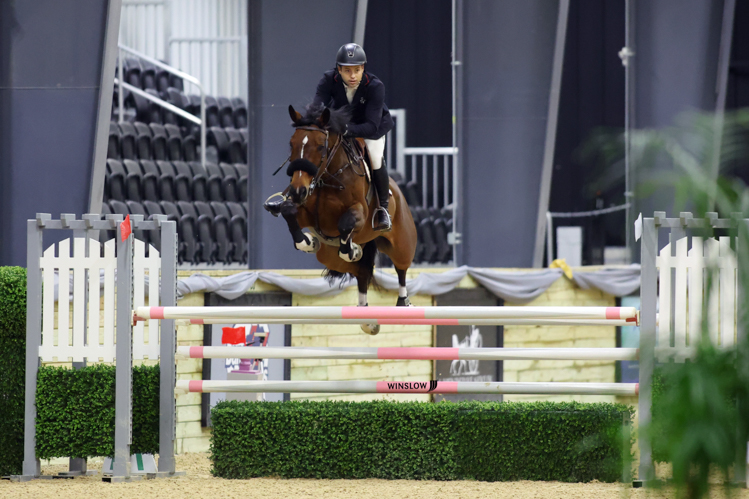 We caught up with David to discuss his strategy for the class. " I stepped Dollar down one level… last week I had a bit of trouble in a combination during the grand prix. It was obviously my mistake as he is most careful and I'm so glad I stepped him back down. He is probably the most careful horse that I have ridden in my entire life and today he felt great and was super sharp. During the circuit, he has had only one rail during the five weeks that we have been at WEC. Dollar has a lot of scope, but for me to develop it and go to that next level, I think he will need to improve his flatwork and his body. These five weeks at WEC have been amazing. I've been clear in almost every grand prix and have achieved good results developing my horses. It's been a pleasure. I'm grateful to the Roberts family for providing such an amazing facility and I look forward to being back."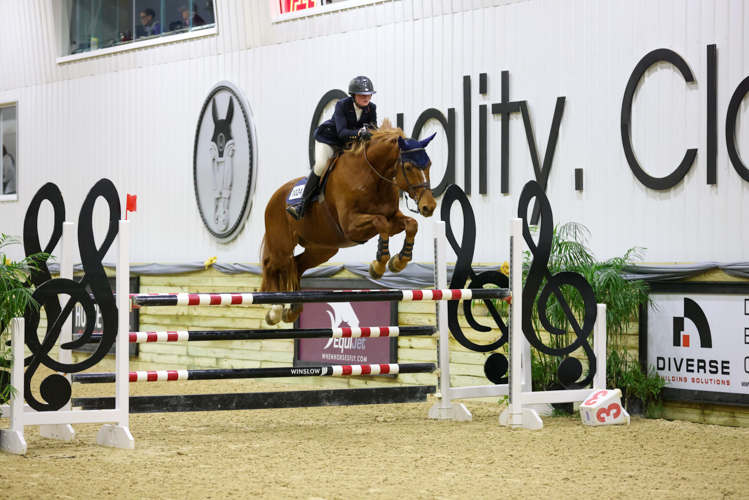 Emma Lena M. Green (USA) of Carmel, Indiana and her own Clinton (Carbano x Nordpol I) finished second in today's WEC Futures Prix 1.30m. Green and the seventeen-year-old Holsteiner gelding sped through the qualifying track in 73.980-seconds taking one unfortunate rail before crossing the timers which cost them a four-fault penalty and landed them in second.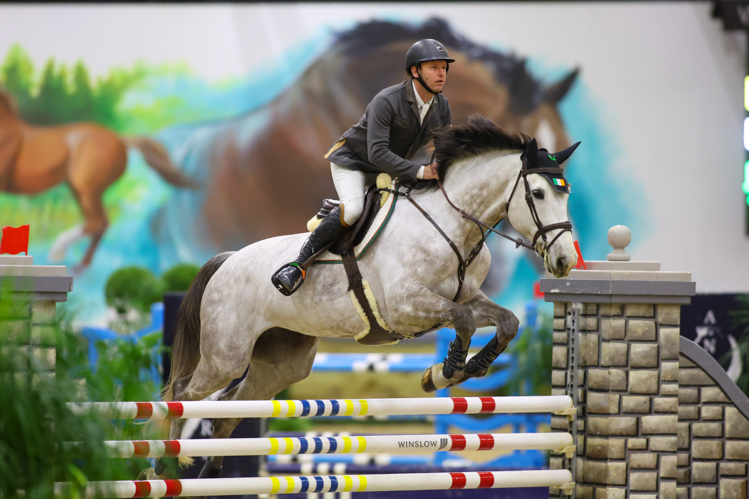 Kevin McCarthy (IRL) piloted Keely O'Hara's Honey Girl (Zirocco Blue VDL x Lirena) to a third place finish in the class. McCarthy and the 9-year-old Dutch Warmblood mare stopped the first-round timers in a tidy 77.876 seconds, but with an unlucky rail to add a four-fault penalty that would keep them out of the jump-off.
$10,000 Futures Prix 1.30m Results:
Dollar Delle Colle, David Arcand: 0 | 0 | 31.365
Clinton, Emma Lena M. Green: 4 | 73.980
Honey Girl, Kevin McCarthy: 4 | 77.876
Matinee BSH, Shawn Butler: 5 | 79.095
Rebel Just for Kicks, Michelle Vandal: 8 | 72.182
Goblin, Nicole Loochtan: 8 | 75.798
Jordiada Bloom, William Dow: 12 | 76.598