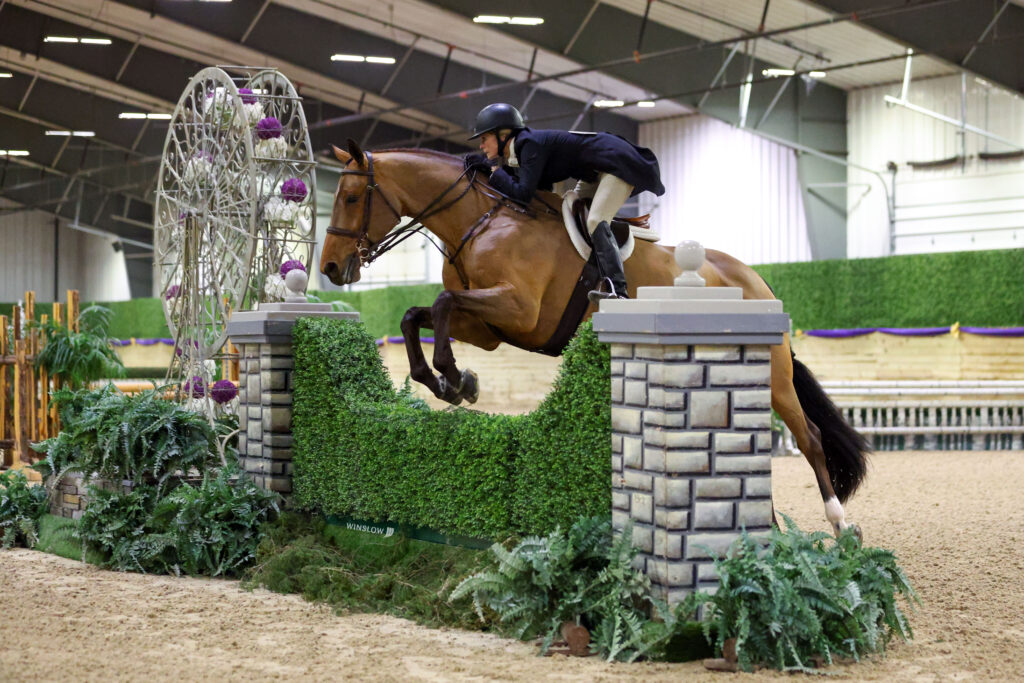 Wilmington, OH – Twenty-four elegant hunters took to the R+L Arena for the $10,000 USHJA National Hunter Derby 3' Open competing in two rounds over a lovely course of natural fences designed by Bobby Murphy of Lexington, Kentucky. The competition was fierce heading into the handy round, but it was Meg Howard-Fuleky and Lissa Guyton's News For You (I Am Moerhoeve's Star x Boule De Neice IV) who topped the leaderboard.
Howard-Fuleky of Fox Meadow Farm in Temperance, Michigan, and the 10-year-old Belgian Warmblood gelding laid down a brilliant first round, taking all four high options for a score of 89.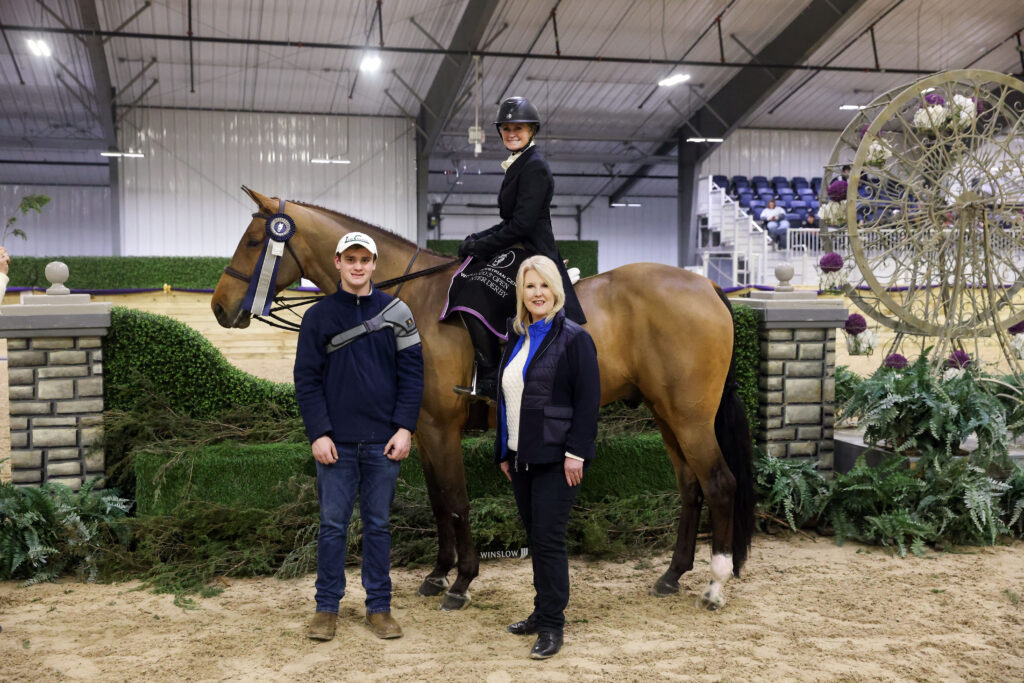 The ring was refreshed and the top entries returned for the handy round. Howard-Fuleky and News For You were last to go in the jump-off, taking inside turns and all four high options with an elegant round that earned another score of 89, bringing their total score to 179, and making them the new class leader.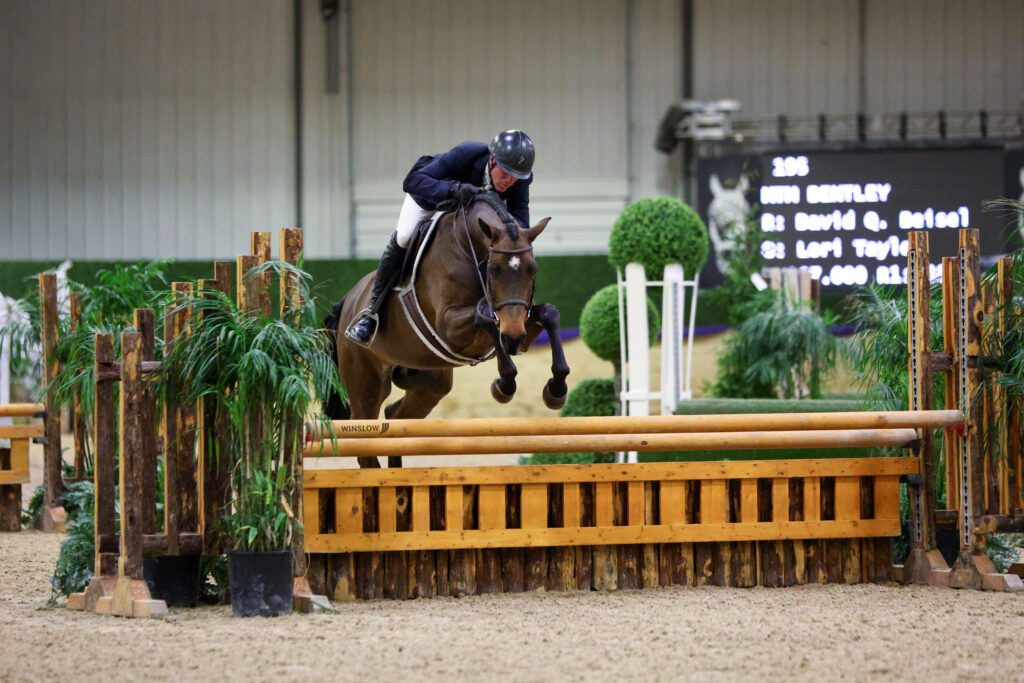 David Beisel secured second place aboard Lori Taylor's MTM Bentley (Bonaparte Z x Hot Cherie P) in today's $10,000 USHJA National Hunter Derby 3' Open. Beisel of David Beisel Stables in Goshen, Ohio earned a red ribbon with a first-round score of 88 and a handy score of 84, for a two-round total of 172.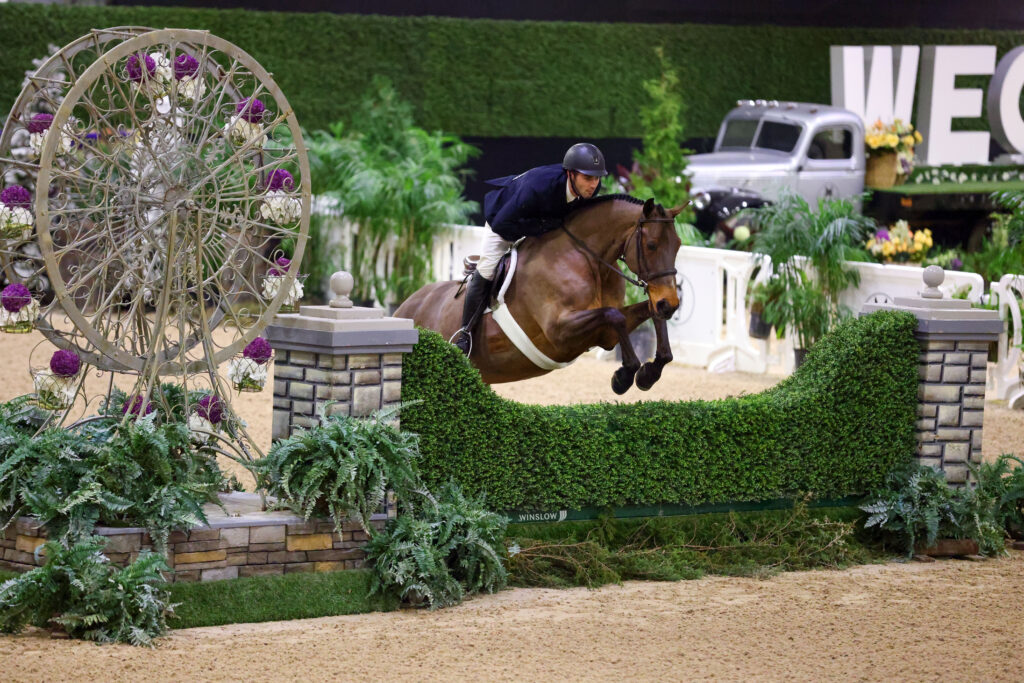 Rounding out the top three was Oakley Clark of Middlebury, Vermont, and his own Billy Irish (Guy Cavalier x Lady Mary) earning the judges scores of 82 and 85 in the handy for a combined 167 point third-place finish.
$10,000 USHJA National Hunter Derby 3' Open Results:
News For You, Meg Howard-Fuleky – 89 | 89 | 178
MTM Bentley, David Beisel – 88 | 84 | 172
Billy Irish, Oakley Clark – 82 | 85 | 167
The Boy Friend, David Beisel – 74 | 88 | 162
Troubador, William Dow 83 | 77 | 160
Campanula, Samantha Hill – 75 | 81 | 156
Da Vinci, Lucy Nyland-Elliott – 77 | 75 | 152
Balthazar, Kate Murphy – 73 | 76 | 149
Kannanball, Oakley Clark – 87 | 60 | 147
Purely Grateful, Natassia Stallings – 80 | 63.5 | 143.5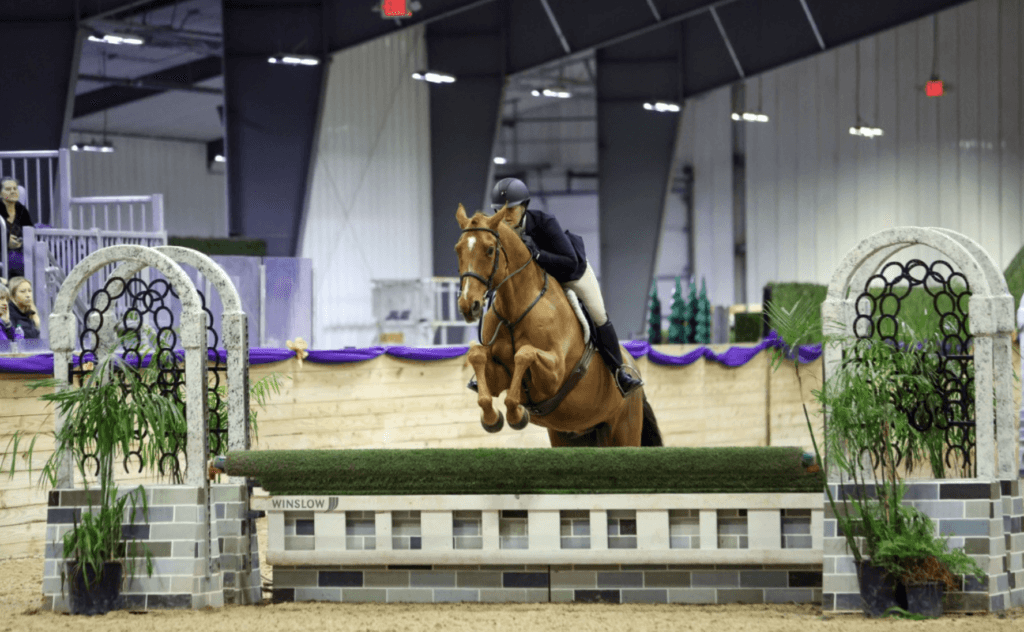 Kiera Phlipot and Red Roc Best a Field of Forty in tonight's $10,000 USHJA National Hunter Derby 3′ Non Pro
Kiera Phlipot of Manchester, Michigan, and her own Red Roc (Roc USA x Rhea) turned up the heat tonight, taking on a field of nearly forty competitors in the $10,000 USHJA National Hunter Derby Non Pro. The pair delivered their usual stylish performance in round one, laying down a near-perfect trip to earn a top first round score of 85 from the judges. Philpot and the thirteen-year-old Oldenburg gelding's handy efforts were awarded a score of 84, for a combined total of 169 points and first place honors.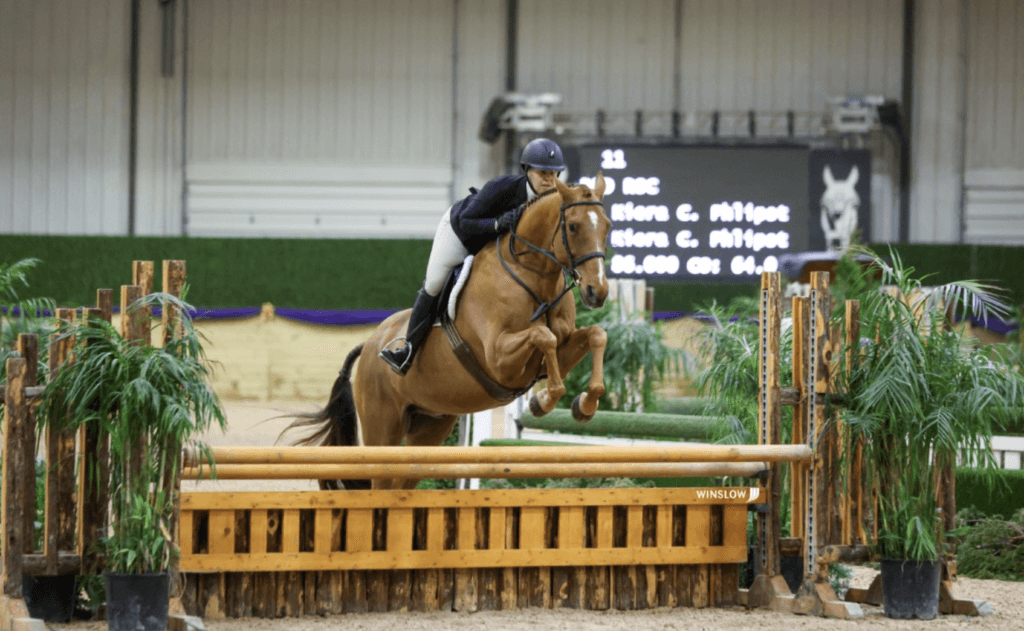 We caught up with Kiera after her big win "Paddy (Red Roc) was good as always. The course was really nice with a lot of opportunities to show off a good pace and gallop. There were several single jumps, which was nice. Being consistent, having a good rhythm and doing all of those things is so important… We are back this week and are working on qualifying for Devon! I also want to add- it is my coach's birthday weekend. I dedicate this win to her, Dororthy Campbell!"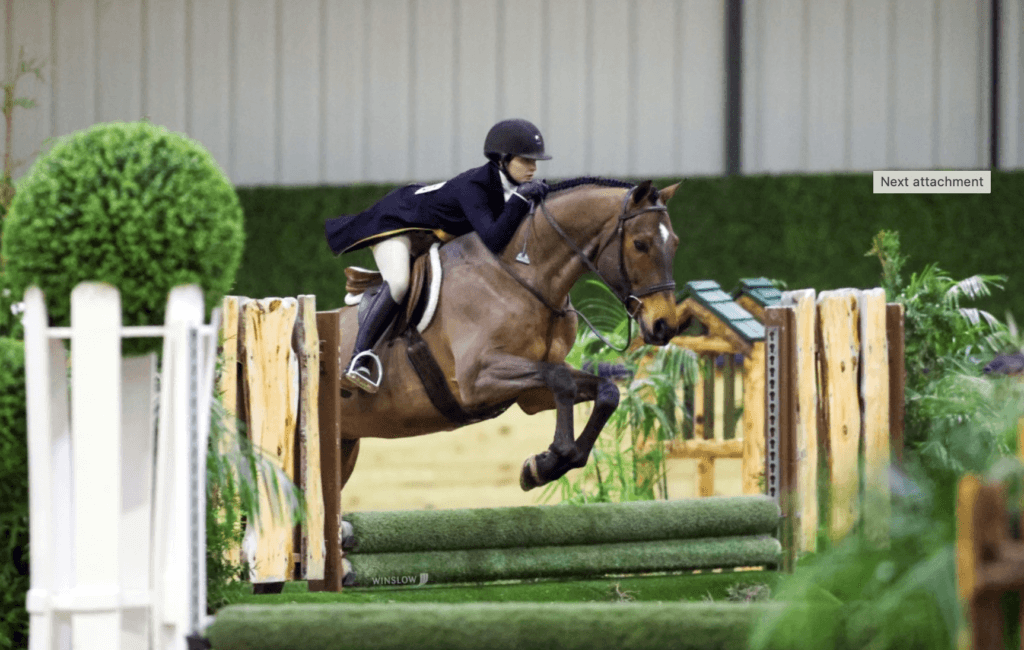 Second place was secured by Jenna Drago of Aurora, Ohio, and Sandriano (Sandro Boy x Cool Pearl Z), the pair navigated two smooth rounds, earning a first-round score of 80 and a handy score of 87, for a total score of 167.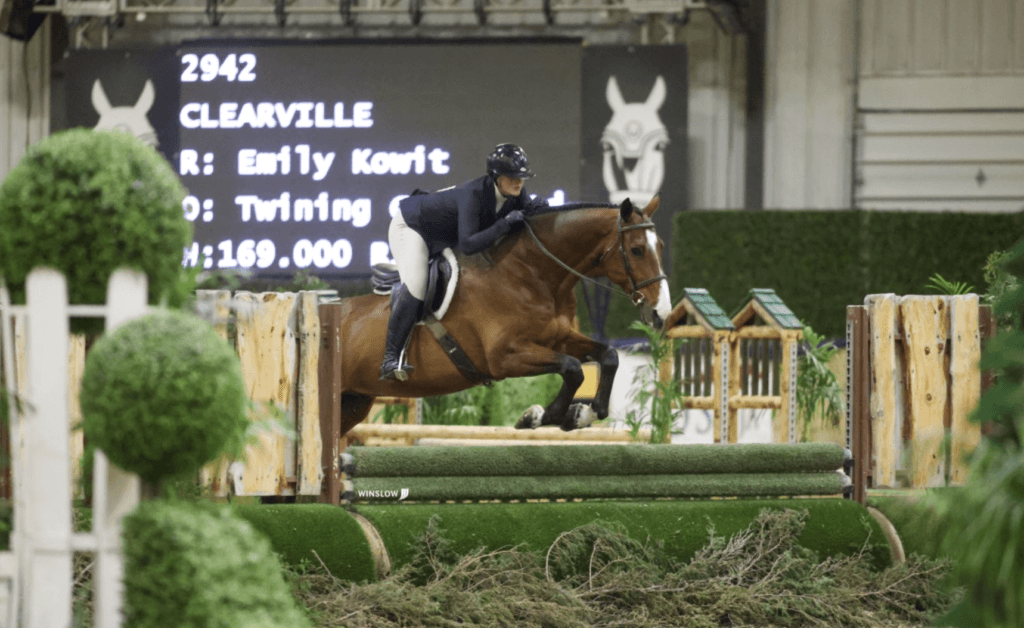 Emily Cowit of Gates Mills, Ohio, and Clearville (Clearaway x Telma) were awarded third in today's $10,000 USHJA National Hunter Derby 3′ Non Pro with scores of 86 and 78.25 in the handy for an overall score of 164.25.
$10,000 USHJA National Hunter Derby 3′ Non Pro Results:
Red Roc, Kiera Phlipot – 85 | 84 | 169
Sandriano, Jenna Drago – 80 | 87 | 167
Clearville, Emily Cowit – 86 | 78.28 | 164.25
At Last, Alisa Berry – 85.5 | 78 | 163.5
Atoka, Katie Durrer – 84.5 | 76 | 160.5
Amando M, Magnolia Labuda – 81 | 79 | 160
Ethereal, Sophia Keoleian – 77 | 79.5 | 156.5
High Five, Katie Gould – 76 | 80 | 156
Discreet, Georgia Keogh – 78 | 72 | 150
Et-jolie, Emma Repenning – 76.5 | 68 | 144.5
Photos courtesy of Winslow Photography
Videos available at ClipMyHorse.TV