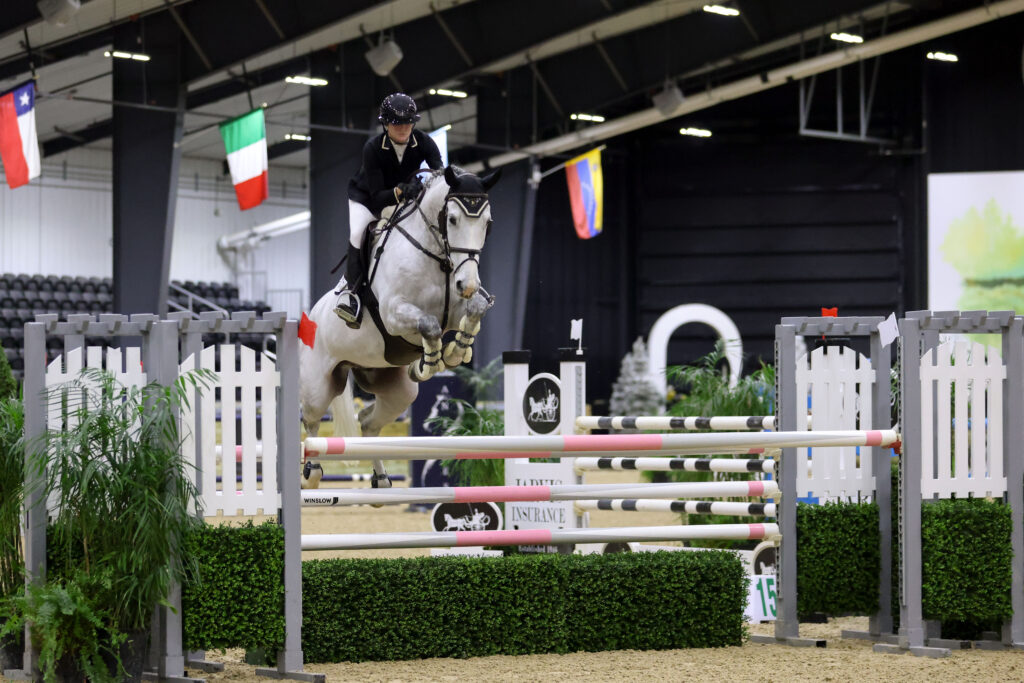 Wilmington, OHIO – Top-tier equestrian athletes contested the $10,000 WEC Welcome Stake this afternoon over a track designed by Robert Barton of San Antonio, Texas. Three riders advanced to the jump-off and all later went double clear to land atop the podium. Megan Bash (USA) of Cleveland Equestrian in Novelty, Ohio and her own Jackson VDL (Zirocco Blue VDL x Design O) soared through each effort with speed and precision, finishing each round out in front.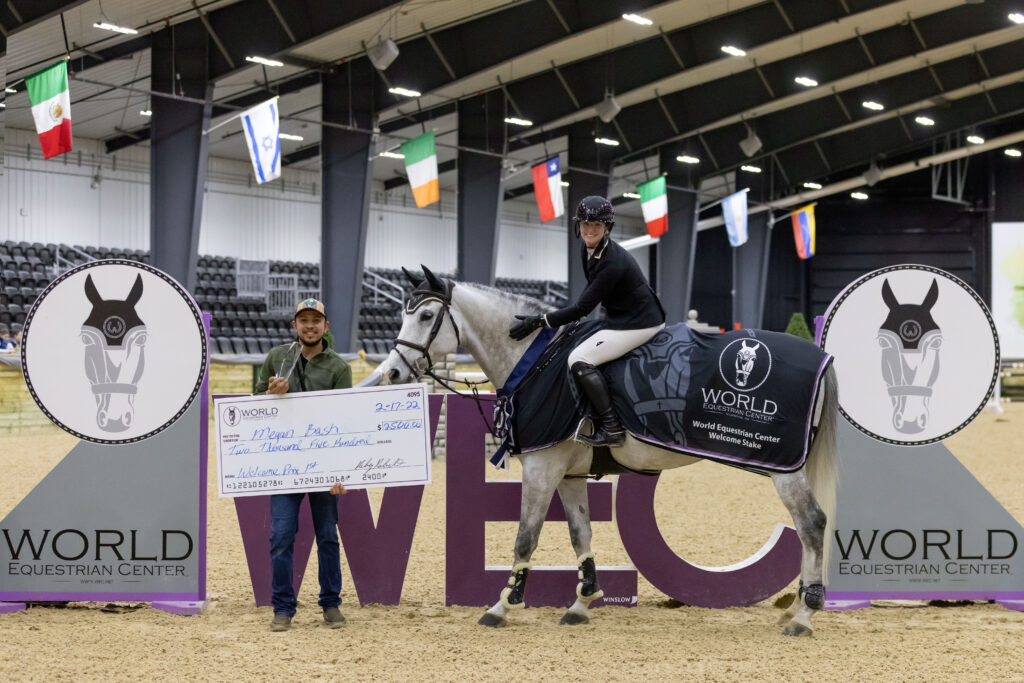 Bash jumped late in the order of go, leaving all rails up and posting a time of 71.015 seconds in round one. She and the 8-year-old Dutch Warmblood gelding caught their breath before beginning the short course. They wrapped up the jump-off round in just 35.908 seconds to win the class once again.
It was all smiles after another big win for Bash and her team. "This horse impresses me and I am so lucky to ride him. As I mentioned last week, he happens to be very fast across the ground and he wastes no time. I got a big gallop to the first jump and I left a stride out of the first line. When I came around the inside turn to the C. Jarvis jump, we just kept going and it was really fast. As usual, Jackson gave me 200% and he tried his heart out! From this week to last week it was all about remaining consistent. His winning round last week and his winning round this week were equally consistent and keeping this young horse smooth and confident is most important."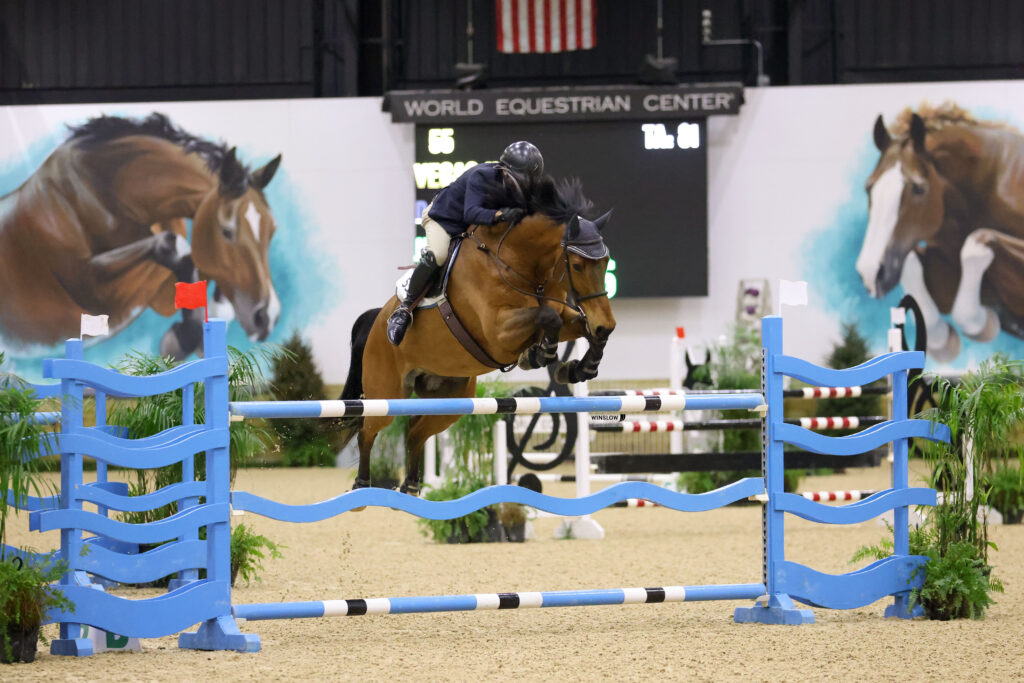 David Beisel (USA) of David Beisel Stables in Goshen, Ohio, piloted his own Vegas H (Valentino x Cobrah) to a second-place finish. The big and scopey nine-year-old Warmblood gelding jumped conservatively in round one, opting to save their speed for the jump-off, completing the qualifying round in 77.202 seconds. Beisel delivered his usual bold and fast performance in the jump-off, stopping the first round clock in a clean and clear 37.573-second finale.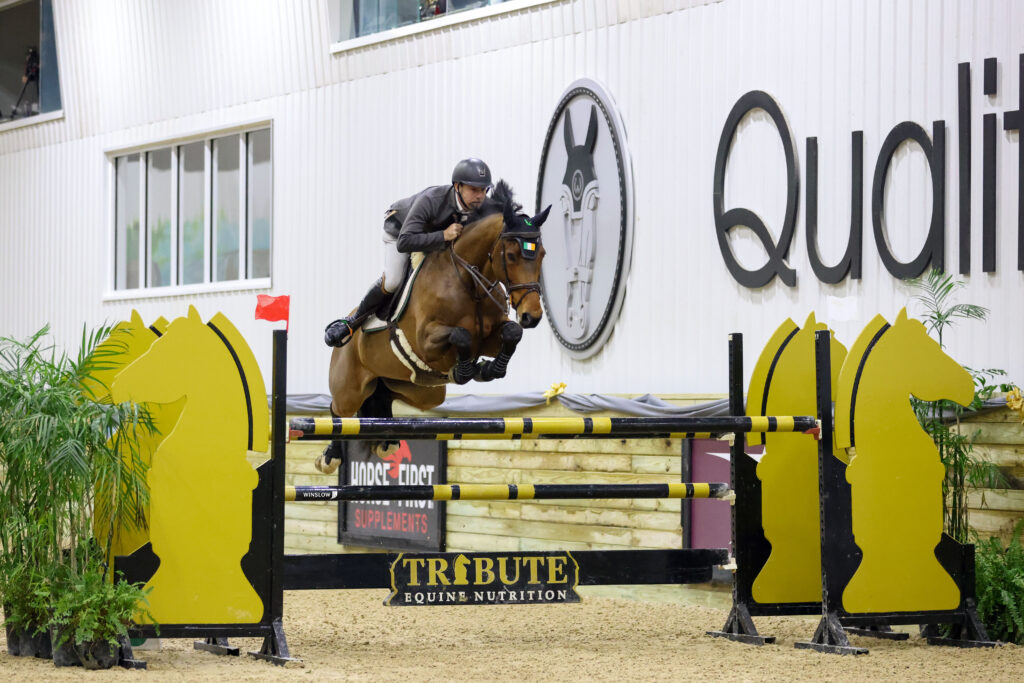 Kevin McCarthy (IRL) and his fearless Catch a Star HSS (Sheraton x Tolinda) rounded out the top three placings. McCarthy of K&K Sporthorses in Lexington, Kentucky piloted the twelve-year-old Swedish Warmblood mare to finish the first round in 76.437 seconds and the jump-off in 44.752 seconds.
$10,000 Welcome Stake 1.35m Results:
Jackson VDL, Megan Bash: 0  | 0 | 35.908
Vegas H, David Beisel: 0 | 0 | 37.573
Catch a Star HSS, Kevin McCarthy: 0 | 0 | 44.752
Diaz Barbotiere, David Arcand: 4 | 75.815
Caiman Des Sequoias, Nicole Loochtan: 4 | 76.293
Gallup, Sarah R. Meier: 4 | 79.030
Matinee BSH, Shawn Butler: 4 | 79.557
Hendrik, David Q. Beisel: 4 | 79.740
Rebel Just for Kicks, Michelle Vandal: 8 | 72.734