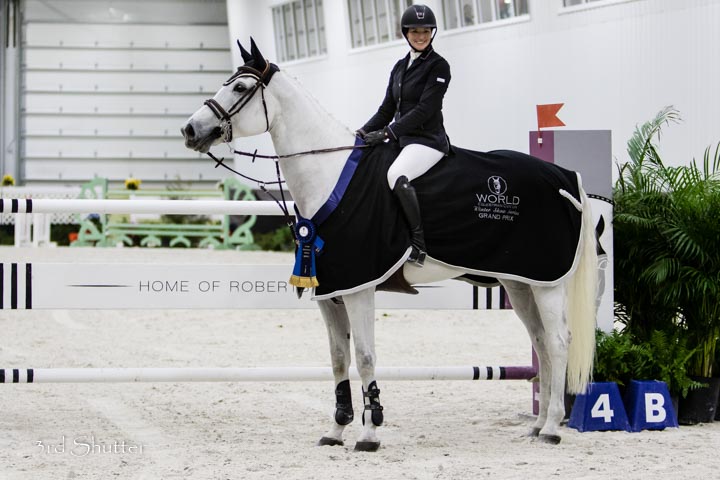 Seventeen contenders turned out for the $25,000 WEC Grand Prix held Saturday night in the World Equestrian Center's stunning new Sanctuary indoor arena. In the end it was ladies night as Megan Bash and her Pourkoipa Fontaine delivered two smooth, consistent rounds that earned them the win.
During the first round of competition the time allowed of 88 did not seem to be a gating factor; instead a vertical with a Liverpool set on the far end of the arena wreaked havoc catching out more than half of the competitors over the Tucker Williams designed track.
Four pairs advanced to the jump off which featured a tight turn back to an in-and-out, a gallop to a lone vertical and then a long gallop to a wide oxer heading toward the in-gate. Megan Bash and Pourkoipa Fontaine were the first to go and turned in the only double clear of the evening in 39.627, well under the time allowed of 49. Next to go was Ireland's David O'Brien and the fiery chestnut O'Splendido, who delivered a blazing fast, heart stopping performance crossing the timers at 37.135, but with two down for 8 faults. Canadian rider Sam Pegg and Shaia de Macheco had an unlucky rail to finish on 4 faults with a time of 39.439. Last to go was David Beisel and the big gray gelding, Call Me Hannes, who had the time well in hand until the final oxer came down and put them into second with a time of 38.662.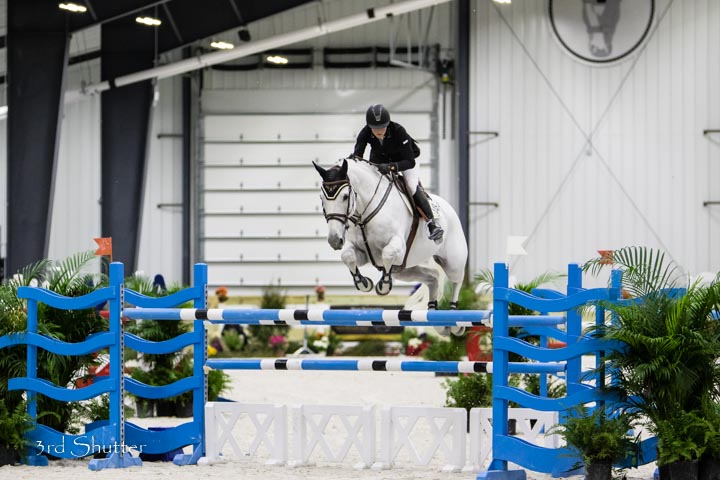 Stylishly clad and impeccably turned out, Bash was elated about her win, smiling ear to ear as she sat down along with her husband and sponsor Dana Miller from Chagrin Saddlery to share with us a bit about her ride and the elegant gray horse they call 'Porky".
Bash has forged a strong partnership with the 13-year old Selle Francais gelding whom she purchased as a 7 year old from Eric Lamaze and student Claire Linder, who had decided to stop riding. In the six years since then, they have won a Grand Prix (Country Heir 2016) and have performed consistently together earning top placings at the Grand Prix Level. Bash confirms with a smile that Porky is her favorite horse in the barn and says he is a horse she can always depend on to go in and win.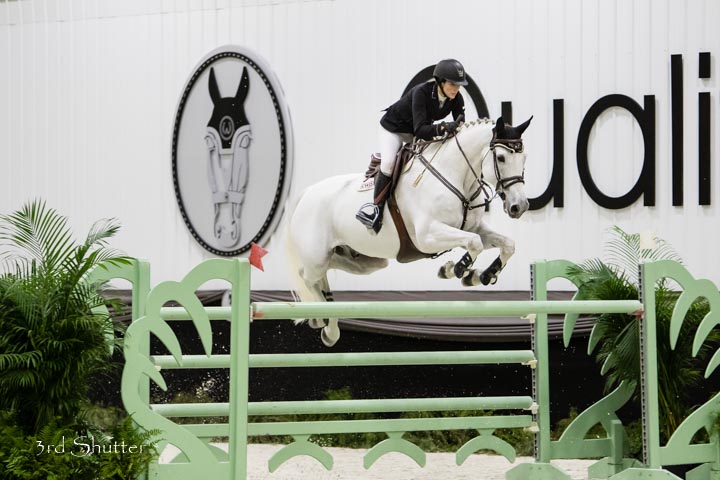 "He's incredible – he's the best horse I have ever had the privilege of riding and he has allowed me to get to the top of the sport. If I do my part – he always leaves the jumps up, he is so game and careful."
Although she was pleased and confident about her ride, Bash elected not watch the jump off. "After I went clear today I didn't even watch, I just rode up the ramp because I knew that the three riders coming behind me in the jump off were very good riders on very fast horses." However Bash and Porky's careful, consistent style paid off as the other riders failed to match her steady, clean approach.
While Porky is for sale, that is not Bash's top priority. "I want to continue to support him and promote him." When asked if she'd like to have an owner that would support the pair staying together she smiled, "it would be fantastic and ideal to find an owner that would support that – after all, every rider wants to keep their best horse."
Bash's Cleveland Equestrian is an intimate, family affair and that's just the way she likes it. She trains both horses and riders and currently has 18 horses in her barn, among them a pony for young her son Aidan, who is making his own mark in the show ring now. She describes her philosophy by saying "we really look to do a very good job with every horse and rider – we want to take the time do our best job to bring every horse and rider to their very best potential."
Having shown for years at the Roberts Arena, Bash shared her excitement about the new World Equestrian Center. "To have a venue in this part of the country – the facilities, the footing, the prize money, the jumps and the course designers and the staff – it is so fantastic! For my business it is the best thing that ever happened to the Midwest – I can bring all my clients and they can show all winter long. I cannot say enough good things – I come back and bring more and more people – it's great that they are doing things so right."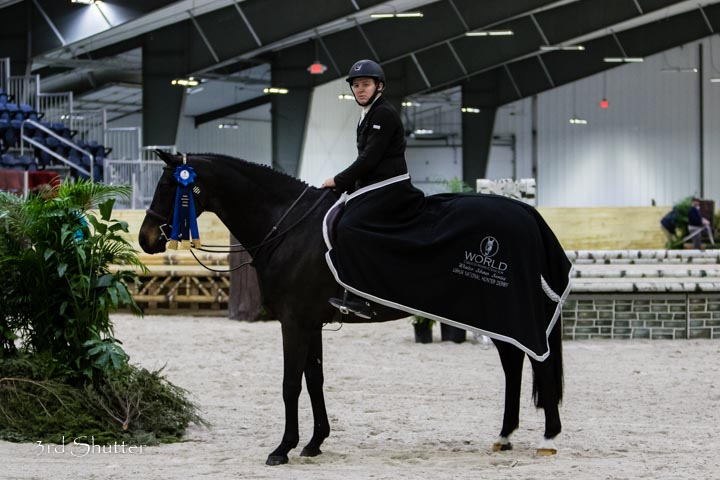 The R&L area was dressed to perfection on Sunday as Jonathon Fischetti and Vanderloo claimed victory in the $5,000 USHJA National Hunter Derby, besting a field of sixteen other horse and rider combinations.
Fischetti was effusive about his lovely mount, Vanderloo, a 14-year old Bavarian Warmblood whom he purchased in Virginia a couple of years ago for his adult rider student. According to Fischetti, Vanderloo was previously campaigned by Scott Stewart in the Performance Hunters and had never done Hunter Derbies.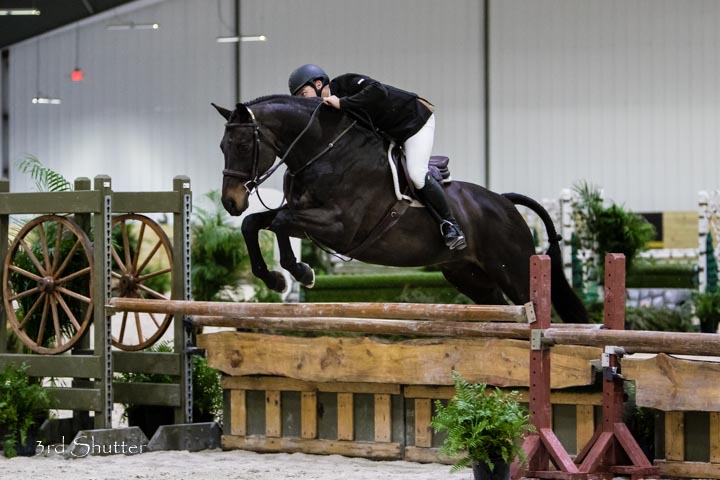 Fischetti enjoys riding the horse and originally starting showing Vanderloo in the Hunter Derbies for fun. He explained with a smile that the horse is "a class act with his jump," adding "when I get there funky, he makes it look good."
Fishetti shared his thoughts about the Nick Granat-designed course, describing it as flowing and noting that it "offered an opportunity for the horse and rider to show consistency. It's a big ring, but the course gave you options for neat turns, which really suited Vanderloo. I also liked how the course designer changed it quite a bit for the second round and the way they presented the high options – obviously Vanderloo liked it too!"