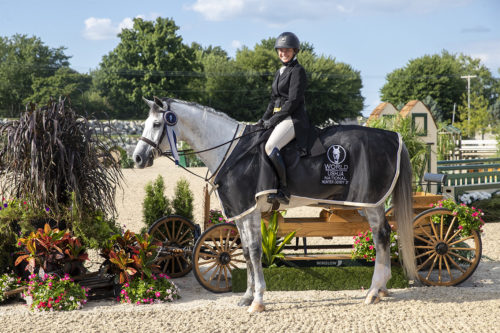 Another unseasonably cool but warmly welcomed sunny day in southwestern Ohio set the perfect scene for this afternoon's $5,000 USHJA National Hunter Derby in the outdoor complex at World Equestrian Center. Thirty-one entries contested a beautifully decorated course designed by Bobby Murphy of Lexington, Kentucky, that featured several bending lines, a two-stride and a stunning carriage island. The course also featured a zigzag group of three option fences at the top of the ring, allowing entries to choose both their direction and track to the first fence. Scores soared into the high 80s and low 90s with just a few points separating the top finishers, but it was Melissa Donnelly of Just A Folly Farm in Oxford, Michigan, and Elizabeth Becker's Grand Tour that topped the class.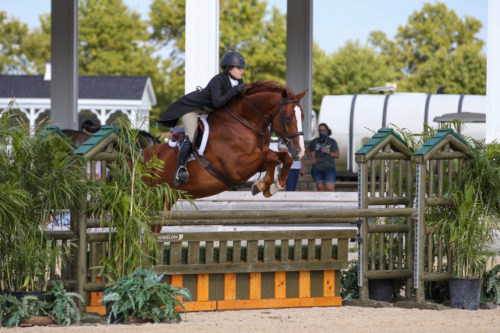 High scores were earned early on in the class by Courtney O'Connor and University of Findlay's Capital (Carambole x Paulien Nieuwmoed). Capital's ample experience at the 3′ and 3'3″ heights came in handy for today's derby. O'Connor and the 11-year-old Dutch Warmblood gelding chose to take three of the four available high options, earning a first-round score of 85.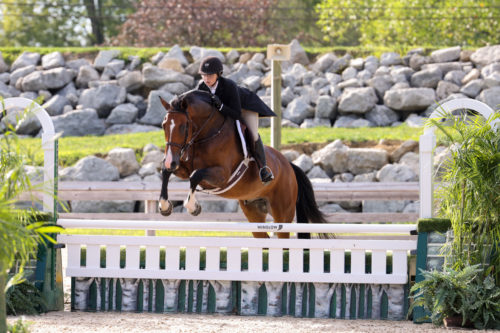 Hannah Eddlemon of Wilmington, Ohio and Branch Hill Farm's Incognito V (Davar VDL x Thissonnevanck) upped the ante shortly after with an impressive first round. Eddlemon topped the $5,000 Open Hunter Derby during World Equestrian Center's Summer II show aboard Roberts Stables, LLC's Snowbird (Vingino x Vegannie) just three weeks ago, and returned this afternoon in hopes of another victory. Eddlemon and the 7-year-old KWPN gelding laid down a foot-perfect first round, taking all four high options for a score of 89.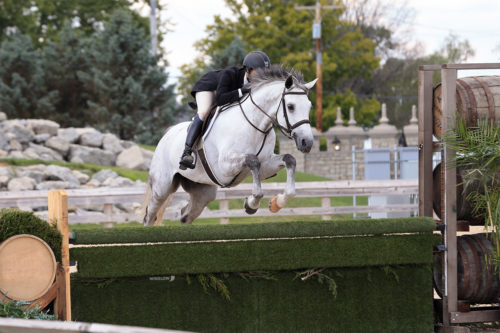 Also among the top scores in the first round were Melissa Donnelly and Elizabeth Becker's Grand Tour. The pair had previously taken top placings in derbies at World Equestrian Center, but had yet to secure a win. Donnelly and the 14-year-old Warmblood gelding were on their A-game this afternoon, navigating the course to deliver a flawless round and taking all four high options to earn a score of 88.
The top score in the first round was earned near the end of the order by Colleen Holton of New Albany, Ohio, and her own Udefix (Uccello x Contendra). The duo earned a second-place finish in the $2,500 USHJA National Hunter Derby at Brave Horse three weeks ago and were ready to compete this afternoon. Holton and the 7-year-old Hanoverian gelding wowed the judges in the first round, taking all four high options for a score of 90.
The course was reset and the top 12 entries returned for the handy round. Donnelly and Grand Tour returned late in the order and set the tone for their course at the first fence, entering on the right lead and rolling back to a high option fence just off the rail. They continued showing off their handy skills, taking the inside turns to fences 5 and 6, but still managing a lovely hand gallop between the two fences. The pair was rewarded for their efforts with a score of 92, bringing their overall total score to 180, moving them to the top of the class.
Next on course were O'Connor and Capital. The duo chose not to attempt the rollback turn to the first fence, but did take the inside track to fence 5 and demonstrated a fantastic hand gallop to fence 6. Their slightly more conservative approach allowed for a beautifully rhythmic round, and the pair earned a handy round score of 89, bringing their overall total to 174 and moving them into second place.
Eddlemon and Incognito V were next in the ring. Like O'Connor, Eddlemon chose not to take the rollback turn to the first fence, but did take the inside turn to fences 5, then turned inside and picked up a textbook-perfect hand gallop to fence 6. The pair chose to take all four high options for a score of 87, bringing their two-round total to 176 and sliding into second place just behind Donnelly, moving O'Connor into third place.
Last to return were Holton and Udefix. The pair chose to attempt the snug rollback turn to the first fence, but had an unlucky rail, leaving Donnelly, Eddlemon and O'Connor in the top three spots.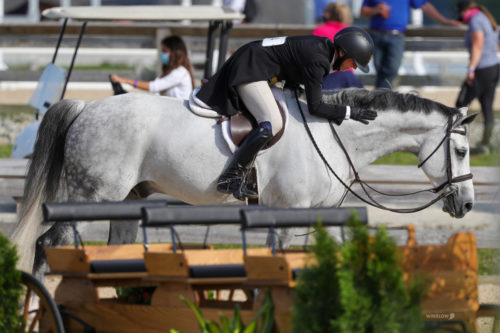 We caught up with Donnelly after the class to chat about her win, "Grand Tour was very good. He was very focused and very attentive. He loved the layout of the new jumps and the bright, fancy décor. This is his first derby win here at World Equestrian Center."
Donnelly described her handy round, "It all fell right into place. I wanted to wake him up enough to rollback in a teardrop shape to fence 1 coming off the rail. I wanted to leave him enough room, because he doesn't always wake up at the start. He really just followed through with everything I asked and stepped right into a gallop for the hand gallop. I couldn't have asked him to step up any nicer for that course."
When asked about Grand Tour's personality, Donnelly replied, "He is a giant puppy dog. He prefers cuddling, snuggling and treats over everything. He just wants everyone to hold him. He is the kind that you just stand around and hold all of the time. His priority in life is snuggle time."
Donnelly also added, "I would like to thank our sponsors Resolvet, Lebanon Equine Clinic's BioMatrix and Antarès Sellier."
$5,000 USHJA National Hunter Derby Results
Grand Tour, Melissa Donnelly – 88 | 92 | 180
Incognito V, Hannah Eddlemon – 89 | 87 | 176
Capital, Courtney O'Connor – 85 | 89 | 174
Norderney, Belynda Bond – 86 | 87 | 172
Red Bluff, Diana Conlon – 81 | 85 | 166
Beau Bichon, Caroline Warren – 84 | 81 | 165
Cayman, Renee Lenkart – 87 | 77 | 164
Hero, Alliy Moyer – 88.5 | 74 | 162.5
Charismatic, Linda Radigan – 79 | 83 | 162
City Girl, Gillian Aiken – 77.5 | 82 | 159.5
Photos courtesy of Winslow Photography.