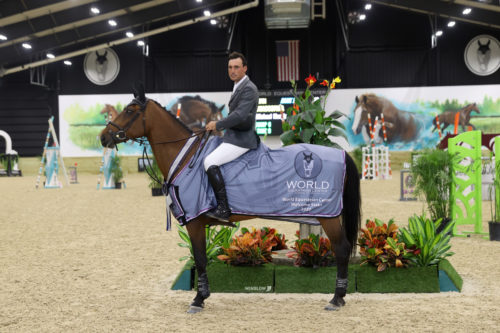 Today's drop in temperatures and sunny blue skies set the perfect backdrop for the start of the final horse show of the World Equestrian Center summer series. Feature class action kicked off in the Sanctuary Arena this afternoon with 21 entries vying for the win in the $5,000 Welcome Stake 1.35m sponsored by CWD Sellier. Competition was tight with the top four placings separated by just three-tenths of a second. Ultimately it was Michael Murphy riding for Ashland Farms of Lexington, Kentucky, and Wellington, Florida, who topped the class aboard Ashland Farms' Chaccofina (Chacco-Blue x Hauptstutbuch Anchorwoman).
The course for this afternoon's Welcome Stake was designed by Steve Stephens of Stephens Equestrian Designs, Inc. and featured adjustable lines to 13 jumping efforts including two one-stride combinations. The pace setter in the class was Skylar Fields of Wellesley Hills, Massachusetts, and her own Dublin (Tambo Poderoso x Manna), who contested the course about midway through the order. Fields and the 12-year-old KWPN gelding were the first to manage a clear first round, leaving all rails up in a time of 69.978 seconds, well under the time allowed of 76 seconds. The pair continued straight to the jump-off of the Table II 2b event, taking tidy inside turns to fences 3, 6 and 8AB, stopping the clock at 38.923 seconds, and setting the time to beat.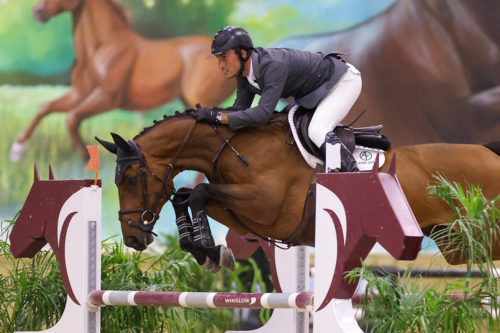 Michael Murphy and Ashland Farms' Chaccofina took to the course shortly after. The pair have been on a hot streak, winning the $10,000 Kirkpatrick & Co. 1.40m FEI Speed Cup at Split Rock Jumping Tour's The Lexington International out of 58 entries just three weeks ago. This afternoon, Murphy and the 12-year-old Hanoverian mare delivered a clear first round in a time of 67.481 seconds, signaling that they would be tough to beat on the short course. They advanced straight to the jump-off, also opting for the inside track to fences 3, 6 and 8AB, crossing the timers at 38.689 and moving into the top spot.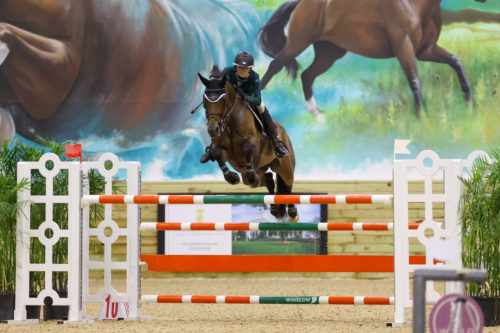 Next in the ring were Taylor Kain of Lexington, Kentucky, and The Gelt Group's Shuttergold (Silvio I x Famose). The duo earned a third-place finish in the $25,000 WEC Grand Prix during the World Equestrian Center Summer II horse show and were back on form this afternoon. Kain and the 10-year-old Hanoverian mare were clear in the first round in a time of 69.655 seconds, then continued straight to the jump-off. They also chose the inside track, jumping a second clear round in 38.814 seconds and sliding into second place.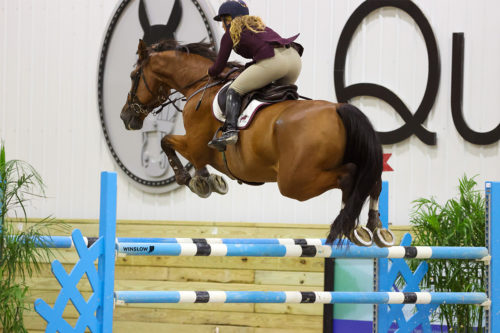 Sarah Meier of Lexington, Kentucky, also had a noteworthy ride in this afternoon's class aboard Aaron Vale's Billionaire (Lord Z x Taquita). The pair have been building their rapport over the first half of 2020 and were clearly ready for this afternoon's 1.35m track. Meier and the 13-year-old Holsteiner gelding jumped an impressive first round, clearing each fence with room to spare in a time of 67.750 seconds. The pair continued straight to the jump off, sticking to the inside track and soaring over each fence, crossing the timers at 38.911 seconds for a third-place finish.
We caught up with Murphy after the class to chat about his win, "This is my first time at World Equestrian Center. We just shipped in this morning, and we'll be here for the rest of the week. I was really pleased with Chaccofina. I haven't shown her indoors before, so I was kind of feeling her out for what the rest of the week was going to be like inside. She was really good."
When asked about Chaccofina Murphy replied, "She's a 12-year-old Chacco-Blue mare owned by Ashland Farms. I've been showing her since January in Wellington. She's had a good streak of classes recently. She's been in really good form, and it feels good to show up here and for her to go well in the first class."
Murphy also added, "I'm 27 years old and I'm from Orlando, Florida. I ride for Ken and Emily Smith of Ashland Farms. We have six students here this week and they all had a great day, so we're very happy. I'd like to thank Ken and Emily Smith for the opportunities they have given me."
$5,000 Welcome Stake 1.35m Results
Chaccofina, Michael Murphy – 0 | 0 | 38.689
Shuttergold, Taylor Kain – 0 | 0 | 38.814
Billionaire, Sarah Meier – 0 | 0 | 38.911
Dublin, Skyler Fields – 0 | 0 | 38.923
Elegance de Pessel, Skylar Fields – 0 | 0 | 39.394
Contessa K, Mackenzie Carreras – 0 | 0 | 41.174
Zonderling, Genevieve Munson – 0 | 8 | 36.349
Boudika Ideal Home, Kady Abrahamson – 0 | 9 | 42.063
Contendro Star, Genevieve Munson – 4 | 62.184
Strawberry, Molly Kindness – 4 | 65.250
Photos courtesy of Winslow Photography.