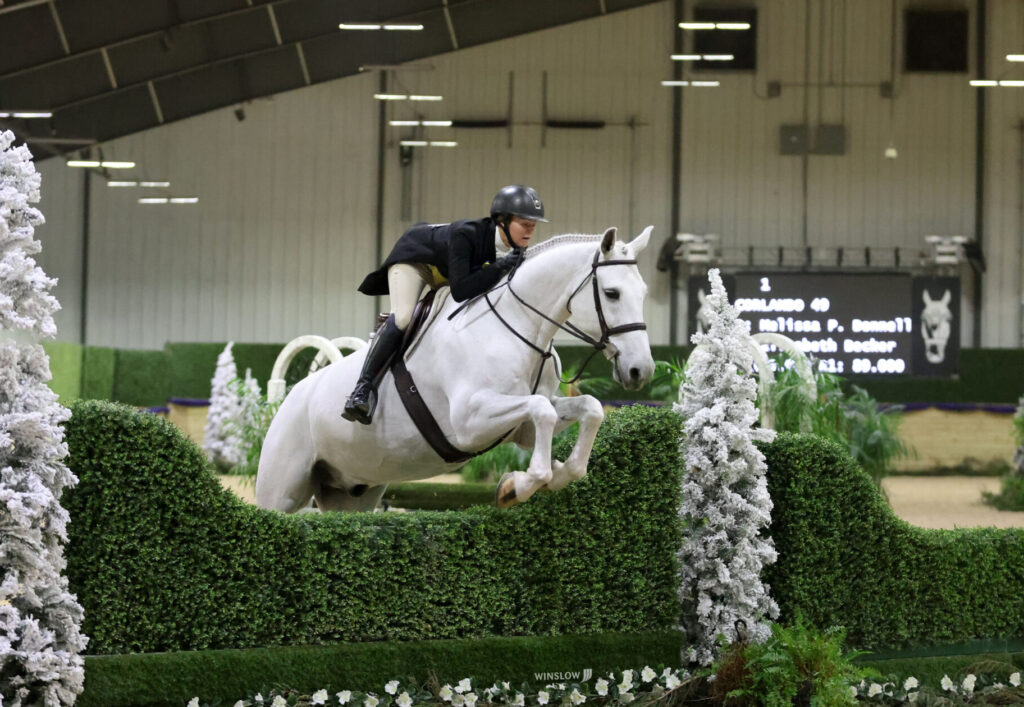 Wilmington, OHIO – Friday featured classes at World Equestrian Center – Ohio Winter Classic 5 commenced featuring the $5,000 WEC Hunter Derby 3' Open and the $5,000 WEC Hunter Derby 3' Non-Pro in the main R+L arena. For most of the afternoon, fabulous hunters negotiated courses designed by Keith Bollotte. The courses featured enticing natural fences, lush hedges, snow-covered trees and creative flourishes throughout the track. Handy rounds for each class presented opportunities for inside turns and four high options available for the riders to show off their horse's natural abilities. 
The afternoon's $5,000 WEC Hunter Derby 3' Open saw a field of thirteen entries. Several scores soared into the high 80s and low 90s, but it was Melissa Donnelly and Corlando 49 (Cartani x Olanda I) of Just A Folly Farm, in Oxford, Michigan who jumped to secure first place honors.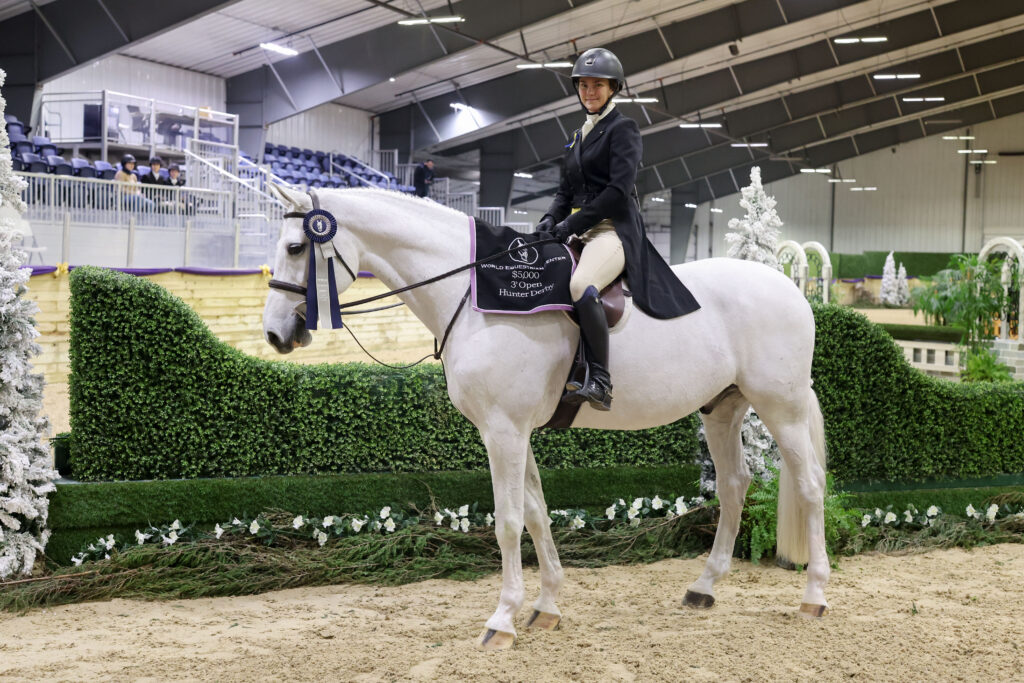 Donnelly and the snow-white sixteen-year-old Holsteiner gelding were untouchable in today's open derby, completing the first round of 89 and a handy round of 91 to earn a final winning score of 180.
We caught up with Melissa and 'Cory' after the class to discuss today's successful rounds. "The course was lovely and the long bending lines suited the young horses. The challenges were probably the short turns in the corners, which was trickier for a couple of them. Overall, it was great and Cory (Corlando 49) was on his A-game!"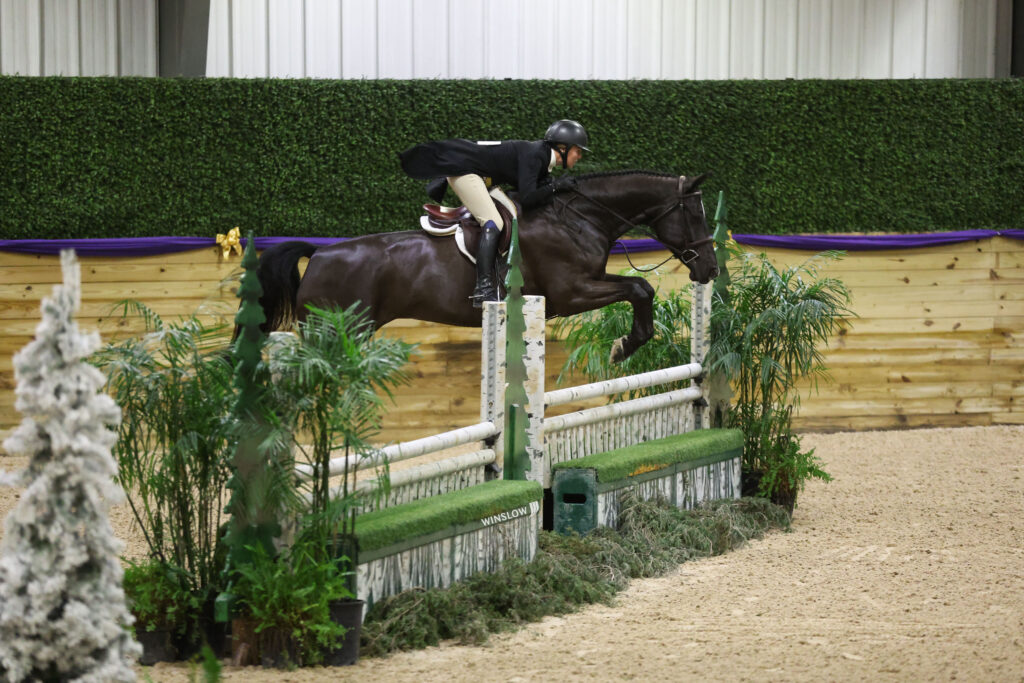 Melissa impressively rode the course on five different horses today, with four of them placing in the top five spots. Her second-place finish was completed aboard Juan Colorado, a young horse owned by Addison Mae King, who is up-and-coming in the derby classes. Today the pair marked scores of 83 and 90 to total 173 for a second-place finish.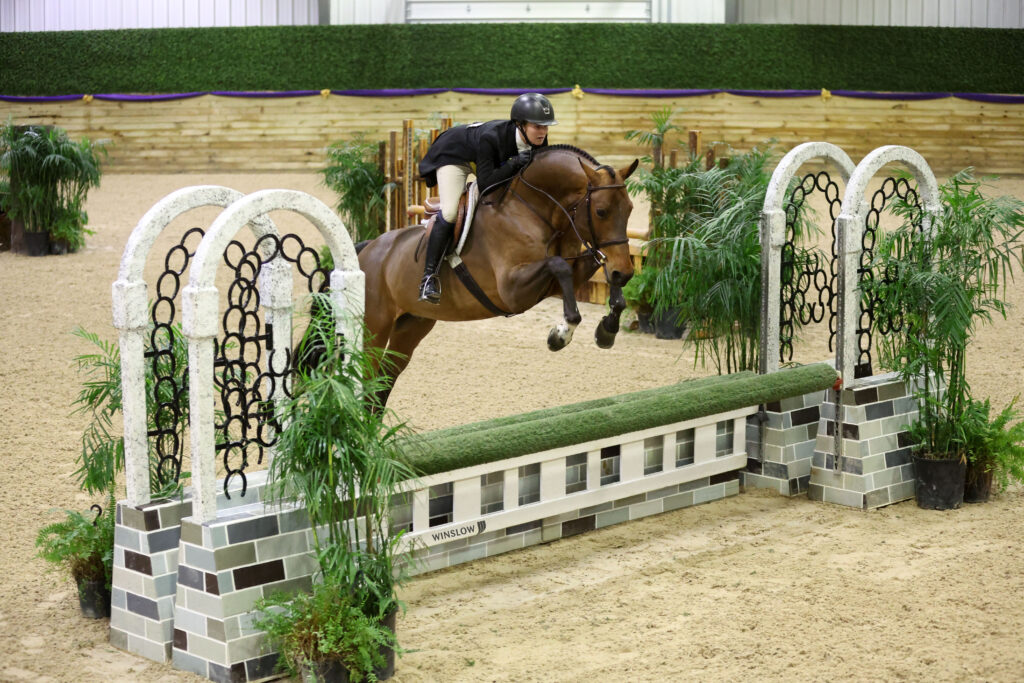 Donnelly then piloted Sara Barnes' Breathless to the third-place spot. The beautiful bay jumped to a first-round score of 87 followed by an immaculate handy-round score of 85.5. The pair earned a final combined score of 172.5.
$5,000 WEC Hunter Derby 3' Open Results:
Corlando 49, Melissa Donnelly – 89 | 91 | 180
Juan Colorado, Melissa Donnelly – 83 | 90 | 173
Breathless, Melissa Donnelly – 87 | 85.5 | 172.5
MTM Bentley, David Beisel – 84 | 88.25 | 172.25
Cinda, Melissa Donnelly – 85 | 87 | 172
Appointed, Jessica Borton – 73 | 79 | 152
Helios-S, David Crawford – 76 | 70 | 146
Macauley Rgs, Sarah Meier – 78 | 64 | 142
Davidson, David Beisel – 45 | 84 | 129
Douglas De Riverland, Melissa Donnelly – 86 | 42 | 128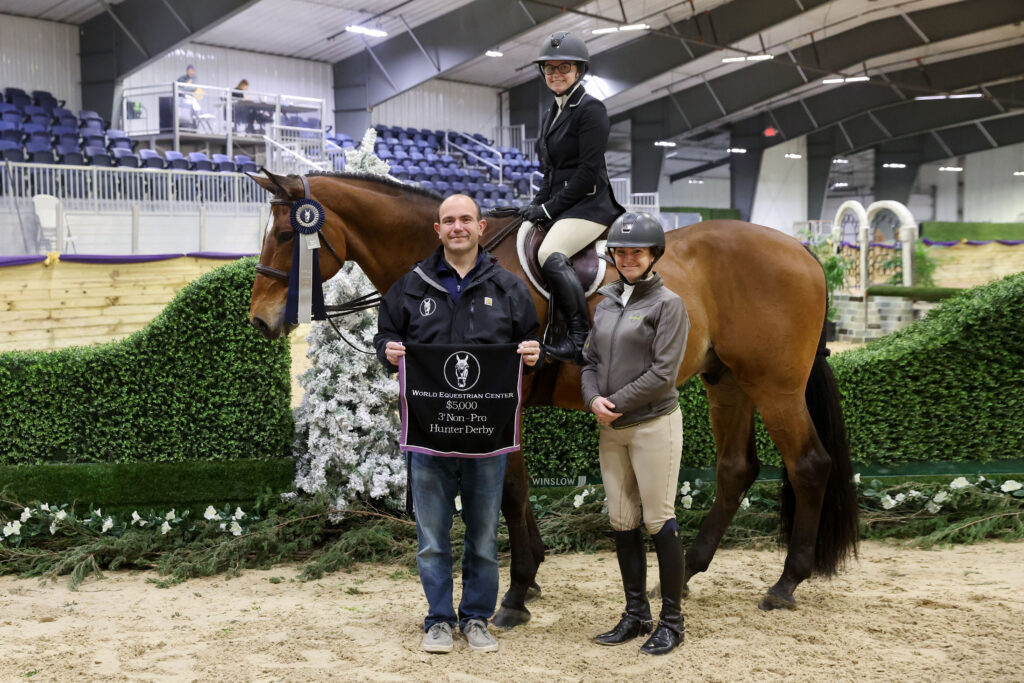 Eight graceful hunters rode in today's $5,000 WEC Hunter Derby Non-Pro division but none could best Hannah Eddlemon of Wilmington, Ohio aboard Addison Mae King's Donatello. The daring duo impressed crowds in the much competitive $5,000 WEC Hunter Derby Non-Pro. Donatello's stylish jumps earned the pair a first-round score of 87, and Eddlemon expertly piloted him to a handy round that received a score of 88, for an unbeatable overall score of 175.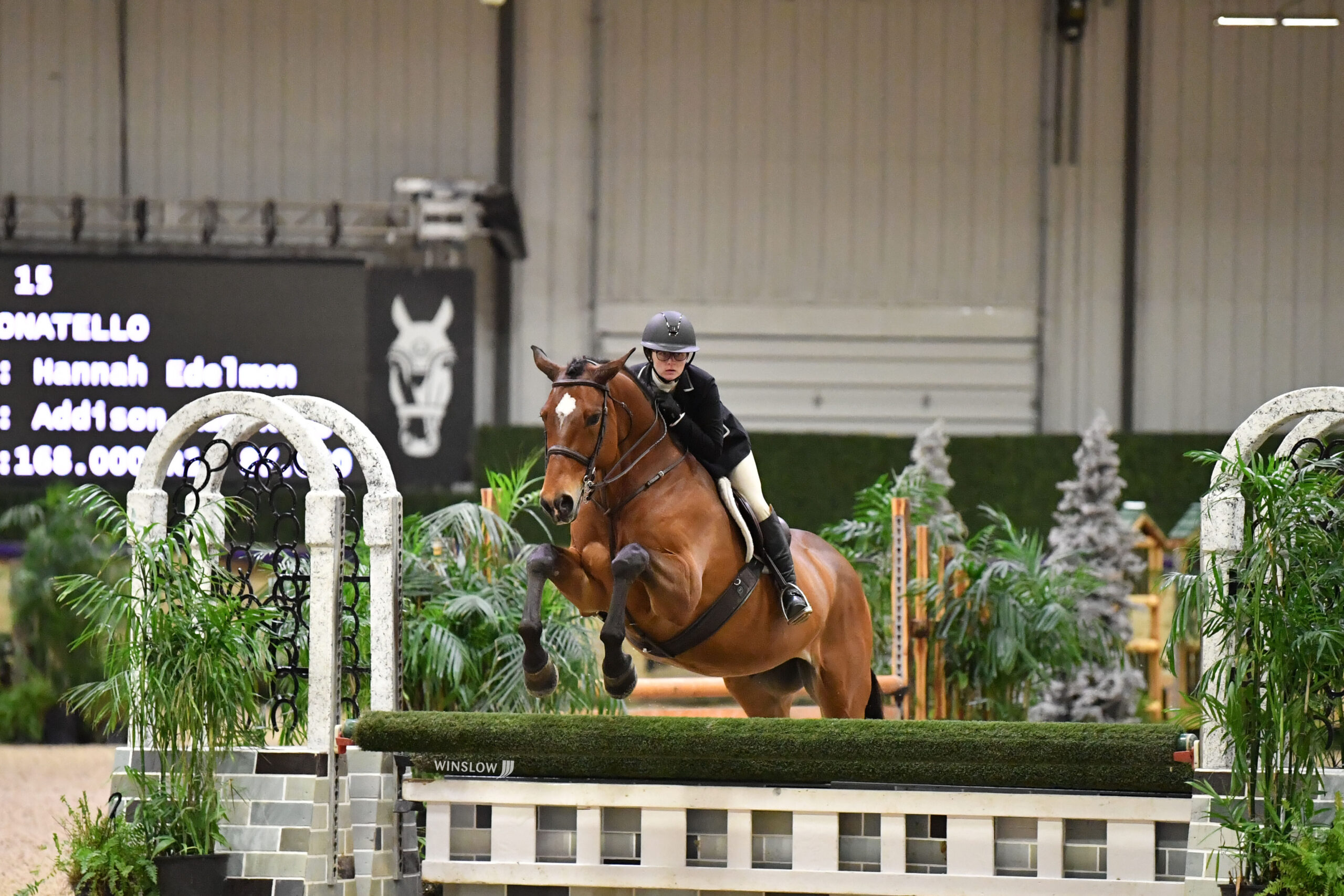 We chatted with Hannah ringside to discuss her win aboard Donatello. "He was accidentally braided so we decided to enter him in the class. It went well for a last minute deal – he is a great horse. I knew that the hand gallop to the last jump would be difficult and get heavy, but I held him through it and he landed it perfectly with all rails up."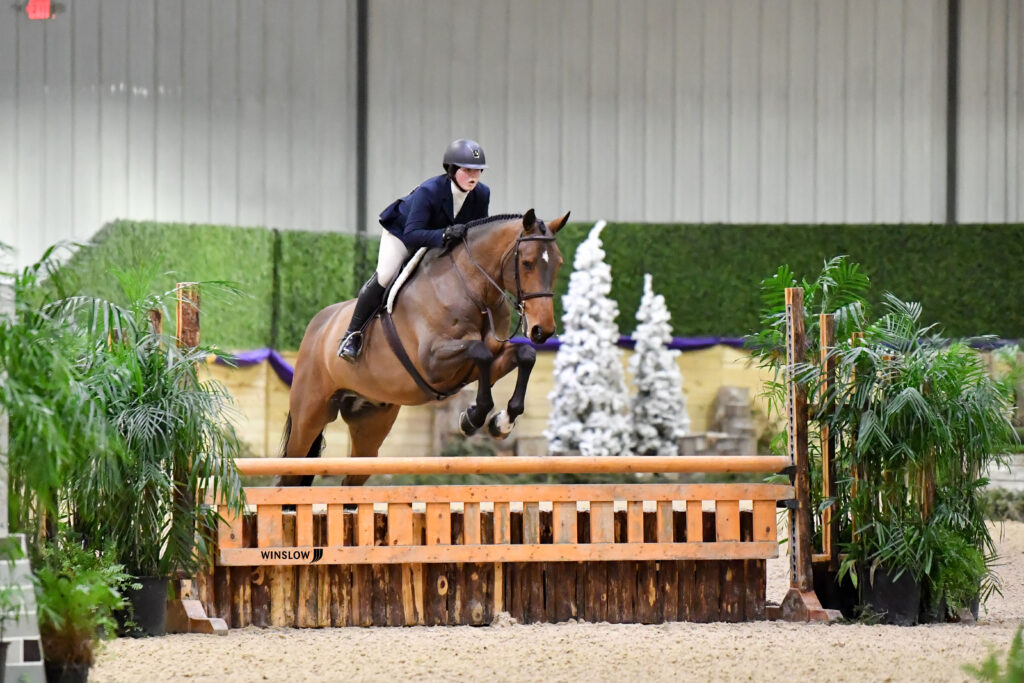 Taking second place was Claire Austin and Annette Spicker's Rehy Wonder Boy (Rehy High Society). Austin finished round one with a delightful score of 79, followed by the class's second-highest handy-round score of 88, to a total of 168 points, earning red ribbon honors with two foot-perfect finishes.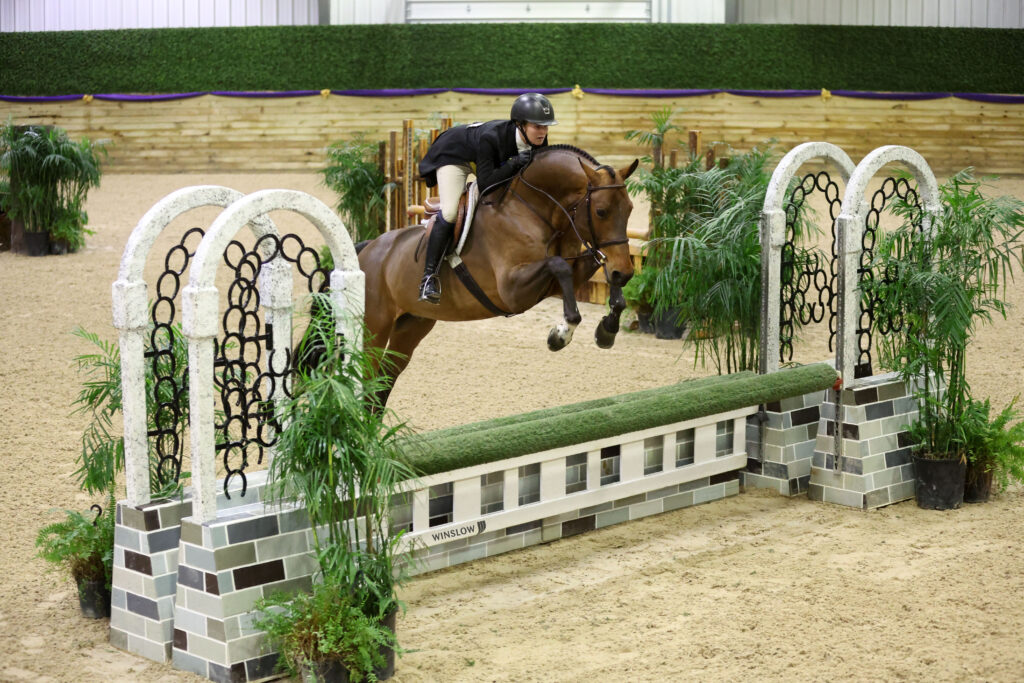 Rounding out the top three was Pamella Kissman and her own Incredible. Kissman produced a beautiful first round while jumping to the top of the standards to receive a first-round score of 84. They then resumed for the handy, jumping each fence in great form to earn a score of 76, and an overall score of 160.
$5,000 WEC Hunter Derby 3' Non-Pro Results:
Donatello, Hannah Eddlemon – 87 | 88 | 175
Rehy Wonder Boy, Claire Austin – 79 | 89 | 168
Incredible, Pamella Kissman – 84 | 76 | 160
Del Piero, Stephanie Brennan – 64 | 83 | 147
Stardust, Christine A. Ruh – 76 | 62 | 138
Joint Venture, Jessica L. Wobb – 72 | 60 | 132
Ne-yo, Ella Ballard – 82 | 49 | 131
Mo Bandit, Izzy Beisel – 74 | 50 | 124
Five Star, Logan Taylor – 63 | EL