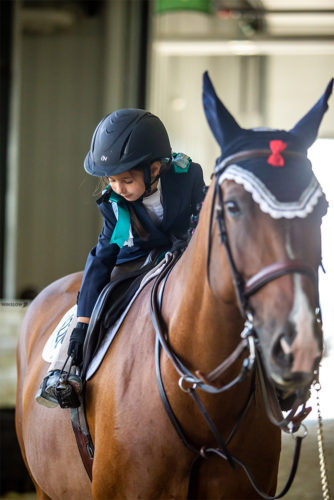 Week three of the WEC summer horse shows kicked off today with a full schedule of thrilling equestrian sport. The week is filled with feature classes that include two hunter derbies, a welcome stake, a futures prix and a grand prix. Use this as your helpful guide throughout the week for everything from where to eat, to what to do. We thank our exhibitors for complying with our newly updated COVID-19 protocols, and continue to ask everyone to follow USEF and WEC guidelines to keep everyone safe.
General Guidelines
We have implemented a number of guidelines and protocols to aid in stopping the spread of COVID-19, and we ask that you do your best to follow these in order to keep yourself, other exhibitors and our staff safe:
Only enter through the main entrance of World Equestrian Center where you will be required to have your temperature taken.
Grounds are limited to participants, trainers, grooms, two immediate family members and staff. Only those that are vital to competition may attend.
Braiding is prohibited for this show.
Per USEF protocols individuals are allowed to be seated together while being transported by golf cart (or similar four-wheeled transport), but capacity may not exceed the number of seats on the cart or vehicle and all individuals must wear face masks or face coverings.
All seating around arenas will be closed.
Wear a mask when not mounted on a horse.
Wash hands and use hand sanitizer regularly.
Stay at least six feet apart from others.
Monitor your temperature daily.
Stay up to date with class start times and orders of go via horseshowing.com and PA announcements.
Limit the number of people accompanying a horse to the ring (maximum trainer, athlete, parent and groom).
Wear gloves when setting jumps in schooling rings and in communal areas such as wash racks.
Utilize horseshowing.com to add, scratch and checkout.
Appoint one representative per barn to visit the show office, if necessary.
View a complete list of COVID-19 guidelines and protocols at wec.net or horseshowing.com.
Feature Classes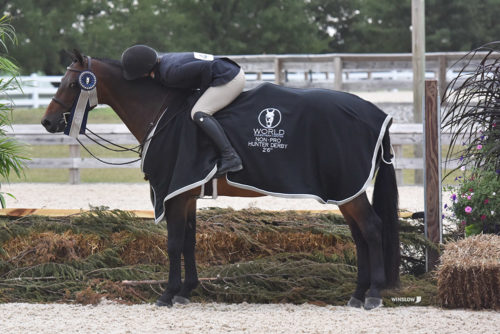 Thursday | $5,000 Welcome Stake sponsored by CWD
Friday | $5,000 USHJA National Hunter Derby
Saturday | $25,000 WEC Grand Prix
$7,500 Futures Prix
$2,000 Non Pro 2'6″ Hunter Derby
Where to Eat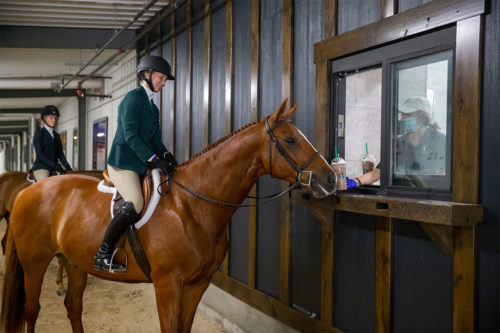 There are plenty of dining options on-site at WEC during the horse show, including the brand new Dark Horse Coffee Co. proudly serving Starbucks, located in Vendor Village between Shaggy Chic Pet Parlor and A Sudden Impulse boutique. The stunning new coffee shop offers all of your favorite Starbucks beverages. Don't have time between rides to grab a coffee? Swing by on horseback at the convenient ride thru window, located in the Sanctuary Arena hallway.
Looking for a bite to eat without leaving the outdoor rings? Visit the food truck for tasty sandwiches, fresh salads and other made to order favorites. The Sweet Shop will also be on-site in the courtyard by the R+L Arena serving breakfast, lunch, dinner, snacks and desserts.
What to Do
Each horse show week, Chaplain Larry Speelman holds worship services on Sunday at the ingate of the Sanctuary Arena from 7:30-7:45 a.m. Join Chaplain Larry for an uplifting message. Please remember to social distance while in attendance. If you are unable to attend, but would still like to listen in, Chaplain Larry's sermons are available as podcasts on WEC.net. This week's sermon is titled "Straight from the Horse's Mouth" and is part of the sermon series "Idioms with a Horse". Chaplain Larry describes the sermon:
Need time to relax during the show? Look no further than A Bit of Class Salon & Day Spa, World Equestrian Center's on-site boutique salon. Diane Bayless offers haircuts, styling, color, manicures and pedicures during normal show hours. Licensed Massage Therapist Katrina Hale is also at A Bit of Class Salon & Day Spa, so stop by for a relaxing massage. Text Diane at 937-728-4984 or Katrina at 513-623-9087 to make an appointment.
Where to Shop
Winslow Photography is the official photographer of the WEC summer horse shows and will be on-site each week capturing all of the horse show action at every ring. Stop by their trailer next to Vendor Village to view and purchase your photos, or shop online at winslowphoto.com.
Need an adjustment to get back into horse showing shape? Visit Saeks Chiropractic, L.L.C. Dr. Saeks believes in a holistic approach to healing his clients through muscle work and getting to the root of the cause to prevent future issues, benefiting riders by allowing muscles to move more freely.
Shopping for goods for you or your horse? The Apothecary is on-site for your prescription and non-prescription needs. Custom Fox is on-site in the R+L Arena hallway with a wide selection of show clothing, tack and accessories. If tack is more your style, visit CWD or Devoucoux. Get your new goodies personalized at Mona's Monograms. From jackets to brass nameplates, they do it all. While you're in Vendor Village, be sure to visit A Sudden Impulse to stock up on popular WEC branded merchandise including clothing and accessories.
Thank you to our Event Sponsors
We want to extend our thanks to all World Equestrian Center sponsors for their continued support: Antarès Sellier, Buckeye Nutrition, CWD, Dandy Products, EquiJet, Horse First Supplements, MARS Equestrian, Perfect Products, R+L Carriers, Sterling Thompson, Tribute Equine Nutrition, Sport Data, Inc. and Voltaire Design. Many sponsors and their products are on-site weekly at World Equestrian Center, so be sure to stop in and say hello.
We look forward to a fun week of horse showing! Please remember to do your part to help keep yourself and others safe by wearing a mask and social distancing.
Photos courtesy of Winslow Photography.