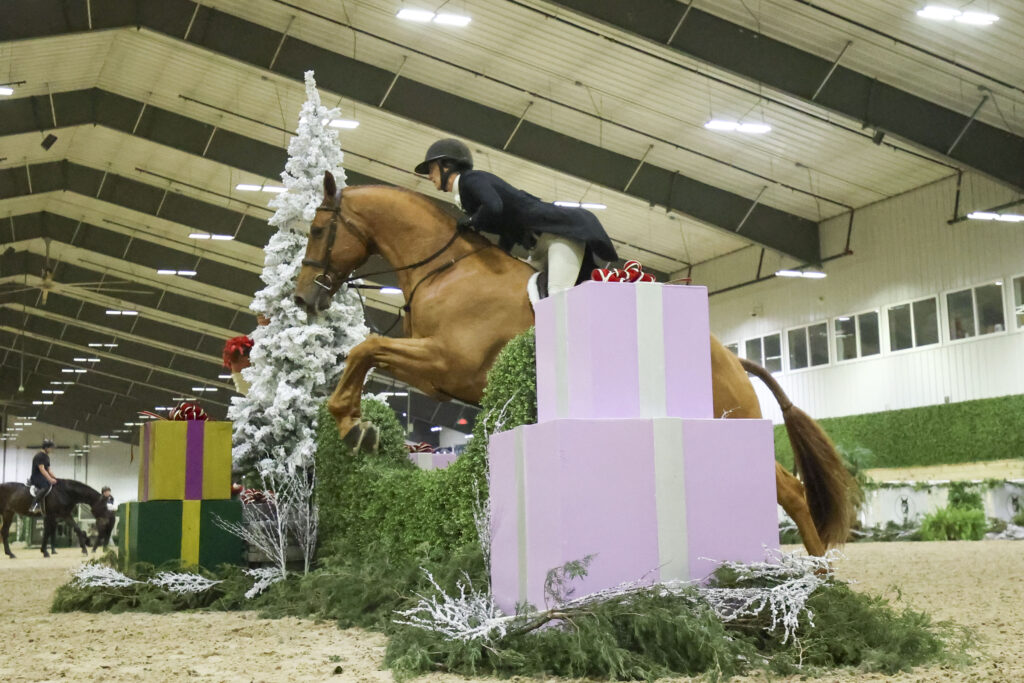 An elegant holiday-themed décor set a festive scene for World Equestrian Center – Wilmington's Derby Friday classes. Flocked trees, natural jump features and several mega-sized gifts were hard to miss on the R+L arenascape.
Besting a field of sixteen entries, Molly Mcadow of Highland Manor Farm and her own Caston took top honors in the WEC Hunter Derby 3′ – Open. Mcadow and Caston were the only duo in the class to earn a pair of scores in the 90s. Their stylish first round earned them a 91. Welcomed back to the ring for the handy round, Mcadow and her mount navigated the course brilliantly, earning a score of 93. Their efforts added up to a 184 total and ultimately earned them the blue ribbon.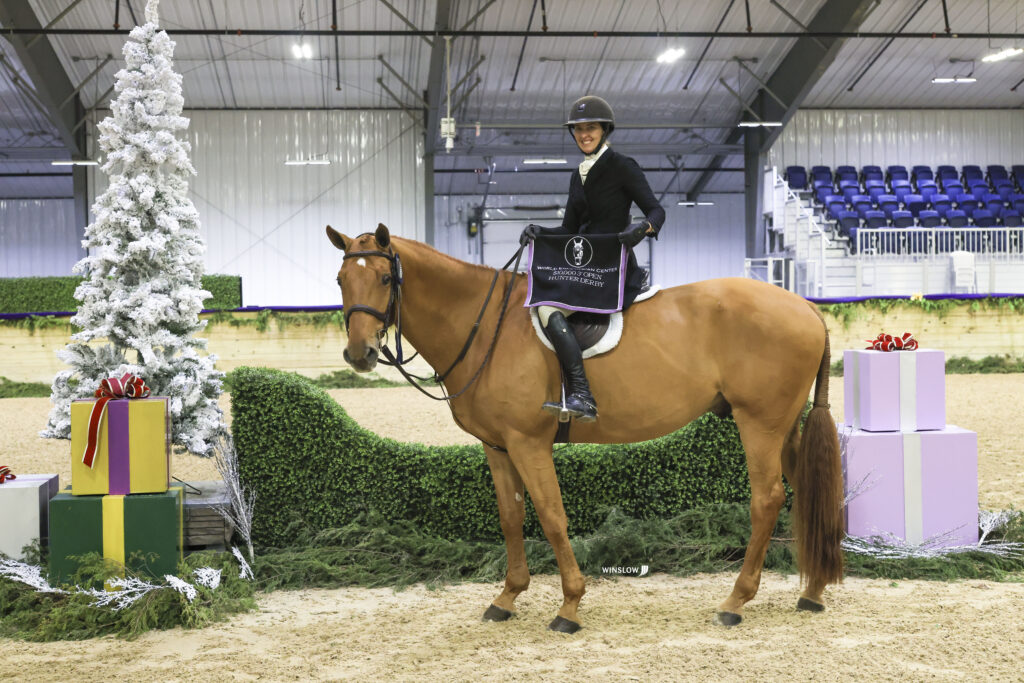 After capturing the perfect winner's circle photo, Mcadow joined us to chat about today's win and her 11-year-old Holsteiner gelding "Today I showed Caston. He is such a great horse and I have owned him now for six years. I just got him back from a lease earlier this week and decided to play around with him in the Derby before he gets tried for another lease next Wednesday. I haven't gotten to ride him in six months, so we went out there to just have fun! I know him so well and he is so trustworthy. I can always count on him!"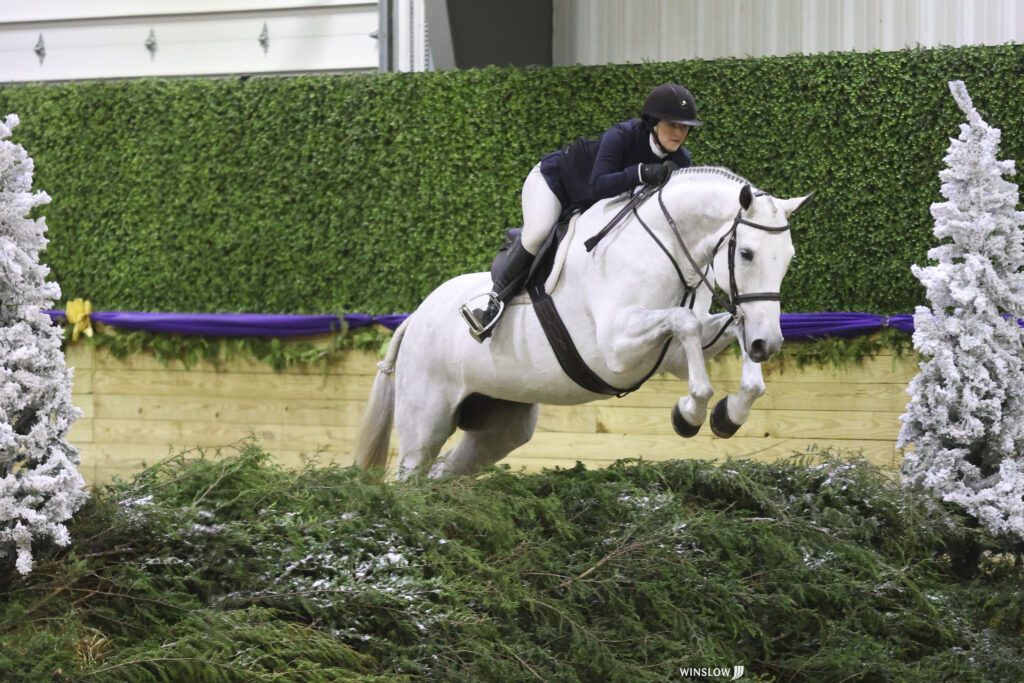 On great form today and just behind Mcadow was Michaella T. Gerlacher of Willow Way Farm in Johnstown, Ohio and Janet Cohn's Calisandro. The stunning 10-year-old gray Hanoverian gelding (Stolzenberg x Calida) earned an 86 in round one, followed by an impressive 90 in the handy, totalling 176 for second place.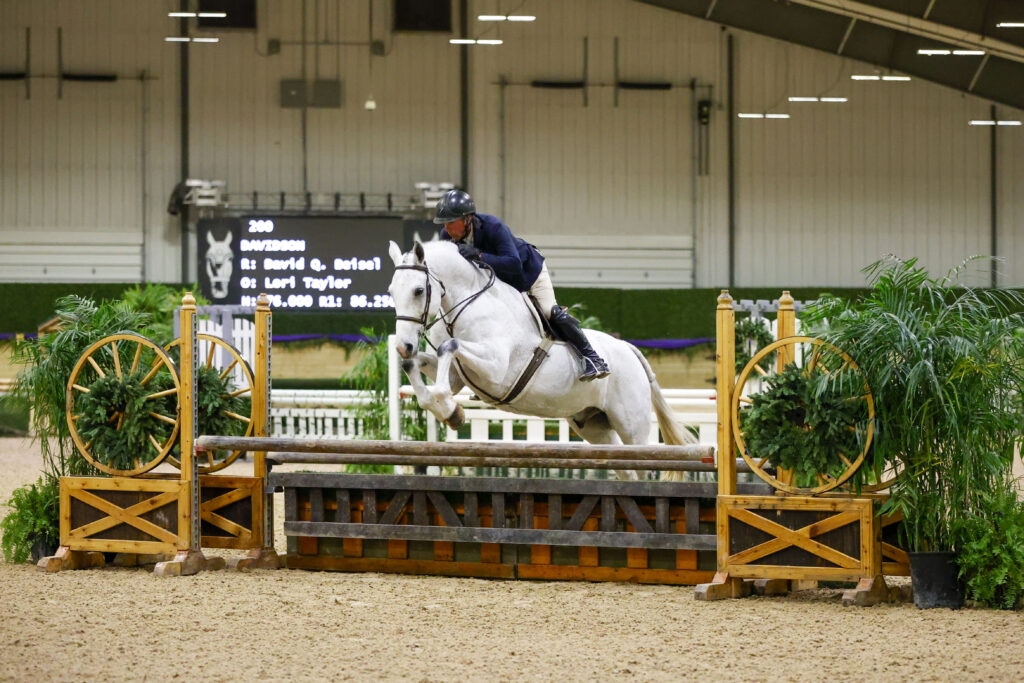 David Beisel of David Beisel Stables, Goshen, Ohio and Lori Taylor's Davidson were also impressive in tonight's derby. Beisel has been exhibiting this handsome gelding at nearly every WEC show since their Derby debut this summer. Today they earned an 86.25 and an 84 to total 170.25, for a third place finish.
WEC Hunter Derby 3' Open Results
Caston, Molly Mcadow – 91 | 93 | 184
Calisandro, Michaella T. Gerlacher – 86 | 90 | 176
Davidson, David Beisel – 86.25 | 84 | 170.25
Apparently, Tammy Provost – 90 | 76 | 166
Cinda, Melissa P. Donnelly – 79 | 82.25 | 161.25
First Crush, Stefanie A. Portman – 84 | 77 | 161
Argento, Stefanie A. Portman – 81 | 79 | 150
Dianthos XO, Mandy Vergerio – 75 | 82 | 157
Corlando 49, Melissa P. Donnelly – 72.5 | 84 | 156.5
Juan Colorado, Melissa P. Donnelly – 76 | 74 | 150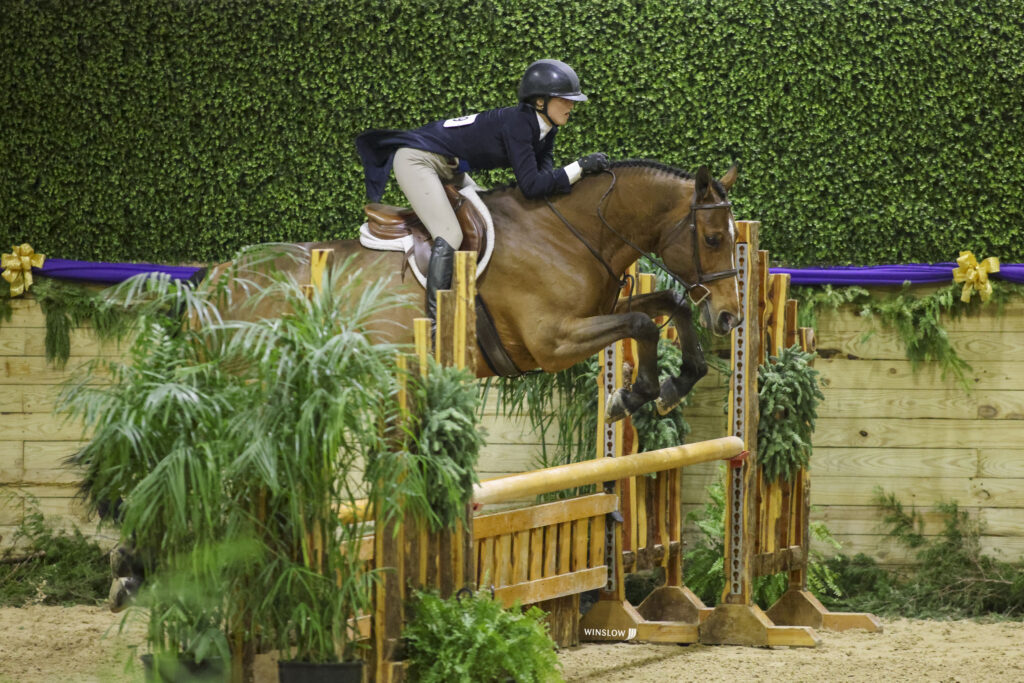 Thirteen stunning entries took on the WEC Hunter Derby 3′ – Non Pro course in the R+L arena for Derby Friday. Previous WEC Open Derby winner, All In, was piloted by Jacquelynn Christenson to take the blue in today's Non-Pro division. The 13-year-old Dutch Warmblood delivered two foot-perfect rounds for scores of 90 and 84, totaling 174 for the first place finish.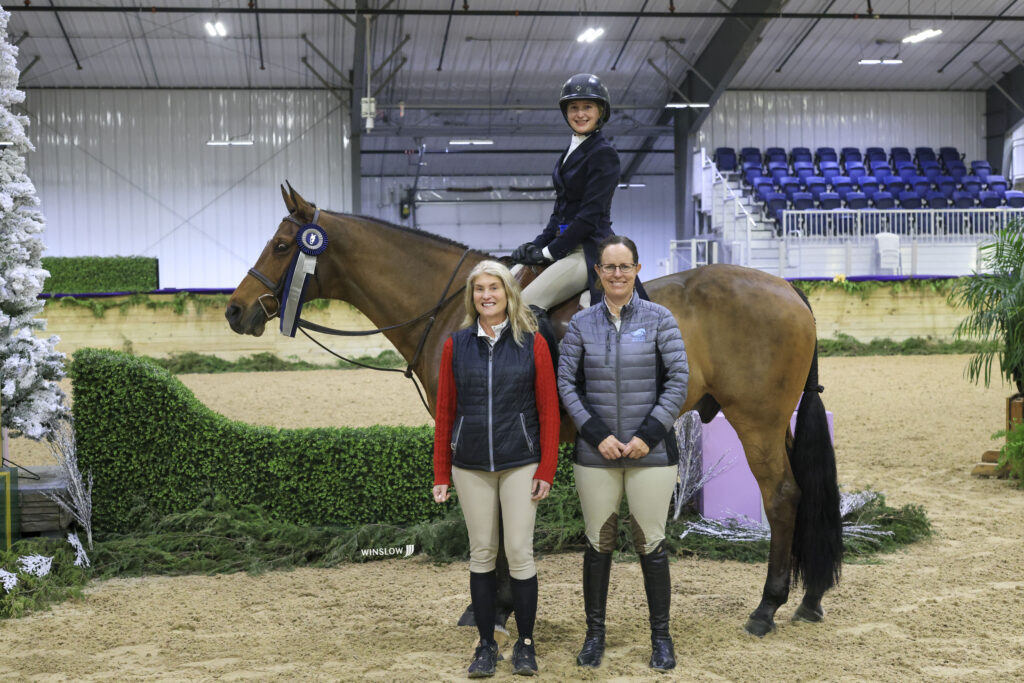 Christenson was proud of her horse and took the time to chat with us after the class, "I've had him for five years now. He is the world's best hunter horse! Always so trustworthy and the nicest horse that I've ever had. Not only is he such a pro, he really enjoys what he does. Riding him is always a blast because he loves to jump and he loves the show ring."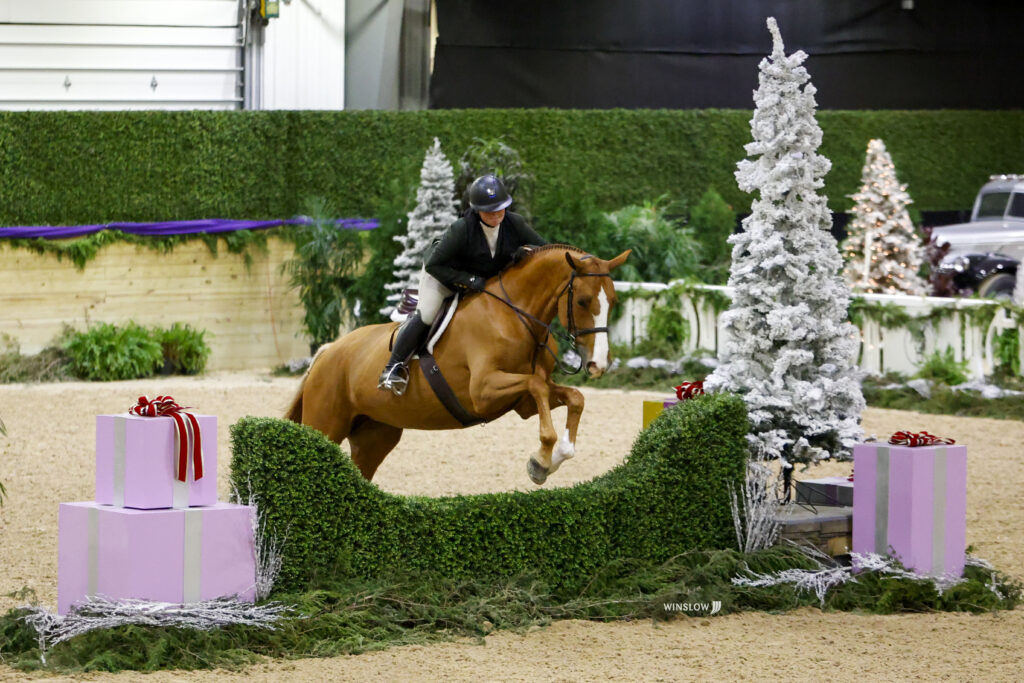 Sophie Carlin and her own Cabochon (Cabardino x Kountdown) were hot on Christenson and All In's tail. Carlin and the 6-year-old chestnut Warmblood mare earned a pair of 86's, for a total score of 172 and a red ribbon.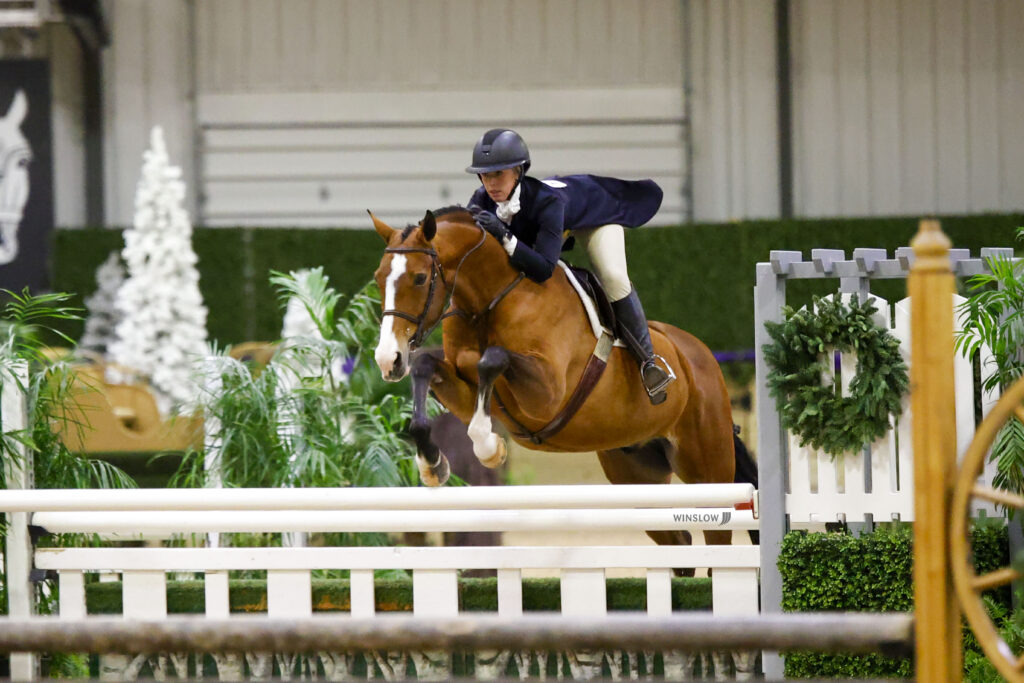 A second horse named All In (Pontifex x Ferrara) and his owner, Nicole C. Lyvere, rounded out the top three. This seasoned duo has several derby wins under their belt and today the 17-year-old bay Westphalian gelding earned impressive scores of 87.5 and 81 to total 168.5 for third place.
WEC Hunter Derby 3' Non-Pro Results
All In, Jacquelynn Christenson – 90 | 84 | 174
Cabochon, Sophie Carlin – 86 | 86 | 172
All In, Nicole C. Lyvere – 87.5 | 81 | 168.5
The Boy Friend, Paige J. Beisel – 72 | 79 | 151
Oodelally, Charlotte A. Oulanoff – 75 | 75.5 | 150.5
Colbrew, Natalie Tezsla – 84 | 62 | 146
Stevens, Madyson Schuh – 68 | 77 | 145
Corfou Marienshof Z, Autumn Bradbury – 74 | 68 | 142
Ritz Carlton, Nikki Moffat – 50 | 67 | ​​137
Cosmo Cool, Grace Hildebrand – 49 | 71 | ​​120
Congratulations to all entries on a successful day of equestrian sport!
Photos courtesy of Winslow Photography
Want to win 32 weeks of FREE stabling for your horse at our shows? Join us for Winter Classic 3 December 15th-19th where when you win your first blue ribbon, you will be able to pick a gift from under our magical holiday tree. Amazing gifts include gift certificates from our restaurants, lodging and retail as well as generous gifts from our many vendors and sponsors. Four lucky winners will receive FREE stabling for their horse for ALL of 2022! Visit the show office to learn how to win.