This week's Sunday Spotlight shines on Anna Christina Gansauer. Anna owns Kandor Farm, LLC located right here in Ocala, Florida. Anna is a true lover of the equestrian sport. Anna cherishes the time she spends with all her horses and her client's horses, both in the show ring and at home. Anna took the time out of her busy show and training schedule this week to chat with us about her riding career and horses that she rode during the first week of the Ocala Summer Series horse show at the World Equestrian Center – Ocala.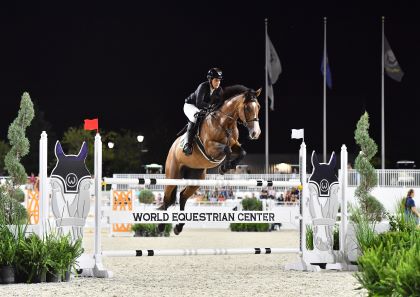 WEC: Where are you from?
Anna: I am from Ecuador.
WEC: How long have you lived in Ocala?
Anna: By the end of this year, it will have been 8 years of living in Ocala.
WEC: When did you start riding?
Anna: I have been riding since I was 9 years old.
WEC: When did you establish Kandor Farm, LLC?
Anna: As soon as I moved in, I started the farm. I was very fortunate to be able to build up the barn from scratch.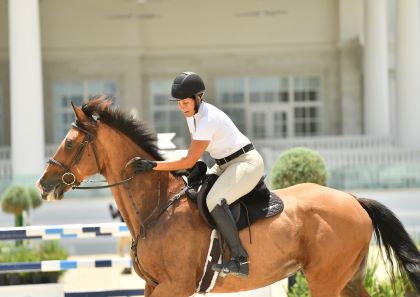 WEC: What made you move to Ocala?
Anna: It was horses. I read and heard about Ocala. I knew that it was horse country. I also knew HITS was here, which was a big horse show at the time and now there is something even bigger. I was determined to make horses my life and business. I came to Ocala with this idea in my head to make it happen. I was here for 4 days, and stayed and never looked back.
I also liked that we are very close to major metropolitan cities such as Miami, Tampa, and Orlando. Gainesville isn't a huge city, but it is a big college. As much as horses are my priority, I also love learning. I just received my master's degree in Entrepreneurship and hope to get my PhD.
Florida is also relatively close to South America. It is only a 4-hour plane ride to Ecuador to see my parents which was a huge priority for me.
WEC: Describe your first experience at WEC.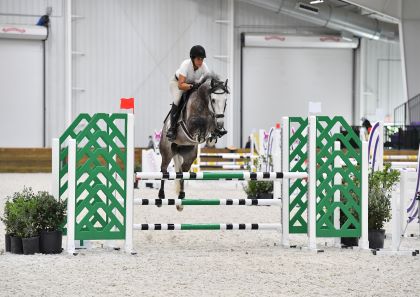 Anna: Well, I have gone every single day, since the facility has opened. Each time I go, I look like a little kid at a candy shop. It is all so incredible. I absolutely love it. The infrastructure is beautiful, the stalls are fantastic, and the footing is perfect. Everyone is treated so well, which is very rare to see in the world and industry. There is nothing bad to say about WEC.
WEC: Tell us about some of your horses.
Anna: I am very fortunate that I have a great group of horses. Right now, I am more than blessed. My forever horse is Delgado Van't Neerhof. He is close to retirement because he is 18 years old. He has nothing else to prove. I owe him my life and his life to himself. He is a legend. He is a Belgian Warmblood who is out of this world. I was very lucky to have been his rider.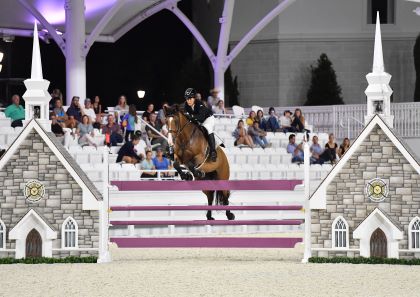 My main show horse is Quick Key Sr Z, who I jumped last night in the Grand Prix. She is an 11-year-old Zangersheide who is a fire breathing dragon. She is amazing, there is nothing bad that I can say about her. Whatever she lacks in talent, she doesn't know it exists. She thinks she is number one in the world, and she is spot on. She thinks that there's nothing that she can't do. I am extremely fortunate to ride her.
I also rode a couple young horses this week. One of them is Rachel Miller's, Titanium 818 Z, the 6-year-old that is small and mighty. If there is any horse that jumps cute, it is him. I also rode Louan Z, Craig MacCallum's amazing 6-year-old. She is going to Michigan to hopefully compete in the 6-year-old finals. It has been a long-time dream of mine for a horse to go to the 6-year-old finals.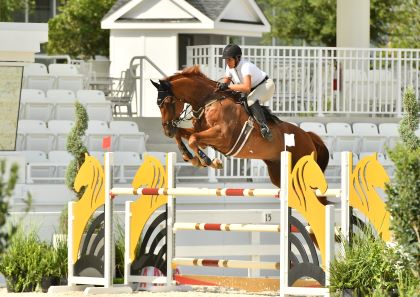 I also have Conthoblue PS, who jumped the 1.40 classic today. He is a Paul Shockemöhle horse and is absolutely fantastic. There is nothing that he cannot jump. His is the biggest horse in the world and has the biggest heart in the world. He needs to learn a bit more about his body over the fence but is extremely willing. There is also Chalou's Love PS, that is also a Paul Shockemöhle horse. He is a diamond in the rough, but he is extremely impressive. Both horses are incredible. I am beyond proud to ride them both.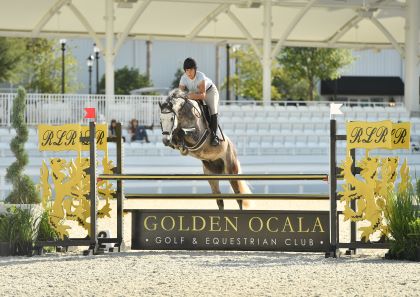 I also have amazing clients who have incredible horses, and I am lucky enough to have the chance to ride them. I currently manage over 25 horses.
WEC: What are some of your riding accomplishments?
Anna: I was fairly accomplished my junior year. I was lucky enough to be on the senior team when I was just 16-years old. We were bronze in the Bolivian Games. I was world junior champion with 6 clear rounds. I think my biggest achievement on paper was in 2005 where I was named best female athlete in my country. I would say that is my biggest achievement because it is an honor to receive a title such as that one. Another big achievement is jumping the big 5-star Grand Prix's successfully. I have been lucky to have been able to do that and there is no other feeling like it, to create a bond where the air is a little thinner.
WEC: What is your biggest riding goal?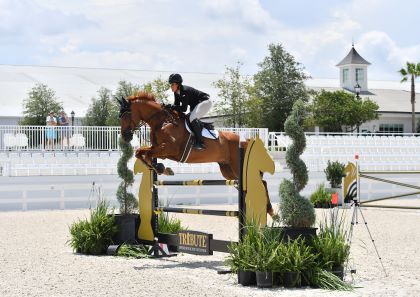 Anna: I think most riders dream to go to the Olympics. I am very determined to make that a reality. I know all of it is very expensive and it matters where you are in life. I know you need a fantastic team, and a great group of horses but most importantly you need to be a great rider. So, I am hoping to check off all the boxes and make all of them a reality. I know the goals are big, but I believe you can do whatever you want in life if you try.
WEC: What is your teaching philosophy?
Anna: The horse always comes first. We are partners with the horse. I would say the same goes from horses to people as far as respect, trust, and hard work. We are lucky to be able to do this sport and spend most of our time with these fantastic creatures.
Thank you Anna, and we look forward to watching you compete in the upcoming weeks of the Ocala Summer Series horse show!
Photos courtesy of Andrew Ryback Photography.