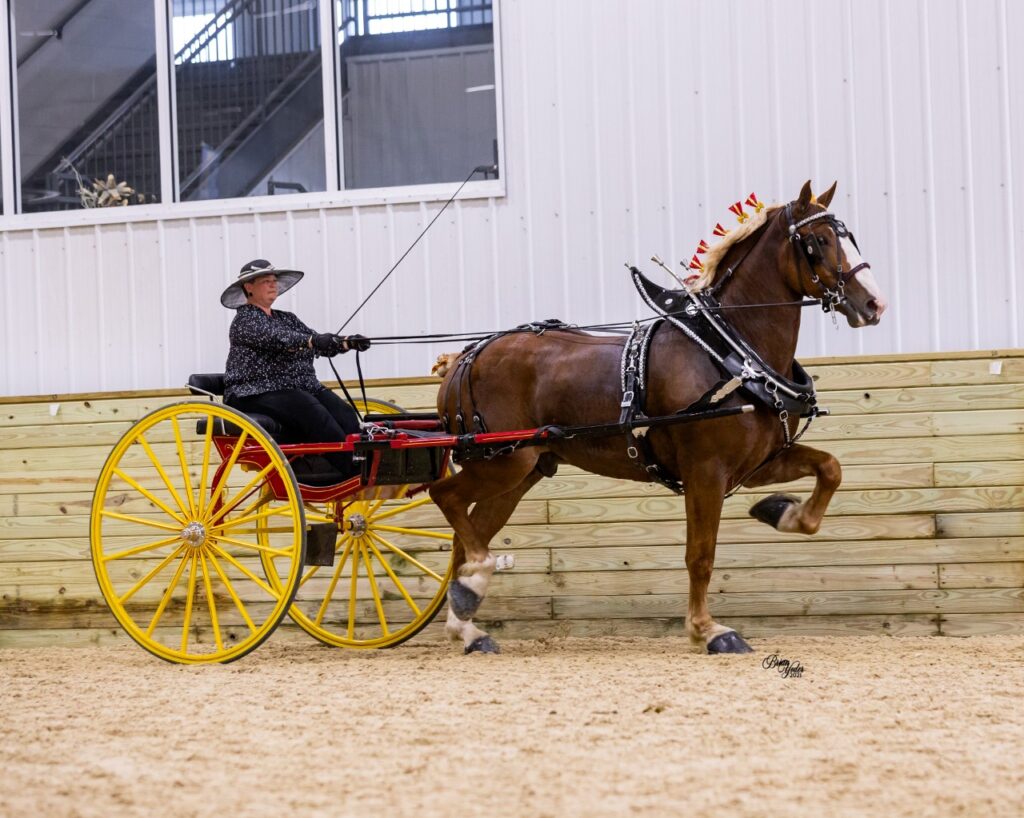 This week's Sunday Spotlight lands on Heritage Hill Farm of Albion, Michigan. We caught up at the stall barns with Mike and Lynn Loveland, co-owners of Heritage Hill Farm, who are competing in this weekend's Wilmington Classic draft horse show. Tim and Lynn were busy cleaning tack but were gracious enough to introduce us to their lineup. Six beautiful Belgian geldings comprise their hitch. We found these gentle giants resting in their stalls during most of our interview.
The Loveland's, of Heritage Hill Farm, celebrated their 20th wedding anniversary, as well as an impressive win in the Green Draft Cart class Thursday evening. This show hosts many of the finest draft horse hitch teams from around the country. The Wilmington Classic spans from Thursday through Saturday and features Four and Six Hitch Draft and Pony teams, Halter, and Showmanship with various divisions.
WEC: How did you get into horses?
Lynn: My family had appaloosas, then we got into paints and quarter horses. Eventually, my dad wanted a team of drafts! So, we bought a team. We went from two to four (horses), and it just kept multiplying! That's how we got into the draft horses.
Most of the time we hook six horses to our hitch. There are a few county and state fairs that have classes for the eight-horse hitches. So sometimes we hook up to an eight-horse hitch.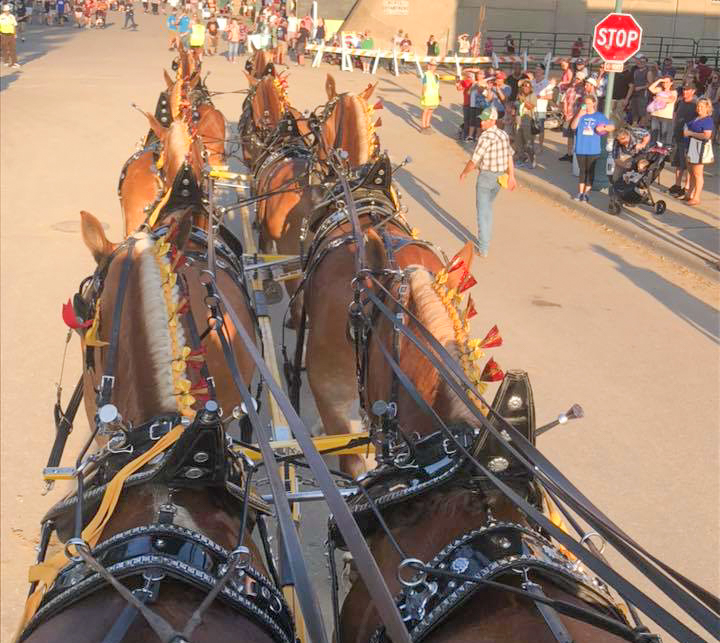 WEC: What does it take to get all of these horses ready to show?
Lynn: Before we have a class, we start anywhere from an hour and a half to two hours to get the horses ready. It takes approximately fifteen minutes per horse to get them braided, harnessed, and ready to go. That does not include the prep time of cleaning the harnesses before the show, bathing, and everything else.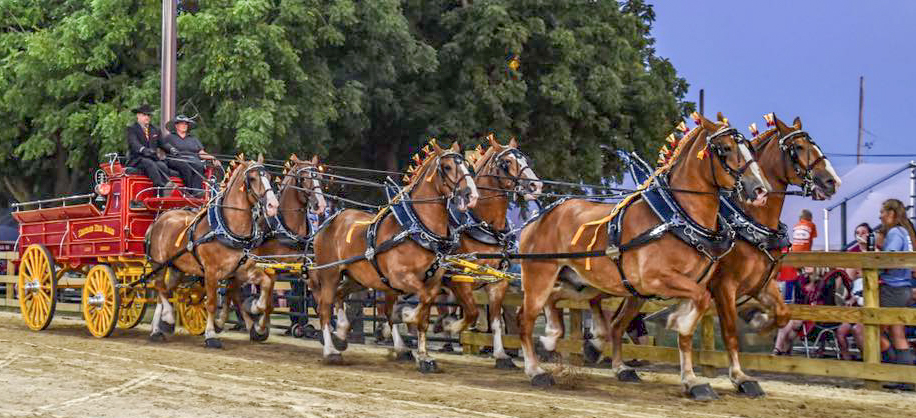 WEC: Can you tell us about your horses?
Lynn: They are Belgian horses, and they are all geldings. They range from the ages of three to thirteen. Most of our horses on the hitch are under six years old. We buy them when they are around three years old. We will then put the finishing touches on them for show. We do all the training ourselves.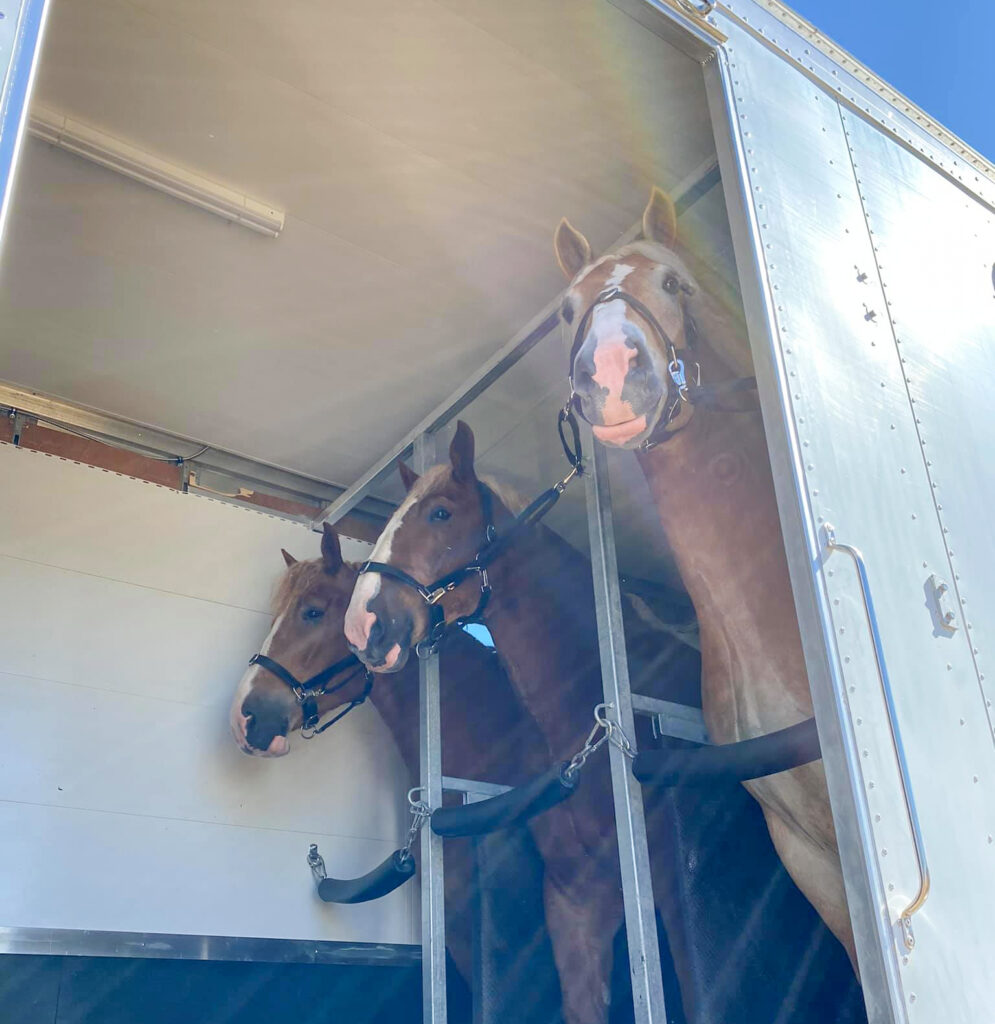 WEC: How do you pick the order of the horses in your hitch?
Lynn: It is all mostly based on personality! A lot of it is personality and size. The larger horses are closer to the wagon. As you go farther out from the wagon, they get smaller. We try to mate up personality, speed, and motion. The judges are wanting the horses to all work together in unison and respond well to the driver. When you look from the side of the hitch, you want to see the horses in the same position.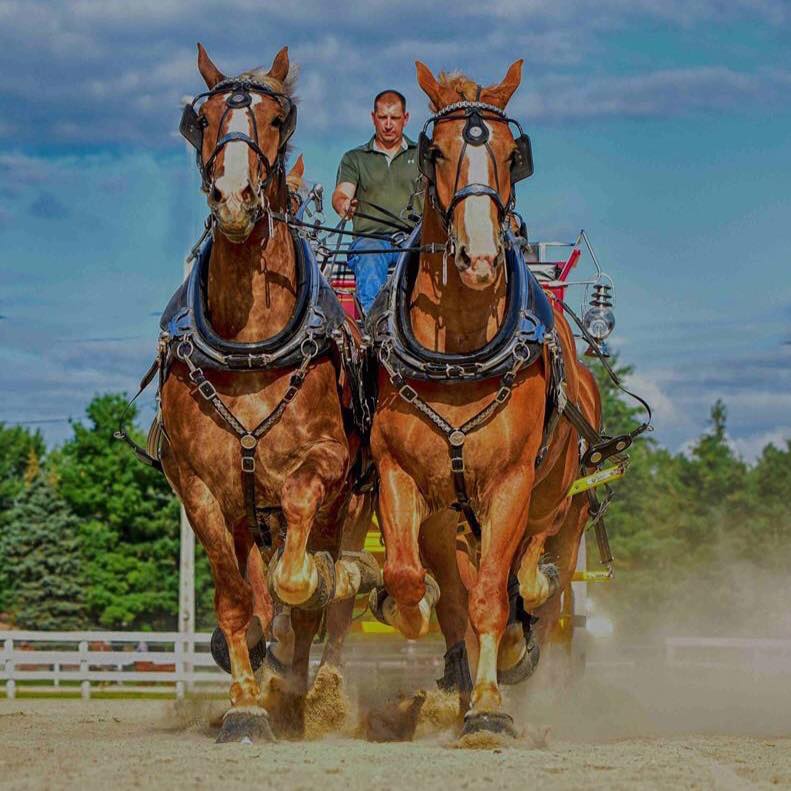 What's next for Heritage Hill Farm?
Lynn: We travel pretty much almost every weekend. When August hits we will only be home for five days! We go to county and state fairs to compete. Our show season starts the first of June, and it runs through the middle of October. We will hit 16-17 shows this season. Our next show is in Mansfield, Ohio.
Congratulations to Heritage Hill Farm and all other competitors at the Wilmington Classic draft horse show! Photos courtesy of Heritage Hill Farm and Prestige Promotions