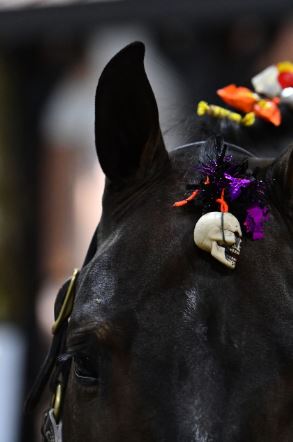 What. A . Show. Last week's World Equestrian Center Invitational saw outstanding talent in every ring with record-breaking entry counts in several of the featured classes. We spent the entire weekend celebrating Halloween. From pumpkin carving challenges, to themed braiding contests, to Trick-or-Treating, to a Halloween party, we certainly got into the spirit. All were invited to carve pumpkins in the Paddock Club on Friday, and the masterpieces were then moved and displayed in a prominent location in Vendor Village for Trick-or Treating on Saturday. Members of the WEC Team and vendors in Vendor Village joined forces Saturday afternoon to hand out buckets full of candy. Some even dressed up for the occasion. A Halloween themed braiding contest, judged by the stylists at the Cutting Room Day Spa, was held on Saturday as well with prizes of $100 and a Cutting Room gift certificate awarded to the winners of each of the three categories: "Spookiest Braids", "Best Halloween-Themed Braids" and "Pumpkin Spice Inspired Braids". Saturday's special events wrapped up with a Halloween party in the Paddock Club.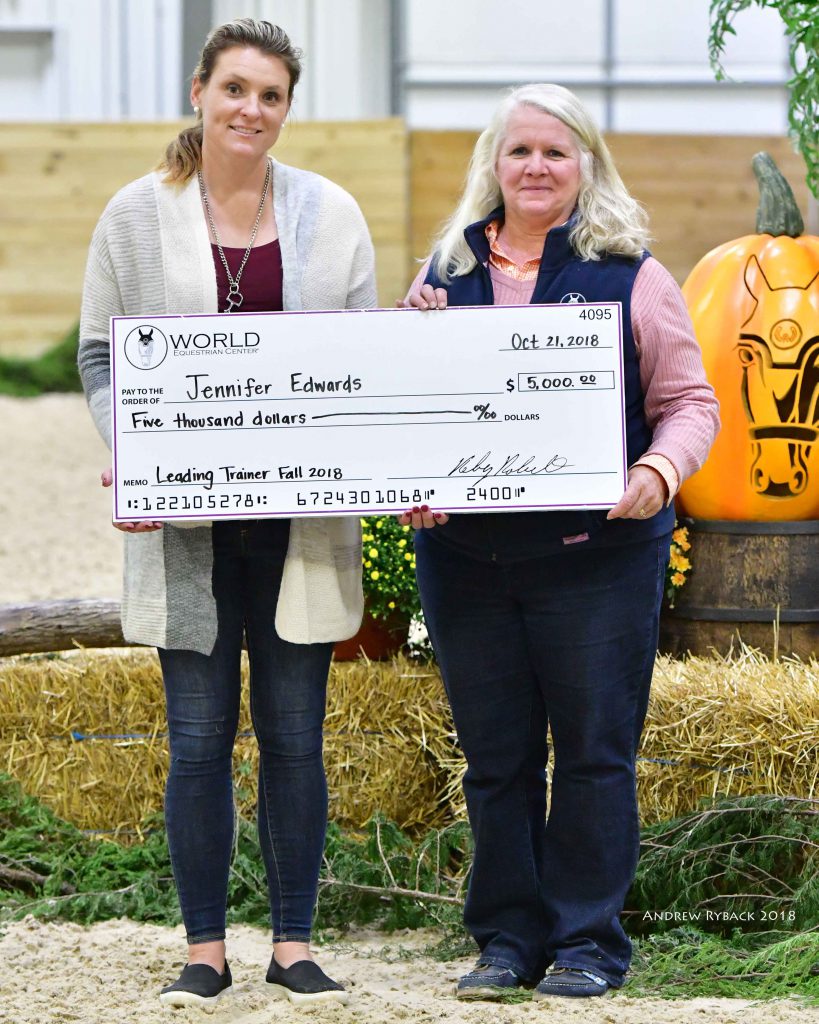 One of our favorite moments of the week was awarding $10,000 worth of Trainer Awards to the highest-point-earning trainers from the Fall Series. Jennifer Edwards accumulated the most points throughout the Fall Series, followed by David Beisel, then Linda Radigan in third place. Edwards gained an early lead in Leading Trainer points in week one (which was worth double points) of the Fall Series and simply could not be caught. She beat the competition by about 200 points!
Stellar equestrian sport was prevalent throughout the entire World Equestrian Center Invitational with top riders from around the world gracing every arena. Willie Tynan and MDM Equestrian's Fancy Girl, set an early pace in the $15,000 Welcome Stake 1.35 m on Thursday and remained unbeatable throughout the jump off. Friday was a clean sweep for Ireland in the $10,000 Futures Prix sponsored by Voltaire with KEC Kris Kringle and Willie Tynan taking first, KEC City Limits and Willie Tynan taking second and Catch A Star and Kevin McCarthy taking third. Ireland also dominated the $5000 Ride and Drive Exhibition sponsored by EquiJet, with Hebe Van't Palmenhof and owner/rider Colm McGuckian, accompanied by golf cart jockey Tom Foley, stealing the win. Saturday brought the WEC $50,000 Grand Prix presented by Kristi's Canvas and a fantastic win for Lisa Goldman and Sovereign. Sunday was Derby day, hosting three incredible hunter derbies, the first of which being the $40,000 USHJA International Hunter Derby presented by CWD. It was Spectacular and Havens Schatt that took the win in the International Derby, delivering an awe-inspiring performance that left the crowd breathless. Next in the ring was the $15,000 Open USHJA National Hunter Derby, where Snowbird and Jeff Gogul stole the show and took home top honors. The last Hunter Derby of the day was the $15,000 USHJA National Hunter Derby (non pro), where Junior rider Jordan Toering rode Premonition BHF, a horse she bred and raised, for the win.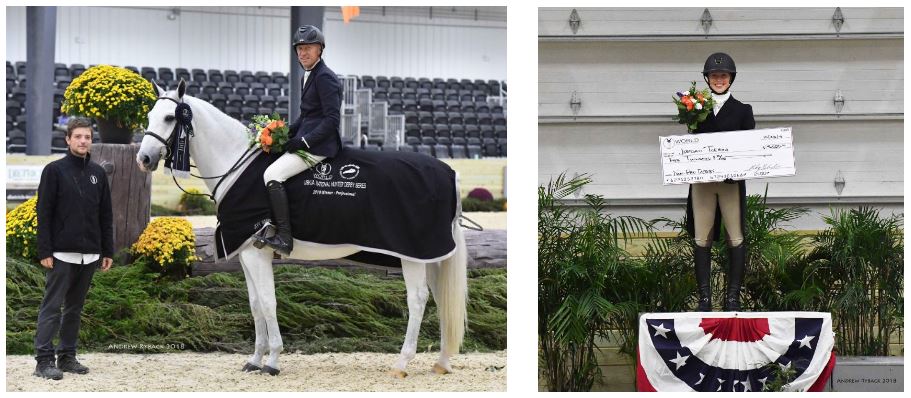 Sunday marked the completion of the 11-show World Equestrian Center / Kentucky Horse Shows LLC National Hunter Derby Series 2018, and we were honored to award $20,000 in Leading Rider Awards to highest-point-earning Professional, Amateur, and Junior riders. Both the Professional Leading Rider, Jeff Gogul, and the Leading Amatuer Alyssa Mansfield, were present to accept their awards.
With our Fall shows now officially complete, we would like to extend a huge thank you to all exhibitors, spectators and vendors that joined us in Wilmington over the past five weeks. We have had so much fun with all of you, and we can't wait to see you for the kick off of the WEC Winter Series of the Midwesrt kickoff in November!
Photos courtesy of Andrew Ryback Photography.