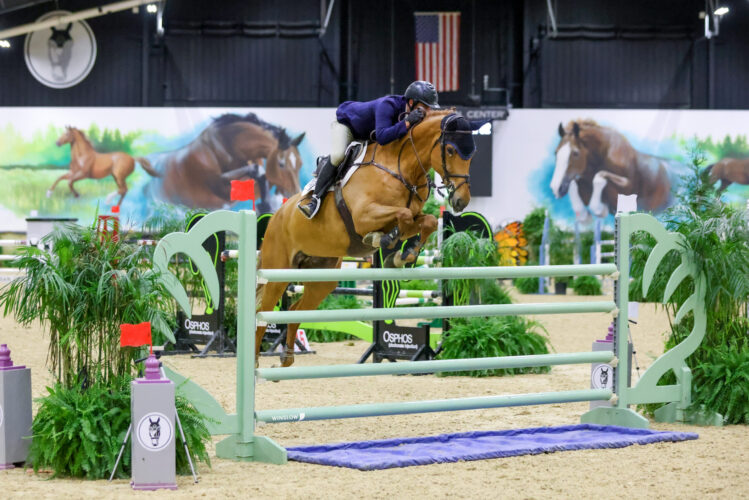 World Equestrian Center – Wilmington's Winter Classic Week XVI feature class action kicked off today with the $10,000 WEC Welcome Stake 1.35m. Twelve horse and rider combinations contested the course designed by Anderson Lima (BRA). Six pairs advanced to the jump off with three teams jumping double clear.
Speed was the determining factor between the top three placings as Sam Pegg (CAN) and his own Big Girl Z (Big Star Jr x Oglaya) turned up the heat in the jump-off to take home the win. It was Pegg's night as he ultimately piloted three of the top four placings in the class.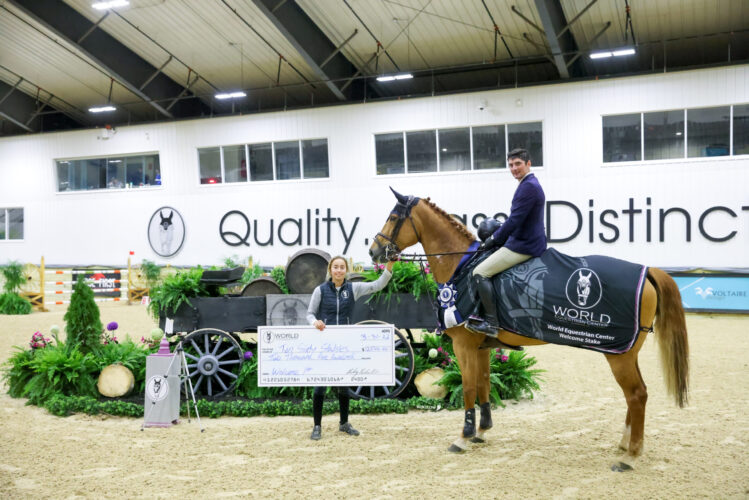 "We like this mare a lot. We (Ten Sixty Stables) are partners with her and Jens Wawruscheck. She's been with us since late fall and has produce some top results already. We're gearing up to show her in FEI classes this summer. Big Girl Z naturally has so much ability and great blood in the ring. She's not overpowering or too strong, but so much drive, very brave and super careful.", Sam mentioned.
Pegg and the nine-year-old chestnut mare delivered two speedy rounds in the class. First laying down a 70.421 second run in the qualifier, leaving all rails up to immediately advance into the jump-off. The pair galloped the winding short course in a mere 35.426 seconds, finishing at the top of the leaderboard.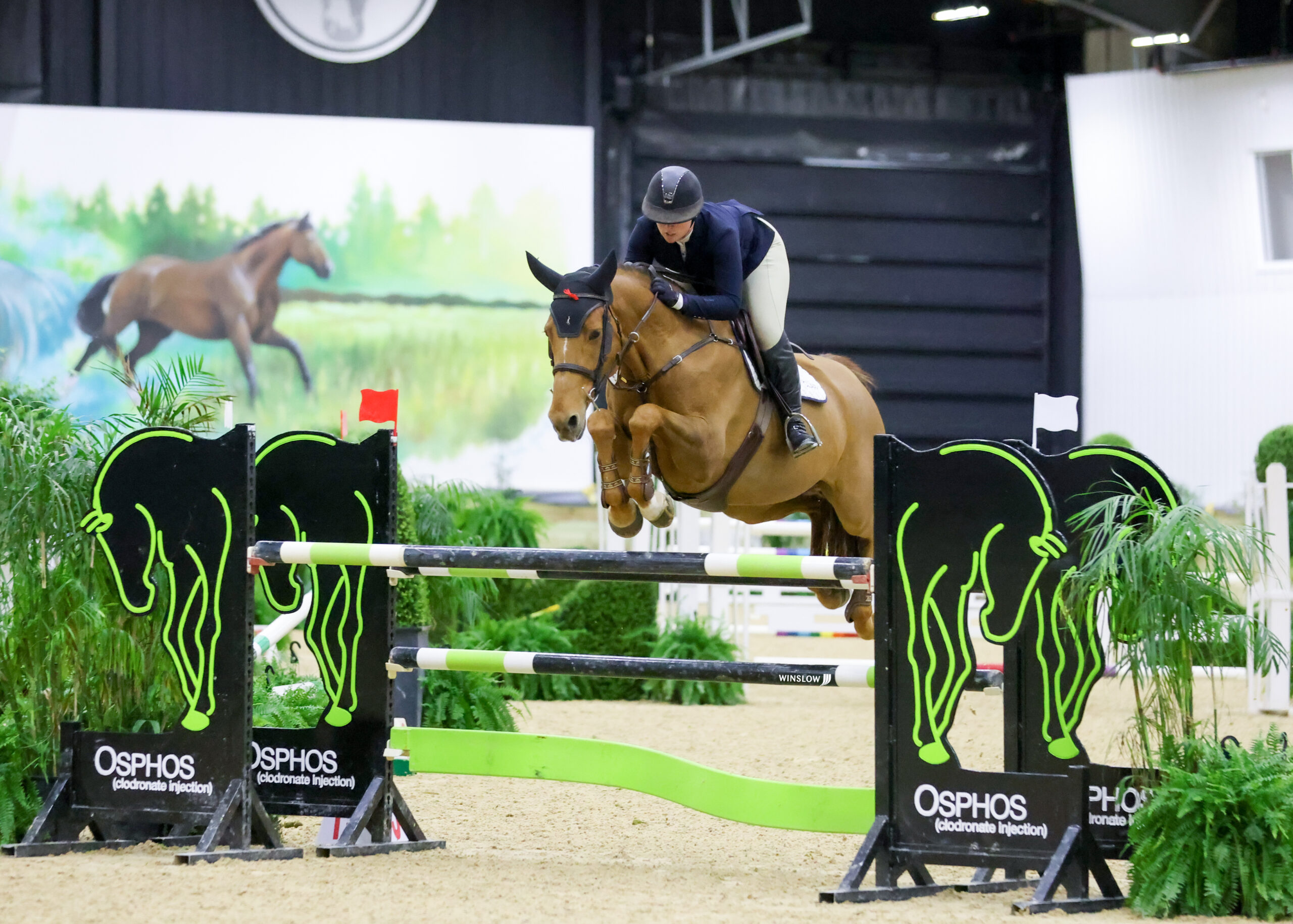 Riding to second place finish was Charlotte Clark (USA) and her own Kinsella (Capitalist x Jerpoint Mist). Clark and the 12-year-old Irish Sport Horse are strong contenders, rarely finishing outside of the top three. The chestnut mare was clear and fast through round one, stopping the clock in 69.910 seconds. They caught their breath before speeding to a 37.345-second finish in the jump-off for the reserve placing.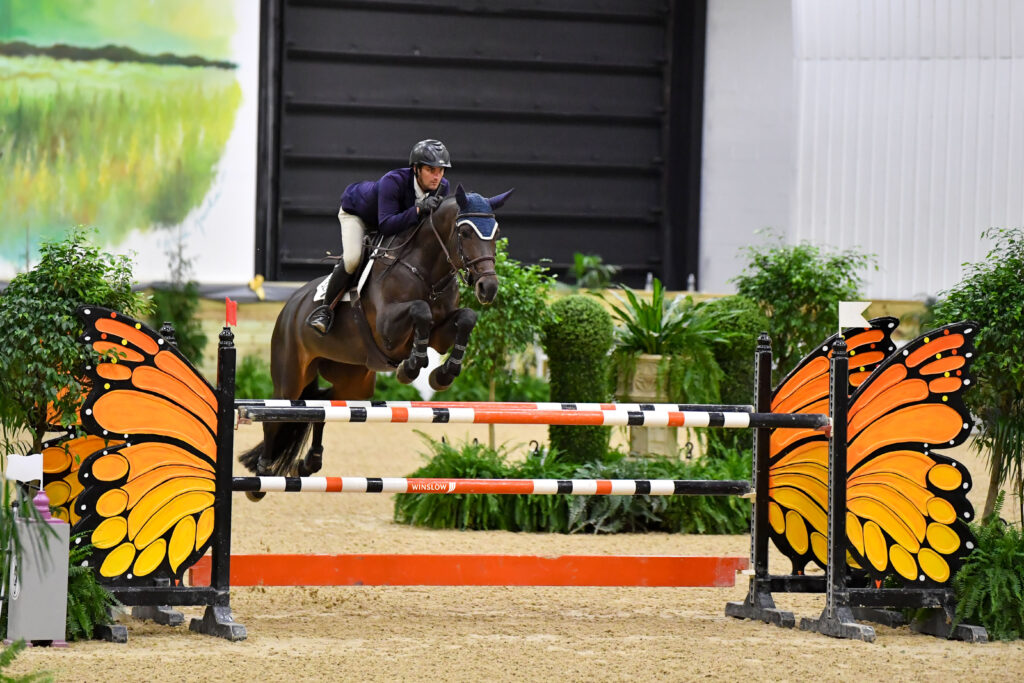 Caroline Eracles' Gluckskeks (Gem of India x Calido) and Sam Pegg have seen great success during their time at WEC – WIlmington's Winter Classic. Just last week the pair soared to the $10,000 Welcome Stake winner's circle. Today's course brought them similar luck, finishing clear in 69.747 in the first round and 38.065 seconds in the jump-off for third place honors.
$10,000 Welcome Stake 1.35m Results:
1. Big Girl Z, Sam Pegg: 0 | 0 | 35.426
2. Kinsella, Charlotte Clark: 0 | 0 | 37.345
3. Gluckskeks, Sam Pegg: 0 | 0 | 38.065
4. Pacifica, Sam Pegg: 0 | 4 | 38.117
5. Fortysix & 2, Lyriss Jaeger: 0 | 4 | 40.060
6. Banco Du Moulin, Kady Abrahamson: 0 | EL
7. Special Envoy, Sam Pegg: 4 | 69.231
8. Viva's Dolce W, Elyse Batista: 4 | 71.006
9. Gotham, Rachael Howard: 4 | 73.723
10. Oliver, Whitney Taylor: 8 | 72.984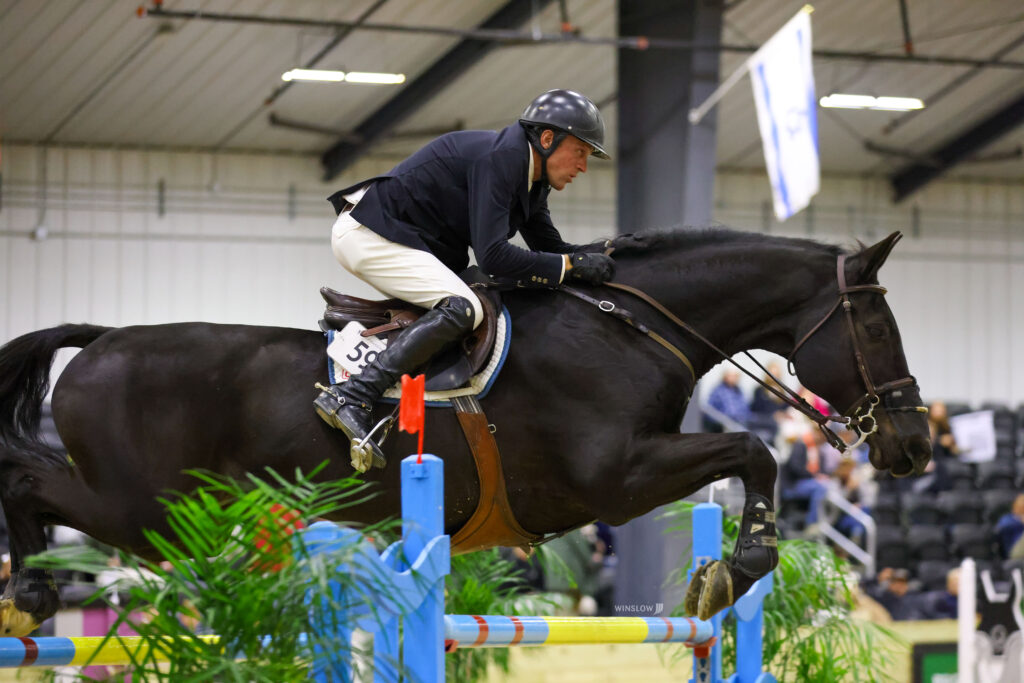 Ride for David
The final Winter Classic show (April 6-10, 2022) will be a benefit show with increased prize money and all $50,000 Grand Prix entry fees donated to David.
Additional information regarding week 17 can be found here: