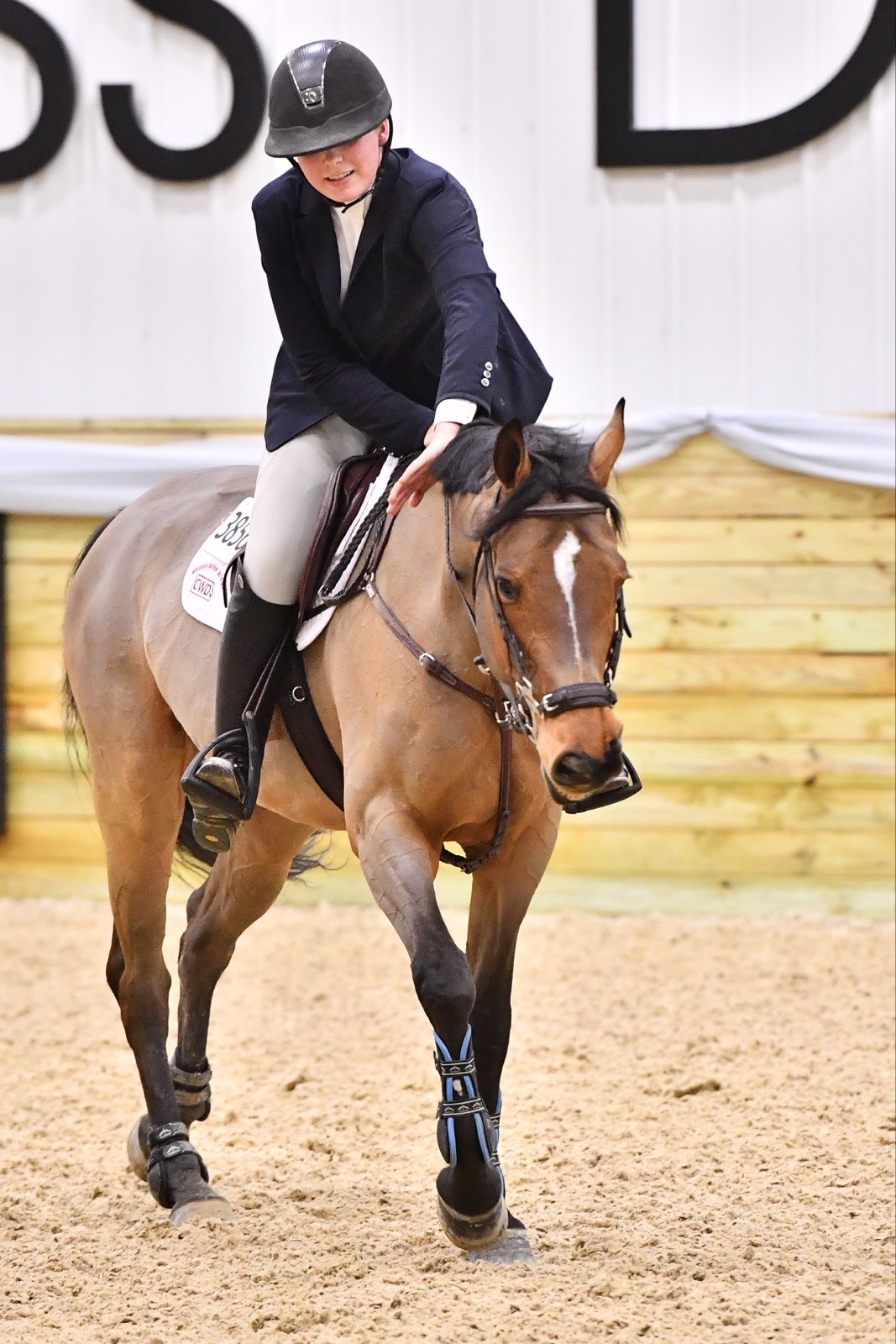 This week's Sunday Spotlight lands on junior rider Ashley Stumm. Ashley is a third generation equestrian, sharing her passion for horses with her mom and grandmother. Her mom is the trainer at Greyhavens Farms in Zionsville, Indiana, and Ashley calls herself the catch rider of the farm. Ashley took time this week to chat with us about her background in horses and the big goals she has for her riding career.
WEC: How did you get into riding?
Ashley: My mom and my GG – she does not like being called Grandma – have both ridden their whole lives. I've been riding for fifteen years, so pretty much my entire life. My mom is a trainer at Greyhavens Farms and I am a catch rider.
My GG used to work for a lot of people when she was younger and got to ride a lot. My mom had ridden a Clydesdale that was pretty much famous around the world named Frosterastus Sally. She was pretty much the first jumping Clydesdale. They started the business here in Zionsville, Indiana between 1985 and 1990. They loved the fact that I rode and loved that I carried on the family tradition.
I had a little white pony named Star that I got when he was four years old, and I started riding him when I was three years old. My Pappy had gotten him as a birthday present for me when I was little. He's still in my life to this day, but he is retired. He's the one that taught me how to sit the hard bucks. He's still sassy to this day.
WEC: Tell us about some of the other horses that you've had.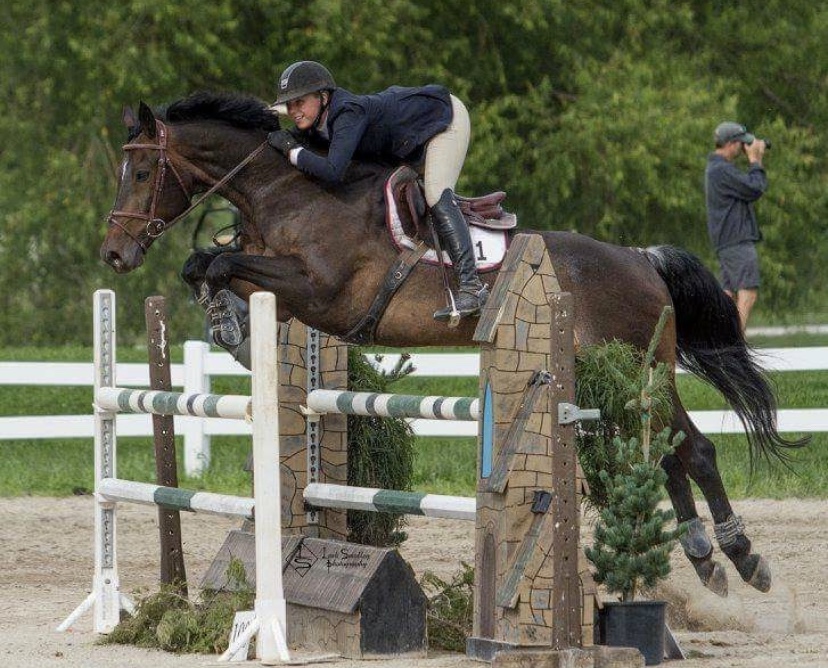 Ashley: I had a horse named Sunny. He's the one that took me from the Crossrails to the 2'6″. We decided to retire him, then I had a pony named Ricky, who was previously owned by David Beisel. He was another pony that taught me how to sit the bucks and ride with accuracy. After that, I had another horse from David Beisel named Tigger, who took me from 2'6″ to 3′.
I leased a horse named Loyal II. I showed him from the Medium Child Jumpers to the High Child Jumpers. He was always so sweet and kind, and he jumped his heart out for me. His favorite food was bananas. He made me love the jumpers even more.
WEC: Tell us about the horses that you have now.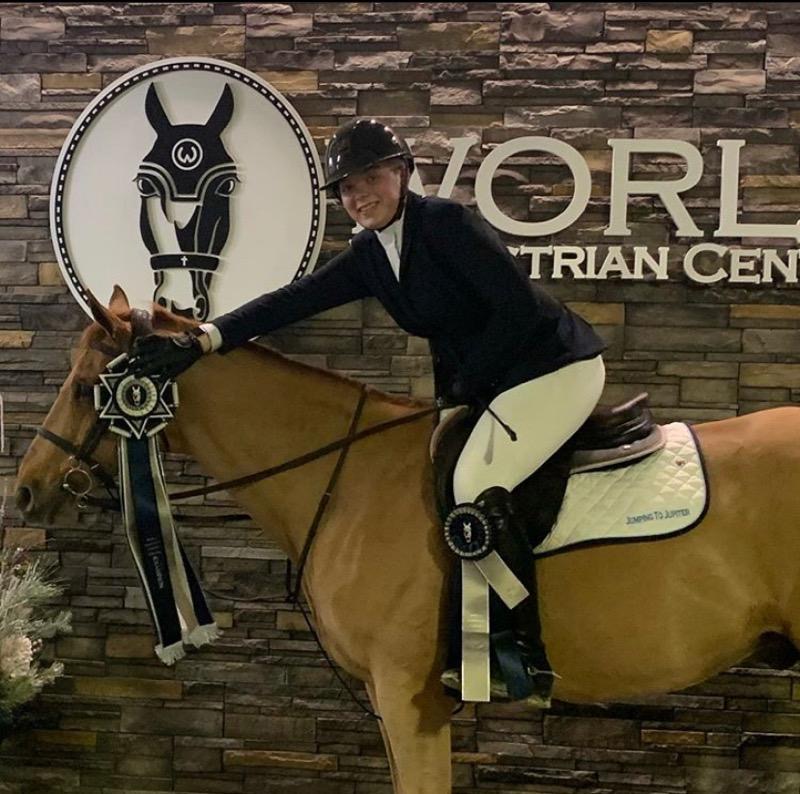 Ashley: I got yet another horse from David Beisel named Jumping to Jupiter, or Dude. I still have him, he's 21 now, and he's the best 2'6″-3′ jumper that I could ever ask for. I still show him in the Intermediate Jumpers and he's a winner at 2'6″. He's the cutest horse. He never pins his ears and he worries about his rider all of the time. When I'm at horse shows and we don't take him, he gets really worried because he doesn't see me.
I also have a 1.30m jumper now named Hermonie De La Cense, or Bama. I'm so thankful that the Stehr family lets me ride him. He's a 10-year-old Dutch Warmblood. He's taught me to ride to pretty much any distance. He is just the goofiest, funniest little horse. He puts up with me so much. He'll take anything I ask him to do and he'll jump his heart out for it. I show Bama in the High Childrens/Adult Jumpers and the Low Junior/Amateur jumpers.
WEC: You originally showed hunters, what made you switch to jumpers?
Ashley: I originally started off in the hunters, but David Beisel told my mom that I would be a pretty good jumper rider, so that's what I did. He suggested Dude and I think we took the horse home the day after we tried him.
WEC: Tell us about your riding goals.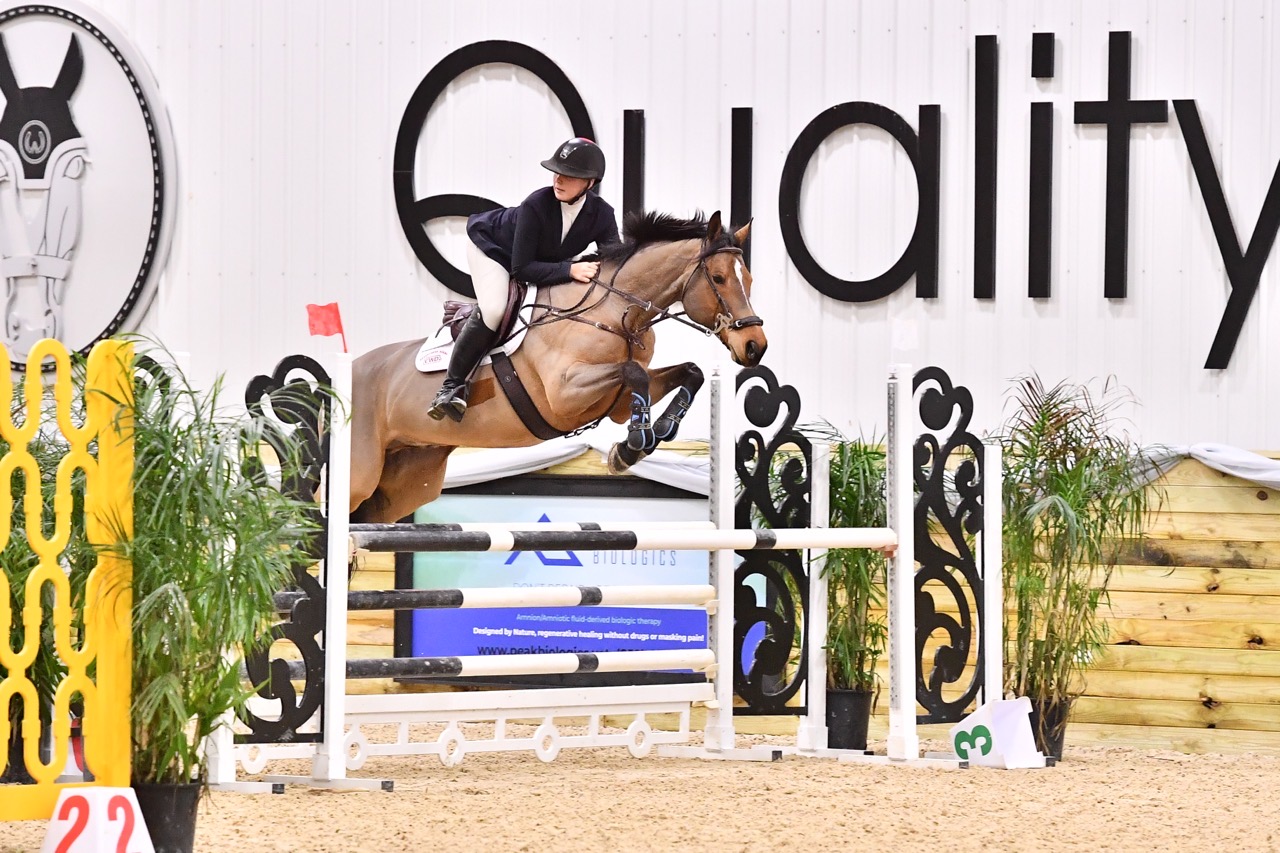 Ashley: My goal is, when I get to be about 17 years old, I would like to do the Futures Prix at World Equestrian Center in Ohio, and hopefully in Ocala.
I want to say thank you to WEC for hosting so many good shows. It's so fun going there and I want to continue to show there. We love it, we have so many clients that want to spend the whole winter at WEC. We do have plans to go to WEC Ocala, we're going the first three weeks of January. We have between five and ten stalls already booked. I'm excited to see what it's like!
We can't wait to see you ride in a Futures Prix at WEC, Ashley!
Photos courtesy of Ashley Stumm.