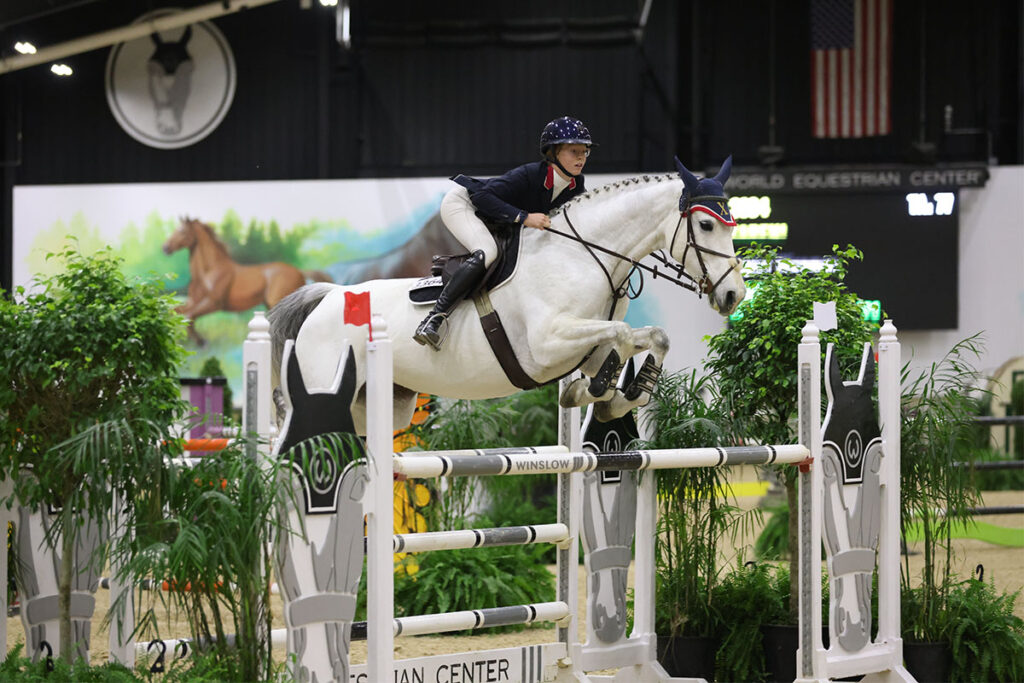 Wilmington, OH – Feature class action for week XIV of the Winter Classic circuit kicked off in the Sanctuary Arena where sixteen speedy competitors brought their best for the $10,000 Welcome Stake 1.35. The forward track featured several long approaches and many inside options, where riders opted to shave time off their rounds.
Nine riders qualified for the jump-off, where they laid down their finest efforts. Just fractions of a second separated the top three placings, however, none could top 2022 Premier Equitation Cup Champion Skylar Wireman out of Bonsall, California, and Mkt Investments LLCs, Karen! (Levistano x Cleopatra).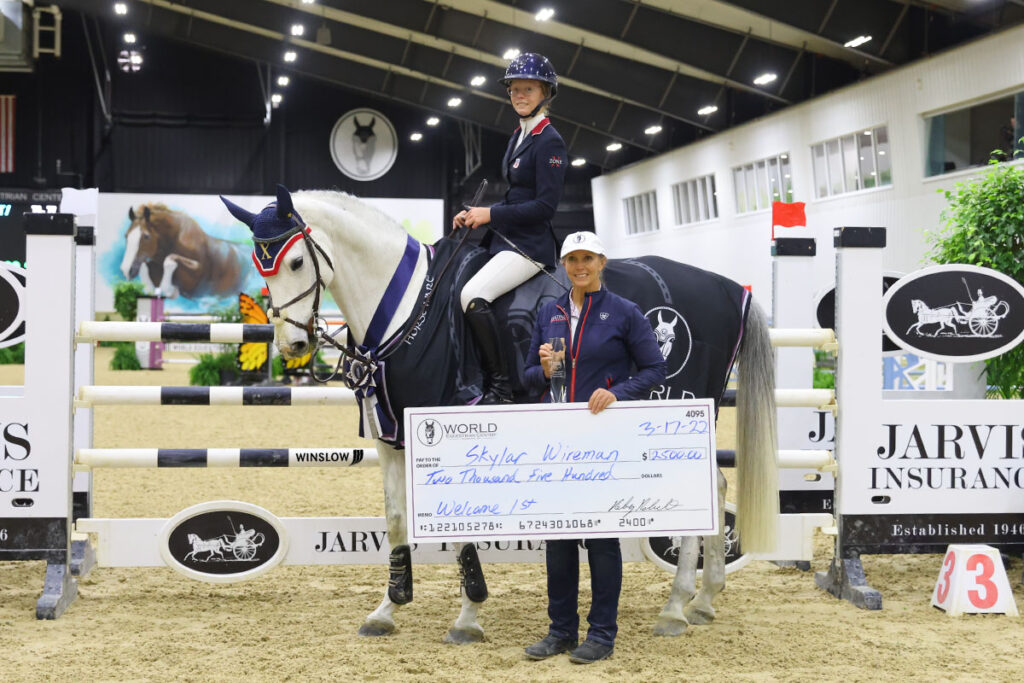 The talented junior rider went clear in the first round, advancing directly into the jump-off. Wireman and the 10-year-old Hanoverian mare topped the leaderboard midway through the class after going double clear and producing a 39.333 final time.
We caught up with Skylar ringside to chat about today's victory, "Karen is a newer ride for me. I had the chance to work with her some last year and this year. I've now shown her for a few weeks and we've recently moved up to the 1.35m. The track was nice and I enjoyed the course. The lines were good, some longer than others and the jump-off went really well. There were options for insides and I took advantage of that, which ended up paying off!"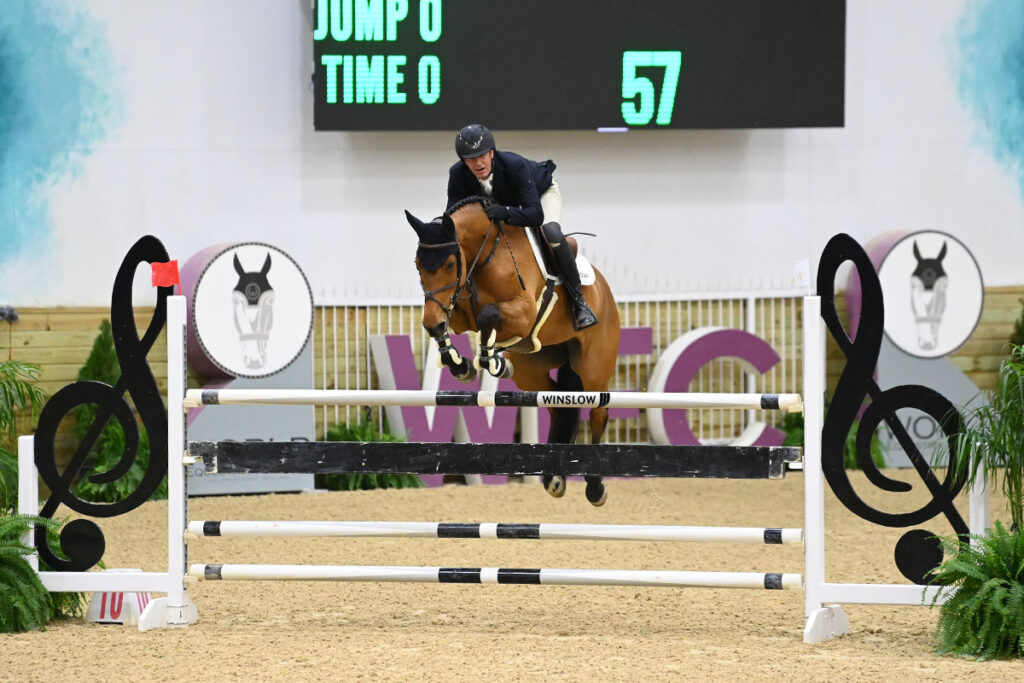 Last week's $30,000 Grand Prix winners, Paul Halpern and Esra (Bratt Z x Ulibra) claimed today's second-place podium spot. Halpern of Nova Stables in Quebec and Vanessa Lee's careful 10-year-old Holsteiner mare produced a double-clear jump-off round, stopping the clock at 39.710 seconds to take home the red.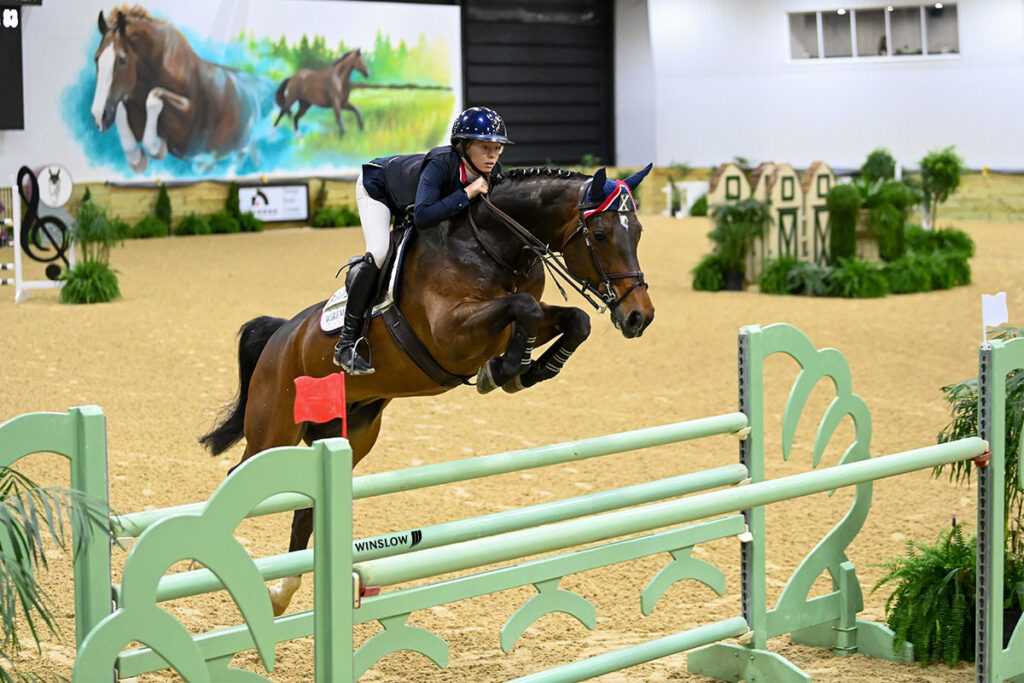 Wireman accepted another top-three finish, this time aboard a fifteen-year-old Oldenburg named Coolio 23 (Contendro I x Saphhira). Wireman and Coolio 23 produced a smooth first round, directly promoting them into the jump-off where they blazed the tracks in only 39.857 seconds to take home third place honors.
$10,000 Welcome Stake 1.35m Results:
Karen!, Skylar Wireman: 0 | 0 | 39.333
Esra, Paul Halpern: 0 | 0 | 39.710
Coolio 23, Skylar Wireman: 0 | 0 | 39.857
Caiman Des Sequoias, Nichole Loochtan: 0 | 0 | 42.204
Big Girl Z, Sam Pegg: 0 | 0 | 42.864
Pacifica, Sam Pegg: 0 | 0 | 43.485
Vincent, Richard Rhinehart: 0 | 4 | 38.598
Balugata, Liz Hutchinson: 0 | 4 | 54.496
Cornet's Lady, Chloe Parker: 0 | EL
Tinka's Soldier, Chloe Parker: 4 | 69.049
Photo courtesy of Winslow Photography.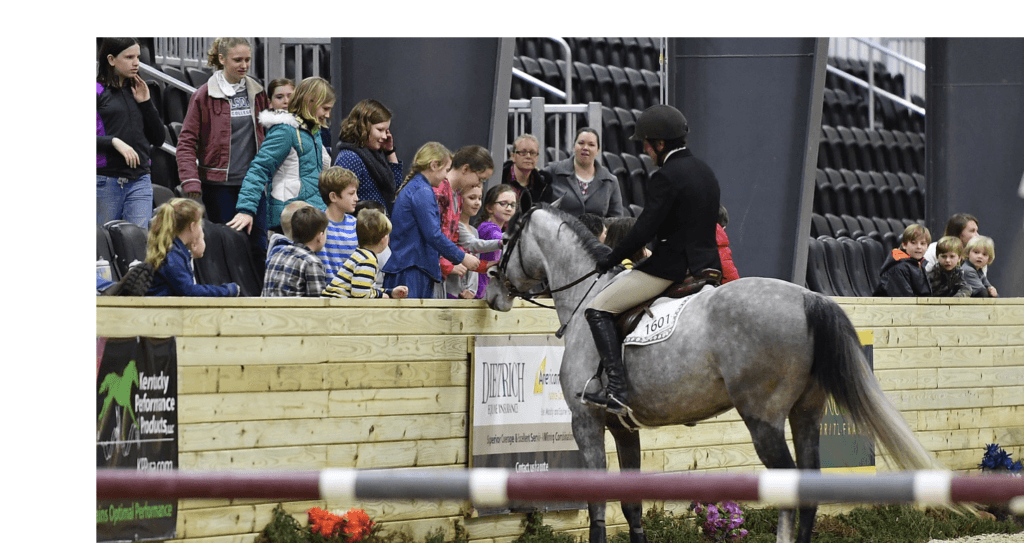 Our dear friend and longtime WEC competitor, David Beisel, was involved in a devastating riding accident last Saturday. Donations and kind words may be given here: