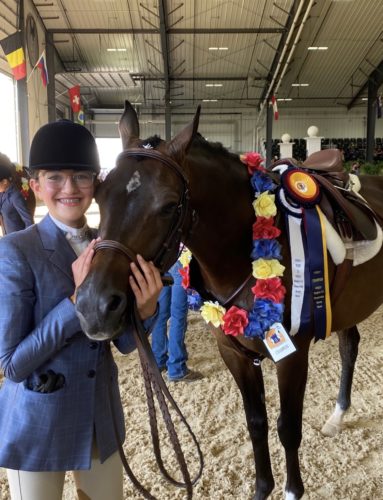 This week's Sunday Spotlight lands on Mala Levin of Chicago, Illinois. World Equestrian Center played host to the Arabian Horse Association's Region 13 Championship this week and Mala found great success in her divisions, even taking a Regional Championship title. Mala took time out of her busy show schedule to chat with us about Arabian classes, her two special horses and her big win.
WEC: How did you get into riding?
Mala: I was three years old when I started riding. I started at the same barn that I'm at now, Spring Creek Equestrian. My trainer started training me then, and still trains me now. She gave me my first lesson in a horse camp. I loved it from day one, I thought it was so much fun. I still feel that way, I love riding. I'm so glad that I've stuck with it. It hasn't always been easy, but I really love it.
WEC: Can you describe the classes that you show in?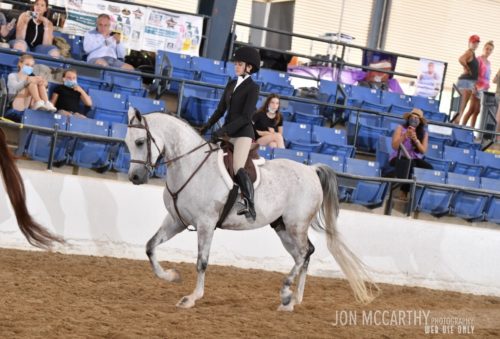 Mala: I do Hunter Pleasure, Sport Horse Under Saddle, Showmanship and Hunt Seat Equitation. Hunter Pleasure shows off the horse. The class is judged on the horse, how he responds to rider cues and how he shows off. The judges look for motion and how high the horse picks their feet up. Sport Horse Under Saddle is a lot like Equitation. It's mainly judged on the rider and how they tell their horse what to do. Showmanship is like Equitation, but on the ground. I get a pattern and have to lead the horse through that pattern, and it's judged on how well I can tell the horse what to do.
A lot of people have different horses for the different classes. My Pleasure horse has better motion and is a more flashy mover. My Equitation horse doesn't have as much motion, but he's better at executing the things that I ask him to do.
WEC: Tell us about your horses.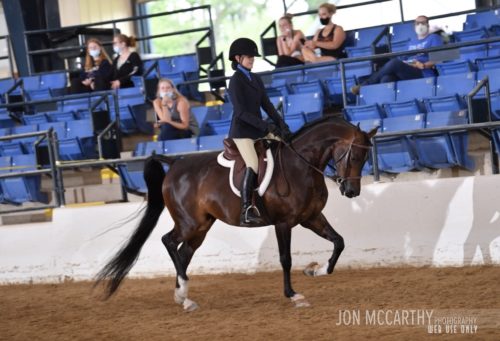 Mala: I own two horses, Justice Afire and Tamar Silverado. I do Hunter Pleasure with Justice and Hunt Seat Equitation, Sport Horse Under Saddle and Showmanship with Silverado. I've owned them for almost a year now. This is only my second big show with them, I didn't really have a show season because of COVID. My first show, which was Region 14, was not easy. I didn't do very well and I wasn't connecting with my horses as well as I had hoped. It takes a while to build that connection, but I'm finally starting to understand both of them and getting to know their quirks.
I had a very tough time finding the perfect horses. My first horse passed away in 2018. After that, I really just wanted another horse, so I felt like I needed to get the first horse I looked at. Looking back, I'm glad I didn't rush. The other horses I tried just didn't feel right, which was extremely frustrating because I just wanted to find the perfect horse. It took me almost a year and a half to find my two new horses.
WEC: You were Champion at this show, which class did you win?
Mala: The class that I won was on Friday morning. It was my Junior To Ride (JTR) Hunter Pleasure class with Justice. Right as I went into the class I felt like we were going to have a good ride. I was thinking that I was finally starting to understand him. The class went very smoothly and I was very happy with it. I was very surprised, to say the least, when I won. I was very proud of Justice and excited that I was starting to really understand him.
WEC: Was that your first big win?
Mala: It was my first big win. I won Reserve Champion at Region 11 a few years ago, but this is my first Regional win. I'm very excited about it.
WEC: Does that win qualify you for a National Championship?
Mala: It does qualify me to go to Nationals. Typically this show would happen before Nationals, but it was pushed back due to COVID. The points carry forward for two years, though, so I'm still qualified to compete at Nationals in that class next year.
WEC: Do you plan to go to Nationals?
Mala: We do plan to go to Nationals. We might go to Canadian Nationals next year, which is the same, just held in Canada. It's a little bit more laid back.
WEC: What are your riding goals?
Mala: This year I would really like to get to know my horses really well. Next year I want to do well at Regionals and Nationals.
Mala also added:
There are a lot of really impressive girls that ride at our barn in Michigan. It's a small barn, but it's had some National Champions. The girls are really good mentors. Since I was little they would give me lessons and tell me what to work on, which has really helped my riding. I'm so happy and grateful for their help.
Congratulations on your big win, Mala!