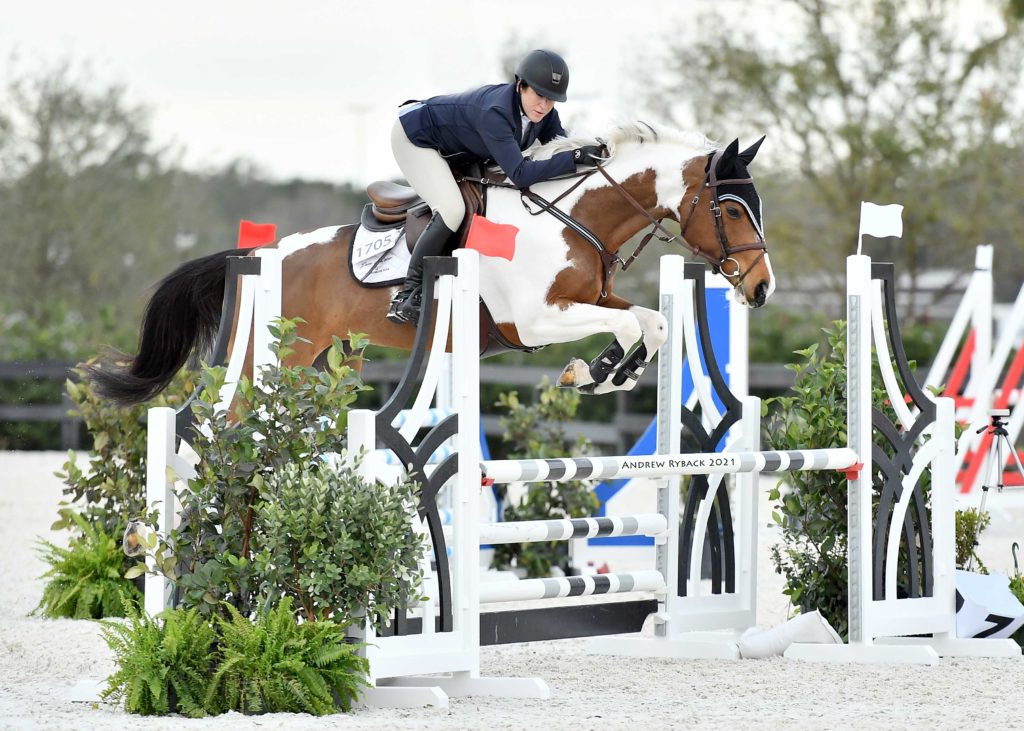 This week's Sunday Spotlight shines on amateur Dara Castle and her beloved Coralina VD Veldhoeve Z (Ceasar x Lady Z). Dara's affinity for horses has been strong throughout her life and she has found her way back into the saddle over the past few years. This week, Dara made the trip from Washington, D.C. to Ocala, Florida, to show for the first time at World Equestrian Center — Ocala. She took time to chat with us about her sweet mare, her supportive family and her passion for the sport.
WEC: How did you get into riding?
Dara: I'm from the Washington, D.C. area and my mom's best friend lived on the eastern shore. Her daughter took riding lessons and I always thought that the black velvet cap was so elegant and that horses were so pretty. When I was 10 years old, I asked my mom if I could take riding lessons. For about a year I just rode at an informal barn and was being taught by a teenage girl. She told my mom that I had a pretty natural gift and suggested that she take me to a real riding academy. By the time I was 12 years old, I had finally worn my parents down and they bought me my first pony. I rode all the way through my freshman year of college, then stepped away from riding for the majority of my life, until about seven or eight years ago.
WEC: How did you get back into riding?
Dara: It's kind of a crazy story. I work for a company called RSM. We are the fifth largest public accounting and business consulting firm in the United States. I've been with them for almost my entire career. I'm the managing partner of the Washington, D.C. offices, which has given me the opportunity to meet amazing people like Gail Dady, the owner of Caliburn LLC.
Gail Dady and her business partner were clients of mine for a really long time. I had heard that Gail was a horsewoman, but never had the chance to chat with her about it. We were at an event and one of Gail's colleagues couldn't make it, so she came in his place. We finally got the chance to sit down and talk, and Gail invited me out to her farm, which is an amazing 140-acre property outside of Middleburg, Virginia. She told me to pack a bag, come for the weekend and lesson with her trainer. I went and when the weekend came to an end on Sunday afternoon, Gail said, "I'm never going to invite you again because you're clearly a horse person, it's in your blood. You're welcome here any time you want. You need no invitation. Come as often as you would like." I took her at her word and I've been going every weekend for the past seven years.
I leased a horse from Gail up until this time last year when I purchased Coralina VD Veldhoeve Z, or Coralina in the barn. She is the first horse that I've owned outside of my junior years.
WEC: Tell us about Coralina.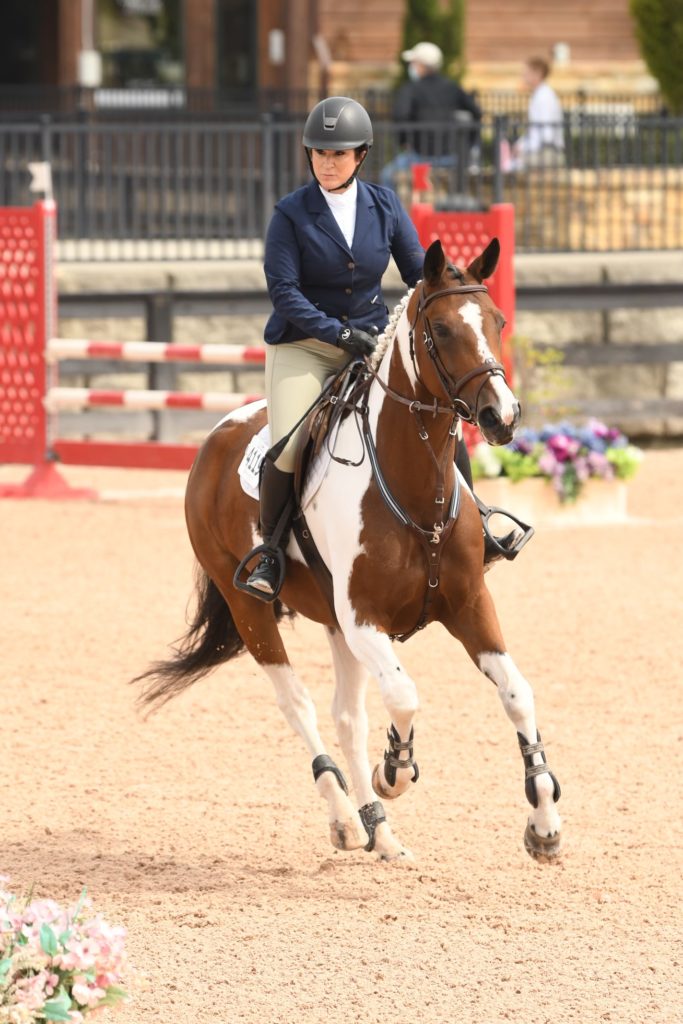 Dara: I'm obsessed with her. She's a 9-year-old Zangersheide mare. I had been riding the same Low Adult horse for about five years and he was just getting a little older. I told my trainer, Bree Rosales, that I wanted to start keeping my eye out for a horse and start looking through the end of the winter series, and think about buying in the spring. We were showing at HITS in Ocala at the time. The horse that I had been leasing had a minor injury and needed time off. The next week, one of the girls at the barn saw this cute paint at David Tromph's in quarantine. We went over to look at it and they showed us videos. She was owned by Bryce Richardson and had imported her from Belgium as a sale horse, but she never even got out of quarantine before I bought her.
She's kind of a dirt bike kind of horse and I like little horses. She had a 12-year-old doing the 1.20m jumpers on her in Belgium and we saw a video of her where the kid would open-leg kick her and she would just canter around the ring. The kid would crash her through a jump and her ears would never even go back, she would just be looking for the next jump. That is the kind of mentality in a horse that an adult needs.
The first time I sat on her, I knew she was my horse. She's been amazing. We've had such a great first year. I bought her, came down to Florida and rode her, then COVID hit and I didn't get to see her again until June when she came back to Virginia. We really started our work together after that, so we've only really had about seven months together.
WEC: How was your first experience at World Equestrian Center — Ocala?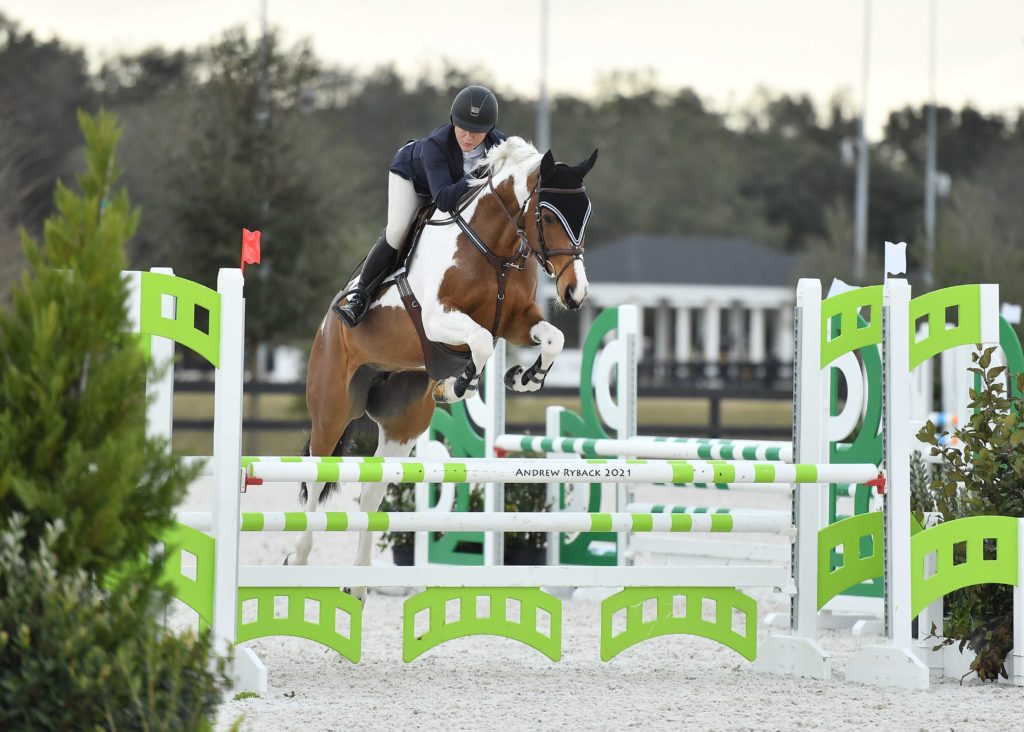 I have two boys: Wyatt and Wesley. They're really awesome and each have their own talents. It's really fun, as a parent, to keep doing something for myself, like riding. My kids have told me that they respect that I'm passionate about something and that I work hard for my sport. They are with their dad every other weekend. On the weekends that they aren't with me, my boyfriend, Mike Plunkett, and I come down to the horse show. I do a training lesson at home on Friday, then show Saturday and Sunday. This is my first weekend showing at World Equestrian Center and it has been awesome. The property is amazing, the footing is perfect, the jumps are beautiful and the course was fun. It's the most impressive facility that I've been to. I can't say enough about it, I love being here. It's almost like you feel like you're a movie star when you're here. We were 4th in the Low Adult Jumper speed class on Saturday, which was really exciting.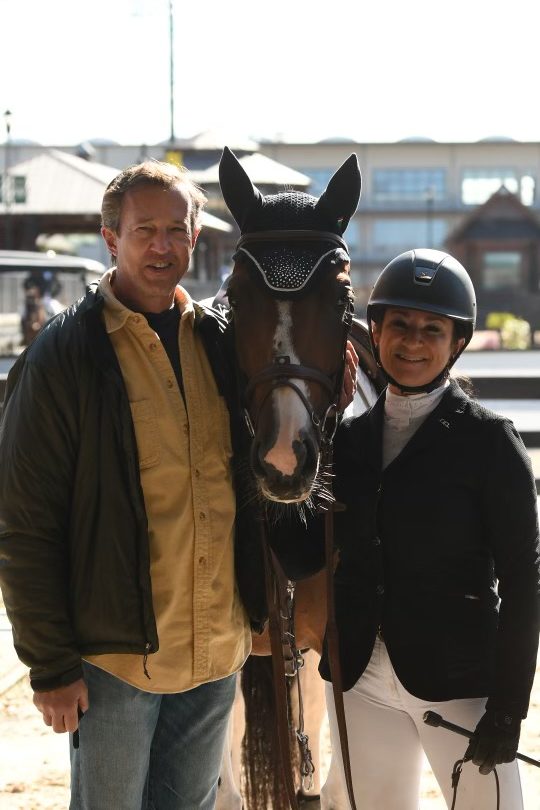 Mike and I have been together for a little over two years. he had been such a great sport in coming to all of my horse shows. He had two daughters who were competitive cheerleaders. When we met, it was the last year of his youngest daughter's competitive cheer career. So, as soon as he finished driving his girls all around the country for cheer competitions, he started driving me all around the country for horse competitions. To make shows a little more fun, I bought him a motorcycle for Christmas that he can keep down in Florida, where we show. That way, he can go ride his baby while I ride mine. He rides his motorcycle during the day, but is always at the ring when I am competing, then we go downtown Ocala for dinner and drinks. It makes for a fun weekend.
WEC: What are your riding goals?
Dara: Coralina is definitely my horse to move up to the High Adults on and she's probably a 1.20m horse. Right now, I want to get a few more double clears under my belt with her in the Lows. My hope is that by the end of the season we'll move up to the Highs. She's only nine and she's super capable, so maybe one day we can do the Low Amateurs.
Congratulations, Dara! We can't wait to see you at World Equestrian Center again soon!