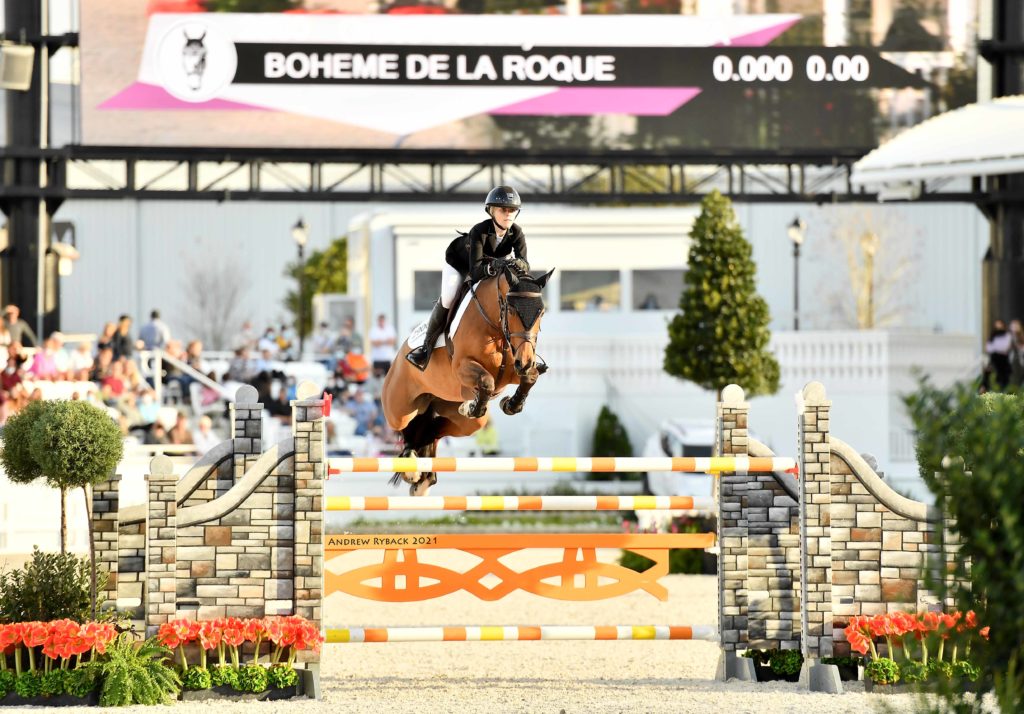 This week's Sunday Spotlight shines on Grace Debney. At just 16 years old, Grace is already off to a successful start in her grand prix career, earning top placings over the past month with her horse Zarina de Vidau. This week at the World Equestrian Center — Ocala, Grace earned 10th place in the $75,000 WEC Grand Prix 1.50m against 43 entries with her new mount, Boheme De La Roque. She also nabbed 3rd place in the $20,000 WEC Hunter Derby 3'6″-3'9″ against a field of professionals aboard her equitation horse, Quimby. Grace took time out of her busy show schedule to chat with us about her recent grand prix experience, her plans for the winter and her goals for her riding career.
WEC: How did you get into riding?
My mom actually rides dressage and has been riding since she was around 20 years old. She introduced me to horses and she couldn't keep me away from the barn after that. I first started riding in England, where I was born. I had a Shetland Pony that I would ride for fun. We moved to the United States and started riding with a local barn. I did local shows in the Short Stirrup for a while before we moved to Shadow Ridge, and that is when I really started to get competitive. I started riding in the pony hunters, and went from there.
WEC: How did you get to the level you are at today?
I got a new horse last year, Zarina de Vidau, and started doing the High Juniors. I was doing the Mediums and the Lows a little but before that and she was my horse to step up with into the Highs. She has a heart of gold. We have a really good relationship and she is the reason that I started jumping big. She's always going to do her job and that gave me the confidence to move up. I did my first grand prix at WEF a few weeks ago with her, so we have really just started to step up to that level.
WEC: How have the grand prix classes gone so far?
It's gone really well. I was top 3 in three of the grands prix that we have done, so far. I just got a new horse, Boheme De La Roque, that I showed twice at WEF in the High Juniors and I also showed her in the $75,000 WEC Grand Prix this week. She's another really good mare who has a heart of gold, so it's nice to have two of those on my team.
WEC: Tell us about your jumpers.
Zarina de Vidau is probably the most hard-core horse that I have ever met. She has the biggest personality and she always wants to be jumping. That is the only thing that she wants to do. She wants to show and jump all of the time, she thinks it is the best thing to do. It's nice because you feel like you can jump anything on her. She's got a lot of scope, but even if she wasn't so scopey, she would try because she just loves it. She has all of the confidence. Zurina took the weekend off this week because she showed two weekends in a row at WEF and we're taking her to do the CSI2* next week, so we wanted to give her a little break.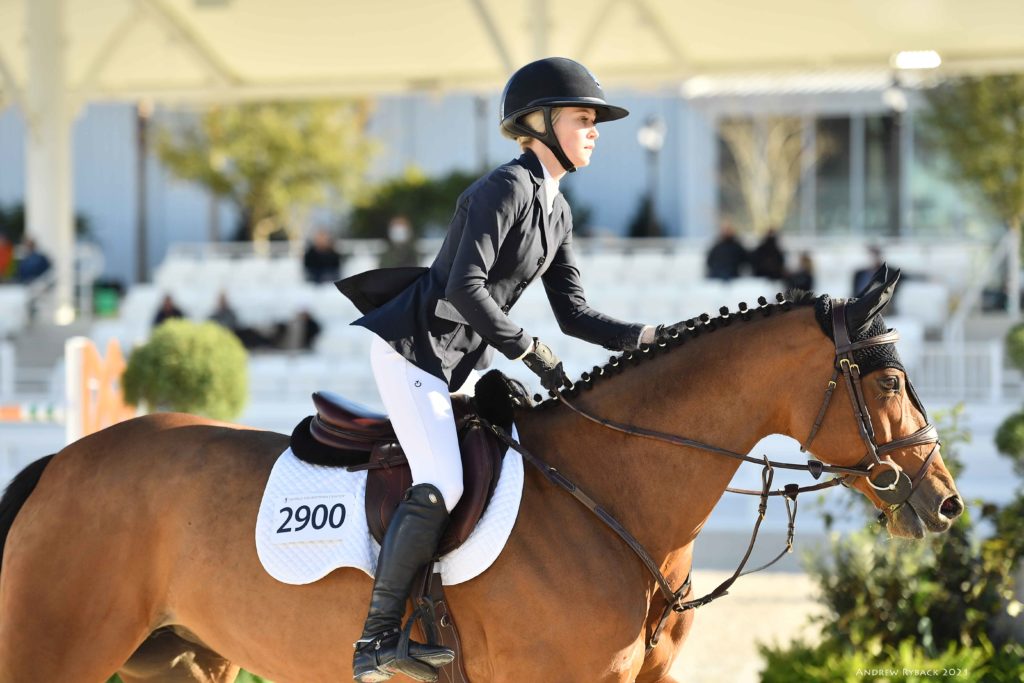 My new horse, Boheme De La Roque, is tiny, but she doesn't know that she's tiny. She's only about 15.3 hands. She has no idea, though, she thinks she has it all going on. She's the quietest horse in the barn and is always sleeping or laying down. Then, she gets jumping and she flies around. I think she conserves her energy for when it counts.
WEC: Do you have any other horses?
I have a pony named Princess that we just leased out. She does the Medium Greens. I've had her since she was eight months old, so she's really special to me. I also have my equitation horse, Quimby.
WEC: Tell us about your 3rd place finish in Friday's $20,000 Hunter Derby 3'6″ – 3'9″.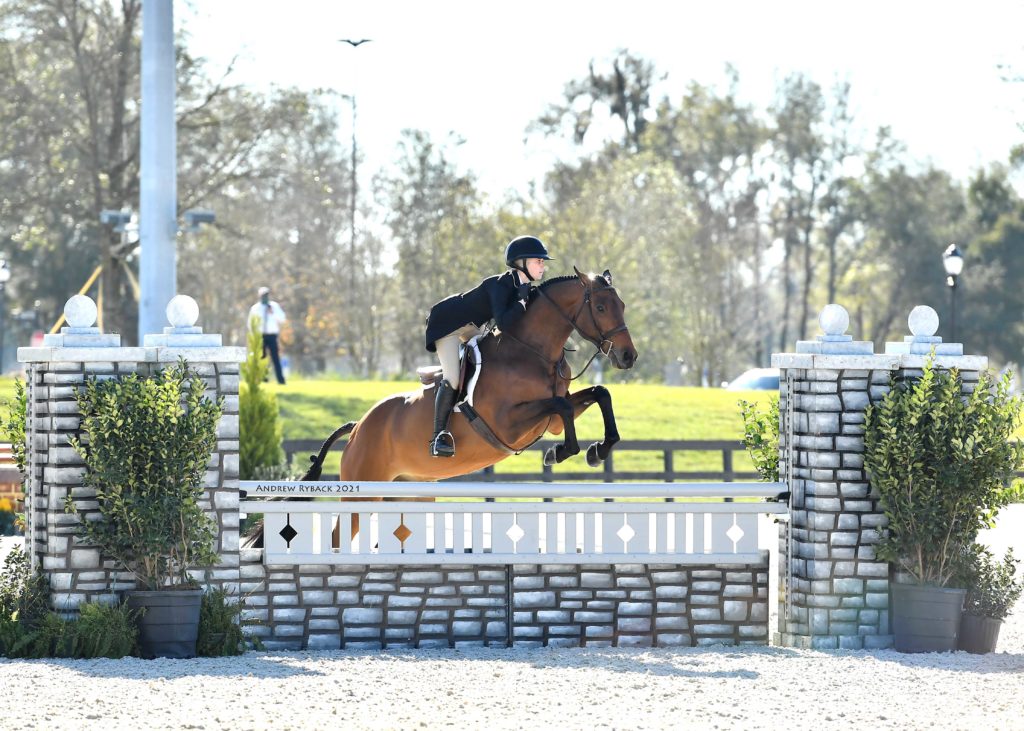 I showed my equitation horse in the derby because he likes to double as a hunter. He's a super fun horse to gallop around the big rings. The Stadium here is so nice and has such a great feeling. I'm going to do the World Equestrian Center Premier Equitation Cup on him in two weeks, so I wanted to get him in the ring once to feel how he rides in there. He probably didn't even need to do that class, but it was really fun.
WEC: What are your plans for this winter?
This year is the first year that I'm staying down in Florida for the entire winter, usually I go back and forth between Florida and Hampden, Massachusetts. When I am at shows, I train with Samantha Schaefer of Shadow Ridge Farm. I have a barn at my house in Massachusetts, a few horses and my trainer, Dee Dee Hopper, who keeps me going while I'm at home. I typically would come down to Florida and show my horses on the weekends, but I'm excited to have the opportunity to spend almost every day with my horses in Florida this winter.
WEC: What are your goals with your horses?
I'm hoping to be consistent in the U25 Grand Prix. I'm super excited to go to WEF next week and jump my new horse in the U25 team event. Next week will also be my first time showing FEI, so that is exciting, too. I want to get my feet wet with doing the FEI stuff with both horses. Honestly, I just hope to get around.
WEC: How was your first experience at World Equestrian Center — Ocala?
I'm so excited to continue showing here. The feeling at this venue is unbelievable, especially in the WEC Grand Arena. I have so much fun showing, so getting to show in a big ring like that makes it even better. The atmosphere here is great, too. The people are cheering everyone on and while it's not hectic, there are a lot of people here and there is a lot going on. It's been really fun.
Thank you, Grace, and good luck next week!
Photos courtesy of Andrew Ryback Photography.