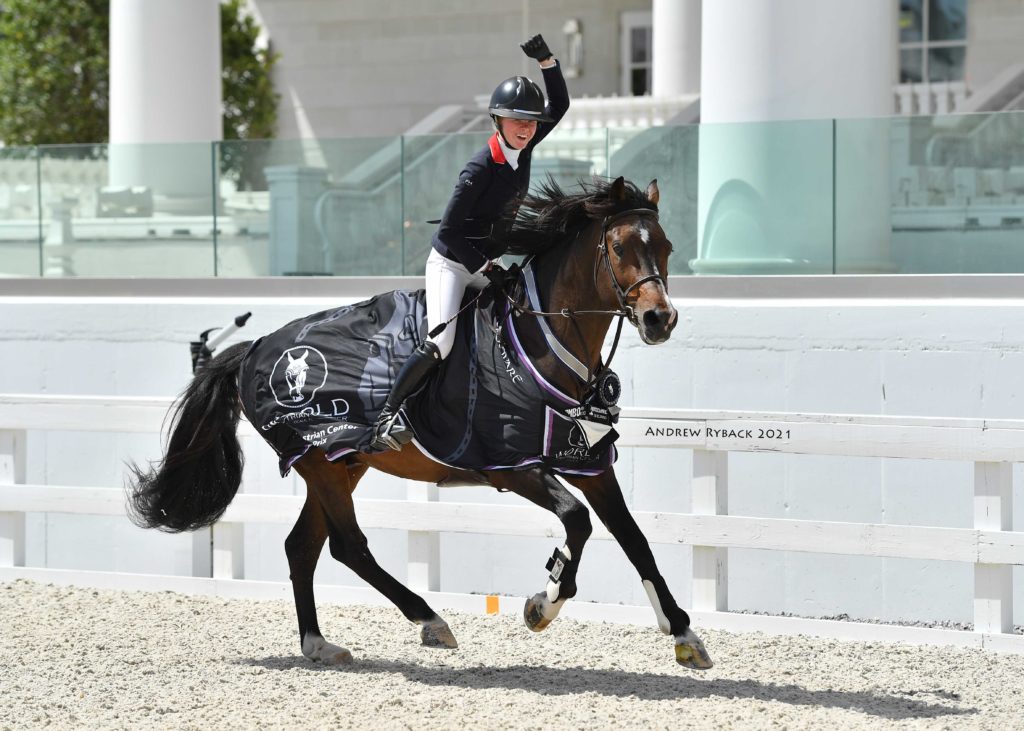 This week's Sunday Spotlight shines on junior rider Izzy Beisel. At just 13 years old, Izzy is making a name for herself in the jumper ring, winning back-to-back $7,500 Futures Prix classes at World Equestrian Center – Ocala, besting a field of professionals including her father and trainer, David Beisel. Izzy cherishes the time she spends with her horse-centric family, both at horse shows and at home in Goshen, Ohio, at David Beisel Stables. Izzy took time out of her busy show schedule this week to chat with us about her first futures prix wins, her riding goals and her fond memories from showing horses with her family.
WEC: How did you get into riding?
Izzy: My parents have always ridden and my dad is a trainer, so I've always ridden. I don't remember what I thought of it when I was little, but my mom always tells me the story of my last Leadline class. My brother, Cooper, was leading me around the ring while my dad was trying to walk the course. I just kept screaming at Cooper, "Take the leash off!" I guess I didn't want to do Leadline anymore, and the next week I did the poles.
WEC: Tell us about your early riding career.
Izzy: When I started getting competitive in the Small Pony Hunters it started getting really fun. My first show pony was Weebiscuit. He was such a great pony, he really got me into the sport. I remember the day that we got him: it was pajama day at school and my parents told me the news that they leased Weebiscuit. I have a picture of me with my pajamas on giving him a hug.
After Weebiscuit, we got Buttons, who was a large pony. I was so nervous the first time that I showed him in the Large Pony Hunters that I jumped the wrong oxer. He was such a great pony, though, and he really prepared me to step up into riding horses, because he feels like a horse, not a pony.
WEC: When did you start riding horses rather than ponies?
Izzy: I think I started showing horses, rather than ponies, in early 2019. My dad had always sat me on sale horses at the barn, so I started riding a really good horse for about a year before it sold. I think my first big Children's Hunter class was at the Kentucky Horse Park, and we ended up Champion there, which was exciting because it is always really competitive. I don't want to say that horses are more fun than the ponies, but it's been a lot of fun.
WEC: Have you always done the jumpers?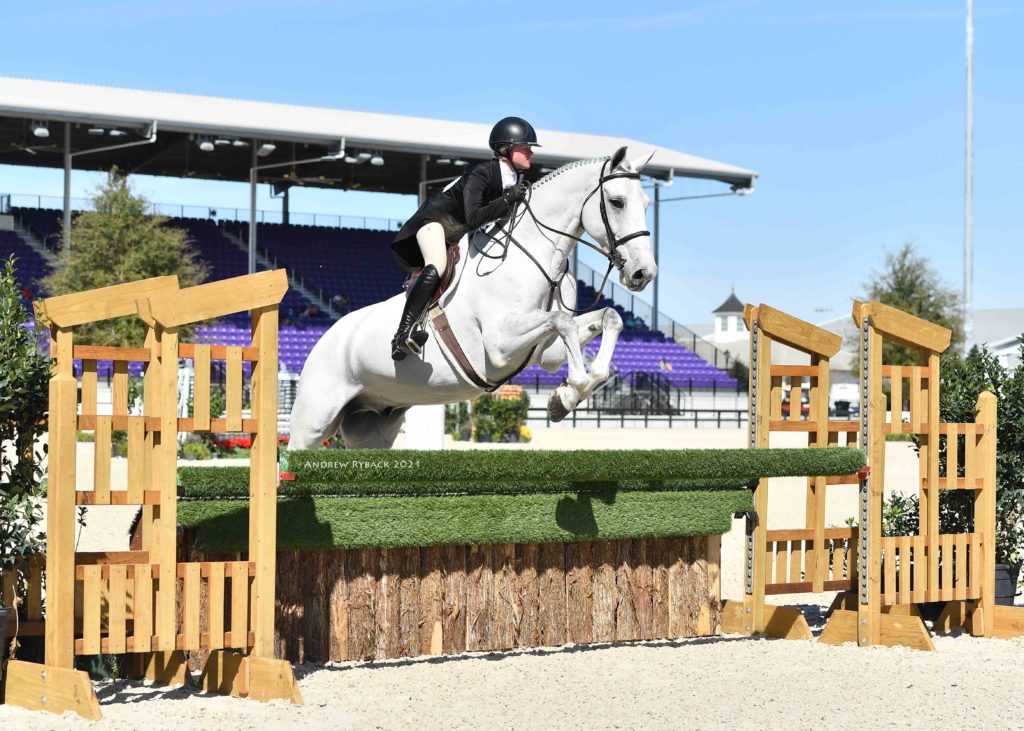 Izzy: I've done jumpers for a while now. I actually did the .95m jumpers with one of the first horses that I showed after moving up from the ponies. Since then, I've kind of always done the jumpers. I would almost say that there have been more jumpers than hunters that I've had the opportunity to ride. I do love the hunters, though. Currently, I am just showing one hunter/equitation horse.
WEC: When did you start moving up into the bigger jumper and derby classes?
Izzy: It's been off and on, but I think my first futures prix at World Equestrian Center – Ohio was last summer. During COVID when we were not showing, my dad took the opportunity to ramp up the jumps. When shows started back, I did the Low Junior Jumpers, then the Medium Junior Jumpers, then my first futures prix.
WEC: Tell us about the horses you are currently showing.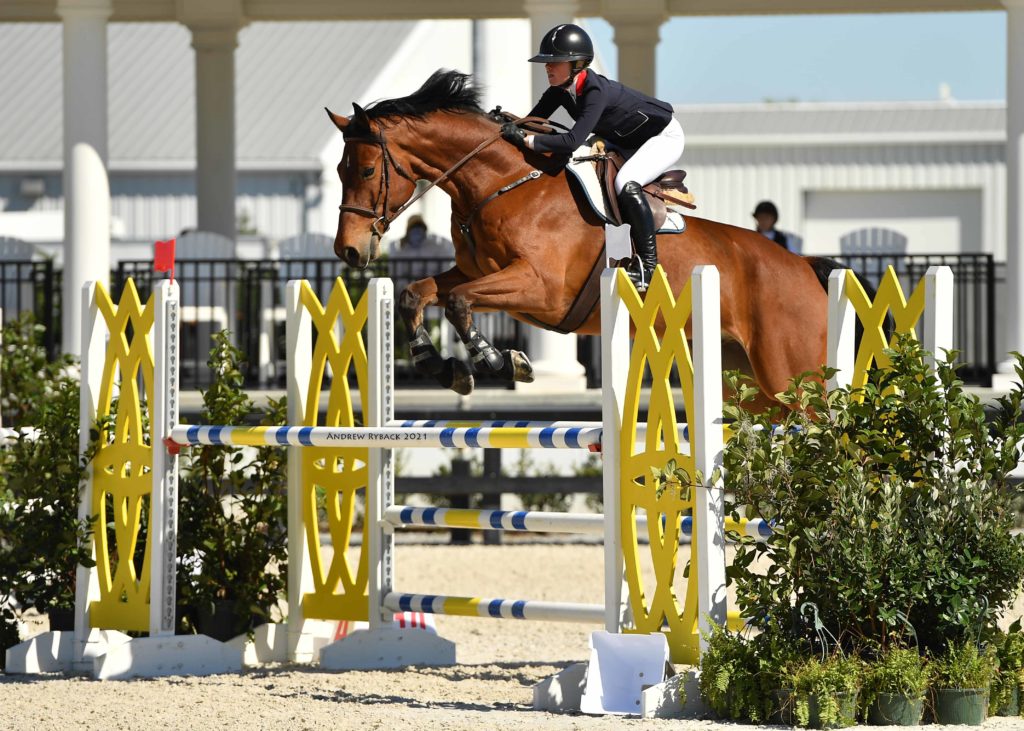 Izzy: Ammeretto (Numero Uno x Ranna), or Dutch, is my main horse, right now, and he is owned by my dad. Harlow Investment Enterprises, LLC's Caius (Camax L x Cuba Libre) is the hunter/equitation horse that I have been riding. I also ride Vegas H (Valentino x Cobrah) sometimes, who is owned by my dad, but I can only do the 1.15m with him because he jumps so big.
Dutch can be a little mean, because he is a stallion, but he is sweet toward me. This sounds weird, but he always bites everyone. He goes to bite me, then doesn't actually bite me, and that is his version of "sweet." Vegas is the complete opposite, he is like a puppy. He's a really sweet horse. Caius is very laid-back, he's not too quiet, but he is calm. He is a great horse to snuggle with, too.
WEC: Tell us about your back-to-back $7,500 Futures Prix wins.
Izzy: I think I was about to cry the last week when I won the futures prix for the first time, I was so happy. It was a lot of fun. I kind of zone out when we make it to the jump-off and that is the only thing I'm focused on. Over the past few weeks, it's gotten a little easier and I'm less nervous. It's a lot of fun, I love to hear the crowd cheering. It was also fun to watch the grand prix after the futures prix and know that I beat some of the really big riders. I know they were on younger, less experienced horses in the futures prix, but it was still pretty cool.
WEC: What is it like having your dad as your trainer?
Izzy: It's nice because we communicate well with each other, I know what he is going to say and do. I haven't had much experience with other trainers, but I think that it is really special that I get to ride with my dad. He is always a little extra proud when I do well.
It's also really special that my whole family rides: my dad, my mom and my brother. It is a lot of fun to show, then go cheer on one of my family members. It's always the topic of conversation once we get back to the camper after the show. We always talk about our show day. It's always fun to get to be with my family, and I realize how lucky I am because most people don't get to experience sharing their sport with their family in that way.
WEC: Do you have any hobbies outside of riding?
Izzy: I like to roller-skate. We never actually go to the skate park, but I have six pairs of roller skates. I've taught all of my friends how to roller-stake and I make them skate with me. One of my friends actually has one of my pairs in Texas, right now.
WEC: What are your riding goals?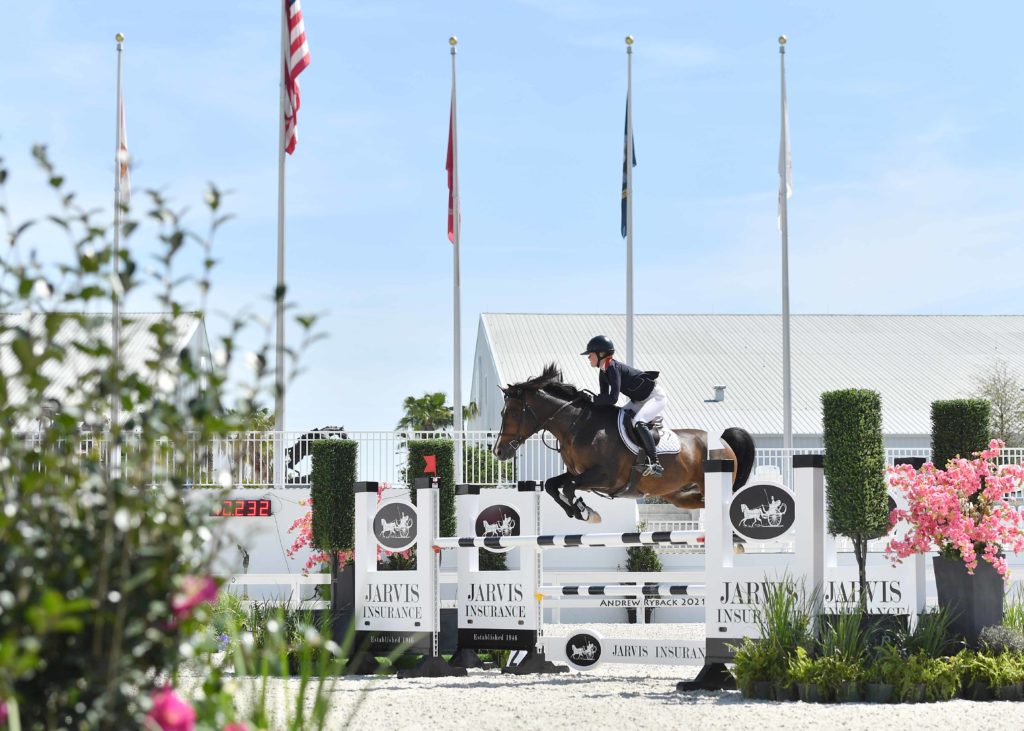 Izzy: For this year, I'd love to step up to the bigger prix classes. In the future, I'd love to do the $1,000,000 Grand Prix and maybe the Olympics one day, if I'm lucky.
Thank you, Izzy, and congratulations on your back-to-back wins in the $7,500 Futures Prix!