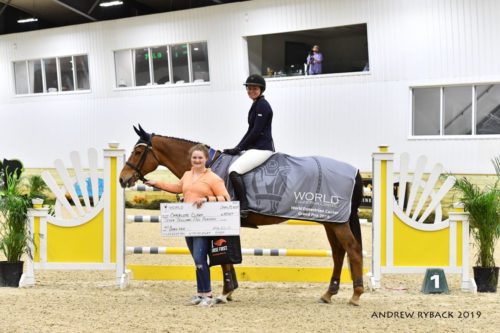 This week's Sunday Spotlight lands on student, groom and passionate horsewoman Layne Turner. Layne hauls from Paris, Kentucky. She is a student at Eastern Kentucky University and spends all of the time she can at horse shows grooming for her best friend, Charlotte Clark of Kendalwood Farm. Layne's sense of humor combines perfectly with her impeccable grooming skills, and you can often find her ringside at World Equestrian Center cheering on her best friend and barn family. Layne took the time to chat with us this week about her equestrian background, her love for her job and some horses that have made a big impact on her life.
WEC: How did you get into riding?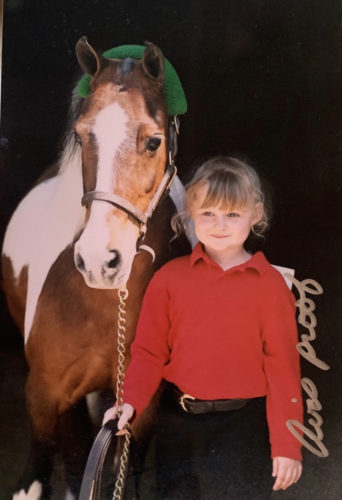 Layne: My mom has always had horses. She rides Saddle Seat. My mom was on a horse the day before I was born, so I've always ridden and horses have always been a part of my life. When I was about seven or eight years old, I saw somebody jumping, and that's when I "defected" to hunter/jumpers, as my mom says.
We live on a farm called Flying H Farm that we part lease. It's actually a thoroughbred farm and the owners do foaling out for thoroughbreds. In the springtime, it's amazing. We have our little section of the farm and all around us are babies. It's like nothing else. My mom now has three horses, and I have one retired horse. We do a lot of riding around the farm and I sometimes hop on my old guy. While I've been in college I've been grooming a ton, so I haven't really had time for my own horse.
WEC: Tell us about some horses you had or rode growing up.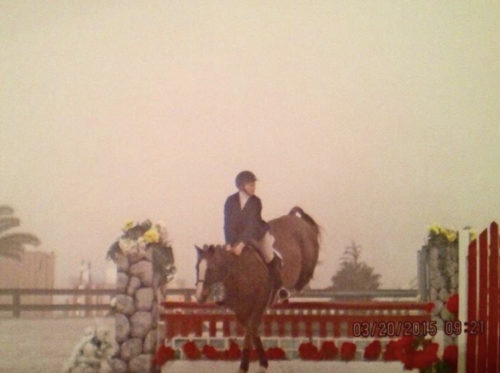 Layne: Growing up we had our own horses. They were mainly trail horses. I had a flea bitten gray horse named Hank. He was kind of naughty, but also very good for a kid to learn on. Later on in high school, I was a working student in Ocala, Florida and I came across my horse that I currently still have (who is now retired), His name is Rio. I've learned a lot from him. We mainly did jumpers and equitation, he's taught me so much. He was my practice horse, I didn't show him very much, but he was a huge influence in teaching me and giving me confidence. There was also a horse named Otto that my trainer owned who had won every equitation medal around 2004. He was an old man when I had him, but he was excellent to learn form and start jumping some bigger jumps. Rio and Otto will always be my lifetime teachers.
WEC: How did you get into grooming? When did you start grooming for Charlotte Clark?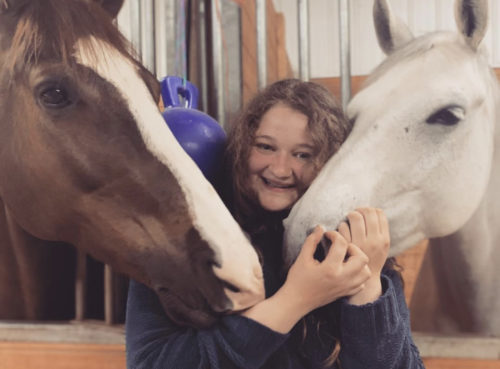 Layne: When I moved back to Kentucky I took a gap year from college. I started working at a farm in Kentucky where Charlotte was the assistant trainer. We worked together all of the time and became best friends, and we've been best friends since then. Charlotte left that job to start her business in Columbus, Ohio, in the spring of 2018 and I left shortly after. She knew that I was about to start school, but said that she could really use some help and asked if I would be willing to meet her at horse shows to help out. I gladly accepted and that's when I started grooming for Charlotte.
WEC: What's it like working with your best friend?
Layne: It's really fun. We still work hard, but it makes it so much better when your best friend is your boss because you get to see them succeed and help them succeed. I watched her business, Kendalwood Farm, grow and it's been so cool to see her become so successful. The best thing, though, is that even after a 15-hour show day, we can still stay up late talking about everything from the day, because we're best friends. There's always a laugh to be had. Even after the long days, there's always something to keep us going.
WEC: What do you like most about grooming?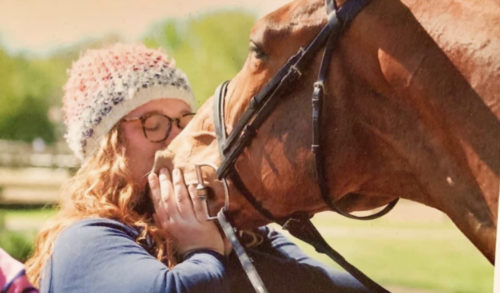 Layne: I always tell people that I only come to horse shows for the dogs (shout out to Holly Helbig's dog "Bad Boy Brady" – a familiar face around WEC. I'm his show auntie.) But the thing I love most is really the horses. Getting to know all of their personalities and quirks is fun. I've always loved the horses and I'm very passionate about them, so it's always come down to that. I don't do much freelance grooming because you don't get to know the horses when you jump from barn to barn, and I value the relationships that I have with Charlotte's horses.
WEC: What is a memorable experience that you've had grooming?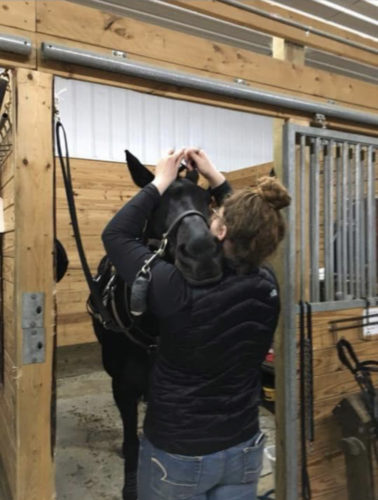 Layne: In the winter of 2018 Charlotte won several Grands Prix. She was on a hot streak, so that was really fun for us because you want to see the horses be good and have clear rounds and good rides. It kind of felt like we were just hitting everything right. It was a really cool time. However, I would say that it's not the big moments of grooming, but the little things. For example, one of the horses, Annie, loves to hold things. Whenever we sweep, she always takes the broom from us. Stuff like that when everyone stops and takes a moment to really enjoy the horses and laugh…those are my favorite moments.
Layne also gave some advice to anyone looking to pursue a job in the horse industry:
To anyone that's grooming or wanting to ride, there are always opportunities out there, you just have to work hard and not be afraid to ask for help or for what you really want. Also, make sure that you love doing it! Horses are hard work, but deep down if you love it, it's worth doing.
Thank you, Layne, for the awesome advice. We'll see you at WEC again soon!