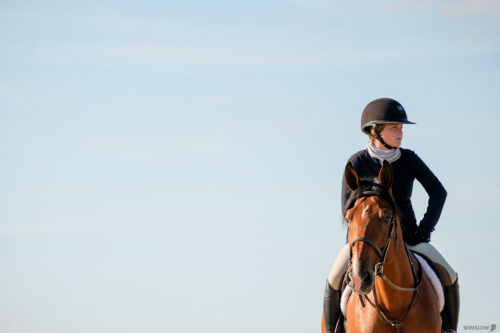 A week of slightly cooler temperatures and sunny skies set the perfect backdrop for the final show of the World Equestrian Center summer series. The week we hosted plenty of thrilling equestrian sport with three feature jumper classes and two hunter derbies. Top placings in the jumpers were separated by just tenths of a second while scores in the hunters soared high into the 80s and 90s.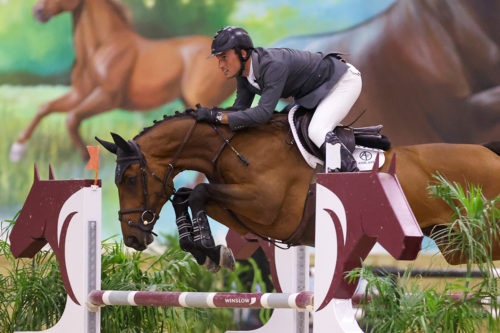 Feature class action kicked off on Thursday as 21 entries vied for the win in the $5,000 Welcome Stake 1.35m sponsored by CWD Sellier. Competition was tight with the top four placings separated by just three-tenths of a second, but ultimately it was Michael Murphy riding for Ashland Farms of Lexington, Kentucky, and Wellington, Florida, who topped the class aboard Ashland Farms' Chaccofina (Chacco-Blue x Hauptstutbuch Anchorwoman). Murphy and the 12-year-old Hanoverian mare delivered a clear first round in a time of 67.481 seconds. They advanced straight to the jump-off, opting for the inside track and crossing the timers at 38.689 for the win. Murphy was thrilled with the win, commenting, "This is my first time at World Equestrian Center. I haven't shown her indoors before, so I was kind of feeling her out for what the rest of the week was going to be like inside. She's been in really good form, and it feels good to show up here and for her to go well in the first class."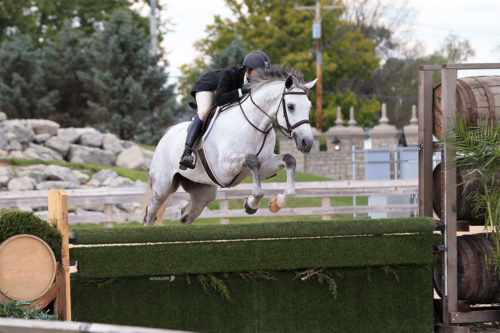 Friday saw 31 entries over a beautifully decorated course in the $5,000 USHJA National Hunter Derby. Scores reached into the high 80s and low 90s with just a few points separating the top finishers, but it was Melissa Donnelly of Just A Folly Farm in Oxford, Michigan, and Elizabeth Becker's Grand Tour that took the blue ribbon. The pair had previously taken top placings in derbies at World Equestrian Center, but had yet to secure a win. Donnelly and the 14-year-old Warmblood gelding delivered a flawless first round and taking all four high options to earn a score of 88. The duo returned for the handy round, entering on the right lead and rolling back to a high option fence just off the rail. They continued showing off their handy skills, taking the inside turns and demonstrating a lovely hand gallop. The pair was rewarded for their efforts with a score of 92, bringing their overall total score to 180 to win the class. Donnelly took a moment to chat with us about the class, "Grand Tour was very good. He was very focused and very attentive. He loved the layout of the new jumps and the bright, fancy décor. This is his first derby win here at World Equestrian Center."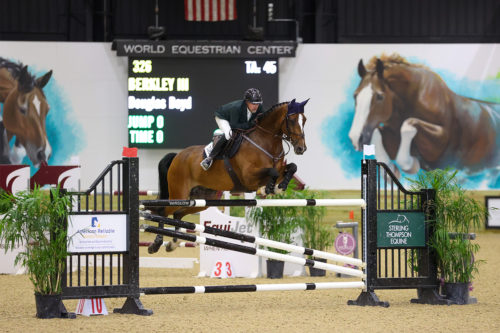 Twenty-seven entries contested the track in Saturday's $25,000 WEC Grand Prix. Ten entries managed clear first rounds and four jumped double clear, leaving speed as the determining factor for top placings. Doug Boyd of Sapphire Riding Academy in Libertyville, Illinois and Sapphire Riding Academy's Berkley III (Pall Mall H x Resina) claimed the top spot, besting second place by about six-tenths of a second. Boyd and the 14-year-old Dutch Warmblood gelding were on form, leaving all the rails up in the first round in 82.742 seconds, conserving plenty of energy for the short course. The pair returned for the jump-off and gave the track their all, leaving out strides and taking impressive inside turns, stopping the clock with all rails up at 39.196 seconds, which would prove unbeatable for the remainder of the class. Boyd could not have been more pleased with the win, "I never had to adjust, which was great. When he's focused like that it's awesome. I left out a stride from 5 to 6, then I left out a stride from 9 to 10. Then, he turned really well inside to the combination. We're really pleased with him, he's an awesome horse. He's really come around nicely."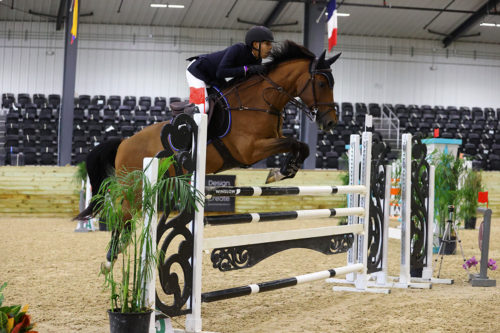 Saturday also saw 19 entries in the $7,500 Futures Prix 1.30m sponsored by Voltaire Design. The class saw saw four double clear entries with less than one second separating top placings, but it was junior rider Alexander Alston of New Albany, Ohio, and River Mountain Farm's Christiaan (Verdi x Summerdive) that earned the blue ribbon. Alston and the 13-year-old Dutch Warmblood gelding flew through the first round in 68.766 seconds, then advanced straight to the jump-off to navigate a second foot-perfect round in 35.055 seconds, claiming first place.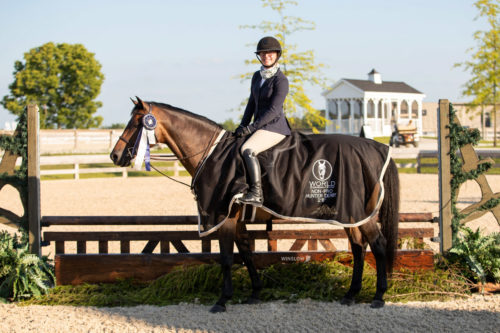 The $2,000 Non Pro Derby 2'6″ took over the lower hunter ring on Saturday afternoon. Josephine Rose and her own His Way bested 29 entries, claiming their second $2,000 Non Pro Derby 2'6″ win of the summer.
Photos courtesy of Winslow Photography.