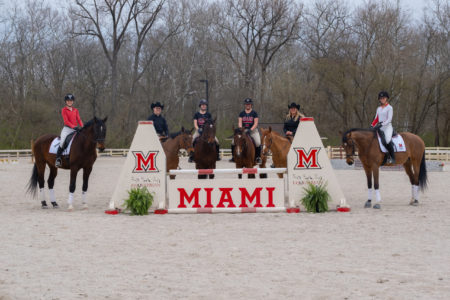 This week's Sunday Spotlight lands on the Miami University Equestrian Team of Oxford, Ohio. The Miami University Equestrian Team frequents World Equestrian Center year-round, bringing with them a group of talented riders and fantastic horses. This week we chatted with head coach Heather Pinnick about Miami University's equestrian program, the team and an exciting upcoming project slated to start in late 2020.
WEC: What is your background in the equestrian industry?
Heather: I had a love of horses really early on. I started riding as a little kid. I didn't show a ton, but I was in Pony Club and had a pony that lived at my grandparents' house. I continued riding as I got older. I went to college at the University of Findlay. I picked the University of Findlay because I didn't necessarily think that I wanted a job with horses, but I didn't want to give up riding. So, my undergrad is in biology and equine science. When I graduated I wasn't sure what I wanted to do. I debated going to vet school, but stayed at Findlay instead to get my master's degree in education and was a grad assistant there, so I was able to help teach classes and I became the assistant coach of the riding team. That time I spent as a grad assistant solidified the love of the teaching part for me. When I graduated, my college mentor had started at Miami University and contacted me to let me know that there was an assistant position open. I applied and started as assistant director and assistant coach of the Miami University Equestrian Team in the fall of 2005. About four or five years ago our director had moved on, so I interviewed for the director position and I'm now the director and head coach.
WEC: What is the equestrian program as a whole like at Miami University?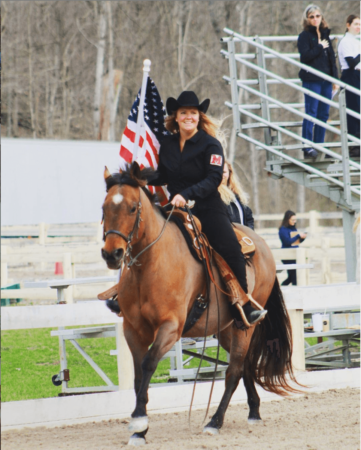 Heather: Miami University is the only place I have ever worked where we have such a wide variety of disciplines and different avenues for riding all under one roof. We have a hunt seat team, a western team and a dressage team, and we also teach learning to ride classes through our kinesiology and health department for students that have never ridden a horse before, so there's a lot of variety here. I think it's pretty cool that we all appreciate each other's differences and similarities, and can work well together. In total, there are 120 students on the equestrian team, 70 of which are on the hunt seat team.
We're super lucky that the barn is on campus at Miami University. The students have the ability to walk to the barn, if they choose. We currently have 58 horses in the program. The majority of the horses are owned by the university through donation or purchase. Some of the learning to ride horses have to be purchased for a small fee, because people don't give up the good teachers easily. There are a handful of horses that we have on a long-term lease.
The last couple of months have been interesting because we haven't had the students on campus to help take care of the horses, so the full-time staff have to handle everything. We're definitely getting back to our roots in the barn and remembering that we love doing it because of the horses. Typically we have about 20 students that work for us.
WEC: What does a typical day at Miami University's barn look like?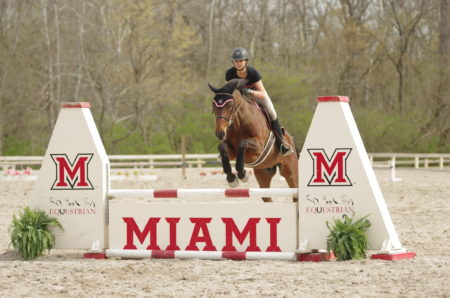 Heather: Our barn manager gets to the barn at 6:30 a.m. and starts feeding. The student shifts are usually 3-4 hour shifts, so they'll help feed, turn out or bring in. The first lessons for the team begin at 8:00 a.m., which is my favorite time to teach. The students are assigned lesson groups based on their class schedule, what discipline they ride and what their level. We try to match them up in groups of six. We sometimes have multiple lessons happening simultaneously. To accommodate for that, we have one really large ring that we can divide into sections as well as another smaller ring.
Our learning to ride classes start around 10:00 a.m. Their format is a little different. They have a classroom lecture portion, then go into the barn to work with the horses learning how to groom and tack up. Then they begin riding. The learning to ride class is a two credit hour class, which is really unique.
WEC: Tell us about the Miami University Equestrian Team.

Heather: The hunt seat and western teams compete in the Intercollegiate Horse Show Association (IHSA), and the dressage team competes in the Intercollegiate Dressage Association (IDA). There are about eight to ten horse shows for each of the disciplines per season. We are in Zone 6 Region 3, which covers southern Ohio and Kentucky, so we'll compete against the University of Kentucky, University of Louisville, Midway University, Morehead State University, Xavier University, University of Cincinnati and Northern Kentucky University. Outside of IHSA and IDA shows, we show in local rated shows. It's primarily the hunt seat team, and we go about once per month to a rated show.
WEC: We see you at World Equestrian Center often, what does Miami University do to make it possible for students to show their horses outside of IHSA/IDA?
Showing outside of the team is completely voluntary and not everyone does it, but we have a good group that shows on a regular basis. If they do want to show, we get together and talk about their goals, then pair them with a horse. Two weeks prior to the horse show students can lease a horse, which ensures that they are able to lesson on that horse and take it to the horse show.
WEC: What are some titles that the Miami University Equestrian Team has won?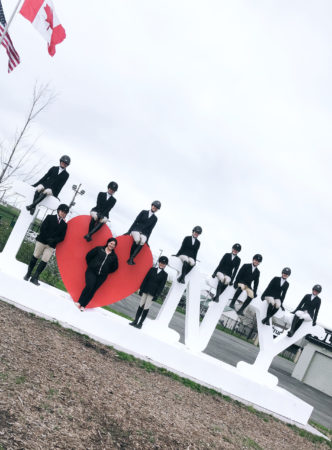 Heather: We have taken the team to Nationals a few years. We have also had six students awarded the Cacchione Cup while I've been here, and a few that have finished top ten in the country, as well. Last year, we were the Regional Champions and the Zone Champions, so the team went to Nationals. It was really cool to do that. I'm so proud of the success that the students have at the collegiate shows and at the open and rated shows. They don't get to practice on the horses all of the time and the horses are school horses, so having the ability to go horse show and be successful is such a confidence booster.
WEC: Tell us about the new indoor ring coming to campus.
Heather: We're so excited. It's been a long process. The entire equestrian facility was renovated about six years ago. The property level was raised, a new barn was built so everything is under one roof and we got the two new outdoor rings. The university funded that project. We left a space for an indoor arena, but we had to raise the funds for that portion, so that has been an ongoing effort for the last six years. We had a donor step forward to begin the project, and construction will begin in November. It's going to really expand what we can do. Currently, we have to cancel if it's raining or if the footing is too wet and the ring isn't safe to ride in. We also currently rent a facility ten minutes away in the winter. The new arena will make things much easier while allowing the program to grow.
If you would like to make a donation to the Miami University Equestrian Team, click here.