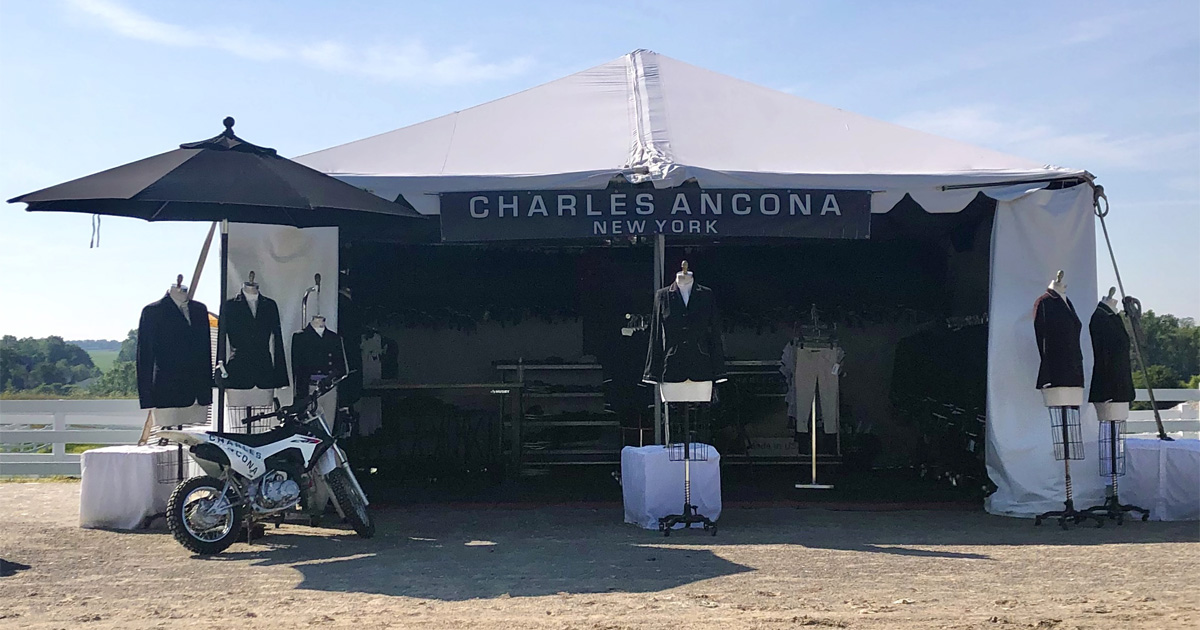 This week brings a special edition of the Sunday Spotlight as we chat with equestrian fashion mogul Charles Ancona who made his way to World Equestrian Center in Wilmington, Ohio for the first time this week. Charles took the time to sit down with us and tell us about his background in the fabrication of sportswear, his iconic equestrian line and some exciting up-and-coming projects he has in the works.
WEC: Tell us about the background of your company.
Charles Ancona: My history is in ski wear, and I specialize in stretch fabrics. I did that for a lot of years at a high level for racers, instructors, the national demonstration team and I did some outside work for The North Face. When it came to stretch fabric, they kind of came to me because it was my specialty.
The ski wear led me to a very technical background. I noticed that fabrics in the equestrian industry weren't very technical. No one had brought the knowledge of fabrication into the sport. Nobody was designing in that way. It was very simple – if the fabric stretched, they liked it. I came into the industry from a new angle and revamped traditional thinking.
It was interesting because I didn't really know anyone when I started down at the Winter Equestrian Festival. I slowly built a following. The biggest difference between my brand and others, I think, was offering the custom fitting and custom design. We make everything in New York City, and doing everything ourselves, which makes it a lot more work. It is a barrier to entry for competition because you have to know how to do it, you have to want to do it, you have to sell directly and you have to be living on the road going to horse show after horse show. To do what we do is very hard, but it's worked for us because there was a demand for someone to fill the niche of stretch, high-tech, classic looking performance wear for equestrians.
WEC: Did you have any background in horses?
Charles Ancona: No, I did not have any background in horses. I lived in an area in Connecticut near North Salem and it was kind of horse country. Everyone I talked to had horses. Whether I was selling ski wear or apparel that you would wear out riding your horse, the demand seemed to be similar. It was kind of natural to go the equestrian direction, so I talked to some people and started to work on an idea for a show jacket.
I took off in a new direction and took a risk offering a new kind of product and it seemed to be a big hit. We got people to appreciate the technical aspects and I listened closely to riders' feedback. As a non-rider myself, that was the key to making products that riders wanted. We built the business slowly without using ads, just relying on word-of-mouth.
WEC: Walk us through what a customer experiences when they order a custom jacket from you.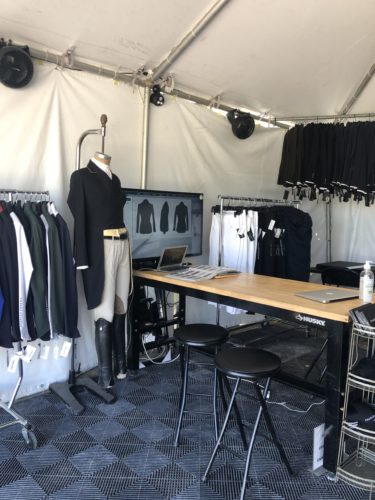 Charles Ancona: It's a long process. There are two parts to customization: design and features. We start with the design. We have the rider sit in a saddle so that we can check everything and start to suggest different options. After we hone in on those preferences, we then go into color options. We have a design studio with us on the computer at every horse show. The design studio is also on our website, so people can go in and design their own color combinations. The features come next. We can include cuffs, number holes, number of buttons and various other details. We then go into the fitting of the jacket, which is making the paper pattern to fit the individual. We don't just do standard sized jackets with alterations.
WEC: What are some of the customization options?
Charles Ancona: We have so many colors to choose from. We can even hunt down a color if you have a specific color in mind. We have different buttons to choose from and the button thread color can be customized. The stitching on the collar is always a focal point, so we do those in several different ways including full color, perimetered edge and piping. Pockets and stitches on the wrist and back can also be customized in the same way. There's not much that we say no to! It's all charged separately and the customer can just build the jacket the way that they want it. Because of this, everyone's jacket is unique.
WEC: What about the logo placement on the jacket?
Charles Ancona: We are big on logos, it's what really made the brand take off. On the show jackets we can do the logo in all different locations. For FEI, it has to meet the requirements for the location and size, so we can do that. We can place the logo underneath the number on hunter and equitation jackets, or if someone prefers it to be visible we can do something different. We don't charge to put logos onto the jackets, and we put them on wherever the customer wants them. We have different sized logos on the pants and the training wear. We want the brand out there, so we love using the logo.
WEC: Do you have a favorite jacket that you have make?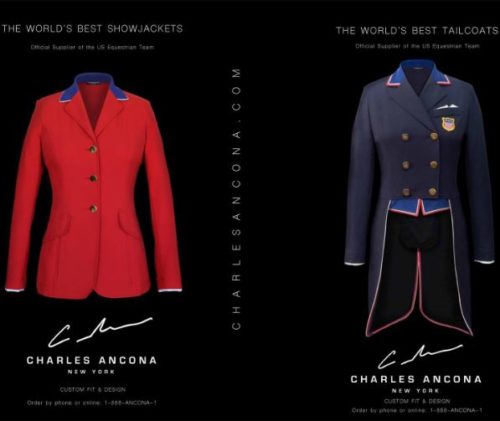 Charles Ancona: It's hard to say. It would be on the jumper side, because that's where you can get creative. I really like the double back stitch because it makes the rider look so tapered. A strong collar on the perimeter is always a favorite. I like the wrist stitching and built-in cuffs. A four button set positioned correctly makes a big difference in the look. More accents and more details are fun.
I'm working on a jacket right now that will be above the best one that we currently offer so that customers have the ability to go even more customized. It would also be cool to create the most expensive show jacket in the world, like many designers do for runway shows. It could really showcase everything that we have the ability to do.
We are doing the whole US Team, which includes showjumping, eventing and dressage. We custom fit the jackets, the riders' names are monogrammed inside, the jackets are signed and serial numbered and they're placed in a special garment bag with special hangers. But, really, that's kind of what we do for every customer. Every customer is on the US Team as far as I'm concerned.
WEC: If a rider is not at a show that you are at are they still able to order a custom jacket?
Charles Ancona: Absolutely. We FedEx the customer a few samples to determine what their approximate size is, then we use FaceTime and photos to go through the rest of the process. We stand behind our fitting. We always make it work and see it through.
However, we do not sell through any tack shops. Every jacket comes from us online or at a show. We like doing that because it gives us the ability to control the details. It's an expensive way to operate, but we want our product to have a certain quality. We may start to open a few showrooms that customers can come to in the future.
WEC: What products do you offer outside of jackets?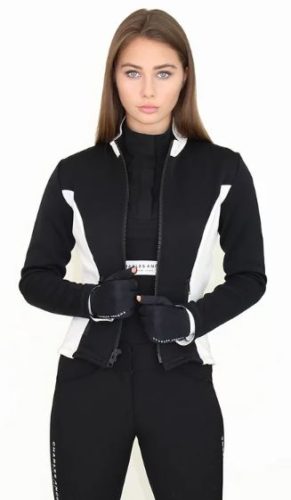 Charles Ancona: We did show jackets for so many years because we were so swamped that we couldn't do anything else. We do jackets for the hunters, equitation, jumpers, kids, dressage and the US Team. I realized that I wanted to start branching out because you couldn't wear a whole outfit that was Charles Ancona, so I started doing breeches.
We have a new training collection that is a big deal because it hasn't been done before. Fun colors are offered for training, but there aren't technical differences between show and training wear. I have experience in this from the ski wear. Training requires a lot of riding. You have to be at the right temperature, not cold and not hot. Typically for training, riders will throw on cotton hoodies or cotton jackets, which is really the wrong thing to wear. Our training pants, training jackets and training vests are very different. We are educating our customers on fabrication and layering, and our training wear follows that.
WEC: What's next for your brand?

Charles Ancona: We have another new series coming out with saddle pads, shirts and hats. The new "Fashion" section on the website will have dresses and pieces that are equestrian-inspired, but meant for the city. For example, the jacket will be modified into a one-button jacket.
My motorsport division is growing as well because there is a lot of crossover. The same top that we use in equestrian sports for training isn't much different from the top that you would wear riding a motorcycle or driving a sports car.
I like doing the high-end stuff and building something that isn't limited by price. It may branch into a lot of categories like equestrian, sport car driving, yacht wear and fashion city wear.
Thanks for speaking with us Charles and for coming to WEC Ohio. We cannot wait to see your new products!