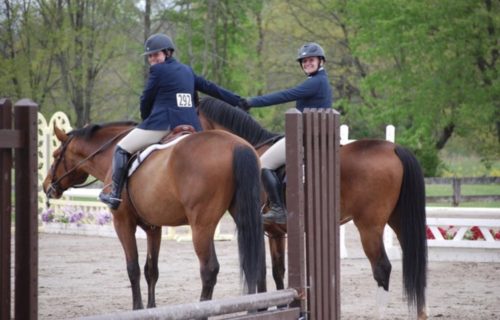 This week's Sunday Spotlight lands on Taylor Roby. Taylor's love of horses was passed down to her and her sister, Sydney, from their mother, making their passion a true family affair. Taylor is lucky to ride with her sister nearly every day. This week, Taylor took time to chat with us about her family's affinity for horses, her sweet horse Bullwinkle and her riding goals.
WEC: Tell us about yourself.
Taylor: I am a 23-year-old college student at Gateway College. When I am not doing online classes, I'm working in Kenwood, Ohio, or I'm at the barn with my horse. I ride at Windridge in Burlington, Kentucky with Findaway Farm and Trena Kerr.
WEC: How did you get into riding?
Taylor: I started riding when I was five years old. My mom rode when she was young and decided that horseback riding would be a great sport to get her kids into. My mom did some shows, but nerves got the best of her, so she rode more for pleasure and relaxation.
WEC: Describe your early riding career.
Taylor: I started out on a pony named Biscuit, who was the cutest little thing I've ever ridden. I did ground poles and crossrails with him. I got my first pony named Charm a few years later for Christmas. She sure did have her mare moments, but she taught me to be a great rider. I then got Tucker, who was a Thoroughbred with the sweetest disposition. After Tucker, I got an Irish Warmblood named Willie and ended up moving into the jumpers on him.
WEC: Tell us about your current horse.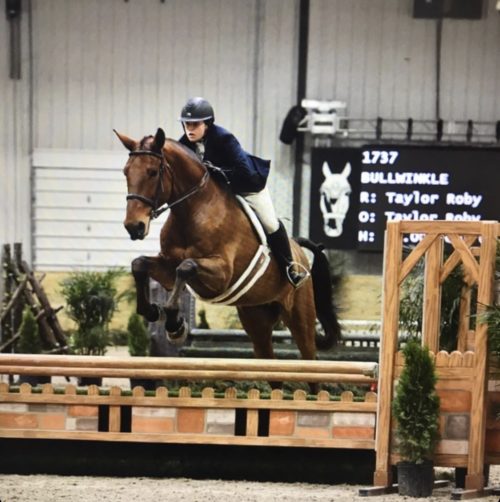 Taylor: I now have Bullwinkle, who is a 17.3 Zangersheide gelding. He has moved me into the equitation world. I had never done the equitation before him, but he has really shown me the ropes and made me into a much better rider. We've tried the hunters and it just isn't his thing, and we will do a jumper class here and there, but we're mainly focusing on the equitation.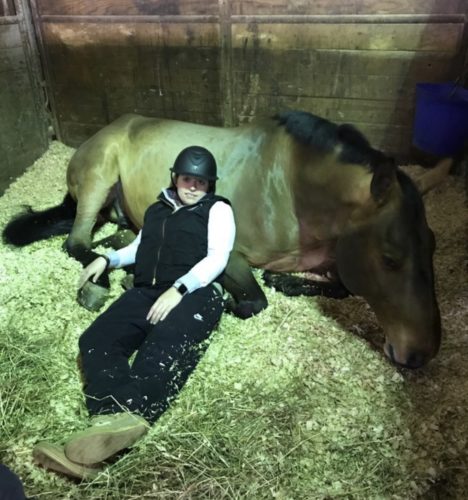 He has the sweetest personality. He is like a puppy. He always wants to please. When we go to horse shows, I always say that he's just going there to lay down, because that's what he likes to do at the shows.
WEC: Has anyone inspired your riding?
Taylor: My trainer and my sister have really helped me along the way. My sister and I ride together nearly every day. We bounce ideas off of each other and try to make small corrections and critiques to improve our riding. My trainer Trena has always been very supportive and has helped me work toward my goals and dreams.
WEC: What are your riding goals?
Taylor: I hope to qualify to go back to the National Horse Show next year. We just got back from there this past Monday. At the National Horse Show this year, we had a couple of little errors, but we made major improvements from last year, so overall I was happy with the progress. I would like to qualify to go to Capital Challenge, as well.
WEC: Do you have any hobbies outside of riding?
Taylor: When I was in high school, I really enjoyed playing in the band. Now that I'm in college, I mainly focus on studying and riding. I'm either majoring in nursing or physical therapy, I haven't fully decided yet.
Taylor also added:
I can't wait until World Equestrian Center opens back up and we can get back there to show. We always really enjoy showing at WEC.
Congratulations on a great trip to the National Horse Show, Taylor, and we'll see you back at WEC soon!