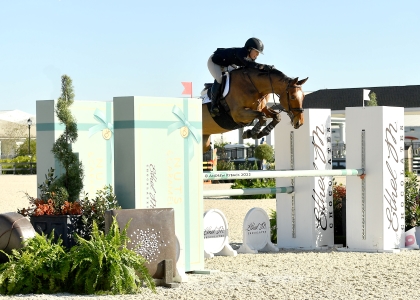 This week's Ocala Sunday Spotlight shines on Lizzy Traband of Centre Hall, Pennsylvania. Lizzy started her riding career traveling the country when she was just seven years old. Today, Lizzy is a 24-year-old entrepreneur with big plans and ambitions. Read Lizzy's full interview with WEC to learn more about Lizzy's career and future plans.
WEC: Where are you from?
I am from Centre Hall, Pennsylvania, about 15 minutes from Penn State University.
WEC: When did you start riding?
I've been riding my entire life. I know I was probably still in diapers the first time I sat on a horse because I grew up on my parents hunter/jumper farm in Centre Hall.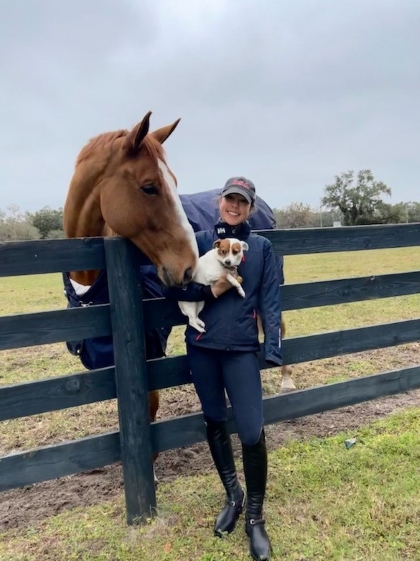 WEC: Tell us a bit about yourself.
Horses have always been a part of my life. When I was younger, I wanted nothing to do with horse showing or training at a serious level. I dressed my ponies up in costumes and I did tricks with them where I rode without a bridle. I actually traveled with the Night of Amazing Horses when I was seven to twelve years old doing tricks and stunt riding.
In 2010, I was at the World Equestrian Games in Kentucky performing there. I ended up meeting Louise Serio and the USHJA Derby team. I was able to watch the show jumping and that was a big turning point. I ended up receiving the grant from USHJA to go down to Wellington for two-weeks and from there I wanted to be in the sport.
So, after that experience, I did everything that I could to ride any horses available to get the experience and education I could with the resources I had. Then I went to Penn State where I rode on the team and graduated in three and half years with a major in Finance. Afterwards, I got on the first plane to Germany to get an education riding young jumpers. I trained, showed, and rode for Paul Schockemöhle at the main competition barn in Mühlen.
Just six months ago I returned to the states and one month ago I started my own business.
WEC: Tell us about your new business.
My goal is to develop and produce quality show jumpers. My focus is on young jumpers or jumpers that haven't had the opportunity to succeed. I would like to produce quality horses through national competitions and be able to move those horses up to through the bigger fence heights. I am currently working on establishing good relationships with owners and partners that share my values.
I will be working out of my parent's farm in Pennsylvania. Eventually, I hope to winter here and then summer in Centre Hall. I actually sold my junior hunter a while ago and bought 10 acres of land just a mile away from WEC! It's going to take some time till we get a barn built, but I am super excited to get started.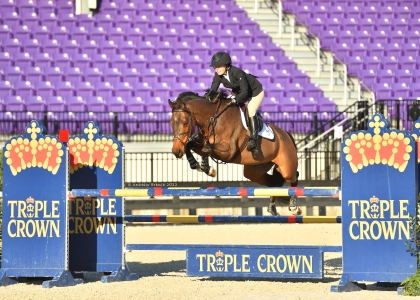 WEC: Tell us about the two horses that you rode here this week.
The two horses I rode this week are owned by a private owner, the Talent Ring Group based out of State College. The owner had a daughter in the sport who is now focused on her competitive running career. The one horse was her daughter's and the other was recently purchased and imported from Europe. She loves to come watch them, and see them grow, and develop. I am lucky enough to get to ride them!
WEC: Are you currently looking for young jumpers for your new business?
Always! I am actually going to Wellington next week and will likely come back with one or two more partnership horses. My goal is to always focus on quality. I really take the time with my horse getting them fit, in a good program, and am very hands-on in bringing them along and developing them.
WEC: Is this your first time at WEC Ocala?
This is my first time here! My mom was here last winter, and she would send me pictures but after seeing it in person, the pictures don't even do it justice. I mean, it's incredible. I think the Roberts family has raised the bar in our sport and I feel so blessed to have a facility like this in our industry. It's unmeasurable.
Thank you for taking the time to speak with us Lizzy! We wish you the best of luck with your new business and we can't wait to have you as our neighbor!