Week six of 'Winter in the Midwest 2020' at World Equestrian Center brought plenty of excitement with first time wins and repeat victories across the board. Exhibitors and spectators alike enjoyed delicious buffets in the Paddock Club along with a ringside exhibitor party during the $25,000 World Equestrian Center Grand Prix. Some even took time to kick back and relax on Saturday night for a movie on the big screen in the Paddock Club. Featured class action filled the week with plenty of elegant hunters and thrilling jumpers vying for the win in their respective classes.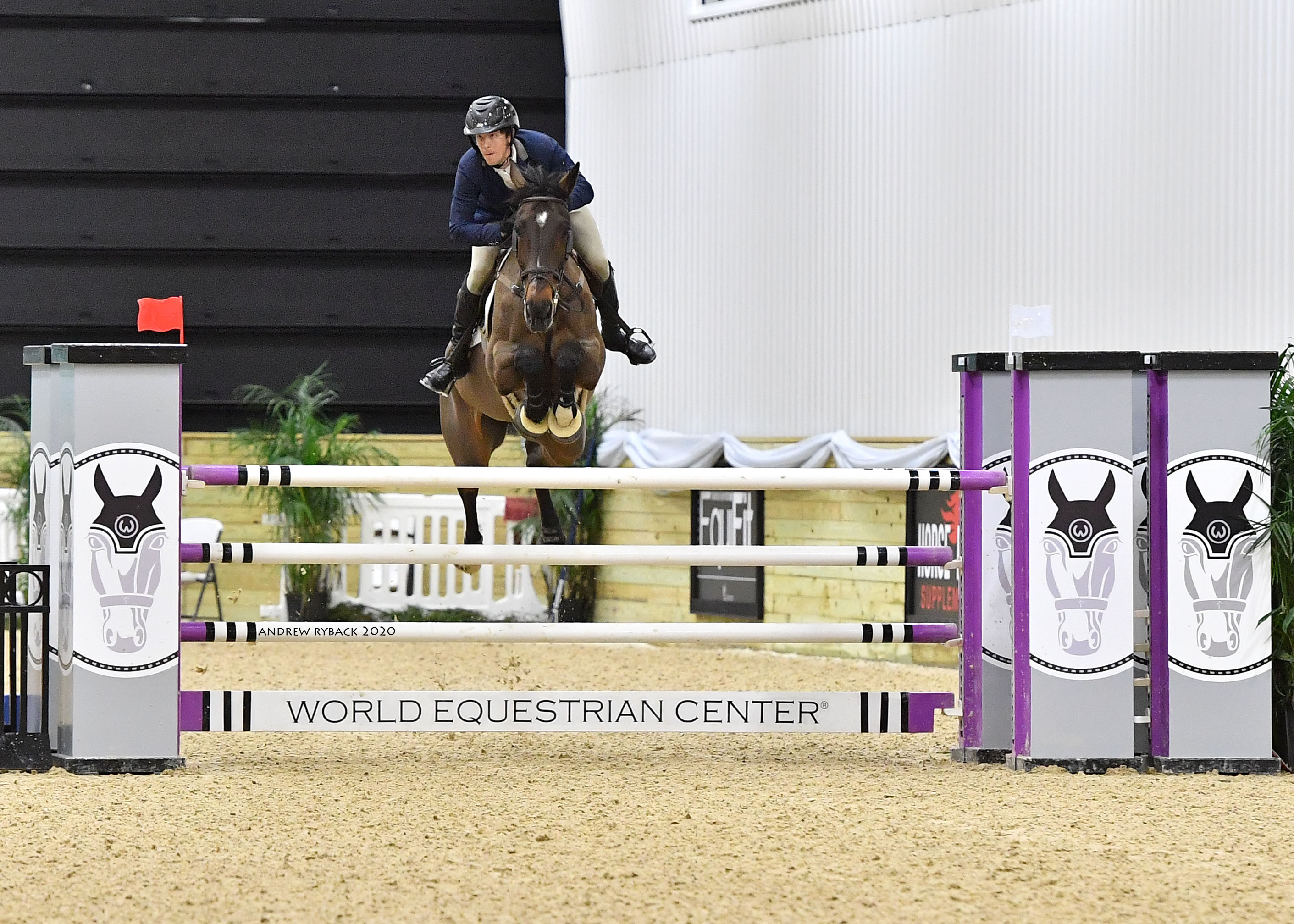 Thursday saw an exciting win for Michael Kocher and Woodland Hills' Dillandra (Zapatero VDL x Willandra) in the $5,000 Welcome Stake 1.35m sponsored by CWD Sellier. The a course featured fourteen jumping efforts including two one-stride combinations, forward lines and two opportunities for inside turns on the short course. The four faulters battled it out for the win, as no entries managed to jump double clear. Kocher and the eleven year old Dutch Warmblood mare were quick in the first round, jumping clear in a time of 74.730 seconds. The pair carried their speed into the jump off, taking the inside track to fences eight and nine. Kocher and Dillandra picked up four faults at fence twelve, but their time of 34.741 seconds was enough to move them into the top spot.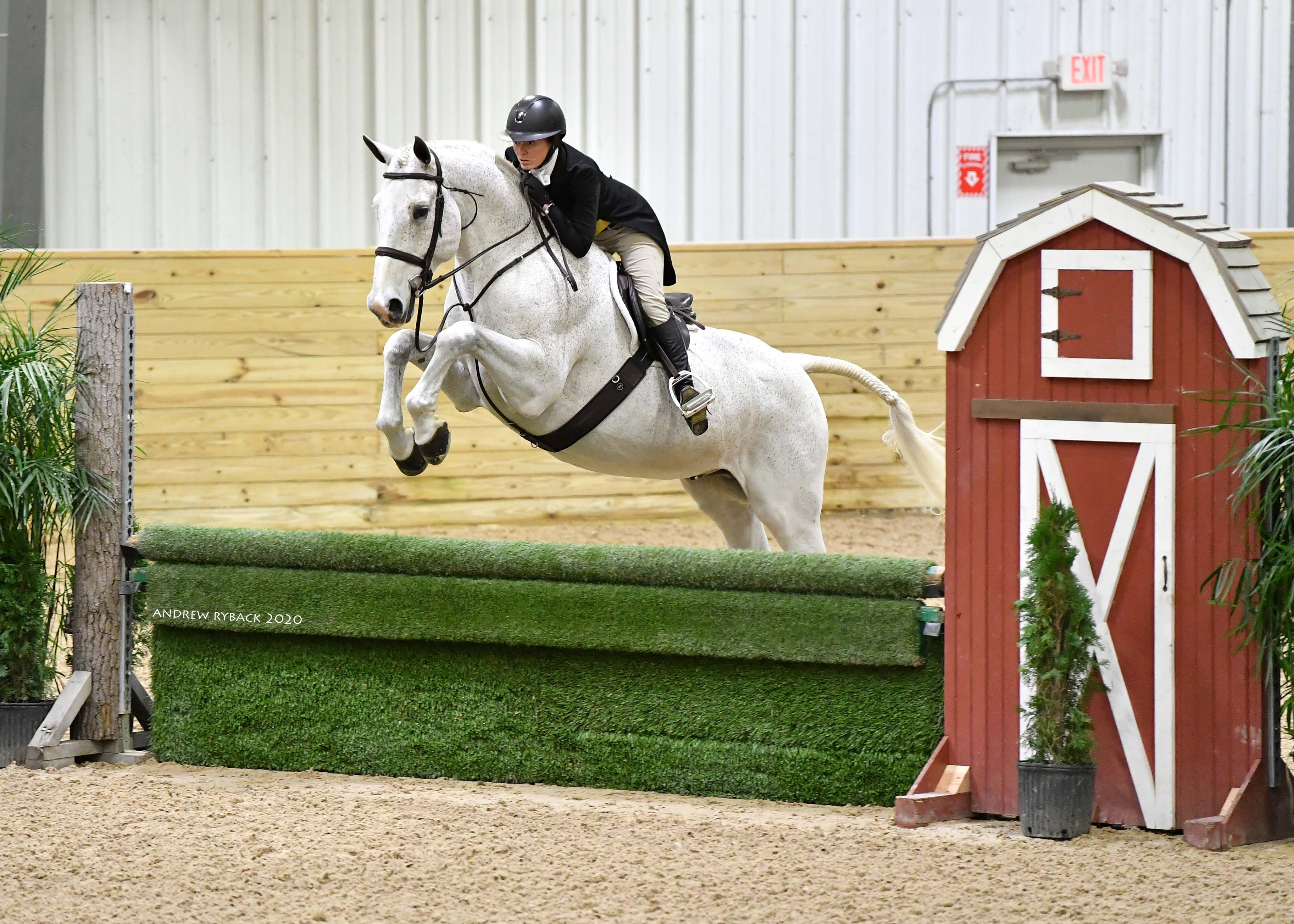 Friday featured plenty of hunter action in the R+L arena with twenty seven elegant hunters vying for the win in the $5,000 USHJA National Hunter Derby. The class was highly competitive with a cutoff score for the handy round of 77, but it was Stevie McCarron Wigley and Dell Kelly's Corallo Z who earned top honors. The pair delivered an impressive first round, taking all four high options and earning a score of 81.5, then followed up with a stunning handy round, earning a score of 90 for the win in the class. McCarron Wigley was thrilled with Corallo Z's performance commenting, "This is our first horse show with Corallo Z, or 'Grandpa' as we call him in the barn. We purchased him about a month ago for my client Dell Kelly who bought him to do the Adult Hunters. He has a history of doing the big International Hunter Derbies with Greg Crolick and we were fortunate enough to buy him. I'm just so thankful for Dell to give me the opportunity to ride her horses in these big classes. "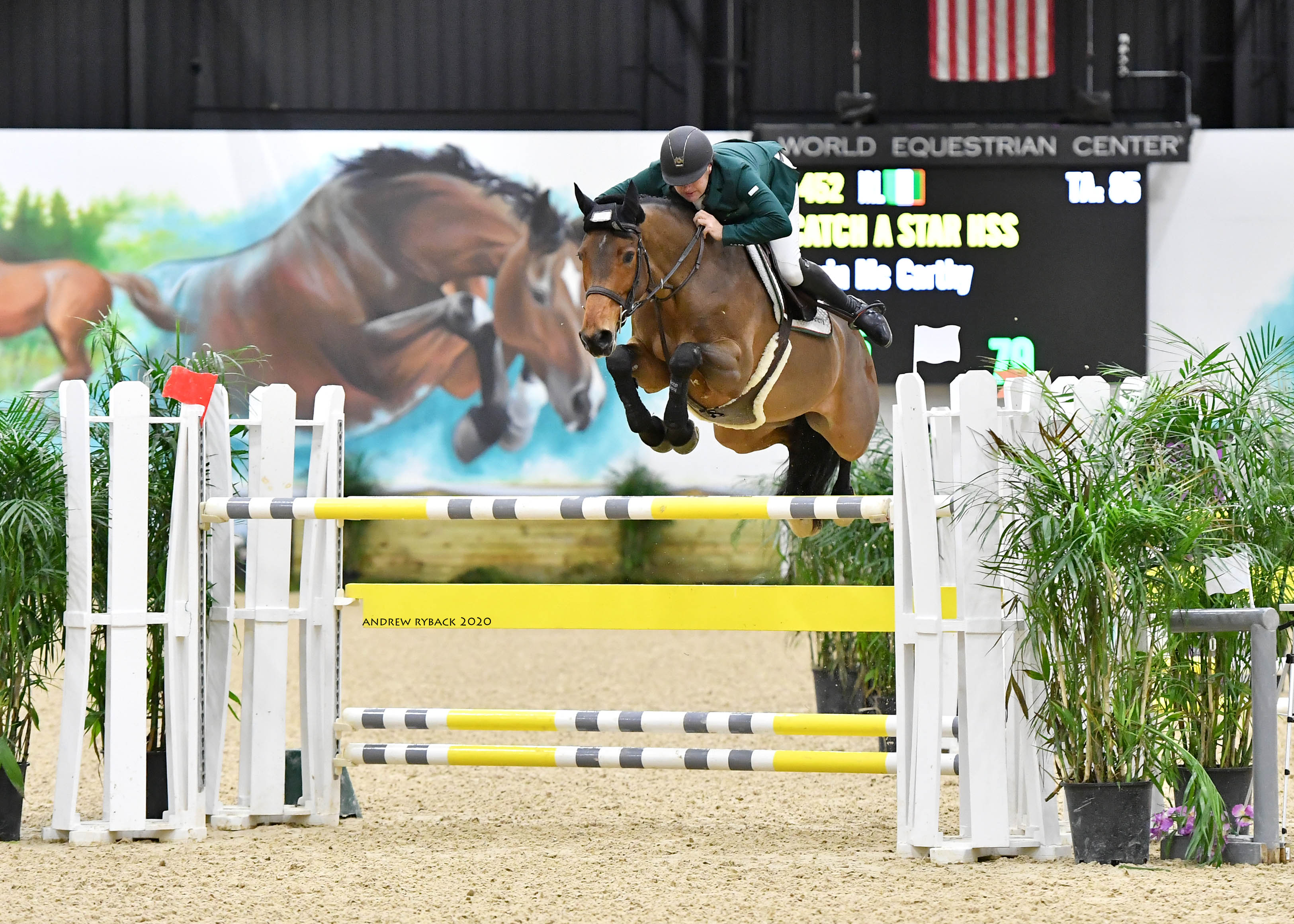 Saturday's $25,000 World Equestrian Center Grand Prix saw a win for the dynamic combination of Kevin McCarthy and his own Catch A Starr HSS (Sheraton x Tolinda). The pair took to the course near the top of the order and were patient in the first round, making sure to leave all rails up in a time of 81.128 seconds. McCarthy and the scopey nine year old Swedish Warmblood mare returned for the jump off, taking tidy turns to fences seven, nine and eleven and blazing through the timers at 36.612 seconds, earning first place. McCarthy could not have been happier with his fiery mare, "This is our first Grand Prix back for 2020, so I couldn't ask for a better start. I've been waiting all day just to get that over with. I was third to go in the jump off and with seven in it I knew it would be fast. I know her so well now and she's so naturally fast. I'm just delighted with the win. We're back with a bang!"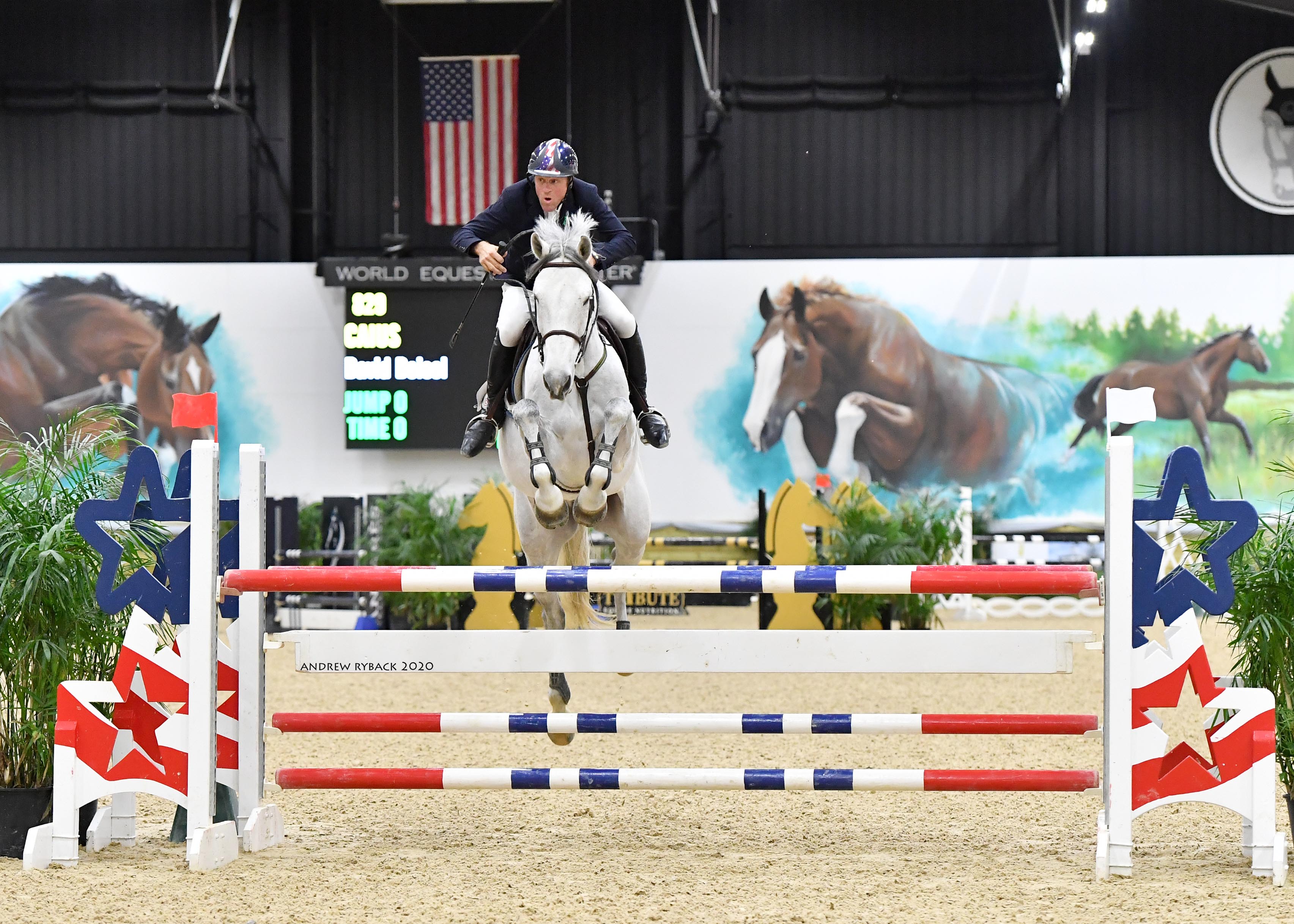 David Beisel continued his 2020 winning streak in Saturday's $7,500 Futures Prix 1.30m sponsored by Voltaire Design earning both first and second place aboard Harlow Investment Enterprises, LLC's Caius (Camaxl x Cuba Libre) and Equine Holdings LLC's Ivana Jump (Lupicor x Donnaludine), respectively. Beisel first attempted the course aboard Caius, jumping clear in a time of 77.333 seconds and continuing straight to the jump off. The pair took the inside track to fences five, ten and twelve and crossed the timers at 39.362 seconds, sending them into first place. Beisel later returned aboard Ivana Jump. Beisel and the seven year old Dutch Warmblood mare sped through the first round, leaving all rails up in a time of 75.990 seconds, then took all available inside turns on the short course and stopped the clock at 40.011 seconds with a clear round, claiming second place.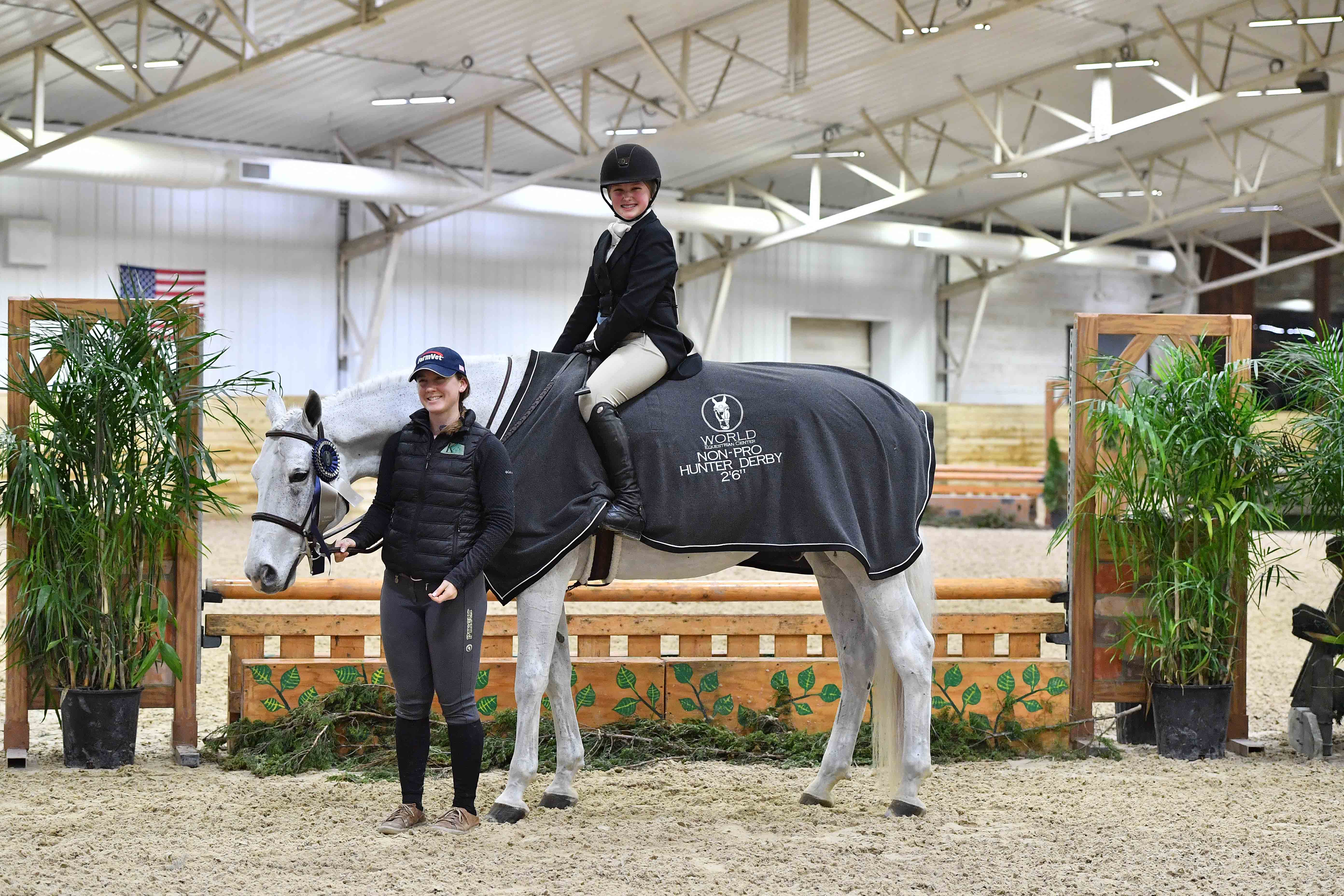 Saturday also saw fantastic hunter action in the Roberts Arena for the $2,000 Non Pro Derby 2'6″. Twenty entries contested the course, but it was Claire Giokas and Laura Giokas' In The No that took home the blue ribbon. The pair also earned top ribbons throughout the week, ultimately earning Champion in the Intermediate Children's Hunters.
Join us at World Equestrian Center for the remainder of the 'Winter in the Midwest' horse show circuit, encompassing 19 weeks of AA rated horse shows from December 4, 2019 to April 26, 2020. Highlights include the new WEC Premier Equitation Cup Qualifier Classes, two $10,000 USHJA National Hunter Derbies and a weekly $25,000 WEC Grand Prix. The WEC Winter in the Midwest prize list is available now online at www.wec.net with entries being accepted via www.horseshowing.com. Print prize lists are available at our horse show office or by emailing info@wec.net. Reservations for stalls, hay and bedding as well as RV spaces may all be made online as well at www.horseshowing.com. Once again in 2020 we are pleased to offer stalls for showing horses at $100.00.
Watch all of the action from the Sanctuary and the R+L arena online via ShowNet.biz. Tune in to WEC.net for the livestream link.
Photos courtesy of Andrew Ryback Photography.