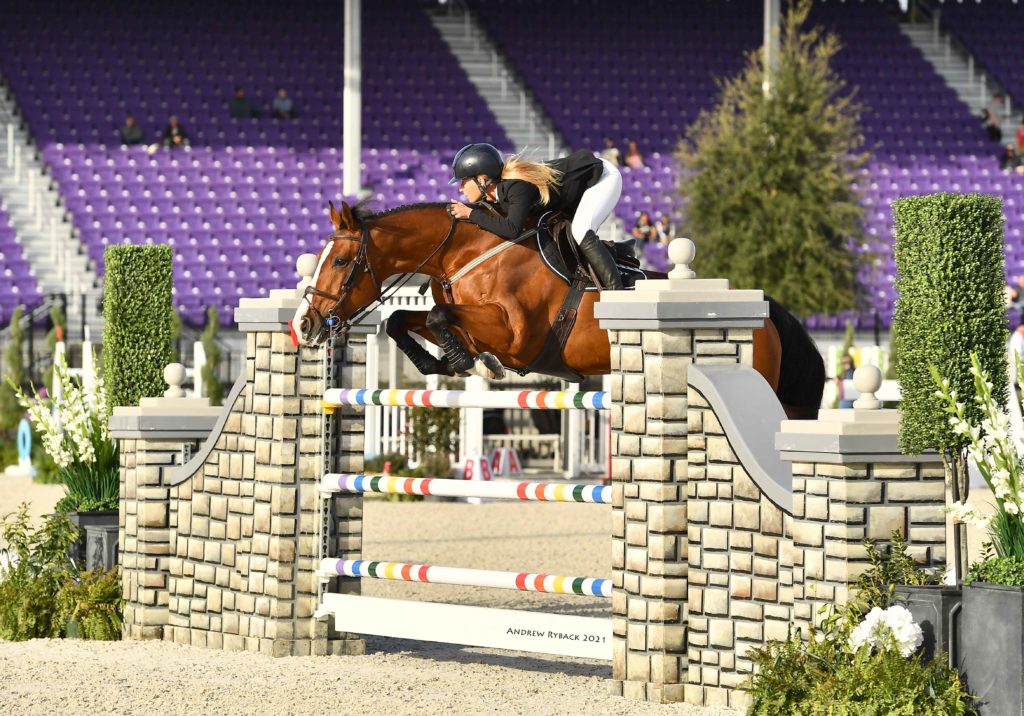 World Equestrian Center — Ocala Winter Spectacular Week 5 kicked off this afternoon with the $20,000 Welcome Prix 1.45m. Twenty six entries took to the course which was designed by Canada's Peter Grant, an internationally recognized FEI Level 3 course designer. Grant is best known for being a part of the build team at Spruce Meadows in Calgary, Canada, since 2004, where he has designed at four CSI5* tournaments. He has assisted at such championships as the 2007 and 2017 FEI Jumping World Cup™ Finals and the 2010 and 2018 FEI World Equestrian Games. This summer, Grant will assist in his first Olympic Games in Tokyo, Japan. Grant's track for this afternoon's Welcome Prix featured a double combination, a triple combination, a liverpool jump and adjustable related distances. Just two entries managed double clear rounds, but it was Kristen Vanderveen and Bull Run Jumpers Six LLC's Bull Run's Divine Fortune (Padinus x Amhilavsca Fortuna) that snatched the win with an impossibly fast, clear jump-off.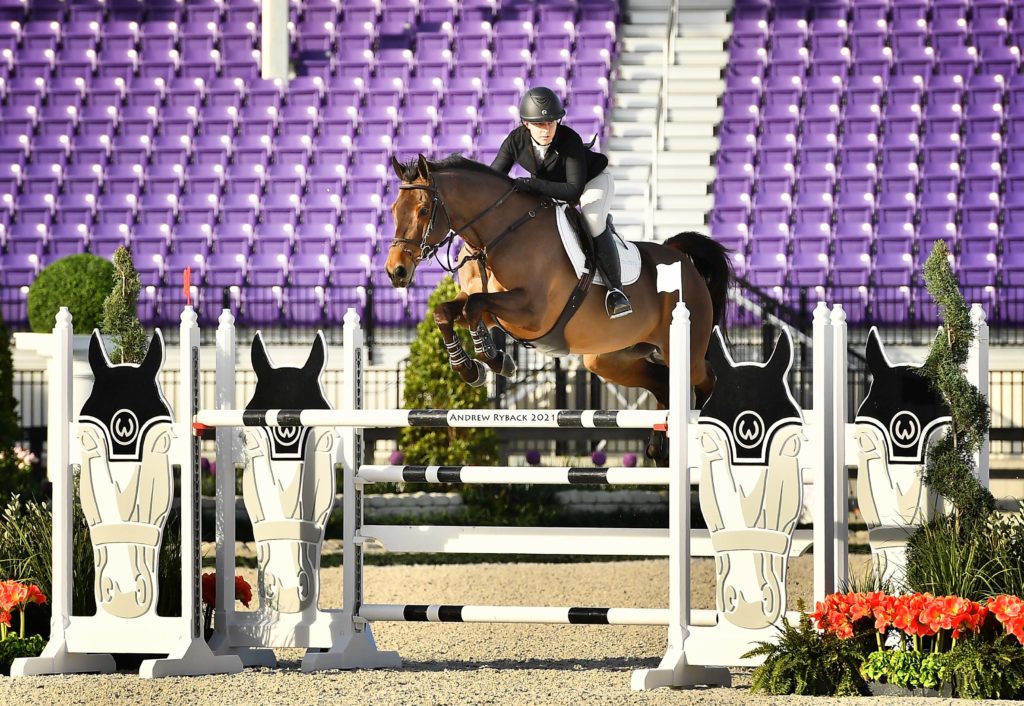 Setting the pace in the class were Bryn Sadler and Showcase 81, LLC's Cinven CR (Clearway x Raissa CR). Sadler and the 13-year-old Holsteiner gelding earned several ribbons in grands prix at HITS in December, preparing them well for this afternoon's 1.45m track. The duo were the first to jump a clear round, leaving all rails up in 73.412 seconds, well within the time allowed of 80 seconds. They continued straight to the jump-off, taking an inside turn to the combination and stopping the clock at 43.275 seconds with a second clear round, moving into the top spot.
Sadler and Cinven CR held the lead until Vanderveen and Bull Run's Divine Fortune took to the course. Vanderveen and the 12-year-old Dutch Warmblood mare finished 4th in the $10,000 1.40m Open Stake in the Equestrian Sport Productions, LLC New Year's show and were on-form for this afternoon's class. The pair managed the fastest first round of the class in 72.553 seconds, signaling that they would be strong competitors on the short course. Vanderveen and the fiery mare advanced straight to the jump-off, choosing the inside track to the combination and taking a gamble by leaving a stride out between fences 9 and 10. Their efforts paid off as the pair crossed the timers at an impressive 38.982 seconds with a second clear round, moving them into first place to ultimately win the class.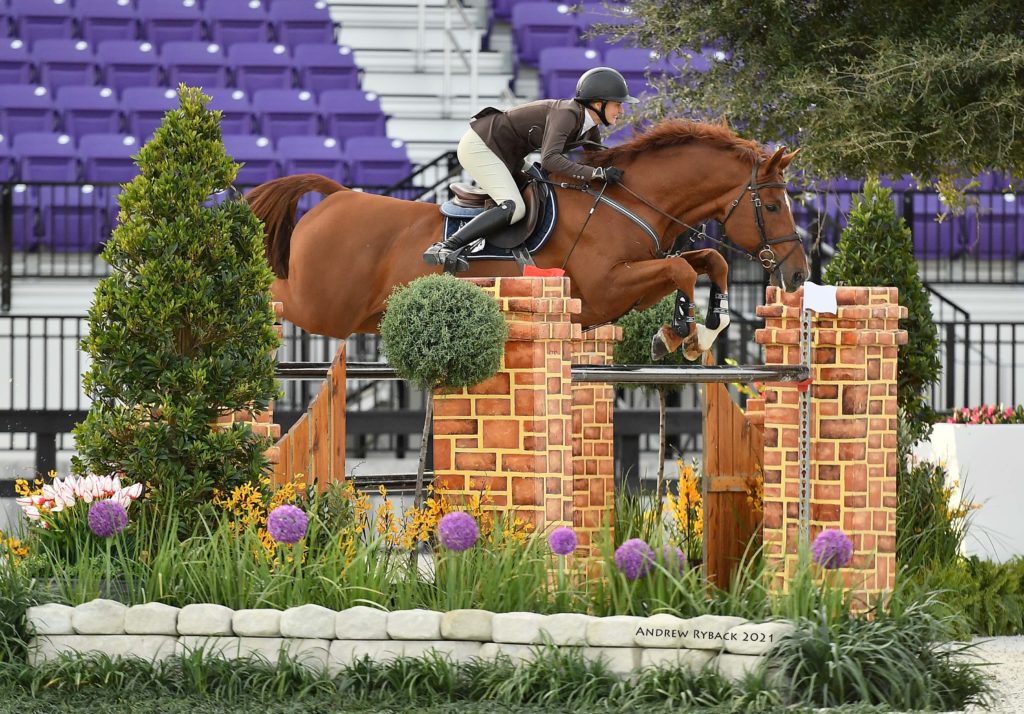 Jordan Petersen and Derek Petersen's Diamant's Legacy (Diamant de Semilly x Courtney Love II) rounded out the top three placings. Petersen and the 12-year-old Oldenburg stallion earned 1st place in Week 3's $20,000 Welcome Prix 1.45m and returned this afternoon in hopes of claiming another victory. Petersen and Diamant's Legacy were clear in the first round in 75.466 seconds before advancing to the jump-off. They also chose the inside turn to the combination, but had one unlucky rail. However, their time of 40.198 seconds was enough to move them into 3rd place.
Vanderveen stuck around after the class to chat with us ringside about her win, "Today was maybe the most fun that I've had in a long time. Everything seemed to come together. My mare was firing and it was one of those really special jump-offs that went just to plan at full speed. She is a speed horse, so that is kind of her specialty. It's really fun to just let her loose and give it a go. Today was special because everything seemed to come up just right. We even left a stride out from 9 to 10, and that was not as easy to leave out as I had originally thought. It's nice that it all worked out."
When asked about Bull Run's Divine Fortune, Vanderveen replied, "She always tries, she has such a good heart. She's 12 years old and I've had her for a few years. I typically use her as a speed horse, so we have a good amount of experience in jump-offs together. She fits me like a glove. Now that we're here at WEC, these are awesome classes for her to get to do."
Vanderveen also told us a bit about herself, "My farm is Bull Run Jumpers in Wellington, Florida. I am a professional and have been a professional since I turned 18. I have been importing and selling horses, as well as trying to get our FEI ranks up. Bull Run's Divine Fortune is a good ranking horse to get some points on."
She added, "World Equestrian Center is a great addition to the area, because now we have multiple venue options for the horses. I don't think there's anywhere better to show. We're super grateful to be here."
$20,000 Welcome Prix 1.45m Results
Bull Run's Divine Fortune, Kristen Vanderveen – 0 | 0 | 38.982
Cinven CR, Bryn Sadler – 0 | 0 | 43.275
Diamants Legacy, Jordan Petersen – 0 | 4 | 40.198
Cetano Van Aspergem Z, Santiago Lambre – 0 | 4 | 40.468
Uqualin Du Saulcy, Brooke Peterson – 0 | 4 | 42.055
Gatsby, Sharn Wordley – 0 | 4 | 42.382
Wannabe CS, Peter Petschenig – 0 | 4 | 44.754
Coneja, Karen Cudmore – 0 | 4 | 48.535
Ashton Dakota, Rowan Willis – 0 | 8 | 45.554
Crack Elle Chavannaise, Tiffany Hammack – 4 | 73.298
Photos courtesy of Andrew Ryback Photography.