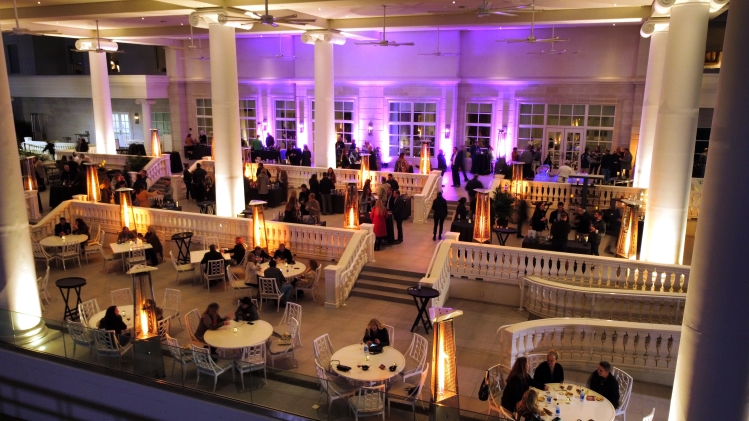 Thank you to all exhibitors, vendors, sponsors and spectators for joining us during the 2022 Winter Spectacular Show Series. Exciting competition is right around the corner with World Equestrian Center – Ocala's Dressage III CDI 3* competition held on April 14-17. Click HERE for more information.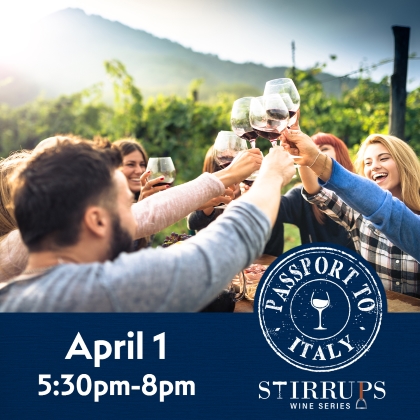 World Equestrian Center – Ocala is hosting several other events this week including Passport to Italy, the second event in the Stirrups Wine Series. This event will transport you through Italy's varied terroir by way of food and wine. On Friday, April 1 at 5:30pm you can explore some of the oldest winemaking traditions in the world. Tickets grant you access to taste a great diversity of wine including Tuscan Chianti, Vento Soave, and some of the best prosecco, merlot and pinot grigio from the Mediterranean. A chef-paired menu of classic Italian cuisine features tomahawk beef grilled over a rustic open-flame cauldron and Cacio e Pepe pasta served in a parmesan wheel. Cin cin!
Tickets are $99 and include small plates and wine tastings. Click HERE to purchase your tickets.
Additional events include the AKC National Agility Championship and the Ocala Arabian Amateur Horse Show. Both events are free and open to the public.
The AKC National Championship showcases canine athletes as they compete for the 2022 National Agility Championship title. The main event will be held in Arena 2 and Arena 3. Finals will be held on April 3, starting at 6pm in Arena 1. Click HERE to learn more about the AKC National Championships.
The Ocala Arabian Amateur Horse Show will be held in Arena 5 from April 2-3. Click HERE for the prize list and additional information.
Pick up your very own copy of the World Equestrian Center magazine! Copies are available in Arena 1 or read the issue online at World Equestrian Center Magazine VOL I 2022.
What To Do
Shopping
Many vendors at World Equestrian Center – Ocala have established storefront locations where they are open year-round. Below are our amazing retailers and their locations.
The Equestrian Hotel:
Lugano Diamonds
The Debonair Collection
Mr. Pickles & Sailor Bear Toy Shoppe
Calluna Spa
CaptiveOne Advisors Arena – Indoor 1:
Ariat
Ocala Shoe Shack division of Tack Shack of Ocala
Rough Cut Boutique
Arista Equestrian
Arena 2:
Stellina LLC/Romitelli Boots
Haala Fashion LLC
Farmhouse Chiropractic
Hats Off Boutique
Kelsey's Rhinestones
The Farm House, Inc.
LM Boots
Arena 3:
Exceptional Equestrian, Inc
IDA Development, LLC
I Love My Horse
Basic Equine Health, LLC
Everleigh Collection LLC
Parlanti
Arena 4:
The Farm House, Inc.
Odette, LLC
Sudden Impulse Boutique
AGM Beyond Leather
Exceptional Equestrian, Inc
Grey Fox Designs
Entertainment
Each week The Yellow Pony Pub & Garden located within The Equestrian Hotel hosts live entertainment from 6:00pm-9:30pm. Here is the entertainment lineup for this week:
Wednesday, March 30 | The Big Bad Duo
Thursday, March 31 | Mark Smythe
Friday, April 1 | Peaches & Karim
Saturday, April 2 | Jeff Jarrett
Day at the Spa
Start your year off with a relaxing day at Calluna Spa. Located on the second floor of The Equestrian Hotel, Calluna Spa offers multiple massage treatments, body wraps, facials, manicures, pedicures and hair salon for men and women. Give yourself the treat of a beautiful blowout this new year! Receive a complimentary glass of champagne and a blowout for $50. Book an appointment by calling 352.414.7862.
Calluna Spa is open Monday – Saturday from 9am-7pm and on Sunday from 10am-5pm. Click here to learn more.
Where to Eat
Located Within The Equestrian Hotel:
Stirrups Restaurant
Prime steaks and chops, sustainable Florida seafood and southern inspired seasonal specialties, served in a refined dining room and terrace overlooking the Grand Outdoor Arena.
Breakfast: Monday – Friday: 6:30am-11am | Saturday – Sunday: 6:30am-1pm
Dinner: Sunday – Thursday, 5pm-9pm | Friday – Saturday, 5pm-10pm
352.414.7864
Yellow Pony Pub & Garden
Boasting an outdoor patio and fireplace, this lobby gastro lounge offers shareable starters, pub fare, traditional draft beers, bourbons and whiskeys.
Sunday – Thursday, 11am-12am | Friday – Saturday, 11am-1am
352.414.7865
Emma's Patisserie
A blissful, freshly baked array of authentic French macarons and European-inspired pastries are served within an ambiance of old-world elegance at this very special shop located within the Equestrian Hotel.
Open daily: 6am-8pm
352.414.7866
Restaurants throughout the facility:
Viola & Dot's Italian Kitchen & Pizzeria
Design your own salad or pasta masterpiece with an assortment of delicious meats and toppings. Viola & Dot's features pizzas and calzones crafted with homemade dough, classic Italian entrees and decadent sweet desserts.
Open daily: 11am-9pm
352.414.7877
Ralph's Burger & Sandwich Shop
A classic, diner-inspired menu with a few contemporary upgrades! Ralph's invites you to enjoy signature burgers, salads and sandwiches topped off with a homemade milkshake. Open for lunch and dinner, start your day with a breakfast sandwich or enjoy an evening slice of pie.
Open daily:
Breakfast: 6am-11am
Lunch/Dinner: 11am-9pm
352.414.7875
Miss Tilly's Lollipops
Indulging is strongly encouraged at this unique sweet shop where specialty ice cream flavors and homemade fudge are the stars. With an array of chocolates, confections and coffees, Miss Tilly's is the perfect place for a tasty treat.
Open daily: 11am-9pm *Closed until February 24 for renovations.
352.414.7878
Filo's Mexican Cantina
Traditional Mexican flavors coupled with custom-made convenience. Filo's serves up street tacos, burritos, quesadillas and much more in a vibrant dining room and open-air patio.
Open daily:
Breakfast: 6am-11am
Lunch/Dinner: 11am-9pm
352.414.7876
2022 World Equestrian Center Horse Shows
A Sudden Impulse NSBA & Futurity Horse Show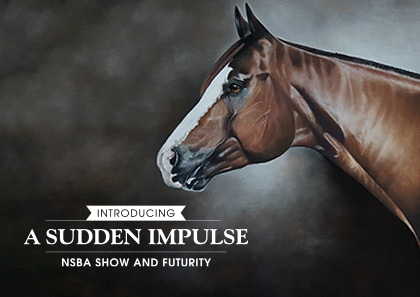 Save the date for the A Sudden Impulse AQHA & NSBA and Futurity, April 20-30, 2022 at World Equestrian Center – Ocala. A Sudden Impulse AQHA & NSBA and Futurity horse show is managed by An Equine Production. Click the link below now to view the show bill.
2022 Dressage Show Dates
World Equestrian Center – Ocala is excited to announce nine dates for dressage competition in 2022 presented by Hampton Green Farm and Discover Dressage. The events will span the year from January through December and include USEF/USDF nationally-rated competition. Click here for more information.