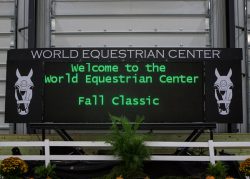 Our new scoreboard welcomes competitors in the beautiful Sanctuary arena.
Our very first WEC Fall Classic is underway now at the World Equestrian Center and we are thrilled to welcome back so many familiar faces among the riders here this week. We are also enjoying the opportunity to get to know riders from all over the country who are new to our facility. A lot has changed in a year. We've worked hard to create a first class horse show venue and we are thrilled to hear the wonderful feedback from our exhibitors.
Our new arena, The Sanctuary, debuted this week and has been a busy hub of jumper activity. Today it was the site of our first classic feature class, the $12,000 WEC Welcome Stake. A field of 29 horse and rider combinations contested the class over a 1.35m-1.40m track designed by Steve Stephens.
Melissa F. Rudershausen and Charmeur Ask were ultimately victorious, while Wilhelm Genn and Welcome Cor earned second place and Team USA rider Charlie A. Jayne and Playboy rounded out the top three.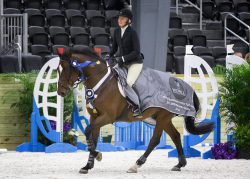 $12,000 WEC Welcome Stake Winners Melissa F. Rudershausen and Charmeur Ask
Experience Shopping at Sudden Impulse
Another first at WEC, the NEW Sudden Impulse boutique opened today featuring an eclectic selection of elegant gifts and whimsical home goods and clothing. The beautifully decorated shop is full of unique, thoughtfully selected items including equestrian inspired antiques, charming pillows and throws from Sugar Boo Designs, Brookstone travel bags and Vineyard Vines weekenders, insulated bottles from Swell and colorful WEC-branded InkStables socks. There are also stylish gifts from Arte Italica including wine glasses and ice buckets along with scented candles, soaps, lotions and lip balms from Barr – Co.
There is a myriad of WEC branded clothing by Vineyard Vines including fleece vests, polo shirts, long-sleeved T's, jackets, belts and ¾ zip pullovers. Come check out our WEC T-shirts, ball caps, campfire mugs, tumblers and a collection of unique items for kids and dogs such as specially made treats, dog toys, leashes and pet accessory and treat bags.
Named for a very special horse, the Sudden Impulse boutique is a very special store with something for everyone!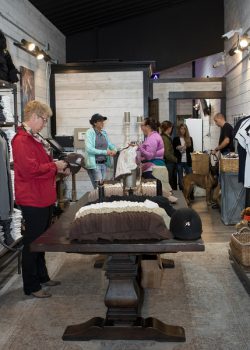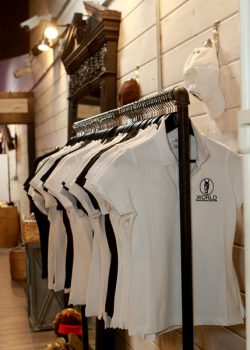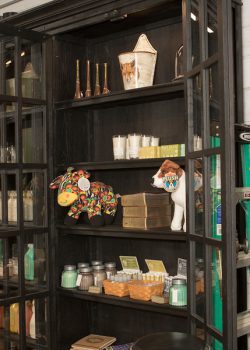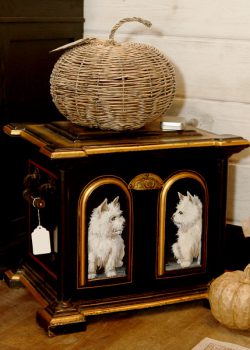 Record Entries for our Signature Dog Races
We love dogs of all sizes here at WEC and we know they love to get off their leashes and run! There were lots of laughs at our Thursday after-hours event, which featured a huge field of dogs racing in two size groups for a purse of $500.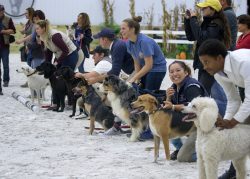 The 18" and over class line up…a lot of good looking dogs!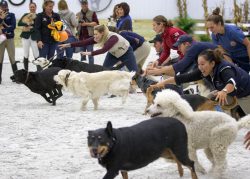 And they're off!